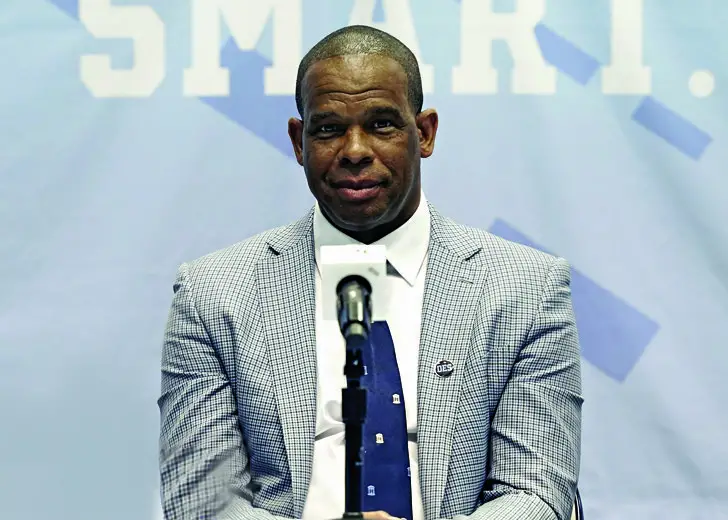 Quick Wiki
Full Name

Hubert Ira Davis Jr

Nickname

Hubert Davis

Birth Date

May 17, 1970

Age

53 Years, 6 Months

Nationality

American

Birthplace

North Carolina

Occupation

Former Professional Basketball Player

High School

Lake Braddock Secondary School

University

University of North Carolina

Education

Bachelor in Criminal Justice

Relationship Status

Married

Wife

Leslie Davis

Net Worth

10 Million Dollars
UNC Men's Basketball Head Coach
Hubert Davis
The UNC Head Coach
Hubert Davis's 2022 net worth, as per the estimation by celebritynetworth.com, is $10 million. He has accumulated such hefty wealth through his long sports career as a professional basketball player, TV sports analyst, and long basketball coaching career.
---
Hubert Davis is an American college basketball head coach. Currently, he is associated with the University of North Carolina's basketball team, the Tar Heels.
What is Hubert Davis's Net Worth? His Short Bio
Hubert Davis's 2022 net worth, as per the estimation by celebritynetworth.com, is $10 million. He has accumulated such hefty wealth through his long sports career as a professional basketball player, TV sports analyst, and long basketball coaching career.
Davis is a former professional basketball (NBA) player and college basketball coach. He was born in North Carolina, USA, on 17 May 1970 as Hubert Ira Davis Jr. He has yet to reveal any further details about his parents, siblings, and upbringing.
Davis completed his high school studies at Lake Braddock Secondary School in Virginia. Later, he went to the University of North Carolina (UNC) in Chapel Hill for his higher education and graduated with a Bachelor's degree in Criminal Justice in 1992.
Davis's Playing Career
Davis played with his college basketball team Tar Heels, during his four years (1988-1992) at the University of North Carolina. He appeared in a total of 137 games, during which his team went for a record 102-37.
Davis ended his collegiate career in 1992 with a total individual point of 1,615, i.e., he averaged 11.8 points each game. He scored over 20 points in 23 games and reached double figures 80 times in 4 years. Moreover, he still holds the university's record for achieving the highest percentage of three-pointers scoring 197 out of 453 attempts.
Following his successful collegiate career, the NBA team New York Knicks drafted him 20th overall pick in the first round of the 1992 NBA draft. He played with the Knicks until the end of 1995-1996 and moved to Toronto Raptors before the 1996-1997 season.
After a one-year stint with the Raptors, Davis spent four years playing with the Dallas Mavericks from 1997 to 2001. In his later career, he also represented the NBA teams Washington Wizards (2001-2002), Detroit Pistons (2002-2004), and New Jersey Nets (2004).
Davis finally retired from his NBA playing career in 2004 with a total of 5,583 points at 8.2 points per game. In addition, he has the second-highest three-pointer scoring percentage at 44.1 in NBA history, only behind Steve Kerr.
Also Read: Rick Mahorn - NBA, Today, Wife, Kids, Net Worth - Biography
Davis became UNC's 20th Head Coach.
Davis began his basketball coaching career in 2012 as an assistant coach to head UNC coach Roy Williams. He replaced Williams' former assistant Jerod Hasse.
Williams had previously helped Davis get into UNC and also coached him during the 1991 World University Games. As a result, he was well acquainted with his abilities and considered him his first go-to option for the vacant spot of an assistant coach. During a prepared statement with ESPN in May 2012, Williams said,
"For the last four or five years Hubert has always been on my mind in case a spot did come open. I didn't know if I could get him to come back, but I knew I wanted him to be the first option. I am elated that I can fill this spot with Hubert."
Davis groomed his basketball coaching abilities under Roy Williams for nine years until April 2021. After that, Williams announced his retirement and made his assistant coach Davis his successor. With that, Davis became the 20th head coach of the University basketball team. Moreover, he became the first-ever black head coach of the University's men's basketball team. 
Within a year of his takeover as a head coach, he won the College Basketball Coach of the Year award in 2022. He led the Tar Heels to a 29-10 season in his first season and led them to the final four in the NCAA Division 1 Championship.
He Was a Sports Analyst at ESPN
Besides being a former player and coach, Davis also has a history of working on television. After retiring from his NBA playing career, he served for several years as an ESPN studio analyst. In addition, he also co-hosted the game show College Gameday on ESPN.
Davis Married A White American Woman
The UNC head coach has been married to his wife Leslie for a long time now. Although they have not revealed their exact marriage date, the pair first met each other at UNC, as per the recent article on The Focus. Leslie graduated one year later than Davis, and after six years, they tied in a marital relationship.
The pair are parents to their three children, sons Elijah, daughter Bobbie, and youngest son Micah from their marriage. His eldest son Elijah is also a college basketball player and represents the University of Lynchburg.
Davis is a proud father and husband. He regularly shares family pictures on his Instagram handle @coachdavisunc. Moreover, Davis also brings up his wife and kids during press meets and conferences. In his opening press meet after his recruitment as UNC head coach in April 2021, he talked about how proud he was of his kids and his white wife. However, Davis's ethnic identity comment "white wife" drew public attention and criticism on social media this time.