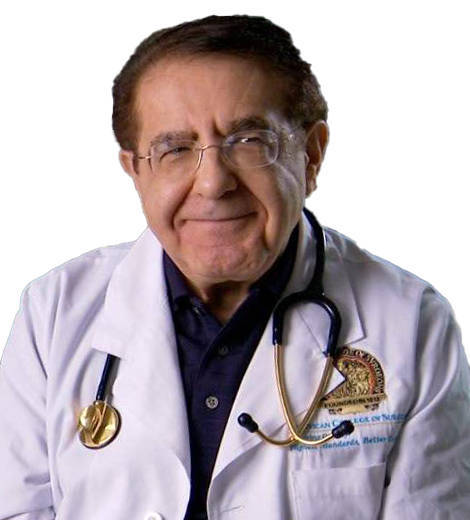 Quick Wiki
Full Name

Dr. Younan Nowzaradan

Occupation

Surgeon

Nationality

Iranian

Birthplace

Tehran, Iran

Birth Date

October 11, 1944
Younan Nowzaradan |Biography 2021
Dr. Younan Nowzaradan is a medical surgeon specializing in general, vascular, and laparoscopic surgeries. He is popularly known for the weight-loss surgery reality show 'My 600-lb Life.'  
---
Dr. Younan Nowzaradan is a medical surgeon specializing in general, vascular, and laparoscopic surgeries. He is popularly known for the weight-loss surgery reality show 'My 600-lb Life.'  
Who is Younan Nowzaradan?
Dr. Younan Nowzaradan, also known as Dr. Now, is an Iranian-American surgeon. He is specialized in general, vascular, and gastric bypass surgery. His bypass surgery work was featured in TLC's reality show, 'My 600-lb Life.'
Dr. Nowzaradan completed his medical degree from Tehran and moved to America for further studies. At his residential training, a senior doctor observed his surgical skills and invited him to the Texas Heart Institute for his fellowship.
An expert in laparoscopic surgery, Dr. Nowazaradan is a general and vascular surgeon. He was also specialized in Bariatric surgery.  
His son, Jonathan Nowzaradan, an owner of a production company, made a documentary of a woman who received gastric bypass surgery, also known as 'weightloss surgery' by Dr. Nowzaradan. The documentary caught the attention of many production houses, after which Dr. Nowzaradan's work got featured as a show on the television channel TLC, as 'My 600-lb Life.' The series started in 2012, and its final production was completed in March 2020. The show documented the lives of thousands of people who suffered due to overweight and other problems and how Dr. Nowzaradan changed their lives through his bypass surgeries and treatments.
Early Education
Younan Nowzaradan was born on October 11, 1944, in Tehran, Iran. He completed his medical degree from the Tehran University of Medical Sciences, School of Medicine, in 1970. He then completed his Medical Orientation Program from St. Louis University, Missouri, and Rotating Surgical Internship from St. John's Hospital, Michigan.
Dr. Nowzaradan was doing his 4-year Surgical Residential Training in St. Thomas Hospital, Nashville, when the prestigious cardiac surgeon, Denton Cooley, spotted him. Cooley was the first doctor to successfully perform artificial heart implantation in the US. He observed Nowzaradan's surgery skills and invited him to the Texas Heart Institute for fellowship in 1976.
After his fellowship, Dr. Nowzaradan practiced laparoscopic surgery and worked as a general and vascular surgeon for over 30 years in Houston. He had also specialized in Bariatric surgery for more than twenty years. He had received a fellowship from the American College of Surgeons. His qualifications are abbreviated as Dr. Younan Nowzaradan MD. FACS.  
Dr. Nowzaradan's practices extended to First Street Hospital in Bellaire, Texas, Doctors Hospital at Tidwell, Renaissance Hospital, Surgery Specialty Hospital, and University General Hospital. Presently, he has been working as the Medical Director at Best Care Clinic.
Journey in Reality Production
The production of 'My 600-lb Life' started from the first case of a woman named Renee Williams. This 29-year-old Williams was one of the heaviest persons in the world, weighing 400 pounds. She became immobilized in 2003 after a car accident that shattered her left leg. She also required gastric bypass surgery. More than 14 doctors turned her down due to the risks attached to the surgery and her weight. Dr. Nowzaradan finally accepted her surgery. His son Jonathan Nowzaradan was running a local production studio Megalomedia. Jonathan was a self-taught director, producer, editor, and camera operator, who frequently produced documentaries.
Jonathan, along with his crew, filmed William's successful surgical journey performed by Dr. Nowzaradan. The documentary also contained William's interviews, family interactions, etc. However, Williams died two weeks after the surgery due to a heart attack. The documentary was in mid-production, and William's death had hit many doors. Megalomedia received calls from major production houses like Entertainment Tonight, The Insider, Insider Edition, The View, and 20/20. Overwhelmed by Williams's loss and the possible disrespect to the family for continuing the production even after her death, Megalomedia stopped the production of the documentary.
Later, William's family requested them to complete the production and share William's story with the world. Megalomedia was the only production crew that was allowed to shoot the rest of the film's parts. The documentary was licensed solely by Megalomedia. It also partnered with a British Company, At It Productions. Before her death, Williams had approved 'World's Heaviest Woman (2008)' as her journey title.
Subsequently, Megalomedia produced 'Half Ton Teen' in 2009, capturing the story of a 19-year-old teen, weighing 800 pounds, who was attempting to lose weight, which was becoming harmful to himself.
'My 600-lb Life'
After the movie, Dr. Nowzaradan got his staple show, 'My 600-lb Life', which started airing in 2012, under the TLC series. The series followed Dr. Nowzaradan's journey of changing heavy men's and women's lives, weighing at least 600 pounds, after getting their gastric bypass surgery.  
Dr. Nowzaradan did not intend to make his work 'as a show.' But after the movie, he got many patients suffering from weight problems that led him to share the reality of obesity and its subsequent surgery with the world. He also said that the show was transparent and that he treats the patients on and off camera the same. But he has also expressed his disappointment to his patients, who believe that his work is magic and are reluctant to change their habits.
Dr. Nowzaradan began to choose his patients wisely depending upon who was ready to change their lifestyle as per his instructions. He said that almost 85 percent of his patients come to him in desperation to lose weight while overlooking the process of losing the weight.
"It's a daily challenge to work with some patients that can be self-destructive," he said. While expressing his ethical ways of helping the patients, "My job is not to get aggravated, but to find a way to motivate them to work hard to get to their goals. There are times where I think it's necessary for some tough love and I have to be stern with them, so I show some of my concern and frustration. Even during those times, my job is to find a way to work with them to get their weight to a healthy place. They are the patient because they need help and it's my job to help them no matter what."
After the show's popularity, he was named Dr. Now by his patients and audiences. By 2017, he had conducted more than 2000 surgeries that other doctors rejected because of its challenges.
Despite the patients' success rate and stories, Dr. Nowzaradan has been heavily criticized for the show. Some of the claims against him were the patients' background, the psychological trauma of the patients which led them to overeat, the complaints from patients for making them eliminate food from their meals, etc. A couple of times, he had fired the patients for not taking care of themselves post-surgery.
Dr. Nowzaradan has spoken about such cases where he could no longer help patients. He said, "There have been a few patients I felt I could no longer help. I will always be available if they need me. If they won't stick to the program, at some point, I can no longer help them, and they are taking resources from someone else who needs it."
The filming of the show was suspended in late March 2020 due to the coronavirus pandemic followed by prohibitory orders. The show later returned in December of the same year with its final episodes of Season 8 and then moved into the ninth season. 
Lawsuits against producers of 'My 600-lb Life'
The year 2020 witnessed the death of two former cast members of My 600-lb Life. One was Season 5 cast member James King who died in April at age 49 after suffering major health issues. The second one was Season 8 cast member Coliesa McMillan who died in September at the age of 41 following weight loss surgery complications. Reportedly, by 2020, a total of eight people died after being featured on My 600-lb Life. They included Henry Foots of Season 1 in 2013, Rob Buchel of Season 6 in 2017, Lisa Fleming of Season 3 in 2018. L.B Bonner who appeared in the sixth season of the show died of suicide in August 2018. In February 2019, Season 4's Sean Milliken passed away at age 29 following complications from an infection. The same month, Kelly Mason who appeared in Season 7 died of heart failure during the filming of My 600-lb Life.
In January 2020, the family of Booner filed the first lawsuit against the show's production company Megalomedia. The family accused that the company pressured Booner into filming before he was ready to do so and it also failed to provide him adequate health care services while filming, despite he had pre-existing signs of depression, which ultimately contributed to LB's suicide in August 2018. In the next few months following the first lawsuit, nine more former and current cast members of the show sued the show's production company for many complaints, including lying about paying for weight loss surgeries, lacking in providing adequate health care services during the filming of the show, neglecting the mental health of casts and more. Those cast members who sued the show's producers were David Bolton and Alicia Kirgan of Season 6, Gina Krasley of Season 8, Dottie Perkins of Season 4, Nicole Lewis of Season 5, and Season 7's cast members such as Jeanne Covey, Maja Radanovic, Destinee Lashaee, and Annjeanette Whaley.
Even though individuals sued Megalomedia, they had little to no issues with Dr. Nowzaradan and they also did not look to file a lawsuit against him. However, some of Dr. Nowzaradan's previous patients have sued him.
Accusations
Due to the line of his work, Dr. Nowzaradan had also been subjected to several lawsuits. In 2012, he, along with his anesthesiologist, was sued by a patient for malpractice. A patient, Michelle Park, claimed that a 6.69-inch piece of tubing was left inside her body, which she discovered after 22 months of her gastric sleeve surgery. The lawsuit was dropped in 2013, and Dr. Nowzaradan responded, "The lawsuit against me was dismissed because I was not the one who left the tube."
A similar lawsuit was charged against him in 2018 when one of his patients was rushed into the hospital for 'extreme pain' post-surgery. Doctors found a 29cm steel tubing and a portion of steel connector in her body during the surgery. The patient pledged compensation of 200,000 to 1 million dollars for the harm caused. Dr. Nowzaradan denied the allegation.
'My 600-lb Life: Where Are They Now?'
To look into the life of morbidly obese former cast members of My 600-lb Life who underwent life-saving gastric bypass surgery with Dr. Nowzaradan, the show's production company Megalomedia came up with a new show titled My 600-lb Life: Where Are They Now? In January 2015. The new show examined the changes since they appeared in the previous show while following up if they maintained their weight loss and continued working towards their goals. Ultimately, it showed the inspiring stories of those individuals who renewed their feelings of self-esteem, self-reliance while also rebuilding relationships with their family and friends.
Additional Media Appearances
Aside from his main TV shows, Dr. Nowzaradan has also appeared in several other TV programs, including 'Half Ton Mom,' 'Half Ton Dad,' and 'Half Ton Teen,' and 'World's Heaviest Man.'
'Half-Ton Killer'
Dr. Nowzaradan performed multiple surgeries on one of the world's heaviest women alive named Mayra Rosales, a woman who was the subject of 2012 documentary titled Half-Ton Killer that follows the story of shocking murder mysteries of Rosales who confessed to killing her two-year-old nephew in 2008 by rolling on top of him with her more than 1,000 pounds frame while babysitting. The charge on her was later dropped when her confession turned out to be false, and she took the blame to protect her sister who had actually murdered her own child. After clearing her name, she sought out Dr. Nowzaradan and began regular treatment to lose weight. She lost 100 pounds in her first week and she also underwent multiple surgeries. She needed to lose 600 pounds just to undergo gastric bypass surgery safely for which she followed a strict diet. On 2 July 2013, TLC aired her transformed life after losing her weight and her everyday life in an episode titled Half-Ton Killer: Transformed, which was produced by Megalomedia.
As of October 2019, Dr. Nowzaradan performed a total of 11 surgeries on Rosales, including a lap band surgery and numerous excess skin removal surgeries. By then Rosales had lost 800 pounds through surgeries and diet.
Personal Life
Dr. Nowzaradan married Delores McRedmond in 1975. But, Delores filed for divorce in 2002 after 27 years of marriage on the grounds of cruel treatment and insupportability. He counterclaimed insupportability as the same, and the suit lasted for two years. At the end of the divorce battle, Delores received 70 percent of their joint assets.
The couple had three children. The first child was son Jonathan, the founder of Megalomedia and one of the producers of 'My 600-lb Life.' The second child was daughter Jennifer, an art instructor in South Austin High School, and the third child was daughter Jessica, who pursued arts and photography.
After the pandemic, non-essential businesses were closed. His clinic was listed as one of the non-essential businesses. Hence the final production of the show was done on March 26, 2020.
Books
Dr. Nowzaradan had authored 'Last Chance to Live' published in 2015, and 'The Scale Does Not Lie, People Do,' published in 2019. In his first book 'Last Chance to Live' which consisted of 160 pages, Dr. Nowzaradan detailed the reality of obesity based on his four decades of learning, understanding, treating, and helping patients with morbid obesity.
His second book 'The Scale Does Not Lie, People Do' also was based on his four decades of experiences, primarily focusing on his experience of treatment of various forms of obesity. In this book, he discussed how he worked with patients with obesity and how they tried to overcome the challenges associated with obesity. He also guided making the appropriate changes needed to improve health, maintain weight, and live a better, healthy, and happy life. Most of all, the book tried to encourage readers to develop good eating habits and have a positive attitude in life. Published on 2 July 2019, 'The Scale Does Not Not Lie, People Do' has 138 pages.
On 7 June 2021, Dr. Nowzaradan shared on his Instagram post that he is working on his new book, captioning, "My best seller book is almost sold out "the scale does not lie people do "so I am working on my next book #reversing obesity#"