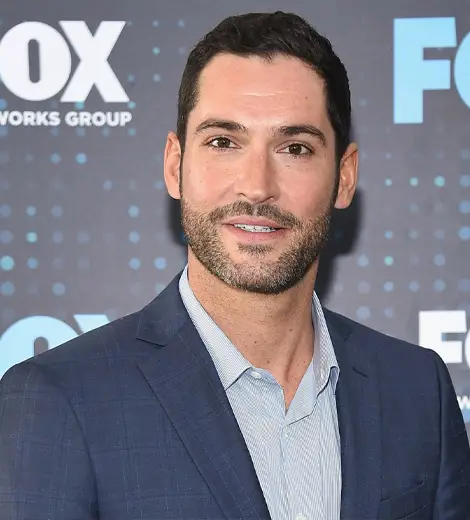 Quick Wiki
Full Name

Tom Ellis

Occupation

Actor, Philanthropist

Nationality

British

Birthplace

Cardiff, Wales, United Kingdom

Birth Date

Nov 17, 1978

Age

45 Years, 0 Months

Wife

Meaghan Oppenheimer

Height

6 Feet 3 Inches (1.91 m)

Net Worth

$6 Million

Ex-Spouse

Tamzin Outhwaite
Lucifer Morningstar on 'Lucifer'
Tom Ellis | Biography 2021
Actor, Philanthropist
Welsh actor Tom Ellis is best known for his leading role as Lucifer Morningstar in a popular TV show called 'Lucifer.' 
---
Welsh actor Tom Ellis is best known for his leading role as Lucifer Morningstar in the popular TV show called Lucifer. In 2019, the show smashed the record as TV Time's 'Most-watched Streaming Series.' 
Short Bio
Tom Ellis launched his career as an actor in 2000 in the British sitcom Kiss Me, Kate. Over the years, he has starred in many popular TV shows, including the American network series Rush, The Place We Go to Hide, Miss Conception, and Lucifer.
He Is The Only Son Of His Parents
Ellis was born Thomas John Ellis on 17 November 1978 in Cardiff, Wales, United Kingdom, to a Baptist minister father, Christopher John Ellis, and a music teacher mother, Marilyn Jean Hooper. 
His parents were married on 30 December 1972 at Clarence Park Baptist Church, Weston-super-Mare, Somerset, England. His father was a Baptist pastor at 23, and his mother was a 19-year-old student when they married.
Ellis was born and reared in his hometown of Cardiff, Wales, as the only brother to three sisters. One of his sisters is his twin named Lucy.
He Played Instruments From His Childhood
At a very young age, he began to develop an interest in performing arts. He and his sister played instruments when they were children. He mastered trumpet and upgraded to the French Horn. He would enjoy playing in orchestras all of his teenage years.  
His Baptist Pastor Father Initially Did Not Allow Him To Take Major Acting Roles 
Ellis even took part in a nativity play, but his pastor father did not allow him to take more significant roles. 
"I was in a nativity play, but being a son of the pastor, I was never allowed to play Joseph or any of the big parts for political reasons," answered Ellis to the Interview Magazine in 2015.
Ellis went to High Storrs School in Sheffield to earn his early education. He was first introduced to theatre studies when his teacher, Claire Pender, asked him to be part of a school play. It was only after this moment that he dabbled in theatre arts at the Crucible theatres. 
He was 12 at the time. Ellis would go on to tell his parents that he wanted to be an actor and put the rest of his education on hold. Academics was something he stumbled on in his later school years.
His parents were notified of his acting ambition by Pender during a parents' evening. When they walked in to meet her, she told them, "You should consider letting Tom go to drama school." It was the first time someone had genuinely gone out of their way to help him. 
After the teacher made the suggestion, his parents were quietly supportive. They were never starry-eyed parents who said things such as, "Our kid will be such-and-such." They simply let him get on with it, which he enjoyed because it instilled in him a strong work ethic.
This experience of performing on shows at the Crucible theatre encouraged him to pursue his career in acting. 
He Got Inspired By His College Friend James McAvoy To Become A Successful Actor
Dedicating his time to acting, Ellis spent most of his early days studying drama in Scotland. After earning his bachelor's degree in Dramatic Studies at the Royal Conservatoire of Scotland, he began looking for opportunities.
Inspired by his best friend, James McAvoy—who had appeared in several renowned credits in television and films such as Shameless, State Of Play, and Atonement—he too sought to achieve great success. 
When Ellis left the drama school, he was comparing his success to the McAvoy's. He felt he was making strides in the right direction, yet he wanted to achieve more. Eventually, Ellis began to work on more projects and gradually realized to accept his journey as it was. 
He Has Appeared On Numerous TV Shows After His Debut On 'Kiss Me, Kate'
At the age of 22, he landed his first acting role and debuted in the British television show Kiss Me, Kate. He appeared as Ben in the Season 3 Episode 7 titled 'Kate's Niece' that aired on 23 December 2000. This series, which ran from 1998 to 2000, drew attention to his skills as an actor. 
With his strong introduction in the television industry, Ellis then took on distinct roles in various shows over the years, including No Angels, Harley Street, EastEnders, The Passion, and Monday Monday. With every role he played, Ellis gradually started rising to fame. 
In 2009, he made a breakthrough with his character Gary Preston in the BBC series Miranda. 
The show, which spanned four seasons from 2009 throughout 2015, was based on a character named Miranda, a socially awkward comedienne who often finds herself in bizarre situations. In the series, Ellis appears as Miranda's love interest.  
He Has Made Cameo Appearance On 'Doctor Who'
In 2007, Ellis made a cameo appearance as Dr. Thomas Milligan in an episode of the British television series Doctor Who. He only featured in one episode of Doctor Who, "Last of the Time Lords," which aired at the end of the 13th season.
He Has Appeared On The BBC Fantasy Series' Merlin'
Aired from 2008 to 2012 for five seasons, the British fantasy-adventure television drama series Merlin chronicles the adventures of the legendary sorcerer Merlin (Colin Morgan) as a young man. When Merlin was just a servant to young Prince Arthur (Bradley James) on the royal court of Camelot, he became Arthur's best friend and turned Arthur into a great king and a legend.
Ellis appeared in the third season of the series in 2010 and portrayed the role of King Cenred, a rival kingdom bordering Camelot. He appeared in the four episodes - 'The Tears of Uther Pendragon' Part One and Part Two, 'The Castle of Fyrien,' and 'The Coming of Arthur: Part One.' His character was also mentioned in several other seasons and episodes.
'Lucifer' Was His Big Break On Television
In 2016, the actor joined the cast of the American TV series Lucifer in the titular role by the same name. The show would eventually become his biggest acting success ever.
Before joining the show, he became involved with the show by reading scripts during the pilot season and declaring, "That's what I want to do." His connection to the show started after he met Len Wiseman, who had recently joined the company as a director.
From that point forward, it was instantaneous for him. Wiseman made it clear that he wanted Ellis to do it and was eager to get the studio and everyone on board, which happened swiftly. Ellis later shared, "I really wanted to do the project, so it was just about getting the studio and everyone on board. That came quite quickly as well."
Playing the character
In the series based on the graphic novels by Neil Gaiman, Ellis can be seen playing the role of Lucifer, who is a bisexual. The character is a fallen angel and the "Lord of Hell" residing in Los Angeles. The story revolves around Lucifer, who finds himself solving criminal cases by working closely with an LAPD detective. 
"This is the biggest character I've ever had to play both in terms of him being larger than life and him being the Devil...," Ellis said to Belfasttelegraph in 2016. 
Although coming from a Baptist family, Ellis's parents had no problem with him playing the devil. Rather, his father was cool with it. "I don't think my dad is an avid viewer of my show. But that's not because it's about the Devil; it's just not his cup of tea. He'd rather watch reruns of Inspector Morse," Ellis shared.
Does Tom Ellis play the piano? Does Tom Ellis sing in 'Lucifer'?
Ellis did not play the piano on screen. In early interviews for the show, Ellis said he did not know how to play the piano. His 2019 video, in which he accompanied himself on a piano while singing, demonstrated he had added the skill of playing the piano to his repertoire. However, he revealed in several interviews that he was still only playing "air piano" in Lucifer scenes. 
Nevertheless, Ellis did perform his own vocals throughout the show. He had performed many songs in Lucifer's several musical episodes, including 'A Priest Walks Into A Bar,' 'Everything's Coming Up Lucifer,' 'Let Pinhead Sing!,' 'Everything's Okay,' and 'Bloody Celestial Karaoke Jam.' Some of the songs he performed in the series included 'Heart and Soul,' 'Wicked Game,' 'Creep,' 'Every Breath You Take,' and 'I Dreamed A Dream.'
Radio Times Magazine ranked Lucifer's musical episode songs from worst to best. The magazine ranked the song 'I Dreamed A Dream,' performed by Ellis and Dennis Haysbert, as the worst song in the series. Similarly, the magazine ranked Ellis' performance of 'Wicked Game' sixth and 'Every Breath You Take' by Ellis and Debbie Gibson fifth on the list. Meanwhile, the magazine claimed Kevin Alejandro as the best vocalist in the Lucifer cast for his performance of 'Hell.'
Exit 
Lucifer, which premiered on 25 January 2016, was canceled by Fox after only three seasons. After being canceled by Fox, Lucifer was given a second chance by Netflix in 2020. The streaming giant unexpectedly renewed the series for a sixth season. 
The show spanned five seasons as of 30 May 2021. The second part of season 5 was released on 28 May. However, the series was concluded after the sixth and final season on 10 September 2021.
When the show was coming to an end, Ellis shared his experience working in the show. "I've never had an experience like this in my life, I don't think I'll ever have one again," Ellis shared in an interview.
"Six seasons of the show is a real achievement. It's been a huge emotional journey and I don't think I want to do anymore. I know I don't want to do any more," he remarked on why he had decided to make a permanent exit with Kings Of Con: Podcast. 
He Is Engaged In Charity Collection
In 2021, Rupert and Buckley, a British design house, partnered up with Welsh actor Tom Ellis for a sustainable apparel collection set to benefit the Great Ormond Street Hospital Charity. Upon its formation, the Tom Ellis collection aimed to raise $100,000 for the GOSH Organisation, which aids chronically sick children across the UK, with all revenues going to the charity.
The collection contained products made from sustainable and organic materials that had been verified by FairWear, a non-profit organization that works to ensure factory workers are paid fairly and have better working conditions.
The business also pledged to use Clear, a carbon offsetting company that offsets carbon emissions associated with the collection, from manufacturing to distribution.
Ellis, who is also a GOSH charity ambassador, said: "I have partnered with Rupert and Buckley because I not only love their clothes, but I am a huge supporter of their mission to be a carbon-neutral company. Raising money for people who need it whilst also working with a company who make beautiful clothes and are mindful of the environment is at the heart of this project."
Is Tom Ellis Married?
Tom Ellis has been married to Meaghan Oppenheimer. The couple tied the knot on 2 June 2019. 
Ellis' wife is an American screenwriter who was last known to be professionally working with American actress Reese Witherspoon in the television series 'Please Don't Go' from 2015 to 2016. The former had written the story of the show, whereas the latter was directing the show.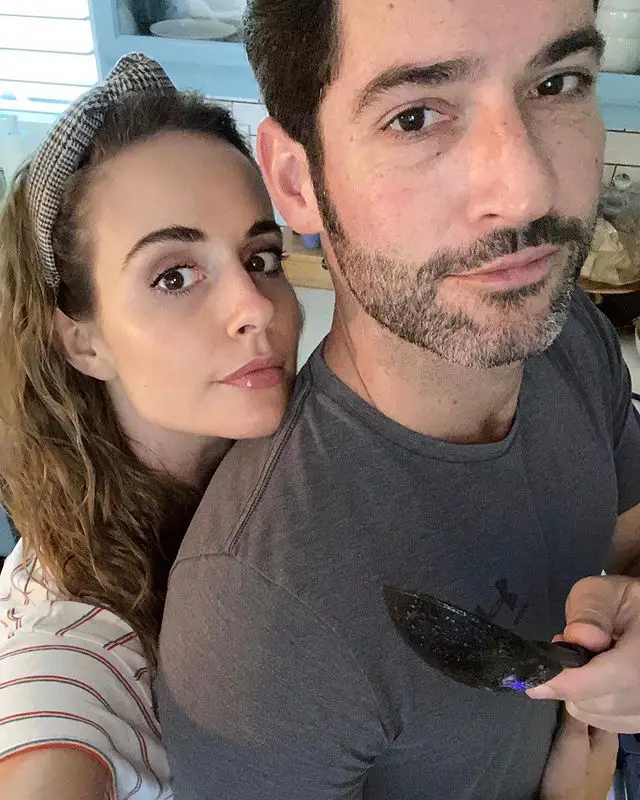 More than a week before Ellis and Oppenheimer's wedding, Ellis' ex-wife Tamzin Outhwaite hinted that she was heartbroken on an Instagram post. In the post, she added the quote by Keanu Reeves, "If you have been brutally broken but still have the courage to be gentle to other living beings, then you're a bad ass with a heart of an angel."
At the time, the post from the actress made their previous failed marriage (in which Ellis had cheated) a highlighted subject in media coverage. Later, days after Oppenheimer and Ellis celebrated their wedding shower, Outhwaite again posted a quote on Instagram, but this time they were more about healing and self-care. 
'Self care is often misunderstood. It's not limited to meditation, bath bombs, or indulgent foods. Self care is speaking to yourself with compassion, knowing your limits, and making the daily choice to create a life you don't need to regularly escape from," she shared
Days earlier to the "self care" quote, she had shared spiritual teacher Eckhart Tolle's quotes on dealing with anxiety. She wrote," 'The future, the worry, the regret, the anxiety - these are all mental events that do not have to be part of the difficulty of life. These can be transcended here and now."
In the caption of the post, she talked about conquering negative emotions through positivity. "All wasted emotions and feelings. They help nothing and nobody. Eradicating them from daily life is the key. I know when I feel anxious or worried it's easy to get negative. Surround yourself with positivity," she wrote.  
Tamzin Outhwaite
Tom and Oppenheimer started dating in 2015 and got engaged in 2017. Previously, he was in a marital relationship with English actress Tamzin Outhwaite. They have two daughters, Marnie Mae Ellis and Florence Elsie Ellis. They were married on 11 June 2006 and got officially divorced on 28 April 2014.
According to a source testimony to Sun, the pair separated after Outhwaite found out that Tom had an affair with Australian American actress Emilie de Ravin. 
"Tamzin couldn't believe Tom's betrayal and was distraught," a source told Sun in 2015. "She was excited for him to go over to America and ­further his career off the back of Miranda while she raised their two daughters and this is how he repaid her...The fact that Emilie has a high profile in the States made it harder for Tamzin to get over it but she has always maintained a dignified silence over the identity of the woman who caused the breakdown of her marriage."
In September 2013, Outhwaite cited "adultery" as she filed divorce against Tom after he admitted to cheating on her. Previously in the same year, Sun had reported that Tom admitted to Outhwaite that he had a one-night-stand when he was filming Gothica in the United States in the same year. According to the magazine, Outhwaite also found out that Tom had been exchanging flirty messages with Ravin, which in turn also fueled their separation. 
Tom and Outhwaite met through actor James McAvoy. Shortly after meeting her, he said that Outhwaite was the person with whom he "wanted to spend" his life. "She was in a play called Breathing Corpses with James McAvoy, one of my best mates from drama school. I knew who she was and I'd fancied her quite a bit when she played Melanie Owen in Eastenders," he shared at the time.
Both Tom and Tamzin have refrained from officially revealing details of their separation, especially the name of the person with whom he had the alleged affair.
 But, it was through a few sources and a handful of media reports that everyone got to know about Emilie De Ravin.
However, Outhwaite did comment on why she had to end the relationship and why she had chosen to reveal less. She also hinted that her split with Ellis resulted from more than a one-night-stand, a narrative that was reportedly claimed by Ellis earlier. 
"I wouldn't not be with my husband over a one-night stand is all I'll say," she revealed to Esquire in 2015. 'I will tell them exactly what happened and it will come from me. He's still their dad and they still have a relationship,' added Outhwaite after stating that she wouldn't be revealing precise details to protect their children from getting hurt.
Estelle Morgan
In 2005, Tom separated from actress girlfriend Estelle Morgan when she was pregnant. Their baby girl, Nora Ellis, was born just after they separated. A year later, Tom and Outhwaite—who previously had a broken engagement and a string of failed relationships—got married. 
"Tom is confident he can balance both sides of his life," a source stated to People at the time. "He sees the baby whenever he can. He obviously wants to be there for his little girl in some way even though he is no longer with Estelle."
Separation from Daughters During Covid
In August 2020, Ellis shared his agony at not being able to visit his two daughters for the past seven months because of the coronavirus outbreak. He had been stuck in Los Angeles. 
Ellis was filming the fifth season of Netflix's Lucifer when California imposed a stay-at-home order, making it difficult for him to visit his daughters in the United Kingdom. "It's been excruciating," Ellis told The Guardian. "When they're not around, there's a part of you that isn't there, and I don't want to be in that mentality again."
What is the Net Worth of Tom Ellis?
According to Celebritynetworth, Ellis's estimated net worth is around $6 million. 
Did You Know?
Tom Ellis has a twin sister whose name is Lucy. The name has coincidently matched with a short form of his character name on 'Lucifer.'
 While Ellis has played the devil himself in 'Lucifer,' he comes from a Christian family. "My dad's a pastor. My uncle's a pastor. My sister's a pastor. I grew up on the very human side of Christianity, so messages in the household I grew up in were about peace, love and being understanding of everybody, which I think is quite cool...," Ellis shared. "And with regard to this [Ellis playing Lucifer], they're all super-excited I'm doing it," Ellis added about how his role as the devil has not affected the affinity of their family to their religion.