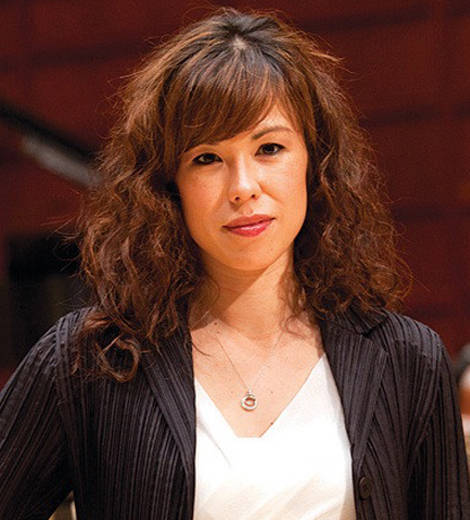 Quick Wiki
Full Name

Sarah Hicks

Nationality

American

Zodiac Sign

Not Disclosed

Occupation

Professional Orchestra Conductor

Birth Date

Not Disclosed

First On-screen Debut

She began at Minnesota Orchestra as a conductor of Symphony and then to Classical & Pop.

Birthplace

Tokyo, Japan

Did You Know?

She started playing piano since the age of 4, but had to quit due to illness.

Birth Date

Not Disclosed

Ethnicity

Japanese-American

Husband

Paul LaFollette

Relationship Status

Married

Wedding Date

Not Disclosed

Genres

Classical and Pop

Instruments

Piano and Viola

University

Harvard University

Associated Educational Institutions

Curtis Institute of Music Philadelphia

Father's Occupation

Her Father was a Banking Lawyer

Net Worth

Not Disclosed

Did You Know?

Her Net Worth and Salary was hampered by the Covid 19 Lockdown as Orchestra and Concerts were restricted.
First Female Conductor of Minnesota Orchestra
Sarah Hicks | Biography 2021
Also Conducted the Musical Concert of Movie 'Star Trek'
At the age of 4, she began her music career by taking piano lessons. Eventually, she became a concert pianist and thought of pursuing it as her career. But her career ended before it could get off the ground because she developed a debilitating case of chronic tendonitis in her hands in her mid-teens.
---
Principal conductor of Live at Orchestra Hall, Sarah Hicks, is the first woman to hold a title conductor post in the Minnesota Orchestra's history. She has conducted numerous performances for the Live at Orchestra concert series, Twin Cities PBS, and the innovative classical series, Inside the Classics.
With her extended contract in the 2020-2021 season, she decided to devote her career to the orchestra.
Who is Sarah Hicks?
Sarah Hicks is the first female conductor in Minnesota Orchestra. In 2009, she became the orchestra's principal conductor of the Live at Orchestra Hall concert series. She has collaborated with pop stars like Ben Folds, Cloud Cult, and Rufus Wainwright throughout her career and made music with celebrity chefs. In addition, she has taken the podium for Inside the Classics, an innovative classical series. Besides, she has done guest conducting jobs around the world.
Conductor Hicks has proven her craftsmanship in a myriad of genres, from jazz to pop to Broadway classics to movie scores. Her notable works include a wide array of ensembles, such as the Danish National Symphony Orchestra, Detroit Symphony, Milwaukee Symphony, Boston Pops, Pittsburgh Symphony, Cincinnati Pops, to name a few. Additionally, she has also conducted live performances of several movie soundtracks.
In 2017, Hicks led the Orchestra during the thrilling score performance of the 2009 Oscar Award-winning movie Star Trek. The same performance marked the opening of 2018's summer season of the Minnesota Orchestra Hall.
She has premiered Pixar in Concert, Disney-Pixar's Coco, and she has performed music to movie screenings. Her concerts with the Danish National Symphony Orchestra of film music were released in the album The Morricone Duel in 2018. Later, in 2019, she released another album, Sounds the Bell, with rap artist Dessa and the Minnesota Orchestra.
Furthermore, Hicks became the main host of the Minnesota Orchestra's live broadcast, Live At Orchestra Hall it started amidst the Covid-19 pandemic in 2020. Her live shows comprise different music genre shows, including movie scores.
Additionally, Hicks also joined the Orchestra's broadcast series, This is Minnesota Orchestra, in 2020. As the face of this series, she has conducted three broadcasts and has been the host of 18 broadcast series. 
Her job contract at the Orchestra ended after the 2020-2021 season. After that, the company offered her a contract extension of three more years. 
Following the offer from Minnesota Orchestra, Hicks put forward a statement about rejoining them in a press release in 2021. "My connection with the Minnesota Orchestra and our audiences has only grown through the pandemic," Hicks said in the Star Tribune-press release, "and I can't wait to step on the podium again this fall at Orchestra Hall."
However, neither party has yet made any public announcement regarding the financial terms and conditions of the extended period.
Growing Up She Was Diagnosed With Chronic Tendonitis
Born in Tokyo, Japan, and raised in Hawaii, Hick's mother is Japanese, and her father was American. At the age of 4, she began her music career by taking piano lessons. Eventually, she became a concert pianist and thought of pursuing it as her career. But her career ended before it could get off the ground because she developed a debilitating case of chronic tendonitis in her hands in her mid-teens.
She could no more play piano because of the pain in her fingers. Hicks got depressed and was crying over her illness when her father found her. Then, her father consoled her and redeemed her with an idea of conducting. His advice was as, "Stop crying. You can still hold a stick." Sadly, her father passed away by committing suicide in 2001.
Also Read About - Jonny Greenwood- Guitar, Wife, Music, Songs
Hicks thought of giving her father's advice and joined her high school's orchestra. She even switched from playing the piano to the viola as she found it less painful to play than the prior. Later, on her special request during the music classes, her instructor handed over his baton and left the class. It was the first time she tried conducting, and she immediately got hooked to it.
There was no ready roadmap to becoming a conductor for a banking lawyer's daughter. Also, she could not study the subject during her time at Harvard University because of her requirement to specialize in music composition. However, she applied to the conducting program at Philadelphia's Curtis Institute of Music afterward.
Professor Otto-Werner at Curtis Institute of Music Called Her Weak and Unexpressive
At Curtis, an old professor, Otto- Werner Mueller, stated to Hicks that 'women are weak.' He further questioned her race and called the entire Asians unexpressive. She was unwittingly challenged by that statement and wanted to prove him wrong. Thus, she embarked on a profession traditionally dominated by men. 
She joined Minnesota Orchestra as Their First-Ever Female Conductor.
After completing a diploma in conducting at the Curtis Institute of Music in Philadelphia, she came to the Minnesota Orchestra. There she became the first female conductor in 2006. 
She began as a conductor of symphony orchestras and carved out a niche in both pop and classical music. Hicks was the assistant conductor of the Orchestra for three previous seasons. In 2008, she arranged music and conducted 'Scandinavian Christmas' concerts. Likewise, she has been working on the Inside Classics series since 2007.
Principal Conductor At Minnesota Orchestra Since 2009
In 2009, Hicks became Minnesota Orchestra's principal conductor of Live at Orchestra Hall. Hicks has been a musical director for concerts featuring musicians from Minnesota's world-famous popular music scene. She has been involved in various artists, from Rufus Wainwright, Hilary Hahn, and Smokey Robinson to Dmitry Hvorostovsky.
Garnering national and international acclaim, she has also guest conducted in the U.S. and abroad, such as the Chicago Symphony Orchestra, Los Angeles Philharmonic, Philadelphia Orchestra, National Symphony Orchestra, San Francisco Symphony. In addition to the San Diego Symphony, Toronto Symphony Orchestra, Detroit Symphony Orchestra, Philharmonic of Korea, Nagoya Philharmonic, Tokyo Philharmonic, and many more.
She Has Collaborated With Several Famous Music Bands For Live Concerts and Exhibitions
Hicks, a film specialist, premiered 'Pixars in Concerts' and 'Coco' from Disney-Pixar; her live music is on Disney+; a Coco Music Celebration, and a broadcast of 'The Small Mermaid,' for ABC. In addition, her concerts with The Morricone Duel the Danish National Orchestra of Cinema Music Symphony, were released on an album in 2018.
Her pioneering career in the Minnesota Orchestra included exhibitions with the New Standards and two Dessa concerts in April 2017, and she collaborated with the Cloud Cult indie band in April 2018. 
She has also created the original Minnesota Orchestra's Holiday Concert, Home for the Festivities, debuted in December 2017 and was presented as a central part in the 2018 Holiday Saison at Orchestra Hall, with the director Peter Rothstein, writer Kevin Kling and composer Robert Elhai.
During the 2018-19 season, she has conducted Orchestra performances with Dessa, the U.S. Naval Academy Glee Club, Indigo Girls, and Igudesman & Joo, as well as Inside the Classics series and film music concerts with Star Wars, Jurassic Park, Star Trek Into Darkness, Harry Potter and the Prisoner of Azkaban and Disney's classic animated version of Beauty and the Beast.
She Was A Lead Vocalist In A Garage Band
Besides playing piano, viola, and conducting scores and live music shows, Hicks also has a hidden talent that she rarely brings out. A graduate of music composition, she has good knowledge of both the classical and pop music world. Moreover, a few years back, she was briefly a part of the classical music garage band. She was associated with them as their lead vocalist.
As per the 2011 harvardmagazine.com report, Hicks feels that screaming and singing have therapeutic and curative effects on her. In addition, she loves to be on the stage and perform in front of the crowd. 
In her words, "Part of me always wanted to be a rock star, I find it satisfying to be onstage with my hair down, in four-inch heels and sequined tank top."
Hicks and Her Husband's Net Worth Took Hit In Pandemic
After the Covid 19 in mid-march, the conductor's and her husband's net worth suffered a sharp decline. As the Orchestra and live shows were shut down, she usually had to remain without jobs. Moreover, just before the pandemic started, she used most of her savings and earnings to pay off the business debt that her husband took to start a new business a few years back.
To add to that, her management company shut down due to covid, which hit her life and savings even harder. As a result, she couldn't afford to live in the apartment as she had to use the remaining of her money wisely. Hicks then went for a cheaper option and shifted there with her husband, Paul LaFollette.
Furthermore, during the same pandemic period in May 2020, her travel companion Pinkerton met an accident. With her, Hicks traveled to several places before the Covid Pandemic started. Unfortunately, Pinkerton had to go through surgery following the accident.
Hicks Did Not Get a Salary From Minnesota
Hicks is an independent contractor and doesn't get a salary for her work in Minnesota. 
Dismally in an interview with MinnPost, she said, "I'm an independent contractor. I have a titled position with the Minnesota Orchestra, but I don't have a salary. I have nothing from anywhere. I'm the major breadwinner in the family, and we live in San Francisco, so that's a double whammy."
Despite the struggle, Hicks, like many artists during the pandemic, has increased her social media presence with two Instagram accounts and a YouTube channel. She already had a blog, but when COVID hit, she created a new one called 'Coronavirus Diary: Mental Health in a Strange New World.' She writes frequently and openly about various topics in this blog, including her mental health struggles.
She Has Bipolar Disorder
Hicks frequently reaches out to people and discusses the importance of mental health and the need to normalize its issues. She is a suicide survivor and suffers from several other problems like depression, anxiety, and panic disorders. Through her mental health blogs, she encourages people to be honest and open about their struggles with mental health problems.
Her Husband Is A French Hornist
Hicks is married to Paul LaFollette, a French horn player. He currently works as a financial advisor in San Francisco, California.
Although Hicks has not shared her marriage date and married life with the media and the public, she has given out some interesting details of her first meeting with Paul. They first came across each other during their time at the Curtis Institute of Music. According to her, Paul called her the Hawaiian Punch on their first-ever conversation. He called her so as he found out that she was from Hawaii.
Despite their not-so-impressive first meet, the pair soon got along and built a strong relationship. As of now, Hicks and Paul do not have any children.
Her Husband Was Admitted To Hospital in January
On 30 January 2022, Hicks shared news of her husband's illness with her Instagram family. According to her post, Paul was admitted to the hospital on 27 January. She received the call from the hospital while she was at work, and she immediately rushed to him, leaving one of her colleagues to cover for her.
The doctors initially suggested surgery to ease Paul off his pain. However, the surgery was not required as his condition started to improve. 
Her long Instagram post read, "Paul's in the hospital and in a lot of pain. He's going to be ok, and surgery looks like it's off the table for now. But it was a scary call to receive on Thursday afternoon, and I'm grateful that a colleague could cover for me so that I could return home in the middle of a gig."
She also shared a picture of them with their dog alongside the post.
Did You Know?
Hicks composed AIDS Oratorio for her senior year thesis. She had a friend who has AIDS and later came up with the project of creating music with poetry and prose from people with HIV/Aids.
She disclosed her mental health, which included: Bipolar, panic, and general anxiety disorder, depression.
Her father died out of suicide. Hicks herself is a suicide survivor.