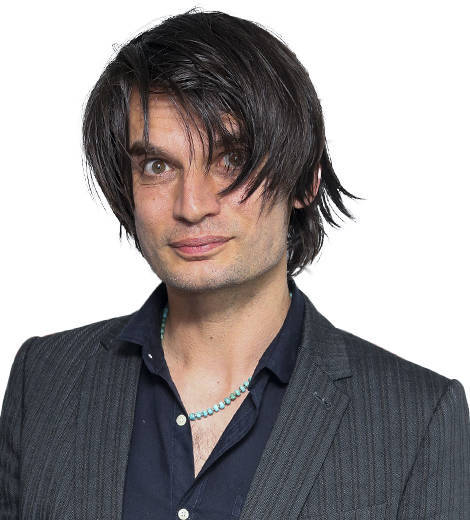 Quick Wiki
Full Name

Jonathan Richard Guy Greenwood

Birthplace

Oxford, Oxfordshire, England

Birth Date

5-11-1971

Siblings

Colin Greenwood
Jonny Greenwood | Biography 2021
Guitarist and Composer
​​​​​​​Jonny Greenwood is a British rock musician and composer best known as the lead guitarist and keyboardist of the alternative rock band Radiohead.
---
Jonny Greenwood is a rock musician and composer best known as the lead guitarist and keyboardist of the British alternative rock band Radiohead.
Who is Jonny Greenwood?
Greenwood is Radiohead's lead guitarist and keyboardist, known for his aggressive guitar work. Rolling Stone ranked him in the 48th position in the list of 100 Greatest Guitarists in 2015.
He is a multi-instrumentalist, who is skilled in playing the bass guitar, piano, harmonica, Ondes Martenot, viola, and drums. 
Greenwood is also a proficient composer. He composed the scores for multiple films, including Bodysong (2003), There Will Be Blood (2007), Norwegian Wood (2010), and The Phantom Thread (2017).
Early Life and Education
Jonathan Richard Guy Greenwood, aka Jonny Greenwood, was born on November 5, 1971, in Oxford, Oxfordshire, England. He belonged to a middle-class family, and his father served in the Army. He grew up with his elder brother Colin, both of whom attended a boys' school Abingdon School in Oxfordshire.
Greenwood was enamored with orchestras since his adolescent years and was as well a viola player then. "Yes, a viola player. Our reputation is either that we are people with no personalities or lazy violinists who want an easy way into orchestras. All of which is possibly a bit true", he shared with The Times in 2010. Greenwood's viola landed him in the Thames Vale Youth Orchestra, which was a crucial experience for him.
Greenwood also studied music at A-level. "I learned how to harmonize Bach chorales. Glad I did, too. I'm still using the skills", he further shared with The Times with Johnny in 2010. He was on his way to learning more, having enrolled in a music course at the then Oxford Poly but couldn't complete the course. "Three weeks into the program, Radiohead was offered a recording contract. That was the end of it", he explained about his dropout from the University to The Times in 2010.
He dropped out of the university in 1991.
Radiohead
While attending school, Colin first met future Radiohead vocalist Thom Yorke as a schoolmate. Later, the duo came into contact with guitarist Ed O'Brien and drummer Phil Selway. They regularly rehearsed music every Friday in the school's music room, eventually leading them to form the band On a Friday (Radiohead's initial name) in 1985. Initially, Greenwood was not part of the band, but he used to hang out with the band members while they rehearsed. 
Finally, he joined On a Friday when he was 14 to play harmonica. He sat on stage with a harmonica at the band's first gig in 1987 at the Jericho Tavern in Oxford. He was the youngest member of the band, who was two school years below his brother.
The band went into hiatus for around four years as the four older members went off to college in 1987 to pursue their university education.
At the age of 19, Greenwood also went on to study music and psychology at Oxford Brookes University. However, he dropped out of the university when his bandmates signed a six-album recording agreement with EMI Records' subsidiary Parlophone in late 1991. They changed their band's name from On a Friday to Radiohead when they started their professional musical journey. Greenwood, who entered Radiohead by first playing the harmonica, also took on the keyboardist's role and, finally, the band's guitarist.
In late 1992, Radiohead came up with the startling single 'Creep,' in which Greenwood's striking and bursting guitar work marked Radiohead as more than just another mopey band. 'Creep' made waves in the United States. Radiohead also released other singles from their debut album—Pablo Honey—released in 1993, but they could not escape the one-hit-wonder stigma as only 'Creep' made it to the radios and charts.
In 1995, Radiohead launched their second album, The Bends, which took the band's ardent fans by surprise, as it featured Greenwood's guitar pyrotechnics and the mature side of the group with their numbers like 'Street Spirit' and 'Fake Plastic Trees.'
By then, Greenwood's aggressive style of playing guitar, unfortunately, started taking a toll on his right wrist. He started wearing a wrist brace to relieve the pain and to provide support to the joint. Greenwood continued to wear it even after his wrist was better since the brace had become something of Greenwood's trademark. 
In 1997, Radiohead released their third album, Ok Computer, featuring innovative and brilliant guitar work. Greenwood revealed his versatility by using the Ondes Marenot in Radiohead's fourth album Kid A (2000). Amnesiac was released in 2001, and it featured 11 more tracks from the same studio sessions that gave birth to Kid A.
'Creep'
The band had no clue the song was being recorded when they ran through 'Creep' at Chipping Norton Recording Studios located not far from their hometown of Oxford, and Jonny Greenwood said he was just goofing around. "It was recorded while we were actually in the studio to record two other songs," he shared with St. Louis Post-Dispatch in 1993.
"We were asked to play some things to check the levels of the tape, and we just did one that we liked best from rehearsing it the day before. We'd only written it the week before and we were just kind of very keen to play it for each other, and they happened to record it."
'Creep's' most remembered melody was the frightening guitar stabs by Greenwood that came right before the song's chorus. Despite this, Radiohead didn't rejoice in their 1992 hit 'Creep'. The brutal guitar stabs by Greenwood, according to him, was an attempt to ruin the song during recording. Moreover, following its release, Thom Yorke reportedly began calling 'Crap' the literal crap and claimed that the band had "sucked Satan's cock." In addition, he once told a crowd in Montreal to "fuck off, we're tired of it" after a fan requested the song. Other fans of the song have been accused of being "anally retarded".
'Amnesiac'
Radiohead's 2001 album Amnesiac favored keyboards and unusual time signatures over the typical guitar-bass-drums style that has been rock's staple since the mid-twentieth century. Moreover, Amnesiac made a splash with music videos and magazine features, following Kid A's (2000) lack of such. 
The album's first track was named 'Packt Like Sardines in a Crushd Tin Box' and was Amnesiac's decoder. Alongside the first track, other tracks in the albums like 'You and Whose Army?' describe a mistaken sense of invulnerability through the shoes of an irascible narrator, and 'Life in a Glasshouse' recounts a celebrity who boards her windows to block out the cameras from paparazzi. Furthermore, a few beautiful track songs of Amnesiac portrays the alternative sick scenes, for example, 'Knives Out' has images of corpses, and 'Like Spinning Plates' shows mutilation. A few songs as well worked out on inspirations. The song 'Dollars and Cents' which was edited down from an 11-minute long jam session to a five-minute video was inspired by the mesmerizing krautrock subgenre of the 1970s
Amnesiac comprises a total of 11 songs, namely, 'Packt Like Sardines In A Crushd Tin Box', 'Pyramid Song', 'Pull/pulk Like Revolving Doors', 'You and Whose Army?', 'I Might Be Wrong', 'Knives Out', 'Morning bell / Amnesiac', 'Dollars and Cents', 'Hunting Bears', 'Like Spinning Plates', and 'Life in a Glass House'.
Solo Career
In late 2003, Greenwood composed his first film score. It was for Simon Dummell's documentary Bodysong, which contained classical, guitar, oddball hip-hop beats, and even honking, sideways jazz. It opened doors to pursue his career as a composer. 
He got hired by BBC Concert Orchestra as a composer in residence in 2004, where he wrote pieces like Smear, Piano for Children, and Popcorn Superhet Receiver.
In 2007, Greenwood composed a critically acclaimed score for Paul Thomas Anderson's Academy Award-winning drama film There Will Be Blood. 
His composing work continued with the soundtrack for the big-screen adaptation of Japanese author Haruki Murakami's Norwegian Wood in 2010, followed by We Need to Talk About Kevin, a film adaptation of Lionel Shriver's novel, in 2011.
In 2012, Greenwood reunited with Anderson for the soundtrack to the psychological drama film The Master. He collaborated in several other Anderson's works in the future. In March of the same year, he collaborated with one of his biggest inspirations, Krzysztof Penderecki, and composed 48 Responses to Polymorphia. 
The Australian Chamber of Orchestra commissioned him to compose the piece Water, which premiered during his residency in Sydney in 2014. 
In 2015, Greenwood collaborated with Israeli composer Shy Ben Tzur, Indian ensemble the Rajasthan Express, and producer Nigel Godrich while traveling to the Mehrangarh Fort in Rajasthan, India.
The following year, he worked on string orchestrations for Frank Ocean's studio albums Endless and Blond. In 2017, he scored Anderson's historical drama film Phantom Thread, which landed Greenwood his first nomination for Best Original Score at the 90th Academy Awards in 2018.
In 2019, he started his classical music label, Octatonic Records.
Greenwood won the Large Orchestral Award for his 2019 violin concerto, Horror vacui, at the 2020 Ivors Composer Awards.
The Smile
The Smile is a new project/band consisting of of Thom Yorke and Jonny Greenwood from the band, Radiohead and jazz drummer Tom Skinner, from Sons of Kemet and Hello Skinny. Radiohead's long-standing producer, Nigel Godrich, was also involved in the formation of this band alogside the bandmates themselves. A Ted Hughes poem inspired the band's title, The Smile.
Furthermore, on 22 May 2021, the band played for the Live at Worthy Farm streaming event. Despite the event being ticketed, the organizers decided to offer the webcast to the public following some technical difficulties. The Smile played eight new songs in less than 30 minutes in a makeshift shack with what appeared to be a parachute as a ceiling, with Yorke and Greenwood rotating between guitars, a Moog synthesizer, bass, and a Fender Rhodes.
"Ladies and gentlemen, we are called 'The Smile,'" Yorke said, introducing the ensemble with a riddle on that event. " Not the 'ahh!' smile, but rather 'The Smile' as in, the guy who lies to you every day...", he added.
Movie Scores
Greenwood's work has been included in films such as Bodysong (2003), There Will Be Blood (2007), Norwegian Wood (2010), We Need to Talk About Kevin (2011), The Master (2012), Inherent Vice (2014),  and Phantom Thread (2017), earning him numerous honors.
Net Worth
 Greenwood is a musician with a net worth of $30 million, according to Celebrity Net Worth.
Awards and Nominations
Greenwood has won 32 awards and has 50 nominations as of 2018. 
He was nominated for the 2018 'Academy Award' for 'Best Achievement in Music Written for Motion Pictures (Original Score)' for Phantom Thread (2017). Likewise, he was also nominated for the 2008 and 2018 'Anthony Asquith Award for Film Music' and 'BAFTA Film Awards' respectively for his work on 2007, There Will Be Blood, and 2017 Phantom Thread. Additionally, he was a nominee for 'Saturn Award' at the Academy of Science Fiction, Fantasy & Horror Films, USA for 'Best Music' in There Will Be Blood (2007). 
He bagged several awards like the 2007 'AFCA Award' at Austin Film Critics Association for 'Best score' in There Will Be Blood (2007), 2008 'Silver Berlin Bear' for 'Outstanding Artistic Contribution' for the music in There Will Be Blood (2007), 2012, 2017 and 2018 'BOFCA Award' for ' Best Original Score' and many more. He also won the 2010 'Muhr Asia Africa Award' at Dubai International Film Festival for 'Best Composer - Feature' in Noruwei no mori (2010).
Personal Life
Greenwood is married to Sharona Katan, an Israeli visual artist whom he met while Radiohead performed in Israel in 1993. Greenwood's soundtracks for Bodysong (2003), There Will Be Blood (2007), Norwegian Wood (2010), The Master (2012), Inherent Vice (2014), and Phantom Thread (2017) feature her work on its covers. The couple has three children, Tamir, Omri, and Zohar.