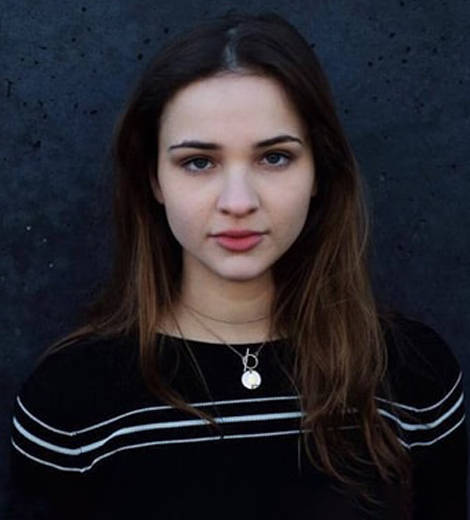 Quick Wiki
Name

Lisa Vicari

Nationality

German

Occupation

Actress

First Lead Role

'Luna'

First On-screen Debut

Tunnelblicke

First Titular Role

'Luna'

Did You Know?

She looked up to the actresses: Emilia Schule, Cate Blanchett, and Saoirse Ronan as her role models.

Birth Date

1997-2-12

Birthplace

Munich

Family background

Doctors

Awards

New Faces Award

University

University of Potsdam

Height

5 feet 9 inches (1.75 meters)

Zodiac Sign

Aquarius

Did You Know?

In 2020, she she directed the music video of Moritz Jahn's single, 'Blue Blue Moon.'
Young Talent
Lisa Vicari | Biography 2021
German actress Lisa Vicari is known for her portrayals in movies such as Luna (2017), Hell (2011), Isi & Ossi (2020), and Netflix television series Dark (2017-2020). 
---
Lisa Vicari is the only actress who has starred in both the first German Netflix series, Dark (2017-2020), and the first German Netflix movie Isi & Ossi (2020). She is also known for her portrayals in Luna (2017), Hell (2011), and Netflix television time-travel series Dark (2017-2020)
Who is Lisa Vicari? 
Born in Munich, Germany, Lisa Vicari aspired to become an actress from childhood (school-age). Her dream came true when she got cast in a short movie named Tunnelblicke at just the age of 11. In the next few years, she starred in films and TV shows like Hell (2011), Playing Doctor (2014), Tatort (2017), and Luna (2017).
Although she had established herself after her performance in Luna (2011)—which she played when she was only 14 years old, she gained international prominence after the series Dark received universal acclaim. 
Early Life 
In Munich, Bavaria, Germany, Lisa was born on 11 February 1997 in a doctors' family. She has a brother named Nicolas Vicari.
During her younger days, she always had an urge to be in movies she used to watch and wanted to be a part of it. She looked up to the actresses: Emilia Schule (German actress), Cate Blanchett (Australian actress), and Saoirse Ronan (Irish and American actress) as her role models.
She says she was inspired by the German detective movie Emil und die Detektive, released in 2001. "They were just so free... I've always wanted to be like them, I think," Lisa reflects on the film's characters.
She describes her childhood as normal and relates that the memories have helped her in her acting profession. She recalls, "I had a happy childhood. My parents encouraged me to show feelings...I like crying. I like the state of being melancholy. I think that's easy."
Out of all the innate qualities, it was her persistence that brought her closer to her acting ambition in the early days. Since there was no one in the family with an acting background, Vicari found it hard to convince her family about her desire to pursue acting.
At the age of 10, she took a friend to a children's improv course and got impressed by the experience. She then started to take an acting class "after begging her mother" for permission.
After that, she studied in Task Acting School and tried out improv performances before eventually joining the University of Potsdam after high school graduation to major in European Media Studies. 
Career
She was ten when she got to know someone who wanted to apply to a film school. She contacted the person and got the opportunity to appear in a short film named Tunnelblicke (2009).
Following that, she got recognition and received roles in movies such as Hanni & Nanni (2010) and Hell (2011). 
Lisa's character in Hell was dark-themed. She was only 14 years old when filming for the dystopian psychological thriller started. Due to her age and the movie's storyline, her role had to get approved by the Jugendamt, the German child Protection Service, to make sure that her experience and the movie's events would not have a negative psychological impact on her life. 
In the next few years after appearing in Hell, Vicari worked in several movies and TV shows, including Einer wie Bruno (2011), Under Suspicion (2013), Die Chefin (2014), Playing Doctor (2014), and Tatort (2017). However, her roles in all those projects were either supporting characters or small appearances.
'Luna'
After a couple of short roles in television and films, she landed the lead role in the movie Luna (2017). With the 2017's movie, Vicari earned her first titular character. In the thriller movie, she plays a teenager who witnesses her family's assassination during a vacation in the mountains and vows to take revenge.
Similar to Hell, her character in Luna had to show maturity during intense suffering. She orchestrated the required physical stunts all by herself for the movie and learned kickboxing for her action shots. Of her experience of the set, she narrates, "I was taken seriously there, compared to school."
The diva was honored as the best young actress by the Bunte magazine for her role in the thriller Luna. The role also earned her a 'Young German Cinema Award' nomination at the Munich Film Festival in 2017.
'Dark'
In the same year, Vicari then played Martha's character—a teenage high school girl whose family and relationship are on the verge of falling apart due to a supernatural time-travel mystery—in the Netflix original sci-fiction series, Dark. She had initially auditioned for Franziska Doppler's role but eventually got a call back to play Martha Nielsen. 
The series, set in a German town named Winden, revolves around four interconnected families. The families experience a supernatural time-travel twist after the disappearance of two young children in the town. The plot takes its course when a child goes missing, and the underlying secrets of the families unravel.
In the interdimensional movie, Vicari played one of the two leads. Her character experiences distress in her family after the disappearance of her brother. In course, her character falls in love with the male lead Noah, who later turns out to be the son of her lost brother. The stories of each family get twisted with time-traveling entities and supernatural events. 
The series lasted for three seasons. In addition to Vicari, it featured the likes of Louis Hofmann, Maja Schone, Oliver Masucci, and Andreas Pietschmann, amongst many. It was the first German-language Netflix series and was the second most-watched Netflix series of 2020. All three seasons of the series received rave reviews from critics. Subsequently, Vicari's performance was highly acclaimed, and it established her career beyond German cinema. 
Vicari believes it was the script that compelled her as well as her co-stars to accept the project. "I mean, I loved the script — everybody who read it loved it, but you can never predict this kind of response," she remarks.
On her popularity and past struggles, she relates, "It is sometimes difficult to endure the rejection that one is forced to face over and over again. It's not like that now, because after I've done Dark I suddenly get every role I auditioned for." 
'Isi & Ossi'
In 2020, Lisa Vicari co-starred with Dennis Mojen in the first German Netflix movie Isi & Ossi. She played the role of a billionaire daughter who starts dating a struggling boxer only to take advantage of each other. 
The film's title characters are complete opposites of each other; Lisa plays Isi, the daughter of a billionaire, and Dennis plays Ossi, a struggling boxer. The two start dating to take advantage of each other— Issi dates him to irritate her parents and get them to fund her culinary dream. On the other hand, Ossi agrees to help her if she finances his first professional boxing match.
The film received an IMDb rating of 6.4/10. Although it did not receive the similar critical acclaims as her previous work, she could deviate from the usual dark-themed roles she had taken in the past. 
Directorial Debut
In July of 2020, she announced her directorial debut via her Instagram account. She did not disclose the project's name but captioned the announcement post, "So, I directed (I guess)…" She also mentioned that the project was in the editing phase and that she will keep on posting the updates. 
Not later than that, in August, she posted the stills of a music video she directed. The video was a new single by Moritz Jahn called Blue Blue Moon, released on 1 September. 
Awards
Her role in Hell (2011) won her a 'New Faces Award' under the category 'Best Young Talent.' And for her role in Luna (2017), she was nominated for the Munich Film Festival in 2017 for the 'Young German Cinema' award.   
Did you know?
In a February interview with Glamour, she said that one would eventually have to "distract" themselves and "look ahead" when they are feeling "wallow or self-pity" during the "first few weeks or months" of being lovesick.