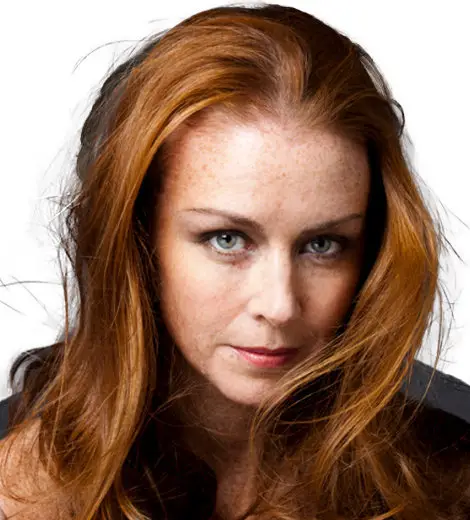 Quick Wiki
Full Name

Jean Butler

Occupation

Irish Dancer, Choreographer

Nationality

American

Birthplace

New York, USA

Birth Date

Mar 14, 1971

Age

52 Years, 8 Months
Irish Dancer
Jean Butler | Biography 2021
Irish Stepdancer, Tap Dancer
Jean Butler was enrolled in various dance classes since she was four years old. Though she learned tapping and ballet, Butler specialized in Irish dancing and became popular with her seven-minute interval performance along with Michael Flatley at the 'Eurovision Song Contest.' She continued performing for Riverdance for the next few years before she hosted her own show 'Dancing on Dangerous Ground,' partnering with her own old friend Colin Dunne. She retired from active dancing in 2010 and began to teach in various Universities.
---
Jean Butler is a choreographer, actress, and master of Irish dance.
Who is Jean Butler?
Jean Butler debuted her dancing career with the band The Chieftains when she was seventeen years old and traveled widely throughout the United States, Canada, Europe, and Japan. Among her numerous performances, Butler's tapping gig on Mick Jagger's album The Rocky Road to Dublin got her special attention. Butler also represented Ireland at Expo 92 and sang for Princess Diana at the royal premiere of Far and Away.
In 1994, Butler was asked to perform at the Eurovision Song Contest's intermission with Michael Flatley. Butler, along with Michael, choreographed a full-scale spectacle for Riverdance, which became a global sensation.
After leaving the show Riverdance, Butler produced, choreographed, and starred in her show Dancing on Dangerous Ground, partnering with Colin Dunne. The show premiered in December 1999 at Drury Lane and went on to sell out at Radio City Music Hall. Later she started teaching in Ireland and at New York University.
Early Life and Education
Jean Butler was born on 14 March 1971 in the city of New York. Her mother, who was from Cavan in Ireland, enrolled her in various dance classes when she was four years old.
Butler began to take Irish dance seriously and started to study the same since she was nine years old. Despite her ballet and tap training, Irish dance became her specialty, and Butler won consecutive regional, national, and international championships. She then launched a successful solo career with The Chieftains at the age of seventeen and started touring entire Europe and the USA. 
She participated in several videos, and her tapping can be heard on Mick Jagger's album The Rocky Road to Dublin. Jean also represented Ireland at Expo 92 and sang for Princess Diana at the royal premiere of Far and Away.
A theatre enthusiast, Butler, holds a BA in Theatre Studies from Birmingham University. Butler learned her specialty, Irish Step Dancing, from a renowned New York-based teacher Donny Golden.
In 2005, Jean earned a master's degree in contemporary dance performance from the University of Limerick's Irish World Academy of Music and Dance, where she was also an Artist-in-Residence.
'Riverdance'
In 1994, Producer and Co-founder of Riverdance, Moya Doherty, invited Butler to perform for a seven-minute intermission of the Eurovision Song Contest in the Point Theatre, Dublin.
Recalling the day she received a phone call from the Producer, Butler shared, "I was at the University of Birmingham, sharing a flat with five other drama students in our final year. The phone rang and I was told it was somebody from Dublin." She further added, "I had been touring with the Chieftains, so the person who answered the phone thought it was another work gig. I spoke to Moya and afterward went into the living room and told my friends I had been asked to perform at the Eurovision Song Contest. I asked them what it was and they fell around laughing."
At the Eurovision Song Contest, she and her co-choreographer Michael Flatley performed a short work called Riverdance. The dance became an instant hit that it was expanded into a full-length production of the same name, which toured globally for several years and rekindled interest in Irish dance. Butler performed in the play for three years at popular venues, including Labatts Apollo Hammersmith London, Radio City Music Hall New York, Kings Hall Belfast, Rosemount Theatre Chicago, and Pantages Theatre Los Angeles.
With her role in Riverdance, Butler became a well-known face overnight. The original seven-minute part of the 1994 Eurovision Song Contest that stole the show had on the other side left a mark on the Irish culture in no time. The show also made history in Irish culture. But it's just ancient history for Butler.
In 1995, after a disagreement with the producer, Flatley departed Riverdance and Butler realized the reason for their discord. She shared, "I was powerful on stage, and in Lord Of The Dance, everyone that is given any solo time is there to make Michael look better."
Butler also departed Riverdance the following year in pursuit of new challenges. In 1999, she teamed up with Colin Dunne, an old acquaintance from her competition days, to take over Flatley's place. The duo developed Dancing on Dangerous Ground, a £2 million production. It premiered in December 1999 at Drury Lane and went on to sell at Radio City Music Hall. Despite failing commercially, the show was well-received by the audience.
Awards 
Butler had been named to Irish America Magazine's 'Top 100 Irish Americans' and received the prestigious 'Irish Post Award' for her extraordinary contribution to Irish Dance. She was honored by the University of Limerick in 2009 with the 'Outstanding Contribution to Arts and Culture Alumni Award.' In 2016, the Irish Arts Center in New York presented her with the 'Spirit of Ireland Award,' and she was inducted into the Irish American Hall of Fame in 2020
Other works
In Terence Ryan's film The Brylcreem Boys (1998), Butler played Mattie alongside Gabriel Byrne, Bill Campbell, and John Gordon Sinclair. She played Gloriana in Christopher Eccelston and Derek Jacobi's The Revenger's Tragedy (2002) and also starred in Liz Gill's Goldfish Memory (2003).
Teaching
Butler resigned from active dancing in 2010 and began to work as an Adjunct Assistant Professor of Irish Studies at the New York University's Glucksman Ireland House.
She is also the Director of the Irish Dance Scholar Ensemble at the University College Dublin and received a Fellowship in Creative Practice from the University.
Butler spent three years as an External Examiner for the BA in Traditional Irish Music and Dance at the Irish World Academy of Music and Dance, University of Limerick.
Butler had taught at the famed Princeton Atelier in Spring 2018.
Additionally, Butler had taught Irish Dance Master Classes worldwide and had lectured at NYU, Notre Dame, and Trinity College in Dublin. She's also an Associate Editor of the online program, Critical Correspondence by the Movement Research.
Jewelry
Jean owns her own line of jewelry, The Jean Butler Jewelry Collection, in remembrance of her grandmother May. The collection entails an ambiance of Irishness and includes products like magnificent Irish jewelry sets, with feathers, shamrock buds, birds, and wildflowers, all subtly interwoven in sterling silver with gold and rose tones.
Few of her released collections include The Meadows, Jean's third collection, which was released in Ireland in May of 2013 and was inspired by a passion for nature and the beautiful Irish countryside. Furthermore, another collection of The Jean Butler Jewelry, The May Collection, was incessantly fashionable and signified an inherent attribute reinforcing the bonds that unite people to Ireland's beauty.
'Does She Take Sugar?'
Butler's debut solo piece, Does She Take Sugar? was featured at the Project Theatre in Dublin in 2007. The program followed an intimate dance production that explored daring new movement language taken from traditional Irish dance terminology and placed in a modern setting.
"That show was very much a self-portrait, although I wouldn't have been able to define that at the time", Butler told about her show to Irish Central in May 2010.
"It was the beginning of something for me as an artist, which probably I would have been very unhappy saying I was five years ago but it makes sense to me now", she further added.
'Celebrity Jigs 'n' Reels'
Celebrity Jigs 'n' Reels is a reality-TV mini-series that aired in 2006 and carried a total of six episodes. The show followed seven celebrity participants who adhered to Irish dance moves In the name of goodwill. Butler appeared as a Judge of the show in all its 6 episodes.
Our Steps Foundation 
Butler founded Our Steps in 2018 as a non-profit with the objective of reviving the core of Irish traditional dance, stories of the therein personalities involved, and the growth of the discipline through several diverse archival, performance, and multi-disciplinary projects. She served as an executive and artistic director at the foundation from the year of establishment, 2018, to the present, as of 2021.
"Our Steps is dedicated to exploring ideas around Irish-ness and the dancing body, provoking questions about our collective history and initiating works that bridge this culturally specific practice with the wider contemporary arts landscape. It is time for Irish dance to invite other dance forms and other art forms to connect and collaborate", Jean Butler has put up her remarks on the objective of her organization on its official home page.
The New York Public Library for the Performing Arts
Our Steps pioneered their foremost archive of Irish solo dances in The New York Public Library for the Performing Arts, one of the most comprehensive collections of circulation, reference, and rare archival materials in its discipline in the world in the summer of 2018 and a year later, In June 2019 Butler returned to the library for yet another round with her constantly at large project 'Our Steps, Our Story: An Irish Dance Legacy Archive'.
'Our Steps, Our Story: An Irish Dance Legacy Archive' was the first archive primarily oriented to sustaining the steps and stories of Irish dance professionals and influencers from An Coimisin Le Rinc Gaelacha; the world's oldest and largest regulatory body for competitive Irish step dancing. Moreover, the archive was a partnership between Butler's Our Steps Foundation (OSF) and the Library's Jerome Robbins Dance Division. Butler stayed at the library from June 3 through June 13, 2019, in fulfillment of the objective of this collaboration i.e promoting critical discussion among generations of Irish dancers and connecting Irish step dance to the larger field of dance.
Butler was inducted into the Irish America Hall of Fame in 2020 for her decades of contributions and accomplishments in the field of Irish dance.
'Hurry'
Butler made a comeback as a choreographer in the solo show Hurry at the Project Arts Center in 2013. She conjoined her extensive experience and training in Irish Step Dance in this new solo, integrating a culturally particular practice with a contemporary approach to dance production. 
Hurry was a personal conclusion to the issue of reconciling poetic and kinesthetic sensibility, generated via a range of methodologies aimed to analyze the coded body. The performance was directed by Jon Kinzel and incorporated an exhibit by the renowned visual artist Corban Walker as part of the Dublin Dance Festival.
Personal Life
After two years of relationship, Jean married Irish fashion designer Cuan Hanley in 2001. Their wedding took place in Mayo in Ireland, the hometown of Butler's grandmother and mother. A few years after their marriage, Butler and her husband moved to Brooklyn in 2006.
Cuan Hanly was the largest creditor of his apparel company, Cuan Hanly Design, which had been lodged in liquidation with a €416,413 deficit. He was at the receiving end of €161,100 by the company in 2002, according to unsecured creditors.
Sister
Jean's sister, Cara Butler has a strong knack and aptitude for Irish step dancing as well. She is a co-creator of TheStepCrew, a musical group since 1992, and has also been performing as the lead female dancer for The Chieftains since the same year. The Chieftains have received six 'Grammy Award' for their performances.
Cara is also known for her lead dancer part in the countrywide Folgers coffee commercial, A Dancer's Morning, and also appeared in Shania Twain's video, 'Don't Be Stupid' (1997). She had also choreographed dance scenes with Brad Pitt in The Devil's Own (1997), as well as Cher and Ryan O'Neal in Faithful (1996).