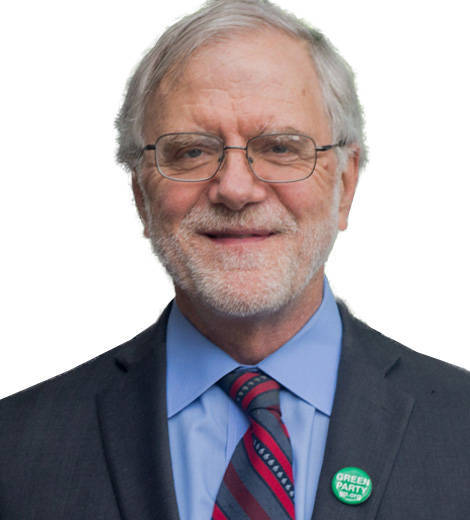 Quick Wiki
Full Name

Howard Grisham Hawkins

Nickname

Howie Hawkins

Occupation

American Politician, Civil Rights Activists

Nationality

American

Birthplace

San Francisco, California, U.S.A

Birth Date

1952-12-8
Quotes
"How are you going to vote against Trump? I'm for a Green New Deal, Joe Biden and Donald Trump are opposed. I'm for Medicare for all, Donald Trump and Joe Biden are opposed. I'm against deploying modernized and strategic tactical nuclear weapons..."
Green New Deal Pioneer
Howie Hawkins | Biography2021
Howard Grisham Hawkins developed his interest in politics at age 12 and became an active member of movements of civil rights and anti-war in the late 1960s. After joining Ivy League's Dartmouth college, he didn't fulfill the college's intended vision for him to excel in sports; he instead became an ardent radical at college, participated in civil rights movements, and protested the admission policy of the college system. 
---
Howie Howkins is a co-founder of the Green Party in the United States and a 2020 Green Party presidential candidate. He is recognized as the first US political candidate to campaign for a Green New Deal in 2010.
Who is Howie Hawkins?
Howard Grisham Hawkins developed his interest in politics at age 12 and became an active member of civil rights movements and anti-war in the late 1960s. He became an ardent radical at college and protested the admission policy of the college system. 
In 1976, he co-founded the anti-nuclear organization Clamshell Alliances and joined the green movement. With a bigger vision to work for the movement, he co-founded the political party named the Green Party of the United States in 1984. As the Green Party's candidate, he ran for Governor of New York three times (2010, 2014, and 2018) and received sufficient votes every time to qualify the Green Party for ballot status.
Since 1993, he has run for 25 campaigns, including the Governor of New York, Congress, Syracuse City Mayor, and Syracuse Common Council. But he has never won.
He was also the 2020 Green Party presidential candidate and lost the election. He got less than two percent votes.
Early Bio and Education
Howard Gresham Hawkins was born on 8 December 1952 in San Francisco, California. He was raised in a single-parent family. His Republican father was an attorney who also served in the Counter Intelligence unit for the US Army's Manhattan District atomic bomb project during World War II. His mother was an alcoholic who mostly lost consciousness when he reached home from school. She died when he was 12 years old in 1965.
Hawkins, who is known as Howie, grew up in an upper-middle-class part of Burlingame, San Mateo, California, about 20 miles south of San Francisco. While growing up, he developed a southern-inflected accent, native to a neighborhood of San Mateo near the Bayshore Freeway, which was settled mainly by people from the southern United States. The neighborhood also consisted of a diverse community which consisted of Mexicans, Tongans, Samoans, and Arabs.
In the 1960s, Howie and his father, who also share the same name "Howard," would discuss and debate the prime issues of that period, including the Vietnam war, civil rights, and Nixon, from opposing standpoints. The debate would usually take place at the dinner table and during their frequent interactions. 
According to Larry Hawkins, Howie's younger brother, Howie and their father competed head-to-head in such debates. "I think that's where he (Howie) got a lot of his debating skill," he said. He also stated that his elder brother was a jock in high school who participated in athletics, including baseball games. Se shared that his brother hoped to be a professional basketball player at one point in time.
Witnessing Racial Inequality & Dartmouth
When Howie played sports such as football and basketball, he witnessed discrimination and racial inequality in sports. On one occasion, he was at a rec center in San Mateo when he heard the nearby kids talking about the protests that were taking place at nearby Berkeley. Soon after, someone from a group deemed the protesters as communists. But the director of the center—who also used to work in the civil rights movements in Mississippi—protected the protesters stating, "No, they're civil rights workers.'
The particular incident at the rec center and the director's explanation would then inspire Howie to get involved in the protests held at Berkely. He then started skipping classes at the high school to be a part of the civil rights demonstration. 
Later, Hawkins was recruited by Ivy league's Dartmouth College in New Hampshire because of her athletic ability. Even though he attended all four years of college, he did not earn a degree because he did not fulfill the foreign language requirement. Students had to do a semester of foreign language study overseas. He went to Tonga and lived there for three months in 1973, but the college didn't count Tongan as a foreign language. He also didn't fulfill the college's intended vision for him to excel in sports; instead, he spent time in civil rights and anti-war protests. 
His college life was briefly interrupted when his military draft number was called in 1974. In his sophomore year in college, he enlisted in officer training in Quantico, Virginia, for the Marine Corps but was never called to participate in active duty.
Hawkins was an ardent radical at college. He formed the Dartmouth Radical Union, a campus left-wing organization, through which he actively protested the admissions policy of the college and also demanded bringing the Reserve Officer Training Corps (ROTC) program in college. 
"A professor said: 'You rich guys are going to hire you smart guys to write five-page memos … And five people will read them. And that's your life. That's what you're going to do,' "Hawkins remembered in an interview. 
But unlike his professor's saying, he was someone who had gone to create his own path. He wasn't a rich individual. Instead, he was someone who had split from his father because of differences in political views. Similarly, he didn't want to write memos no one would read. 
After splitting with his father, he worked in construction and logging to support himself and did so even after joining Dartmouth.
Third-Party Interest
Hawkins developed his interest in politics at a very young age. At age 12, he started generating interest toward the third parties after he encountered that the Mississippi Freedom Democratic Party led by poor and working-class blacks was refused to seat at the 1964 Democratic National Convention. He noted in an interview that he was also not in favor of the Republicans, who weren't neutral or positive towards the gains of the civil rights movement.
"I asked 'Where's my party?'" He recounted. He spent his next two decades looking for it.
Early Political Career & Construction Job
During his time at Dartmouth College, Hawkins worked in construction and logging in the 1970s and 1980s while moonlighting his political advocacy works. He actively supported various labor organizations such as Labor Notes network, Teamsters for a Democratic Union, Labor Campaign for Single-Payer Healthcare, US Labor Against the War, and Labor Network for Sustainability.
Even after graduation, he worked in manual jobs until reporting a disk in his last logging jobs. The accident then motivated home to look for a desk job he always hated. Ron Ehrenreich, the founder, and then-treasurer of the Syracuse Cooperative Federal Credit Union, then came to Hawkins' rescue. Ehrenreich, who was the Socialist Party's Vice President candidate of 1988, had met Hawkins during socialist political conventions in the past, which the latter visited to convert socialists into Green Party members.
In 1991, Hawkins moved to Syracuse accepting Ehrenreich's offer to help seed co-operative businesses via a non-profit entity called CommonWorks. Hawkins shifted to Syracuse and started leading the cause, but he couldn't convince most firms to turn into co-operatives. Ultimately, the co-operative shut down, and Hawkins continued his political ambition to increase Syracuse Green Party visibility and elect the party candidates in the local election. He also started loading and unloading trucks for United Parcel Service at night. He retired from the job in 2017.
Meeting Second Family
Hawkins liked soul food and pie, opted from drinking and smoking, and went to the gym every day. His love for soul food eventually landed him to visit Vera's Place, a long-time soul food restaurant run by Vera Perry in Syracuse. When Perry knew about the death of Hawkins' mother while he was a child, she let him live together with her and her daughter Renee. They also helped him in his campaigns. He had a warm relationship with Renee's daughter LaToya McKelvin, who knew Hawkins since her childhood. LaToyya calls Hawkins her "uncle."
Hawkins also bought a house in 2009 on a dead-end street on the South Side but never lived there. Other Green Party members and some members of the Perry family live there. As for Hawkins, he lives among Green party supporters, friends, and Perry's, who had let him live with him when he had no place to live.
Green Party And Candidacy for Governor
After co-founding the anti-nuclear organization called Clamshell Alliance in 1976, Hawkins joined the green movement, and in 1984, he co-founded the Green Party of the United States. He participated in the first national meeting to organize a US Green Party in St Minnesota in August of the same year. Since then, he has become a Green Party organizer. The party was qualified for statewide ballot status in November 1988.
Only the political parties whose candidates received at least 50,000 votes on the party's ballot line were qualified for statewide ballot status in New York at that time. The Green Party's candidate Al Lewis garnered 52,533 votes for Governor in the 1998 election and qualified the party for statewide ballot line for the next four years. However, the party later failed to retain the ballot line in New York when the members, Stanley Aronowitz, received 41,797 votes in 2002, and Malachy McCourt managed 42,166 votes in 2006.
In 2010, Hawkins crossed the 50,000 vote threshold while running for Governor of New York, which he earned by campaigning across the state and attending every debate. He also promoted comprehensive Green New Deal agendas for the first time in the United States. With 59,928 votes or 1.3 percent of the total votes, Hawkins eventually qualified the Green Party for statewide ballot status in New York. The following year, he narrowly missed winning a Syracuse City Council seat, losing by less than 100 votes. In 2014's gubernatorial election, he got 5 percent of the vote for the Green Party, the most for a minor party candidate for Governor in New York history.
He campaigned for the same position in 2018 and retained ballot access for the Green Party in Syracuse politics, and legitimized the party in New York state. He received 79,640 votes, which accounted for less than 2 percent of the total votes but sufficient to keep the Green Party qualified in New York.
Other Candidacy 
As a Green Party candidate, Hawkins ran in multiple positions. In 1993, he ran for Syracuse Common Council and lost the election as he only received three percent of the vote. He still has not won any election since then. 
"I don't run expecting to win; I run to raise issues," Hawkins said at the time. 
He ran for Syracuse City Mayor in 2005. Even though he didn't win the election, he gained support for campaigning for a cheap public-power utility, a fairer tax and living wage system, and increasing general people's ownership of businesses.
In 2008, Hawkins ran for Congress in New York's 25th congressional district and received 9,483 votes, which was 3.3 percent of the total votes. The following year, he ran for Syracuse Common Council and got 41 percent of votes.
In 2011, he ran for the Fourth District Common Councilor race and received 48 percent of the total votes. He ran for the same position in Syracuse in 2013 and lost the election by a vote of 1,1471 to 995. 
In 2015, he ran for Syracuse City Auditor and lost the election, winning 35 percent of the citywide vote.
Two years later, Hawkins ran for Syracuse City Mayor and received 4.1 percent of the vote, and continued his streak of losing the elections.
2020 Presidential Campaign & Policies Platforms
On 3 April 2019, Hawkins sought the Green Party nomination for the 2020 presidential election of the United States. He campaigned on the platforms such as Green New Deal, Medicare For All, a guaranteed minimum income, a $20 minimum wage, federal jobs guarantee, and a goal to achieve 100 percent clean energy by 2030, among other agendas. This election was his 25th campaign, and he lost, receiving 0.2 percent of voter turnout nationwide and 0.3 percent in New York. 
The Green Party needed two percent of total voter turnout or 130,000 votes in New York to qualify for next year's state election.
Book & Articles
In addition to labor work and political and environmental advocacy works, Hawkins authored a book entitled 'Independent Politics: The Green Party Strategy Debate.' Haymarket Books published the book in 2006. He later wrote 'The Case for an Independent Left Party: From the Bottom Up,' which was published in 2019. Furthermore, he was a contributor for 'Solidarity' (vol. xix), which was published by Worker's Liberty in 2020.
Hawkins has also written articles on political, economic, and environmental issues, which have appeared in various publications, including Against the Current, Black Agenda Report, Green Politics, Peace and Democracy News, and International Socialist Review.
Did you Know?
In a feature article published on Syracuse.com in 2020, it was reported that Hawkins had been involved in an on-and-off dating relationship but never married.
Fact-checking and Ethical Concerns
We assure our audience that we will remove any contents that are not accurate or according to formal reports and queries if they are justified. We commit to cover sensible issues responsibly through the principles of neutrality.
To report any issues in our articles, please feel free to Contact Us. Our dedicated Editorial team verifies each of the articles published on the Biographyhost.