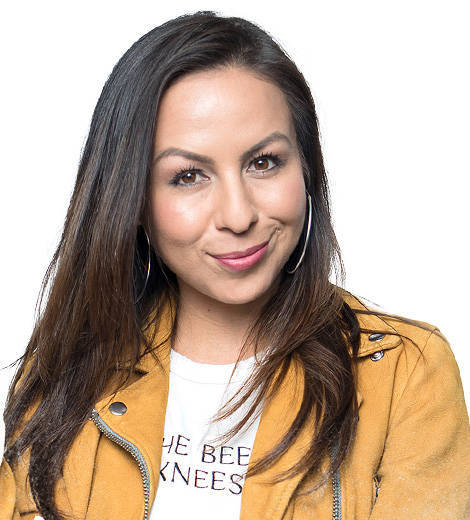 Quick Wiki
Full Name

Anjelah Johnson

Occupation

Comedian, Actress

Nationality

America

Birthplace

California, USA

Birth Date

May 14, 1982
Anjelah Johnson | Biography 2021
Anjelah Johnson is an American actress and comedian who rose to fame after her stand-up comedy 'Nail Salon' went viral.
---
Anjelah Johnson is an American actress and comedian who rose to fame after her stand-up comedy 'Nail Salon' went viral. She is also famous for her character Bon Qui Qui on the sketch comedy television series MADtv.
Who is Anjelah Johnson?
Anjelah Johnson has been passionate about becoming an actress from a young age. Before stepping into the Hollywood industry, she tested her skill as a cheerleader for the Oakland Raiders during her high school. Then Johnson moved to Los Angeles and began her acting career simultaneously performing as a stand-up comedian. She became unexpectedly famous when her stand-up comedy titled 'Nail Salon' went viral. Johnson became an instant internet sensation. She earned more attention when she was given a hilarious performance for her MADtv character Bon Qui Qui. For this portrayal, Johnson got nominated for ALMA Award for Outstanding Female Performance in a Comedy Television Series in 2008.
Johnson also appeared in several critically acclaimed films and television series. She was an Imagen Award Nominee for Best Supporting Actress for her role in the 2010 romantic comedy movie Our Family Wedding. 
Furthermore, she released four one-hour stand-up specials for Comedy Centrals, NuvoTV, Netflix, and Epix. 
Early Life and Education
Anjelah Johnson, in full, Anjelah Nicole Johnson, was born on May 14, 1982, in San Jose, California. She is of Mexican and Native American descent and grew up in a large extended family with her four siblings.
She became a Pop Warner cheerleader at the age of 8. Johnson also took up athletic activities, including soccer, softball, and track. She went to various dance clubs to learn all forms of dance, namely hip-hop and breakdancing. 
Johnson always loved performing, which inspired her to study speech communications at De Anza College in Cupertino. She did many part-time jobs to pay for her tuition fees and to meet other expenses.
Early Career
Johnson aspired to become an actress from her young age but feared to talk about her interest publicly. One of her friends was an actress, and she moved to Los Angeles to widen her career. Johnson gained the confidence to reach her dream after her actress friend assured her to help her get started with her passion.
She used to speak in many accents. Observing Johnson's talent in convincing delivery, her friend encouraged her to audition for Oakland Raiders.
Initially, Johnson felt it was not her calling. "But then I thought more about it and I said, "I am going to use this as my sign. I am going to try out for the Oakland Raiders, and if I make the team, I am going to do it for one year and then move to LA and pursue my dreams to be an actress. If I don't make it, then God just shows me another way and what I should do with my life," " she said.
Eventually, Johnson auditioned for the Raiderettes and became a professional cheerleader for Oakland Raiders in 2002. She cheered for the Oakland Raiders for one year as a member of the 2002 squad. She later moved to Super Bowl XXXVII. 
Johnson started acting as a senior in high school, where she once played a chocoholic addict from London.
Rise to Fame
After the Super Bowl XXXVII, Johnson moved to Los Angeles to pursue her dream to become an actress. 
Nail Salon
After playing small parts in a couple of television shows, Johnson became an internet sensation when her stand-up comedy 'Nail Salon' went viral on YouTube in 2007.
Talking about her experience after the video went viral, she said, "It was amazing. I didn't know how to handle it, to be honest. Because this was back when MySpace was hot, before Facebook, and my MySpace page blew up with friend requests from all over the world, and I didn't know how to handle it. I started getting people requesting me to come perform in their cities, and I really only had about 12 minutes of material at the time. It kind of propelled me to where I am, to be honest."
Bon Qui Qui
The instantaneous popularity she earned through her 'Nail Salon' video led Johnson to many stand-ups, television, and film opportunities. The same year, in 2007, she starred in the popular sketch comedy television series MADtv and left a memorable legacy with the breakout original character Bon Qui Qui. She showcased her rapping skills, and this again became an internet sensation. The original character, a disgruntled fast food employee with no filter, has been enjoyed and viewed by over 76 million people worldwide. For her role in MADtv, Johnson was also nominated for American Latino Media Arts Awards (ALMA) for Outstanding Female Performance in a Comedy Television Series in 2008.
After recording and releasing 3 songs and 2 music videos as Bon Qui Qui, Anjelah signed a record deal with Warner Bros. She named the album as Gold Plated Dreams, for which she toured twice, selling out both times. Bon Qui Qui teamed up with Benefit Cosmetics for her third music video, This Is How We Do It. After the success of her debut album, Bon Qui Qui released a Christmas EP titled Merry Hoodmas.
The same year, she was announced to make a guest appearance as fan-favorite Bon Qui Qui on the September 6 episode of the CW Network's revival series. The show was revived to celebrate the series' 20th Anniversary, which saw the reunion of the majority of the original cast.
Acting Career
Johnson made her acting debut in an episode of the 2006 romantic comedy television series Love, Inc. The same year in May, she starred in the short film The Script. In 2007, Johnson made a big-screen appearance on the crime-thriller movie The Box, portraying the role of Diane. The following year, she appeared as Maria in the comedy television movie Untitled Dave Caplan Pilot. Next year, she was cast as Julie Ortega in the 2009 animated comedy movie  Alvin and the Chipmunks: The Squeakquel. 
In 2010, she guest-starred on ABC dramedy series Ugly Betty and starred as Isabella Ramirez in the romantic comedy movie Our Family Wedding. She also voiced in the animated comedy movie Marmaduke. The following year, she played Mimi in the HBO comedy television series Curb Your Enthusiasm. Johnson also appeared in some critically acclaimed romantic comedy-drama film Enough Said (2013), which was nominated for an Oscar in 2014.
Johnson was also a part of the romantic comedy-drama television series About a Boy, a faith-based comedy film Mom's Night Out, and an animated adventure comedy film, The Book of Life, in 2014. 
In 2017, she appeared in the comedy-drama film The Resurrection of Gavin Stone, a short drama Neighbor, and a comedy television series The Fake News with Ted Nelms. She starred in the role of Gail Claymore in the 2019 comedy television series Superstore. Furthermore, in 2020, Johnson appeared in the biopic based on the story of music star Herent Camp, titled I Still Believe, and starred in the comedy film The Opening Act.
Comedy Specials
In 2009, Johnson recorded her first one-hour comedy special titled That's How We Do It for Comedy Central and Warner Bros. She recorded her second one-hour stand-up special titled Anjelah Johnson: The Homecoming Show, aired on NUVOtv in July 2013. Her third stand-up special, Anjelah Johnson: Not Fancy, was released on Netflix in 2015. 
In 2017, Johnson filmed her fourth stand-up comedy special at the Hawaii Theatre in Honolulu, Hawaii, on awkward messages, home invasions, spiders, and a full-grown child. It premiered on the Epix channel.
Other works
In December 2016, NBC revealed that Johnson would be a part of We The People, a single-camera comedy written by Charlie Sanders. 
In November 2018, she was announced to star in NBC's multi-camera comedy series, called All Fancy, inspired by and based on Johnson's life and stand up. 
Furthermore, she appeared in various ads and commercials, including campaigns for Sprint, Visa, Snickers, Verizon, All-State, K-Swiss, and Dryers Ice Cream. She was also the spokesperson for a Texas-based restaurant chain, Taco Cabana.
Personal Life
Johnson saw her future husband, Manwell Reyes, a lead vocalist of the band Group 1 Crew, at a wedding ceremony. Though she was attracted to him at first sight and made efforts to find his details on social media, Johnson met Reyes only after two years after her friend suggested to her if she wanted to hook up with Reyes. They met in August 2010, became boyfriend and girlfriend in October, got engaged on Christmas Eve, and married on June 11, 2011.
Fact-checking and Ethical Concerns
We assure our audience that we will remove any contents that are not accurate or according to formal reports and queries if they are justified. We commit to cover sensible issues responsibly through the principles of neutrality.
To report about any issues in our articles, please feel free to Contact Us. Our dedicated Editorial team verifies each of the articles published on the Biographyhost.