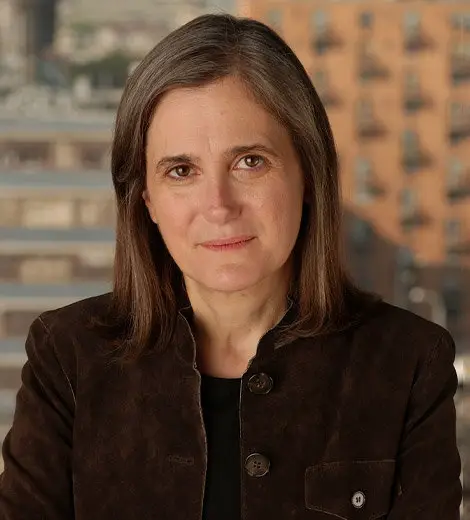 Quick Wiki
Full Name

Amy Goodman

Nationality

American

Birthplace

Long Island, New York, USA

Birth Date

Apr 13, 1957

Age

66 Years, 5 Months

Zodiac Sign

Aries

Occupation

Producer, Host & Journalist

Mother

Dorothy Goodman

Father

George Goodman

Brother

David Goodman

Mother's Occupation

Social Worker

University

Radcliffe College, Harvard Universit

Education

Bachelors Degree in Anthropology

Relationship Status

Not Dis;l

Height

6 Feet 2 Inches

Net Worth

3 Million USD
Host of Show 'Democracy Now!'
Amy Goodman Biography
Co-author of 2004 Book 'The Exception to the Rulers: Exposing Oily Politicians, War Profiteers, and the Media That Love Them'
Immediately after graduating from Harvard University, Goodman began working at the New York outlet of Pacifica Radio. She was a producer and news director at the progressive/liberal political orientation non-profit organization. She worked there for around 10. Moreover, towards the end of her tenure at Pacifica Radio, she co-founded 'Democracy Now!'
---
Amy Goodman is an acclaimed and reputed author, investigative reporter, broadcast journalist, and syndicated columnist. 
Who Is Amy Goodman?
Born on 13 April 1957, Goodman is a veteran American journalist, author, and TV host. She took birth to her Jewish parents, George Goodman and Dorothy Goodman, in Long Island, New York. Her father was an ophthalmologist and founded a Long Island chapter of Physicians for Social Responsibility, a U.S. affiliation of international physicians to stop nuclear war. Similarly, her mother was a social worker.
Goodman graduated from Radcliffe College, Harvard University, in 1984 with an anthropology degree. It was after graduation that she began her career in journalism.
She has mainly gained fame as the long-standing host of the American radio and TV news talk show, Democracy Now!. Moreover, she is also the executive producer and co-founder of the show.
As an author, Goodman holds credit for multiple bestselling books. In 2004, she and her brother David Goodman co-authored their first bestselling book 'The Exception to the Rulers: Exposing Oily Politicians, War Profiteers, and the Media That Love Them.' Later, their 2006 book 'Static: Government Liars, Media Cheerleaders, and the People Who Fight Back' and 2008 book 'Stading Up to The Madness: Ordinary Heroes in Extraordinary Times' also became the bestseller.
She Ventured Into Journalism With Pacifica Radio
Immediately after graduating from Harvard University, Goodman began working at the New York outlet of Pacifica Radio. She was a producer and news director at the progressive/liberal political orientation non-profit organization. She worked there for around 10. Moreover, towards the end of her tenure at Pacifica Radio, she co-founded Democracy Now!
The Dawn of 'Democracy Now'
Joining forces with Juan González, Larry Bensky, Salim Muwakkil, and Julie Drizin, Goodman aired Democracy Now! on five Pacifica Radio stations in 1996. According to the program's website, Goodman has been associated with the show. She hosted the program alongside other co-hosts, including Juan González and Nermeen Shaikh, who accompany her frequently. 
At that time, the show was one of the few radio programs that offered the latest political news coverage. The 1996 U.S. presidential election coverage was a stepping stone for both Goodman and the show. After that, the program became widely popular en route to becoming the flagship program of Pacific radio.
Furthermore, as a journalist, she has often traveled worldwide to investigate cases for the show. Her tv shows credentials also include a television documentary titled XXI Century, which focused on the US's domestic politics and geopolitics under the Bush administration.
Democracy Now! also has its own official Instagram account as @democracynow. As of March 2022, 395 thousand people have followed the page. The page regularly uploads news articles and clips of interviews from the talk show. Also, on 20 October 2016, they uploaded a picture of Democracy Now! host Goodman and her co-worker Nermeen Shaikh from the set.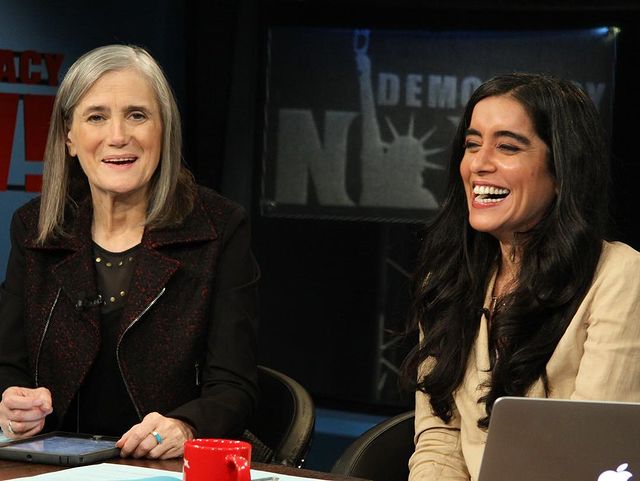 The Best of Amy Goodman and Democracy Now!
The 1998 Investigative Spree of Nigeria
In 1998, Goodman and Jeremy Scahill, the producer of Democracy Now! visited Nigeria. This was an investigative attempt to review U.S. oil companies' activities in the Niger Delta, where the minority ethnic groups had been accusing the foreign oil corporations of exploitation. The tension was rising among the two parties. 
Later, Democracy Now! produced the the1998 George Polk Award-winning audio documentary, Drilling and Killing: Chevron and Nigeria's Oil Dictatorship. The documentary overviewed Chevron's part in killing two Nigerian villagers protesting an oil spill in their community.
Her efforts threw light on Chevron's position in the killing of two Nigerian activists. The story uncovered the brutality against the eleven activists who were demanding contributions from Chevron to develop the impoverished oil region, which was their home.
The Interview with President Bill Clinton
In 2000, Goodman came into the spotlight for an interview with the then-president Bill Clinton. During the half-hour interview, she caught Clinton off guard by asking him unprecedented questions. Some of the topics discussed in the discussion addressed the issues related to racial profiling, the Iraq sanctions, the North American Free Trade Agreement (NAFTA), and the Israeli–Palestinian conflict.
At the end of the interview, Clinton called her "hostile, combative, and disrespectful" for her questioning style. 
Arrested and Charged For Reporting
Goodman has also come across arrests and lawsuits during her reporting for Democracy Now! The first arrest came outside the 2008 Republican National Convention while covering anti-war protests. Goodman and her colleagues were arrested with the probable cause of rioting.
Later, the charges were dropped, and Goodman and her colleagues were released. However, she and her producers filed a federal civil lawsuit against the US Secret Service and St. Paul and Minneapolis police departments for the illegal arrests. Parties later settled the case for $100,000.
Standing Rock Protest: Dakota Acess Pipeline
Goodman's coverage of the Dakota Acess Pipeline protests in 2016 brought widespread condemnation to the pipeline administration. The crux of the controversy was related to how the tense situation unfolded under the administration's jurisdictions after a Native American tribe called Standing Rock Sioux protested against the $3.8-billion Dakota Access Pipeline. As she covered the protesters in ground zero, her camera crew documented the security guards using trained dogs and pepper spray against the protesters. 
After the footage was shown on her show Democracy Now!, her story and the coverage went viral worldwide on social media platforms. Suddenly, the big media networks such as CNN and MSNBC picked up the story. As the events unfolded, the state's authorities charged her two times, once with "criminal trespasses" and again with "riot." After the authorities successfully gained a warrant on the "riot" case, she even turned herself into Morton County's Sherrif. But the court ruled in her favor and decided that there was no evidence to prove the charges.
During her battle with the authorities, many groups such as the Committee Of Protect Journalists said they supported her case on the grounds that she was only standing for the First Amendment's right to "Freedom of Press." 
Democracy Now! Completed 25 Years
Beginning in 1996, the news talk show has completed 25 years of broadcasting in December 2021. Amy Goodman, the show's co-founder, and host, shared the news of their 25th Anniversary through her Facebook account. She invited people through the post to join the virtual event that was set to happen on 7 December 2021. 
Goodman's Husband Is Also A Journalist
The American journalist has kept her personal life information away from media and limelight reach. She is yet to open up about her relationship details and marital status with the world. However, several rumors have been burning up regarding her marriage on the internet over the years. 
According to internet speculations, Goodman has been in a relationship for a long time with Denis Moynihan, a former member of Democracy Now!. However, their marriage date is currently undisclosed. Also, there are no verified details about their love life and married life on internet sites.
Despite all these rumors, both Goodman and Denis have stayed surprisingly silent. They have neither accepted the details in the story nor denied it. Moreover, in 2008, when Goodman organized a farewell for Denis, she referred to him as a family member. It stirred up the rumors even more.
Like Goodman, Denis is also a journalist and author. He has also earned recognition for working alongside Goodman on the American radio and TV news show, Democracy Now!: Twenty Years Covering the Movements Changing America. He became part of the show as their regular columnist in 2000 and later left in 2008 to join Free Speech TV as their new CEO. However, he later appeared as a guest of 3 episodes of the show from 2008 to 2016.
Besides TV shows, Denis is a famous author. He has co-authored several books with Good, among which their 'The Silenced Majority: Stories of Uprisings, Occupations, Resistance, and Hope' and 'Breaking The Sound Barrier' became the New York Times bestseller book.
Furthermore, Goodman's rumored husband Denis is the KFFR 88.3 FM radio station founder. It started radio broadcast in February 2013 and has the license to serve the Winter Park, Colorado community. 
Goodman and Denis Moynihan On Russia-Ukraine War
Recently, on 17 March 2022, Goodman and her rumored partner Denis Moynihan co-wrote a column on the Russia-Ukraine War breakout. They came up with the writing for the show's official webpage, democracynow.org.
Goodman and Denis began their column with the statement by present American president Joe Biden. The statement read, "I think he is a war criminal." It was directed for Russian President Vladimir Putin, who commenced a military operation against Ukraine on 22 February 2022.
As per the writings on the column, Ukraine filed a complaint against Russia in the International Court of Justice following the Russian Military infiltration in Ukraine's territory. However, although the International Court of Justice ordered Russia to suspend military operations immediately, Russia did not agree to abide by it. 
Furthermore, the ICC prosecutor (International Criminal Court) Karim Khan also released an official statement on Russia-Ukraine War. His statement read, "I wish to send a clear message. If attacks are intentionally directed against the civilian population: that is a crime that my Office may investigate and prosecute. If attacks are intentionally directed against civilian objects, including hospitals: that is [also] a crime."
Despite the clear warning from the prosecutor, Russian military forces' brutality kept increasing daily. They bombed and destroyed maternity wards, children's hospitals, Donetsk Regional Theatre of Drama, etc. All the bombings and relentless attacks have brought death to thousands of Ukrainian civilians, and an estimated 3 million people have left the country. Also, as per UNICEF's report, the Russian-Ukraine war is creating child refugees at the rate of one per second.
Goodman and Denis believe that no one should be above the law. However big and powerful the country might be, the international law should be enforced equally to each of them. Moreover, they also appealed for the United States to collaborate with ICC and sign treaties on cluster munitions and landmines.
Also Read About - Gary Condit - Today, Wife, Chandra Levy, Now
Amy Goodman And Alan Dershowitz
Alan Dershowitz is a renowned American lawyer, author, and Harvard Law School, professor. He rose to media fame after publishing his New York Times bestseller book, 'The Case For Israel.' His book is primarily based on Israel and its common criticism.
Following the book's release, another famous author and American political scientist, Norman Finkelstein, accused Dershowitz of several wrongdoings. He allegedly said that 'The Case For Israel' constituted false historical events, fraud, and plagiarism. He also referred to the book as being garbage.
Following the dispute between two renowned American authors, they were both invited for an interview on Democracy Now!. It was then Goodman was introduced to Dershowitz. She interviewed both of them on the show. On Democracy Now!, she also brought up the topic of challenge previously put forward by Dershowitz on MSNBC's Scarborough Country. 
In the challenge, Dershowitz offered a huge sum of $10,000 to Palestine Liberation Organization, aka PLO, if anyone can find a single false historical information on his book 'The Case For Israel.' Goodman also wrote on the transcript about Dershowitz's challenge. She wrote, "On MSNBC's Scarborough Country on 8 September 2003, renowned appellate lawyer, Harvard Law professor and author Alan Dershowitz says: 'I will give $10,000 to the PLO... if you can find a historical fact in my book that you can prove to be false.'"
Good Has Received Numerous Journalism Accolades and Honors.
Goodman has already spent around three decades as a journalist. She has contributed as a show host, news broadcaster, writer, and producer in the journalism industry. She has continuously remained on the receiving end of various journalistic awards for her praiseworthy contribution over the years. 
Her list of prestigious awards includes 'Gandhi Peace Award,' the 2014's 'I.F. Stone Medal For Journalistic Independence, and the 'Right Livelihood Award.' She is the first journalist to achieve the latter award, which is also widely referred to as the 'Alternative Nobel Prize' in the field of journalism.
Goodman also became the first journalist to receive the 'Park Center for Independent Media's Izzy Award.' In addition, her works in Nigeria and East Timor won her several other accolades like 'Alfred I. DuPont-Columbia Award,' 'Professional Journalist Sigma Delta Chi Award For Excellence,' 'Nation Prize For Creative Citizenship,' etc.
Additionally, several American journalist societies like the Corporation for Public Broadcasting, United Press International, Project Censored, and Associated Press have awarded Goodman multiple honors. 
Her over three decades of journalistic experience has won Goodman many awards and recognitions such as:
'The 2014's 'I.F. Stone Medal For Journalistic Independence,' a lifetime achievement award by The Nieman Foundation for Journalism at Harvard.
The first journalist to receive the 'Right Livelihood Award.'
Co-authored six New York Times bestsellers
Society for Professional Journalists 'Sigma Delta Chi Award for Excellence
'The George Polk Award'
'Robert F. Kennedy Prize' for international reporting
The Net worth of Amy Goodman
As per the 2018 report on hollywoodmask.com, Goodman has an estimated net worth of $3 Million. The primary contributor to her massive net worth is her income from her work as host and producer of Democracy Now!. In addition to that, the sales of her bestseller books also aid her net worth.