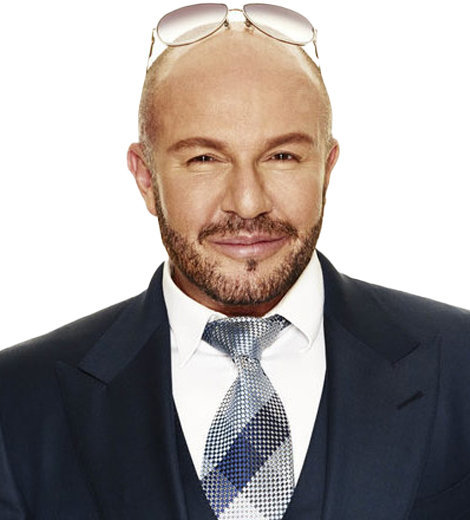 Quick Wiki
Full Name

Alex Perry

Occupation

Fashion Designer, Television Presenter

Nationality

Australian

Birthplace

Sydney, Australia

Birth Date

Feb 14, 1963

Age

60 Years, 7 Months
Popular Fashion Designer
Alex Perry | Biography 2021
Perry started his fashion business in a small shop in suburban Kensington in 1992 before becoming Australia's exclusive couturier. His studio primarily focused on tailored sheaths, corsetry, and custom clothing. He also set the trend of strapless bridal gowns, which were highly acclaimed. In 1994, he repositioned his studio to Double Bay in Sydney, and this time his clients were high-profile celebrities and famous personalities. The fashion expert opened his Sydney boutique in May 2002 at The Strand Arcade. Perry holds his own brand, which has now extended to more than 24 countries. From the red carpet, fashion weeks, photoshoots to high-profile weddings and appearing on covers of international fashion magazines, Perry has achieved all that he could in his two-decade career.
---
Alexandros Pertsinidis, commonly known as Alex Perry, is an Australian fashion designer and TV host famous for his womenswear.
Who is Alex Perry?
Alex Perry is a famous Australian master of couture who has designed custom clothes for world-famous women and high-profile personalities. From the red carpet to high-profile wedding ceremonies, his awe-inspiring clothes have received worldwide attention and appreciation.
He is not just renowned for his majestic fashion sense but also credited for his television works. He is the only judge who has appeared in all the seasons of Australia's biggest fashion reality show Australia's Next Top Model and has appeared in few other TV shows as a contestant and also as a mentor.
In his career that has spanned more than 20 years, Perry has reserved his place on the covers in various international fashion magazines.
Perry also owns a luxury boutique hotel in Brisbane.
He is also engaged with a social organization supporting children with autism and has supported the organization for more than a decade.
Early Life and Education
Alexandros Pertsinidis, fondly called Alex Perry, was born on 14 February 1963 in Sydney, Australia. Perry grew up along with two brothers in a Greek migrant family. His parents used to run takeaway hamburger shops. His father was not sure what he was talking about when Perry showed interest in studying fashion, but his mother was quite supportive of his fashion interest.
Driven by his passion for fashion and glamour, Perry started designing clothes when he was a young kid. His first design was a jumpsuit. He was good at drawing from an early age and was pretty fascinated by things that appeared to be beautiful.
In 1984, Perry graduated from the esteemed East Sydney Fashion Design Studio.
Early Career
After his graduation in 1984, he commenced his career in the modeling industry. He worked as an agent for representing Australian models for international modeling organizations.
Then Perry started his fashion business in a small shop in suburban Kensington in 1992 before becoming Australia's exclusive couturier. His studio primarily focused on tailored sheaths, corsetry, and custom clothing. He also set the trend of strapless bridal gowns, which were highly acclaimed. Perry's glamorous sheaths and jeweled corsets got featured in Vogue Australia, and it was Perry's first editorial shoot.
In 1994, he repositioned his studio to Double Bay in Sydney, and this time his clients were high-profile celebrities and famous personalities.
The fashion expert opened his Sydney boutique in May 2002 at The Strand Arcade.
After effectively establishing oneself in the haute couture universe, Perry launched his ready-to-wear collection in the year 2004 and subsequently Alex Perry Accessories in 2006. Similarly, Perry launched Alex Perry Brides in 2008.
Fame
In 1995 the fashionista had his big time when he dressed Elle Macpherson for a cover shoot of Vogue. She also celebrated pink that month by embracing one of Perry's designs on Marie Claire's cover page.
Throughout his career, which spanned for more than two decades, Perry has been consistently featured on the covers and inside pages of Marie Claire, InStyle Australia, Vogue, Harpers Bazaar, and Madison & Grazia Australia.
The fashion expert handpicks 'Perry Girls,' who he believes have the attributes that uphold his brand's spirit. 'Perry Girls' include Miranda Kerr, Elle Macpherson, and Delta Goodrem.
Perry had already designed custom clothes for high-profile personalities such as HRH Crown Princess Mary, Jennifer Lopez, Sandra Bullock, Rihanna, Priyanka Chopra, Gigi Hadid, Kim Kardashian, and Giulianna Rancic, and many more.
In 1995 Perry remained one of the designers in the inaugural Australian Fashion Week and appeared annually since 1997. The same year, he attracted international attention after Linda Evangelista walked in his show. Later, the fashionista featured star models like Nicole Trunfio, Alessandra Ambrosio, and Lily Cole.
Perry has worked with Specsavers for more than five years and designed rugs and bedding. He is a brand ambassador for Electrolux.
The Alex Perry brand is continuously thriving overseas. It has extended to more than two dozen new countries, including the United States of America, Singapore, Brazil, Turkey, United Arab Emirates, Monaco, and France.
Television Shows
Perry was the only judge who appeared in Australia's Next Top Model for all ten seasons. The fashionista was cast by the show's producer Josie Mason Campbell after she saw his performances on Mornings with Kerri-Anne on the Nine Network.  
The first season of Australia's Next Top Model was aired in 2005, and the 10th edition of the series was aired in 2016. A spokesperson for Fox 8, a network that ran the reality show, confirmed in 2017 that there would definitely be the 11th series, but unfortunately, there was no further season.
'Winners and Losers'
Winners and Losers, a comedy TV series that aired from 2011-2016. Created by Beven Lee and John Holmes the series has 109 episodes in total.
Perry appeared in a couple of episodes on Winners and Losers and played the role of a fashion presenter and a waiter.
'Australia's Next Top Model'
Perry was a judge for an Australian version of the famous American reality TV series Australia's Next Top Model. The fashion TV series firstly aired in 2005 and has already completed its 10th season to date. Perry remained a judge from its inception till 2016 and he is the only judge to appear in every cycle of Australia's Next Top Model.  
Perry spoke on KIIS FM's Kyle and Jackie O Show and said that the reality show is over and that there won't be season 11.
'Project Runway Australia'
Perry has also appeared in a reality TV series Project Runway Australia. The series kicked off in 2008 and has 45 episodes. Perry was a mentor in this series. He appeared in 22 episodes between 2011 to 2012.  
'Kath and Kimderella'
The fashion icon also played in the 2012 comedy movie Kath and Kimderella. Directed by Ted Emery, Perry portrayed his real self in the movie. The running time of the movie is 1.26 hr.
'The Real Housewives of Sydney'
Perry was also the host of the famous show The Real Housewives of Sydney for an episode in 2017. The series has 1 season composed of 12 different episodes.
The Real Housewives of Sydney features seven of Sydney's affluent women as they balance careers, lifestyles, and families.
Vogue
Perry designs aesthetic bridal outfits, winter, and autumn-ready to-wear outfits for Vogue Australia. He had donated 100% of his sales to the Australian wildfires.
Glasses
The fashion artist is a brand ambassador of Specsavers Optical Group Ltd, a British multinational optical retail chain. He had launched his new men's eyewear collection that is available at Specsavers. His eyewear collection features timely updates to classic styles, starting from $299 for 2 pairs of single visions glasses.
For Perry, it was a natural collaboration with Specsavers as he has been very fond of glasses since his childhood.
Apart from his magnificent clothing, his glasses designs are unique and exclusive as well.
According to him, while purchasing glass one should always consider the shape, material, and color that suits oneself, also keeping in mind about one's lifestyle. If we want to switch from day to night with convenience, then it would be better if we select something with a little sparkle, but if we have more of an outdoor lifestyle then we should select something more practical. He also advised us to try as many frames as possible because that would help us to figure out what is appropriate for us.
Perry also suggests that one should also try those styles that would put them out of their comfort zone. "You wouldn't believe how many times I've framed someone and they've ended up loving a pair that they weren't exactly keen on at first", Perry told NEWMARKET.
Perry states that designing his clothing collection and eyewear collection is quite similar and that his clothing collections have some influence on frame designs. When he comes together to work with Specsavers's team to start a new collection, they begin speculating through the material, shape and the end purchaser, brainstorming ideas and pulling together reference points. This is a developing point and then they test what works and what doesn't, then they improve the design until they land on the pristine frames. "It doesn't always come together straight away, but I really enjoy working with the team and there's no better feeling than when I see the complete collection. I would definitely say that the same design aesthetic seen in my garments is reflected in my eyewear collections'', Perry explained.
According to Perry, he frequently wears contacts and he often puts glasses over his contacts at the end of the day because that helps him to boost his eyes as they get really exhausted.
Perry believes that aviators do suits on pretty much everyone. He adores providing a contrast, like wearing a classic design with messy beach hair.
Wife
Perry has a very supportive wife Merry Perry who always keeps him grounded and whom he could always count on. The fashion expert considers his wife as a rock because no matter what, she is always there for him with her unwavering support.
According to Perry, his marriage is the most satisfying part of his life and balances out the extended hours he spends in the studio, corporate alignments and his TV commitments.
"We go shopping to Burwood or to any of our local shopping centres. I don't want to ever think that I'm not normal enough that I can't do the groceries. If I'm acting like an idiot I'll see it in her eyes", The Australia's Next Top Model judge expressed to Mail Online.  
Personal Life
Alex Perry is married to Mary, who is also a Greek. He attributed to her for always keeping him grounded. About their first meeting, Perry said, "It was around the time that Madonna was doing Holiday and all the Greek girls had scrunch-dried fringes. And Mary had a bob, blow-dried straight, and wore this strapless silver dress. She walked in and I was like, 'Who the f...k is that?' She was so expensive looking!"