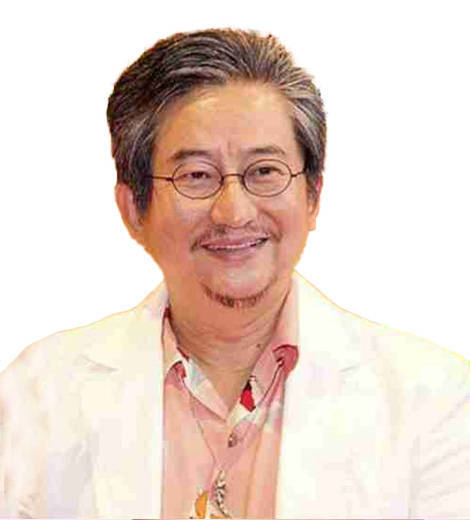 Quick Information
Full Name

Akira Toriyama

Occupation

Comic Artist, Illustrator

Nationality

Japanese

Birthplace

Kiyosu, Japan

Born Year And Birthday

Apr 05, 1955

Age

66 Years, 2 Months
Creator Of 'Dragon Ball' Manga Series
Akira Toriyama | Biography 2021
After the massive success of 'Dr. Slump,' Toriyama created another manga, 'Dragon Boy,' inspired by Jackie Chan's 1978 feature film Jui Kuen (Drunken Master). It was featured in Shonen Jump in 1983. This character laid the foundation for his future fantasy-adventure manga 'Dragon Ball,' which would later get globally popular as a series.
---
Quick Information
Full Name

Akira Toriyama

Occupation

Comic Artist, Illustrator

Nationality

Japanese

Birthplace

Kiyosu, Japan

Birth Date

Apr 05, 1955

Age

66 Years, 2 Months
Akira Toriyama is a celebrated Japanese manga artist (comic artist), best known for creating the most popular 'Dragon Ball' franchise.
Who is Akira Toriyama?
Born and raised in Japan, Akira Toriyama was interested in drawing from his young age. He chose to do a designing course in his high school to become a manga artist. After a couple of mediocre manga works, he gained fame and appreciation in 1980 for creating the comedy manga series 'Dr. Slump.' He achieved tremendous success after he made the globally popular manga series 'Dragon Ball.' His manga was also adapted into anime, TV movies, and video games.
Early Life and Education
Akira Toriyama was born on 5 April 1955 in Kiyosu, located in far western Aichi Prefecture, Japan. As manga was the only entertainment to fascinate children in those days, Toriyama aspired to become an artist. He used to draw manga and animation characters along with his elementary school friends.
"I've always liked to draw. When I was little, we didn't have many forms of entertainment like we do today, so we were all drawing pictures. In elementary school, we were all drawing manga or animation characters and showing them to each other," Toriyama recalled in an interview.
Unlike other children who considered art a pastime, Toriyama continued creating images on paper and also started drawing portraits of his schoolmates. Later, he attended a neighborhood drawing class and got a prize for drawing pictures watching Disney's 101 Dalmatians.
In 1971, when Toriyama was 15, he pursued a design course at Aichi Prefectural Okoshi Technical High School. In the next five years, he graduated in graphic design from the Prefectural Industrial High School. After graduation, he worked at a graphic designing company in Nagoya until he kicked off his journey to become a manga artist.
Career
In 1977, Toriyama contested to be appointed as one of the amateur artists sponsored by Shonen Jump, a weekly magazine of a major manga publisher Shueisha. Toriyama's story pleased one of the editors, Kazuhiko Torishima, who hired him as a cartoonist.
The following year, Toriyama made his debut in the manga industry with 'Wonder Island' for Shonen Jump. Later, Toriyama continued to create other manga characters. In 1979, he created the manga' Highlight Island,' a story of a young schoolboy named Kanta.
'Dr. Slump'
Toriyama's first great series was his comic manga 'Dr. Slump' in 1980. The manga depicts the story of a zany scientist Dr. Senbei Norimaki and his robot Arale. The manga was published weekly for five years in Shonen Jump. This manga also won him the 'Shogakukan Manga Award' for 'Best Shōnen or Shōja Manga Series of the Year' in 1981. The manga was later adapted into an anime series, aired on Fuji TV from 1981 to 1986.
'Dragon Ball' and 'Dragon Ball Z:'
After the massive success of 'Dr. Slump,' Toriyama created another manga, 'Dragon Boy,' inspired by Jackie Chan's 1978 feature film Jui Kuen (Drunken Master). It was featured in Shonen Jump in 1983. This character laid the foundation for his future fantasy-adventure manga 'Dragon Ball,' which would later get globally popular as a series. The manga was based on the adventure of energetic Son Goku, a character based on a mythological Chinese 'Monkey King' fable. Toriyama initially planned Dragon Ball for one year. However, with the rising popularity of 'Dragon Ball,' he changed his plan.
The manga was successfully published for 11 years, from 1984 to 1995, with the 519 chapters divided into 42 volumes. The manga series became widely acclaimed, and the sale eventually crossed 156 million copies in just one country, Japan.
Because of its tremendous success, the manga was also published in foreign editions across Asia and Europe. It was also adapted into a string of anime series, television movies, and video games. It later became a highly rated TV anime series when the anime was aired in the United States on the Cartoon Network.
After creating his final 'Dragon Ball' in 1989, Toriyama began working for its sequel, 'Dragon Ball Z,' with lesser comedy and more action and mainly featured martial arts. The manga premiered in Japan in 1988, and it would also become a highly rated animated television series like its predecessor. With a total of 291 episodes that were produced during the next seven years starting from 1989, the series went on to become a popular globally watched show.
For his years of contribution to comics, Toriyama received the 'Prix Special 40th Anniversary Festival Award' at France's Angoulōme International Comics Festival in 2013.
As of 2019, Toriyama's original manga series sold 350 million copies worldwide.
'Go! Go! Ackman'
Toriyama's short manga series, 'Go! Go! Ackman' follows a humorous story of a 200-year-old demon child, Ackman, who harvests souls for the Dark Devil Lord. The manga was published irregularly in V Jump magazine for 11 chapters from July 1993 to October 1994. The manga was one of the very few mangas that were color printed in V Jump during that time.
The manga was later adapted into an animated short film and three platform video games based on Ackman's adventures.
'Cowa!'
Toriyama's another short manga series, 'Cowa!,' depicts a story of child monsters Paifu, Jose, and Arpon, and the human Maruyama, as they embark on an adventure to collect medicine to save their town from the deadly epidemic from spreading. He drew this manga taking one week ago between three workweeks to give him a slower pace to draw the series.
The manga was serialized in Weekly Shonen Jump between 1997 and 1998 for 14 chapters. The chapters were later collected into a single tankobon volume. It was the first major manga Toriyama produced since the end of 'Dragon Ball.'
This manga was a commercial hit because it was unique from Toriyama's typical super power-driven manga series. It also helped him create more fluid ideas throughout most of his career.
'Akira Toriyama's Hetappi Manga Kenkyujo'
'Akira Toriyama's Hetappi Manga Kenkyūjo,' also known as 'Akira Toriyama's Clumsy Manga Laboratories,' was the manga Toriyama co-authored with Akira Sakuma. It was an informational manga that contained drawing lessons and was serialized on Fresh Jump magazine from October 1982 to March 1984. The manga character Tori-bot teaches his young assistant Hetappi and the readers about the techniques to create manga, explaining everything from inking to the clarity of the story presented, combined with Toriyama's classic humor elements.
Later, a sequel of this manga was written and illustrated by Yusuke Murata titled 'Hetappi Manga Kenkyūjo R' ('Hetappi Manga Research Lab R'). The manga was serialized once a month in Weekly Shonen Jump from 2008 to 2010.
'Kajika'
In 1998, Toriyama created Kajika, a story of a young boy, Kajika, who becomes a fox boy after being cursed by a fox named Gigi that he brutally kills. Kajika was given the stipulation to save 1,000 life forms to return to his normal state. So, he embarks on a wide variety of adventures to become a normal boy again. This 12-chapter manga was released in a single tankōbon volume and was serialized in Weekly Shōnen Jump from July 1998 to September 1998. The manga has a short but entertaining story, and it was praised by critics for its simple structure and writing style.
'Sand Land'
'Sand Land' was Toriyama's 14-chapter manga series that was featured in Weekly Shonen Jump in 2000. It was collected into a single tankobon volume later that year. It follows a story about a world where everything dries up and turns to sand during the apocalypse. When a greedy king holds up all of the water, a detective named Sheriff Rao, along with two demons named Beelzebub and Thief, heads out, searching for a new source of water.
'Neko Majin'
Toriyama's 'Neko Majin,' a comedy manga series of one-shots, spanning a total of eight installments, was released from 1999 to 2005. The three one-shots were serialized on Weekly Shonen Jump and five one-shots in Monthly Shonen Jump. The story of the series follows the adventure of the Neko Majin race, a group of cat-like creatures who have a little bit of magic and enjoy practical jokes and martial arts.
The later section of the series was titled 'Neko Majin Z,' in which Toriyama made a parody of his most famous work, 'Dragon Ball Z,' and featured some of the characters' cameo appearances.
'Jaco the Galactic Patrolman'
For 'Jaco the Galactic Patrolman,' Toriyama adopted a unique approach to storytelling. The manga highlights the exciting life of Jaco, who is sent to Earth to protect it from an evil alien who plots to destroy human existence. It was a short story serialized in Weekly Shōnen Jump for 11 chapters from July to September 2013. In the final chapter, the series was revealed to be a prequel to Dragon Ball, and certain characters from the series also appeared throughout the Dragon Ball universe.
'Dragon Ball Super'
Toriyama plotted and wrote the manga and subsequent anime Dragon Ball Super. The manga started to be featured in V Jump magazine in June 2015. The anime series ended in 2018, but the manga was continued to be illustrated by Mangaka Toyotarau. The series received a theatrical sequel with the title Dragon Ball Super: Broly in 2018. The film set a new record for the Dragon Ball series, collecting over $100 million globally.
On 9 May 2021 (Goku day), Toei Animation revealed that a new Dragon Ball Super movie was under the pipeline to be released in 2022. According to Toriyama, the new movie will feature 'extreme and entertaining bouts' and an 'unexpected' character.
'How to Draw' with Akira Toriyama Session
In 2004, Toriyama organized an eight-step program called 'How to Draw' with Akira Toriyama Session' at the Leipzig Book Fair in Leipzig, Germany. The session was attended by 200 people and was photographed and published in BANZAI!.
Collection: 'Akira Toriyama's Manga Theatre'
An extensive collection of imaginative and action-packed short stories, 'Akira Toriyama's Manga Theater,' has been slated to be released as a single hardcover edition on 7 December 2021.
The short collection stories have been divided into three distinct volumes, which would serve as both a collection of the short stories Toriyama wrote during the first few decades of his career and a history of his life as a manga writer and illustrator.
Video Games
Toriyama has also designed and developed several video game characters. Toriyama assisted in designing the video game characters for 'Dragon Quest' in 1986. Though Yuju Horii and his team had primarily created the 'Dragon Quest' video game series, Toriyama later illustrated the look of the entire series.
His character designs were also featured in the video game series 'Tobal and Chrono Trigger.'
In addition, his manga series 'Go! Go! Ackman' has been adapted into three-part video games. He was also involved in character designing of the Japanese role-playing game (JRPG), Blue Dragon, which was created by Mistwalker—a studio that Final Fantasy creator Hironobu Sakaguchi founded.
CQ Motors
In 2004, he got an opportunity to design a car for CQ Motors, a small electric and single-seated automobile that offered cars in five different colors. By 2005, CQ Motors began selling a car that was designed by Toriyama called QVOLT. It had a cartoonish design that was different from most of his work. The car he designed featured a seat for just one person and carried a speed of about 18 miles per hour. Only nine cars were produced for the general public.
Personal Life
On 2 May 1982, Toriyama married Yoshimi Kato, a manga artist with her pen name Nachi Mikami, in Nagyoga, Japan. According to Toriyama, her wife had a longer career than him, but she gave up her career to take care of the housework after marriage.
The couple gave birth to their son in 1987 and daughter in 1990.
What Is Akira Toriyama's Net Worth?
Toriyama has an estimated net worth of $45 million, according to Celebritynetworth. In February 2020, Comic Book Resources, a Canadian website dedicated to comic book-related news and discussion coverage, reported that Toriyama's net worth was low, considering him as the creator of 'Dragon Ball.' The website ranked Toriyama as the second richest Mangaka in Japan at that time.