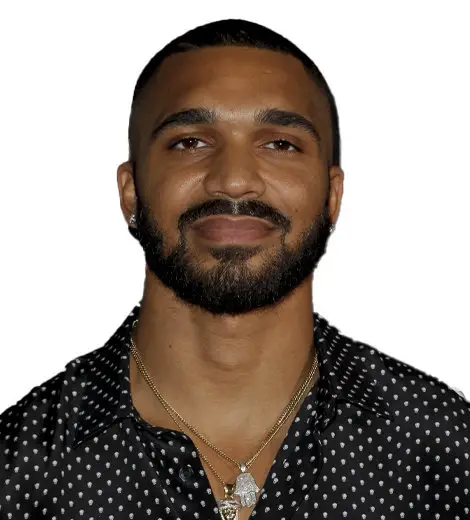 Quick Wiki
Full Name

Tyler Lepley

Occupation

Actress

Nationality

American

Birthplace

Pennsylvania, USA

Birth Date

Mar 24, 1987

Age

36 Years, 6 Months
Cast of the series 'The Haves and the Have Nots'
Tyler Lepley | Biography 2021
Lepley played a regular in the television series 'Harlem Starz,' in 2021
Tyler Lepley got his career-defining role, Benny, in Tyler Perry's 2013 crime thriller series 'The Haves and the Have Nots.' He was chosen as the cast after four months of the process. It was the first scripted television series for the Oprah Winfrey Network.
---
Tyler Lepley is an actor prominently known for the movie 'Baggage Claim' and series 'The Haves and the Have Nots.'
Who Is Tyler Lepley?
Tyler Lepley is an American actor who rose to prominence after playing Benjamin "Benny" Young in Tyler Perry's prime-time soap opera, The Haves and the Have Nots. The crime thriller was the first scripted television series to air on the Oprah Winfrey Network in 2013. 
In 2013, Lepley also starred in the comedy film Baggage Claim alongside Paula Patton. In early 2016, Lepley landed the lead role of Jaxon in the made-for-television movie titled Ringside. It was directed by Russ Parr and produced by Swirl Films. 
Most recently, Lepley was seen as a series regular in the television series Harlem Starz (2021), and P-Valley (2020), a short film titled About the People (2019), and the television movie There's Complicated (2019). 
Early Life & Education 
Tyler Lepley was born on 24 March 1987 in Philadelphia, Pennsylvania, USA, by his mother and stepfather. His stepfather has been in his life since he was six years old. He belongs to a mixed ethnic background: his mother is an Italian, and his biological father is a Jamaican. 
He is the only child of his parents and is very close to them. "I am an only child, so it's just us three," Lepley revealed in an interview with Essence. "My parents are my mom, dad, brother and sister all in one. I love them with every ounce of my being and would not be where I am today if I didn't have them as a support system."
Growing up as the only black child in his class, Lepley claimed he was humiliated when he was young. He completed high school in Central Bucks High School West, Doylestown. Lepley took part in various sports during his high school days, including basketball, track, football, karate, and boxing. However, football remained his favorite. He went by the name Tyler Dinnis in his high school football.
A football scholarship helped him to enroll at Kutztown University. Lepley was a member of the university football team. However, he and a fellow player were expelled from the team for a brawl in the fall of 2007. As a result, Lepley's football career was terminated, and he was also charged with a misdemeanor. But, he was reinstated to the institution. In 2010, he went on to earn a bachelor's degree in criminal justice from Kutztown University.
He enjoyed where he grew up, but as he grew older, it became difficult for him to live in Philadelphia. "I am a big dreamer, and it started to feel as if my dreams were being suffocated," he confessed.
Career
In 2011, Lepley accepted a friend's invitation to move to Los Angeles and began working as a fitness instructor at Iron Fitness Gym in Santa Monica. After three months, he was spotted by a producer in a boxing gym, who encouraged him to participate in the audition for a part in Slumber Party Slaughter. Lepley soon landed the main role of Tyrese in the independent horror film, and the movie was released in 2012.
Lepley followed his agent's suggestion and went on to attend acting courses. He then got featured on CBS's CSI: Crime Scene Investigation and The CW's 90210 in 2012. 
'The Haves and the Have Nots'
In 2013, Lepley got his career-defining role, Benny, in Tyler Perry's crime thriller series and soap opera The Haves and the Have Nots, after a four-month casting process. The series' premise is based on Perry's play of the same name from 2011. It was the first scripted television series to air on the Oprah Winfrey Network. The series premiered on 28 May 2013 and ran for eight seasons. The OWN's drama lasted for 196 episodes and aired its final episode titled 'Dark Intentions.'
"For me, it starts as an actor but it is a tool to let me be able to have an effect on the world. I want to have a stage big enough to make a difference and to make a change in the world we live in. I think it takes a collective effort that we all have to be a part of, and I have found my path to give that help, I believe."
"To make this change I want to see, I have to keep expanding my horizon through dedication and hard work, and that is my inspiration."
The show depicts the difficult relationship between the Cryer and Harrington families, as well as the hired servants that labor in their lavish estates. 
The Haves and the Have Nots drew approximately 3 million viewers on average over the course of its last seven seasons. Over the course of its run, it averaged 2.8 million total viewers. From 2014 to 2017, while the show was at its peak, it averaged over 3.1 million viewers every year. Moreover, the show is the most-watched scripted cable series among African American women and households as per reports from The Hollywood Reporter.
His Characters 
Tyler Lepley portrayed the role of Benny Young. He is the son of maid Hanna and is a dedicated and family-oriented man who would protect his family. Lepley appeared in 122 episodes of the drama from 2013 to 2021. He shared the screen along with renowned artists like Angela Robinson, Tika Sumpter, Renee Lawless, Crystal Fox, Peter Parros, Brett Davis, Gavin Houston, Aaron O'Connell, and Brock Yurich among the cast members.
Lepley also appeared in the final cast reunion of The Haves and the Have Not in July 2021 where he talked about his character in the series. He said, "To be able to showcase a black man that was really just trying to support his family and do the right thing, it was just a treat to be able to play." He also credited the success of his role to the show's creator Tyler Perry, his castmates, and his supporters.
'Baggage Claim'
Baggage Claim is a romantic comedy film directed and written by David E. Talbert. The movie was released on 27 September 2013. It is based on a book by David E. Talbert of the same name. Lepley portrayed the role of Curtis in the comedy movie. It also starred actors like Paula Patton, Derek Luke, Taye Diggs, Jill Scott, Adam Brody, Djimon Hounsou, Tyler Lepley, Jenifer Lewis, and Ned Beatty. 
Plot
The story revolves around Montana Moore (played by Paula Patton), a pathologically single flight attendant in her thirties. She is on a journey to persuade her domineering, frequently married mother (played by Jenifer Lewis) to quit encouraging her to marry. The pressure is increased when her younger sister, Sheree (played by Lauren London) also gets engaged. 
Montana then finds herself with only 30 days to finding Mr. Right before her younger sister's wedding. She amasses over 30,000 miles and several funny encounters while seeking the perfect guy, using her airline connections to "accidentally" meet up with prospective ex-boyfriends and scour for potential partners.
'P - Valley'
P-Valley is a strip club television drama series created by Katori Hall. The series is based on Hall's play Pussy Valley and follows a group of people who work at a Mississippi Delta strip joint. The first episode premiered on Starz on 12 July 2020, which established a record for the most-watched series premiere on the Starz app. 
Following the success, it was renewed for a second season just two weeks after the premiere date. According to sources, the second season would air in 2022. The drama series stars Tyler Lepley alongside artists like Brandee Evans, Harriet D. Foy, Nicco Annan, Shannon Thorton, and Elarica Johnson star in the film.
Audience Response 
P-Valley has received great feedback from critics. Season 1 received a 100 percent approval rating from review aggregate Rotten Tomatoes. The consensus of Rotten Tomatoes reviewers reads, "A stunning, lyrical piece of neon noir, P-Valley explores the unseen lives of strippers in Mississippi through Katori Hall's singular gaze, celebrating the beauty of the craft without sugarcoating the challenges."
Plot 
P-Valley chronicles the narrative of two mystery characters, Andre Watkins and Autumn Night, who come to a Southern town. They are set off in a sequence of events that will have an influence on the residents of Chucalissa, Mississippi, for quite some time. 
The network's official synopsis for the show states: "This southern-fried, hour-long drama tells the kaleidoscopic story of a little-strip-club-that-could and the big characters who come through its doors—the hopeful, the lost, the broken, the ballers, the beautiful, and the damned. Trap music meets film noir in this lyrical and atmospheric series that dares to ask what happens when small-town folk dream beyond the boundaries of the Piggly Wiggly and the pawnshop."
Lepley's Character
Tyler Lepley plays the role of Diamond in P-Valley. Diamond works as a bouncer in the strip club, The Pynk. He was cast as a series regular in March 2019. He has appeared in seven episodes of the first season of P-Valley. 
Tracy Oliver's Upcoming Amazon Comedy Series 'Harlem' 
Harlem is a mono camera sitcom drama that follows four women of color who are friends from their NYU days as they negotiate sex, love, while pursuing their careers.
Lepley plays the role of Ian, a chef with an artsy/free spirit. He is Camille's ex-boyfriend who has recently returned to Harlem. In February 2020, Lepley was cast as a series regular in Amazon's half-hour comedy from Tracy Oliver.
A Fitness Junkie
Lepley, who worked at a gym before joining the entertainment industry, still maintains his fitness regime. In an interaction with Essence, he revealed he visits the gym four times each week and stays active six or seven times per week. He said that the blueprint contains the secret, and consistency is the key to maintaining the physique.
He says a personalized nutrition plan must be followed along with the physical workouts. He said that putting effort into the body and then failing to adequately fuel it is counterproductive.
Sexuality Rumors 
Lepley has been battling allegations of being in a relationship with The Have and The Have Nots creator Tyler Perry since the series launched in 2013. In July 2021, Lepley appeared on Angela Yee's podcast show titled Angela Yee's Lip Service, where he discussed the rumors around his sexuality and his friendship with Perry. 
Lepley clarified the situation by stating that both he and Perry were heterosexual and gay rumors are untrue. He said, "I came out on a Tyler Perry show, and like for whatever reason, he gets a rap like that. I know Tyler [Perry] personally, and he's not gay. I was seen around him, and all of a sudden, 'he's rubbing off on me,' and people felt like I was gay or something like that."
Lepley also noted that the accusations resurfaced during P-Valley when he took selfies with Nicholson, who portrays the character of a closeted gay rapper, Lil Murda. 
Lepley stated, "I was on the set of P-Valley, maybe I was with [character Uncle] Clifford, I think I was taking a picture with Alphonse, who plays Lil Murda, and people started off with the [rumor] again. I think if you have a space people can't figure out, they just tag you with whatever, they create a judgment."
Is Tyler Lepley Single?
In the same podcast interview, Lepley informed his supporters that he was in a relationship with his girlfriend. He also explained why he preferred to keep his personal life to himself. 
When asked about his romantic life, the actor revealed his girlfriend approached him. Lepley described his partner as straightforward, but she had not approached him directly. He remembered how she initiated a conversation with him and then spoke up about her sentiments after a while. He also revealed that he and his partner have known each other for a long time.
Lepley stated he took it from there, and that their friendship was the beginning of their relationship and commitment. Soon after, he realized he didn't want to be without her or see her with someone else. This encouraged Lepley in forging a stronger bond with his girlfriend.
He explained she worked in the same industry as him and that they spent a lot of time together. Although the actor did not reveal the identity of his partner, he confirmed that they have a son together.