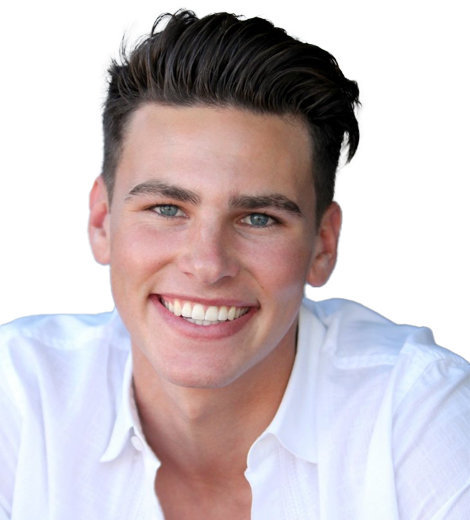 Quick Wiki
Full Name

Troy Osterberg

Nationality

American

Birth Date

Jun 03, 1997

Age

26 Years, 5 Months

Occupation

Actor, Entrepreneur, Content Creator, Social Media Personality
Cast of movies 'Colossal Youth,' 'Delirium'
Troy Osterberg | Biography 2021
Troy Osterberg is the Director of Talent at Lombardi's Management Inc.
Troy Osterberg portrayed Billy in the 2018 horror-thriller movie 'Delirium.' The story follows a young man being challenged by a group of buddies to enter the doorstep of the reportedly haunted house to join their gang. When he doesn't return, the group members enter the house and find a much more violent history of the building.
---
Troy Osterberg is an actor best recognized for the high school drama 'Colossal Youth' and horror-thriller movie 'Delirium.'
Who Is Troy Osterberg?
Troy Osterberg is an actor, social media personality, and content creator. He made his on-screen debut in 2011, appearing in a short movie titled The Ultimate Conquest. His television credits include movies like Stranger.Lovers.Friends (2011), Vile (2014), My Killer Client (2018), Colossal Youth (2018), Delirium (2018), and Christmas Matchmakers (2019). 
He is also a popular TikTok content creator with over 111 thousand followers as of 8 August 2021. 
Early Life
Troy Osterberg was born on 3 June 1997 in the USA. He graduated from the University of Arizona with a bachelor of science in business administration in 2019. 
On-screen Career 
In 2011, Osterberg made his television debut by portraying the character Luke in a short movie, The Ultimate Conquest. The same year, he featured in another short movie titled Strangers.Lovers.Friends, where he played the role of Zack. In 2012, he appeared in an episode of Disney comedy-drama Austin & Ally as Ethan, and it aired on 7 October 2012.
The actor was recently seen in the 2019 television movie Christmas Matchmakers as Peter and the 2018 movie My Killer Client.
'Case#13' and 'Delirium'
In 2014, he appeared in the short film Vile, in which he played the character Trance, and in the horror film Delrium as Billy. 
Delirium was initially premiered at the Carmel International Film Festival under the title Case#13. It was written by Andy Cheng and Lisa Clemens, and the story by Johnny Martin. 
'Colossal Youth'
The movie revolves around four high school boys, Ryder Jensen (played by Troy Osterberg), Greg (played by Riker Lynch), Erica (played by Kimmy Caruso), and Jordan (played by Reese Everett Ryan), navigating their personal life, the wild, and fun days of their senior year of high school. When Ryder's love interest, Siobhan (played by Alexa Dowd), returns to school, he tries everything to win her heart. His quest eventually brings him to the bottom, but it's there that he finds his true love has always been there for him. 
Colossal Youth was directed by R. Scott Leisk, and Mutt Productions produced it. The romantic drama was released in 2018. 
Other Works 
Along with working in the entertainment business, Osterberg had also worked in the corporate world. He served as an Executive Assistant at Coral Tree Realty in the Greater Los Angeles Area. Osterberg worked there for a year, from February 2013 to February 2014. There, he oversaw listings and business events and managed the principals' travel arrangements and trip pre-planning.
From May 2014 to December 2014, he worked as a Project Manager Intern at The Vocal Corner Store in Los Angeles. He created three executive presentations and reports to help with the Summer Vocal Bootcamp evaluation and procedure. He also worked with the CEO to define project scopes and plans and coordinated design meetings.
From January 2016 to April 2019, he worked as a Staff Accountant at Osterberg & Associates, Inc. CPA, for over three years. He was in charge of accounting functions, such as journal entry preparation, account analysis, and balance sheet reconciliations. Later, he has also served as Cash Management Specialist, preparing financial reports on cash receipts, expenses, and profit and loss. 
Osterberg is presently serving as a Director of Talent at Lombardi's Management Inc. since January 2019. Osterberg is also a part of a clothing line called Balboa Lemons and uses his social media to promote the brand. 
Social Media World
Osterberg is a content creator on social media platforms like YouTube and TikTok. He has 
 111 thousand followers and 3.3 million likes on TikTok, around 2000 subscribers on YouTube, and over 78 thousand followers on Instagram, as of 8 August 2021. According to his YouTube channel, Osterberg is currently working on a new series titled Scenes.
He also has a self-titled website, also known as Friends with Benefits, where he provides content for paid subscriptions. As per his website, the paid subscriptions include features like uncut and behind-the-scenes episodes, access to his private Instagram feed, private live streams, dating advice, Q&A, direct messaging, and many more. He also has a merchandise line with exclusive 'Friends with Benefits' clothing.