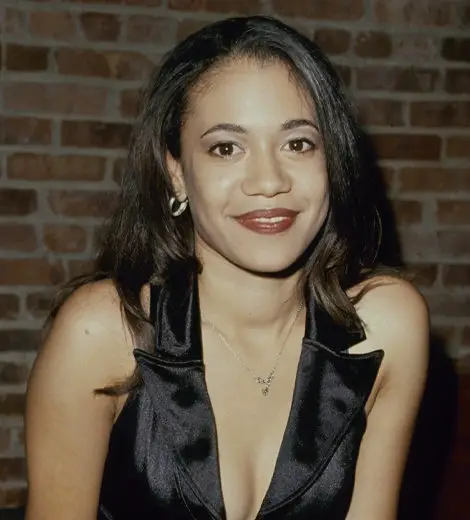 Quick Wiki
Full Name

Tracie Spencer

Occupation

Singer, Actress & Model

Nationality

American

Birthplace

Waterloo, Iowa, USA

Birth Date

Jul 12, 1976

Age

47 Years, 2 Months
American R&B Singer of the Song 'Save Your Love'
Tracie Spencer | Biography
Recording Artist & Actress of the short film 'A Tale of Two Sisters'
Further, 'Save Your Love' debuted at No. 7 on the R&B/Hip Hop Singles & Tracks chart. 'The House' reached No. Three on the Billboard Hot 100 chart. 'Love Me' peaked at No. 2 on the Hot R&B Singles chart, while 'Tender Kisses' topped the Hot R&B/Hip-Hop Singles & Tracks and won her the ASCAP songwriter of the year award in 1992. She then released her third album, Tracie, on 29 June 1999. The album also featured 12 songs, including singles 'It's All About You (Not About Me)' and 'Still in My Heart.'
---
Tracie Spencer is an American pop/R&B singer-songwriter, model, and actress. She is known for her several hit singles, including 'Symptoms of True Love' (1988), 'Tender Kisses' (1990), and 'It's All About You (Not About Me)' (1999).
Who is Tracie Spencer?
Tracie Spencer began singing when she was just three years old. By age five, she began modeling in pageant competitions. She recorded a demo tape in a Waterloo library basement before turning 10. Her demo tape subsequently begot her an opportunity to compete on the CBS televised talent competition, Star Search, and win the Star Search's junior vocalist title in 1986.
After winning the competition, she rose to fame and eventually led her to sign with Capitol Records. On 16 January 1988, she released an eponymous debut album that featured ten songs, including hit singles such as 'Hide and Seek,' 'Symptoms of True Love,' and her remake of John Lennon's 'Imagine.' On 27 August 1990, Spencer released her second album, Make the Difference. Her second album featured 12 songs, including hit singles such as 'This House,' 'Save Your Love,' 'Love Me,' and 'Tender Kisses.'
Further, 'Save Your Love' debuted at No. 7 on the R&B/Hip Hop Singles & Tracks chart. 'The House' reached No. Three on the Billboard Hot 100 chart. 'Love Me' peaked at No. 2 on the Hot R&B Singles chart, while 'Tender Kisses' topped the Hot R&B/Hip-Hop Singles & Tracks and won her the ASCAP songwriter of the year award in 1992. She then released her third album, Tracie, on 29 June 1999. The album also featured 12 songs, including singles 'It's All About You (Not About Me)' and 'Still in My Heart.'
In addition to her single albums, she sang 'I'll Be There For You' for the 1997 film Good Burger, 'The Rain' for the 1998 film Down in the Delta. She also modeled for various luxury brands, including Tommy Hilfinger and Chanel. Her modeling career led her to be a part of New York City and Los Angeles' 1999 and 2000 fashion weeks. She also signed to NEXT modeling agency and appeared in numerous magazines. 
How old is Tracie Spencer?
Tracie Spencer was born in Waterloo, Iowa, on 12 July 1976 to her parents Theresa (née Williams) and Marvin E. Spencer Sr. Her mother, a nurse, is of Creole and Indian descent. Her father, a one-time backup singer of Jackie Wilson, was of French Canadian and Panamanian descent. He grew up with his three siblings - two brothers, Marvin Jr. and Marty, and one sister, Tricia. 
Net Worth
Though Spencer's exact net worth has yet to be known, various net worth estimators estimate her net worth in millions. 
Husband
Spencer had once told People magazine in 1991 that she dated three boyfriends by age 15. Her current relationship status or her having a husband is not known. However, she was once rumored to be in a relationship with Danish songwriter and producer Kenneth Karlin (also known as Karlin) and Danish record producer Carsten Schack (alias Soulshock). 
What is Tracie Spencer doing now?
In the early 2000s, Spencer began singing background vocals on hip-hop songs for rappers such as Kanye Omari West (a.k.a. Kanye West), Curtis James Jackson III (alias 50 Cent), and Eve Jihan Jeffers Cooper (a.k.a. Eve). During that time, she also wrote songs for other artists' projects. In addition, in 2004, Spencer portrayed the role of Carol in the short film A Tale of Two Sisters, alongside Kathryn Taylor Smith and Morocco Omari. She also performed in the play titled Choices in Los Angeles, California, in 2006.
However, Spencer, now age 45 as of 2021, has been keeping her life low-key. She has been away from the limelight for over a decade now.