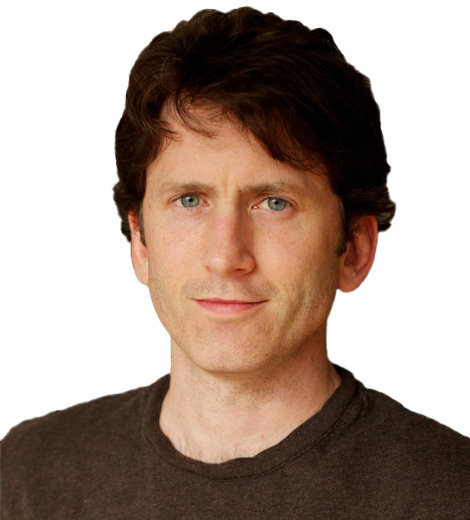 Quick Wiki
Full Name

Todd Andrew Howard

Occupation

Video game designer, Video game producer, Game designer, Computer scientist, Television presenter

Nationality

American

Birthplace

Lower Macungie Township, Pennsylvania, USA

Birth Date

October 6 1970
Executive Producer and Director at Bethesda Game Studios
Todd Howard | Biography
Game Developer of Fallout and The Elder Scrolls series
Bethesda recruited him in 1994 on their game developing department. After that, he started working in a producer's position. His earliest contribution was in 1995 he was among the producers and designers of The Terminator: Future Shock. On Future Shock, he created the first 3D shooter with mouselook on a PC platform. Then in 1966, he was one of the designers of SkyNET and The Elder Scrolls II: Daggerfall.
---
Todd Howard is an American video game producer, designer, and director.
Who is Todd Howard?
Howard is a video games producer, designer, and director of Bethesda Softworks. He started working as a producer in Bethesda in 1994. He gradually got positioned as a designer, project manager and now is the executive producer and director of the Bethesda Gaming Studio. His successful video games are The Elder Scroll Series and the Fallout Series.
Howard's first original production was The Elder Scrolls: Morrowind, which shifted Bethesda's orientation to creating video games. Then following Morrowind, they launched The Elder Scrolls IV: Oblivion in 2006 The Elder Scrolls V: Skyrim in 2011. Alongside, he was the executive producer of Fallout 3, Fallout 4, and Fallout 76. He is the first creator to be awarded the Game of the Year Award three times in a row for games like Oblivion, Fallout 3, and Skyrim.
Early Life
Todd Andrew Howard was born on 6 October 1970 in Lower Macungie Township, Pennsylvania. He grew up with an elder brother playing video games. He was fascinated by computers, and the art of games intrigued him. It was his dream to work for Bethesda and create his games.
After graduating from Emmaus High School, Pennsylvania, in 1989, he took business as his major in college. He matriculated from the College of William & Mary in Williamsburg, Virginia, with a Finance/Business degree in 1993. He wanted to create video games, like Wizardry and Ultima III: Exodus, but later thought the business major was the easiest path to get through college.
Career Beginnings
Howard wanted to work for a video games developing company called Bethesda Softworks. So, one day during his senior year, he approached Bethesda for a job. Bethesda had just launched its 1988 Wayne Gretzky Hockey video game, and Howard had received a copy of the game during his holiday. On his way to college, he passed the company building every day, and on that day, he applied for a job. Unfortunately, they rejected him and told him that a college degree was required to attain a position. Howard then, after finishing college, went back to Bethesda but was again rejected because of the limited capacity of the company.
He then started working at another company in Yorktown, which was smaller but gave him opportunities to attend gaming conferences like Consumer Electronics Show. He used to talk to Bethesda officials even at conventions about the possibility of a job for him.
Bethesda Softworks
Bethesda finally recruited him in 1994 on their game developing department. After that, he started working in a producer's position. His earliest contribution was in 1995 he was among the producers and designers of The Terminator: Future Shock. On Future Shock, he created the first 3D shooter with mouselook on a PC platform. 
Then in 1966, he was one of the designers of SkyNET and The Elder Scrolls II: Daggerfall. His first project as a project leader was The Elder Scrolls Adventure: Redguard. It was made available in 1998. Next, he earned the position of a project leader and designer of The Elder Scrolls III: Morrowind. It was released in 2002. It became one of the successful games of the time and shifted Bethesda's orientation on game development.
Howard talked about the struggles of creating Morrowind. "We'd made some bad games, we made some mistakes and the development team probably went down to six people. That's the game where we had no fear. We felt the company was going to go out of business, so when we had a chance to make Morrowind, we were like 'What's the worst that's going to happen?' We took a few more risks and if it hadn't worked out, I don't know that we'd be here. It worked out better than we could have imagined," he said.
Howard was also the executive producer of the game, The Elder Scrolls IV: Oblivion, launched in 2006. It was an expansion of the Elder Scrolls series. Further, in 2008, he was the executive producer and game director of Fallout 3. He also served as the creative director of The Elder Scrolls V: Skyrim. It was launched in November 2011. Howard wanted to create a virtual reality in Skyrim, where players could experience events they might not choose to in real life.
His consecutive creations, Oblivion, Fallout 3, and Skyrim, were commercially and critically successful. In 2015, Fallout 4 was made available, and its multi-player version, Fallout 76, was launched in 2018.
'Fallout 4'
The action role-playing video game, Fallout 4 was launched on 10 November 2015 after around six years of development. The video game was released for PC, Xbox One, and PlayStation 4. Fallout 4 is set in post-apocalyptic Boston. The lead character of the game mysteriously wakes up 200 years and determines to find his kidnapped son. The game has many similar features as its predecessor game, including the Pip-Boy wearable device that lets users track inventory and stats, and the VATS system used to target specific points on opponents during the combat. However, Fallout 4 provides more chances for players to customize the experience like creating their own settlements and finding items to modify their weapons and armor. Fallout 4 also features a dog companion that follows the player's orders.
Microsoft Buyout
In September 2020, Microsoft announced it had reached the final purchase agreement with the parent company of Bethesda Softworks. Bethesda, along with its sub-studios like Skyrim studio Bethesda Game Works, Doom studio id, Dishonored studio Arkane, etc., after the agreement would be added into the Xbox Game Pass of Microsoft. The purchase supposedly amounted to $7.5 billion and is expected to conclude by the end of 2021.
Howard's Upcoming Projects
At the beginning of 2021, Bethesda announced the development of a game based on the popular movie franchise Indiana Jones. It was being developed with their studio Machine Games along with a collaboration with Lucas Film Games. Howard earned the position of executive producer for the project.
Despite Howard's engagements with the previous foundation of Fallout, which was being developed into a TV show, and the upcoming projects with Microsoft, he took the Indiana Jones project. He took it because it was his decade-long plan to create a game based on it.
Howard is also involved in making significant altercations in the Elder Scrolls Series. He revealed Bethesda has been working on developing the engine that will power its next-generation games. He said in an interview, "The overhaul on our engine is probably the largest we've ever had, maybe even larger than Morrowind to Oblivion… I don't want to say everything — but it's a significant overhaul. It's taken us longer than we would have liked, but it's going to power what we're doing with Elder Scrolls VI. When people see the results, they'll hopefully be as happy as we are with what's on the screen and also how we can go about making our games."
'Starfield'
Howard has been working as a game director for Bethesda's upcoming next-generation first-person sci-fi role-playing video game, Starfield. The video game is set 300 years in the future and features a customizable character who is a member of a group of space explorers called Constellation. 
Starfield was officially announced in 2018 at Bethesda's E3 press conference. The video game is in the production phase as of November 2021 and is expected to be released on 11 November 2022. Starfield will be released on PC, Xbox Series X, and Xbox Series S. It will also be available on Xbox Game Pass on the video game launch day. Starfield is the first new game from Bethesda in 25 years.
In June 2021, Howard told The Washington Post that Starfield is "like 'Skyrim' in space."In an interview with NoClip, Howard called Starfield "the biggest, most epic science fiction thing you could possibly imagine." When he was asked in the interview if Starfield could be considered an "Open-Universe" game instead of Open-World, he says he is careful about setting expectations. 
"I don't want to set any crazy expectations for that. You know, we have cities and we build them like we built the cities we've built before. And we have lots of locations that we're building like we've built before," he said.
Media Appearances and Memes
Howard's games have often been featured in various media outlets, including CNN, The Today Show, USA Today, and Newsweek. Because of his directed and produced video games, he has often become the subject of Internet memes.
As a Speaker
Howard has been a speaker at the video game industry's various events and conferences. He spoke at the 2009 Design Innovate Communicate Entertain (D.I.C.E.) Summit in Las Vegas, where he shared Bethesda Game Studio's three rules of game development. Three years later, he returned to the D.I.C.E Summit as a keynote speaker and spoke about best practices in creating compelling games. 
Awards and Honors
Howard has won several awards and honors for developing critically acclaimed and commercially successful video games. In 2012, he won the 'D.I.C.E. Award' for 'Best Game Director.' He bagged the same award in 2016.
Howard was ranked 70th in IGN's 'The Top 100 Game Creators of All Time' in 2013. On 15 May 2014, he received Germany's LARA of Honor at a joint The German Games Awards and German Computer Games Awards ceremony.
In 2015, he received the 'Lifetime Achievement Award' at the 16th Annual Game Developers Choice Awards. 
Howard was named in the list of 'Top 20 Most Influential People in Gaming over the last 20 Years' by The GamePro magazine. In 2017, he was inducted into the Hall of Fame of the Academy of Interactive Arts & Sciences.
Furthermore, he received the 'Develop: Star Award' at the Develop: Brighton Digital Conference in November 2020. 
Personal Life
According to an article published by The Morning Call, Howard married an elementary school teacher Kimberly Lynn Yaissle on 8 July 1995 in St. Thomas More Catholic Church, Allentown, Pennsylvania.