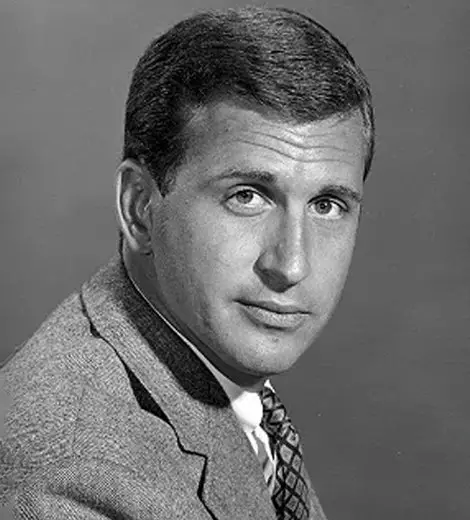 Quick Wiki
Full Name

Ted Bessell

Occupation

Actor, Director and Producer

Nationality

American

Birthplace

Queensland, New York, USA

Birth Date

March 20 1939

Place Of Death

Los Angeles, UCLA Medical Center

Death Date

October 06 1996

Age At Death

61 years
Lead Actor Of The Series 'That Girl'
Ted Bessell | Biography
Popular for That Girl and The Tracy Ullman Show
From 1966 to 1971, Bessell played the role of Donald Hollinger on the hit series 'That Girl'. On the show, he acted the part of Marlo Thomas' boyfriend and fiance.
---
Bessell was an actor and director best known for his role on the tv series That Girl from 1965 to 1971.
Who is Ted Bessell?
Ted Bessell was popularly known for his role in various movies he portrayed from the 1960s to the 1980s. He is also known as the director of the series, Bewitched and The Tracy Ullman Show. 
Bessell was born on 20 March 1939 in Flushing, Queens, New York. He attended Georgetown University and the University of Colorado and eventually graduated in 1958. After graduating, he began focusing on his acting career. 
Movies and Tv Shows 
Bessell started his career in the late 50s when he began working at ABC New York. He made appearances in many shows such as Who Do you Trust? and also The Dick Clark Show. 
Additionally, he directed and acted in several theatres on the works of Shakespeare and Jule Styne. After much success in theatre, Bessell gained many opportunities to work in Broadway productions, including The Power of Darkness and Blackfriars Guild. 
Alongside, he also co-produced Joe Orton's Crimes of Passion. Further, he played the role of Tom DeWitt in the NBC comedy-drama series; It's a Man's World in 1962. Likewise, he was featured in films like Don't Drink the Water and McHale's Navy Joins The Air Force. 
He won the Peabody Award for Best Mystery of the Year for his role in the television film, Your Money Or Your Wife. 
From 1966 to 1971, Bessell played the role of Donald Hollinger on the hit series That Girl. On the show, he acted the part of Marlo Thomas' boyfriend and fiance. In 1972, he made an appearance in Me and the Chimp.
Then, in the 1980s, he appeared in movies and television shows such as Breaking Up Is Hard to Do and The Acorn People. He was also seen in sitcoms such as Good Time Harry. He played his last significant role as the husband of the first female President of the United States in the series, Hail to the Chief. 
Bessell moved on to directing movies rather than being an actor, and it included series such as The Tracey Ullman Show and Sibs. And he received an 'Emmy Award' for his work on Tracey Ullman. 
Wife
Bessell was married three times throughout his life. He was first married to Donna Gordon. Donna was an exotic dancer. Information related to the date of their marriage is not revealed. However, it is known that the pair got divorced. 
Bessell then married Janeen A. Dara on 20 April 1963. However, they filed for an annulment in March 1967. After that, in 1982, he married his third wife, Linnell S. Nobori. The pair had two daughters, Sarah and Mary.  
Death 
Bessell died at the age of 57 on 6 October 1996 due to an Aortic Aneurysm. He was pronounced dead at UCLA Medical Center's emergency room. His family doctor confirmed the cause of the death. 
He was survived by his wife Nobori, daughters Sarah and Mary, mother Jo, and brother Frank. Bessell was buried in Woodlawn Memorial Cemetery, Santa Monica, California.