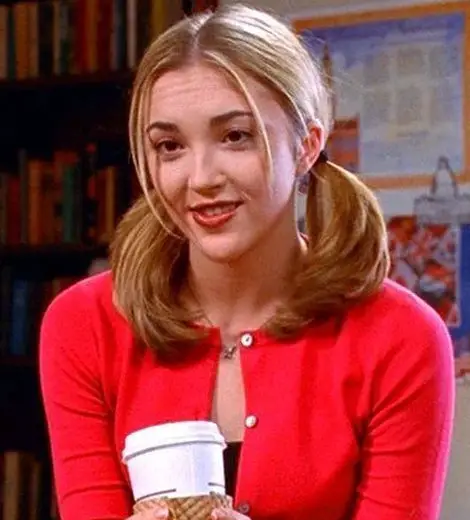 Quick Wiki
Full Name

Britanny Teal Redmann

Occupation

Actress

Nationality

American

Birthplace

Minnesota, USA

Birth Date

Sep 30, 1982

Age

41 Years, 0 Months

Ethnicity

Caucasian

Zodiac Sign

Libra

First On-screen Debut

'Undressed' (1999)

First Titular Role

'Chameleon 3: Dark Angel' (2000)

Relationship Status

Undisclosed

Height

5 feet 5 inches

Net Worth

Undisclosed
Cast of the TV Series 'Gilmore Girls'
Teal Redmann | Biography
Redmann had appeared in advertisements for Buffalo Wild Wings, Shopko, Apple Jacks, Best Guy, American Armed Forces, Fox 20, and KTCA 2
Redmann portrays Louise Grant on the TV show 'Gilmore Girls.' Out of the total seven seasons, Redmann appeared in four seasons and 34 episodes of the show. Redmann's character Louise plays an agitating role. She is a pampered, affluent girl in the show, but she has a traumatic family life and is neglected by her family and therefore insecure. Louise isn't particularly fascinating, and her world revolves around clothing, boyfriends, and fame. She is one of the most despised secondary characters in the show as she is unaware of significant facets of life.
---
Teal Redmann is an actress best known for portraying Louise Grant in the television series 'Gilmore Girls' (2000-2004).
Who is Teal Redmann?
Brittany Teal Redmann was born on 30 September 1982 in Minnesota, USA. Redmann is an actress well known for portraying Nicky Williams in the TV movie Double Teamed in 2002. Some of her acting credits include Undressed (1999), Dumb and Dumberer: When Harry Met Lloyd (2003), CSI: Crime Scene Investigation (2005-2014), among many others.
She used to act in high school and has worked on the radio. She also holds some theatrical performance credits to her profile and has done a few commercials. 
Movies & TV Shows
Redmann debuted as Abby in 1999 in the television series Undressed. In 2000, she starred as Dr. Tess Adkins in the television film Chameleon 3: Dark Angel. Furthermore, Redmann guest-starred as Annie Webb in the TV series Boston Public in 2001 and Sarah Mitchell in CSI: Miami in 2004. She also played Ricky Williams in the 2002 television film Double Teamed. In 2003, she appeared in films such as Dumb and Dumberer: When Harry Met Lloyd and Special Breakfast Eggroll: 99.
From 2000 to 2004, Redmann played Louise Grant in the television series Gilmore Girls. From 2005 to 2014, she portrayed Elie Brass in the TV show CSI: Crime Scene Investigation. Her upcoming project, The Harbinger, in which Redmann stars as Dr. Emily Warren, is currently in the post-production phases of October 2021.
Played Nicky Williams in 'Double Teamed'
Heather and Heidi Burge, twin basketball players who became WNBA pioneers, is the centerpiece of the 2002 film Double Teamed, based on a true story. 
Redmann portrayed the character Nicky Williams in Double Teamed. She starred as a team opponent of the twin basketball players. Despite being team rivals, they eventually establish an amicable relationship with one another.
At the beginning of the story, the twin sisters had falsely spread misleading information about their status. Nicky Williams, who came to know the truth about their family, started creating problems for the twin sisters by chatting about their financial and family situation. However, when the twins discovered that William's father was equally as bad at parenting as their own, they became friends with her.  
Double Teamed was Redmann's second breakthrough role in a TV movie after her appearance as Dr. Tess Adkins in the TV movie Cameleon 3: Dark Angel (2000).
Who Played Louise in 'Gilmore Girls'?
From 2000 until 2004, Redmann played Louise Grant on the TV show Gilmore Girls. The show aired for seven seasons and ended in 2007. However, Redmann appeared in only four seasons and 34 episodes of the show.
She was first seen in the season 1 episode titled 'The Lorelais' First Day at Chilton' and last seen in the season 4 episode titled 'Girls in Bikinis, Boys Doin' the Twist.
In the series, Louise Grant (Teal Redmann) played an agitating role. Louise was a pampered, affluent girl who consorts with Paris Gellar (played by Lisa Weil) and Madeline Lynn (played by Shelly Cole) and initially appeared to want to make Rory's (Alexis Bledel) life miserable. However, she had a traumatic family life and was neglected by her family and therefore felt insecure.
Her character, Louise, is a Chilton classmate and Paris Geller's friend. She has a clear understanding of what her life is all about. Louise is crafty, deceptive, and chilly at times. Louise wasn't particularly fascinating, and her world revolves around clothing, boyfriends, and fame. She was one of the most despised secondary characters in the show as she was unaware of significant facets of life.
Her father is a businessperson, and throughout the first three seasons, it becomes clear that he was involved in dubious dealings. After being indicted for it, Louise has to see him in jail over one Christmas holiday. On the other hand, her mother has a secret extramarital affair that she knows about.
Louise & Madeline's Friendship in 'Gilmore Girls'
According to an article by Screenrant, they have one of the worst friendships on the show because they aren't there for one another, and their life is based solely on hookups and clothes. The piece describes them as selfish and materialistic teen drama characters who wouldn't make good friends.
Her partner-in-crime is the more innocent, sweet Madeline Lynn, with whom she flirts with several boys, never seeming to have a romance with anybody she cares about. Although they hang out with Paris, Louise and Madeline are not alike in that they give little thought to their college applications or future plans, opting instead to enjoy themselves in their parents' idea of what their lives should be. 
However, she and Madeline were extremely loyal to Paris, following her lead, whether grudgingly or willingly, both in school and in personal matters.
A Recurring Appearance in 'CSI'
Redmann played Ellie Brass in the TV series CSI: Crime Scene Investigation in episodes' Hollywood Brass' (2005), 'Way to Go' (2006), 'Skin in the Game' (2013), 'The Devil and D.B. Russell' (2013), and 'Dead in His Tracks' (2014). 
The show followed an exceptional team of Las Vegas police forensic evidence investigators as they handled their cases. Ellie Brass appeared as the stepdaughter of an investigation team's captain in the series.
Ellie is the daughter of Jim Brass and his wife. However, she is the biological child of Mike O'Toole, a former New Jersey vice cop who had an affair with Brass' wife. Ellie doesn't realize he isn't her biological father, according to Brass, but she tells Morgan about it in the 14th season premiere.
Brass still cherishes Ellie despite her rebellious conduct, even though he knows she isn't his daughter and maintains a picture of her as a toddler on his desk at his office. Moreover, when he realizes Ellie is abusing drugs, he pursues her until she cleans up, but their relationship remains stressful.
Ellie arrived in Las Vegas intending to work as an "escort." She then worked as a prostitute (where she was known as Jersey). 
During season 5, when her best friend went missing, and the LAPD refused to investigate, she called Brass and requested that he make a phone call on her behalf. He traveled to Los Angeles to look into the disappearance of her acquaintance; it turned out she had been murdered. 
In the season 13 finale episode titled 'Skin in the Game,' Ellie is kidnapped by a serial murderer and later seen in a video telling her parents, "We have sinned."
Eventually, in season 14, after shooting the serial killer, Ellie is discovered to be both his girlfriend and his accomplice. She then shoots Morgan in the back after killing him and murders her mother. Ellie was also arrested and is suspected of being the mastermind behind the murders in "Skin in the Game."
During the season finale, she attempts suicide but isn't successful. Subsequently, she reconciles with her stepfather (Brass), telling him it was not his fault but that there was something wrong with her. 
Appeared in Several Theater performances/ Commercials
Redmann also performed as a lead artist in the stage showcase of Pinocchio at Lakeshore Theatre and Tricksters and Wolf Tails at Stepping Stone Theatre. She also had a supporting part in the theatrical production of Midsummer Night Dream. In addition, she had appeared in advertisements for Buffalo Wild Wings, Shopko, Apple Jacks, Best Guy, American Armed Forces, Fox 20, and KTCA 2.
Support Towards Dream Again Campaign
Redmann was seen supporting the Dream Again Campaign in a YouTube video in 2011. She lent her support to Love146's Dream Again Campaign to End Child Sexual Slavery and Exploitation. 
The Dream Again Campaign is a celebrity-driven initiative that raises Awareness Against Human Trafficking while also supporting the organization Love146.
Where is Teal Redmann Now?
Unfortunately, her whereabouts now are not known as she has stayed away from the limelight. Redmann is also not active on any social media. 
However, the actress was last seen in the horror movie The Harbinger playing the role of Dr. Emily Warren.
The movie follows a family when they relocate their problematic daughter to a tiny village, and their neighbors begin to die inexplicably. As a result, they think they have been pursued by something bad.
Is Teal Redmann Married?
As she has been living a private life, there isn't much information on her current and former relationships. It is also anonymous whether she is married as she doesn't have any social media interaction.
Did You Know?
Redmann stands at the height of 5 feet and 5 inches.
Her special skills include playing basketball, horseback riding, jazz dance, playing soccer, and swimming.