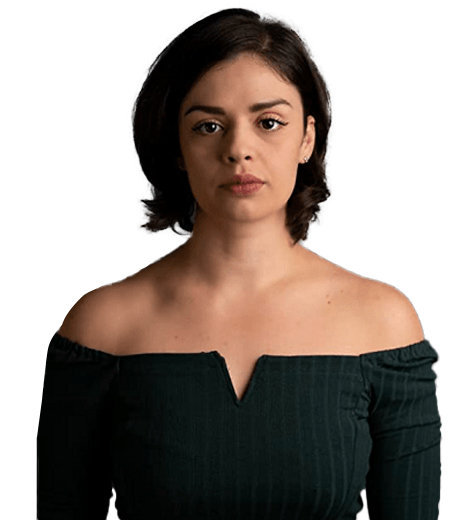 Quick Wiki
Full Name

Tatiana Zappardino

Occupation

Actress, Former Officer at the US Marine Corps

Nationality

American

Birthplace

California, USA

Birth Date

Oct 02, 1989

Age

34 Years, 1 Months
Quotes
"In the scene, there were a bunch of props but everyone around me kept saying "DO NOT USE PROPS CASTING DIRECTORS HATE IT!" But there was something inside of me telling me this scene needed props and it didn't feel right without them. So, I took the risk. But, of course, right off the bat, I screwed up on the slate because I forgot who I was auditioning for. George [Pierre] was less than pleased, so I asked for a second to regain my composure and take a breath. I needed control back from the room, so I did one long roll-up and then said, 'Ok… I'm ready.' I take out my glove, coin, and magnifying glass and start the scene. Slowly but surely, he starts looking up and he says the words I will never forget, 'Tatiana, good things come to those who wait. You are such a breath of fresh air'… That was the day I got the call, I booked my first role for a full season on a television show."
Cast of Netflix series 'Supertition,' Founder of all-female sketch comedy team Fine China Comedy
Tatiana Zappardino | Biography
She is the founder of all-female sketch comedy team Fine China Comedy
Tatiana Zappardino was cast as Tilly, a local forensic scientist who comes to aid the eventful Hastings family in the 2017 Netflix series 'Superstition.' The story follows the Hastings family, who holds the La Rochelle town's only funeral house and cemetery. They look like a normal family, but they specialize in afterlife care for unexplained deaths at the hands of demonic infernals and other unexplained phenomena that have long plagued the town.
---
Tatiana Zappardino is the founder of the comedy sketch-club Fine China Comedy. She is also famous for her role, Tilly, in the 2017 Netflix series 'Superstition.'
Who is Tatiana Zappardino?
Tatiana Zappardino is a theater graduate from Jacksonville University. She served at the US Marine Corps as a Public Service Officer before settling down in Atlanta to become an actress.
She has over ten years of acting experience from the community theater, and she worked as a director's intern at The Players Theater in 2011.
Zappardino founded an all-female comedy sketch-club called Fine China Comedy in 2017. She gained prominence after she played Tilly in the Netflix series Superstition from 2017 to 2018.
Early Life and Education
Tatiana Zappardino was born on 2 October 1989, in San Diego, California. She graduated from Jacksonville University in 2011 with a Bachelor of Fine Arts degree in Theatre Arts.
She also did a year abroad at the University of Limerick, Ireland, in 2010 and studied Irish Folklore and Music.
In 2013, Zappardino enrolled at Kent State University for a Master's and graduated with a degree in Communication, Journalism, and Related Programs in 2016. Alongside, she also took a legal ethics course from Liberty University in 2014.
Military
Zappardino enlisted in the United States Marine Corps in 2011 after being encouraged by her step-father. She was appointed as a Public Affairs Officer. Between 2013 and 2015, Zappardino was posted as an Executive Officer at the Headquarters and Service Company in Headquarters Regiment.
Theater
Zappardino was interested in theater from a young age but was indecisive about pursuing it as a career. She was a member of a community theater from 2004 to 2014. She also worked as a Children Director Intern at the Player's Theater in 2011, which she took to earn her college credit. At the theatre, Zappardino assisted in the direction, production, and management of the play Stone Soup, performed by seven selected children.
With her community theater team, Zappardino acted in multiple shows all around the states. However, she was mostly assigned to feminine characters such as Lucy van Pelt in the 2009 Dog Sees God, Player Queen in Hamlet in 2011, Mimi Ralston, and Savannah Sprunt in 2014 Cocktails with Mimi and Mama Won't Fly.
Six years later, she performed in the role of Frida Kahlo in Amy Oestreicher's short play Frida with Ribbons. Frida with Ribbons is a play about a Mexican painter Frida Kahlo whose works explored gender, class, and race in Mexico. The play presented two versions of Frida, one played by Zappardino and another by actress Nataly Penya. The play premiered on 24 September 2020 online as a free event, 'Virtual Theater: Stories of Color,' that featured three selected short plays, including Frida with Ribbons.
Fine China Comedy
Tired of the stereotypical roles, Zappardino asked for a comedic and masculine role instead. But, she was shrugged off and was reasoned, 'women are not funny.'
It changed her perspective in her presence as an actress, and it gave her a thought to embark on a female-supported platform.
Forward to 2017, Zappardino founded an all-female sketch comedy team called Fine China Comedy.
With the mission to produce comedy with powerful women in front of and behind the camera, the team began inviting artists to collaborate from all over Atlanta and shared their learned work, and grew the film community.
Zappardiono added her experience on learning about producing, directing alongside acting with the Fine China Comedy team. "I decided to form an all-female team called Fine China Comedy where we would be the writers and directors around female-focused sketches. We produced these shorts in video format to move away from stage performances. Since we were all actors, this was a chance for us to learn about all aspects of filmmaking to include directing, producing, editing, and so-on. It was so much fun and they would turn out pretty good for a bunch of first-timers. Then, we wanted to go bigger so one of the founding women, Sailor Larocque, and I wrote a pilot together titled Swiped. We spent about 2 ½ years filming this to ensure we took our time and applied everything we had learned from our time with Fine China sketches."
Movies and Television
Zappardino also attended auditions to act in television or movies. She made her on-screen debut in the 2015 short film Artists as Faith Smith. The following year, she appeared in short films Miss Insomnia as Meredith and Momma Jenny & the Brooks Boys as Mrs. Kaiser. She landed minor roles in multiple shows, such as the documentary TV series Your Worst Nightmare in 2017 and Homicidal Hunter in 2016 and 2017. She also appeared in the 2017 short film The Second Hand, portraying the role of Tammy. 
In 2017, she landed a recurring role on the Netflix TV series Superstition. In 2018, she appeared as Tess in the sci-fi thriller television movie Orthus and Melissa in the romantic drama film Between. The same year, she appeared as Marie Morales in the television series Remnant 13 and in two short films such as The Long Way Home and Bevy. 
She continued to appear in short films in 2019. That year, she played in short films Exiled from Eden, Day 8, Swiped and Asking for It in 2019. That year, she also guest-starred in the role of Nadine Schiff in an episode titled 'Bad Apple' of the television series NCIS: New Orleans. She then portrayed the role of a defense attorney in the 2019 television movie Heart of Life. In 2020, she played Jacoba Smith in Catherine Crumber's film The Parting of Ways. In 2021, she appeared as Dani in the short film Breaking Through and Joanna (Jo) Britt on In Between.
'Superstition'
Zappardino was cast as Tilly, a local forensic scientist who comes to aid the eventful Hastings family.
The story of Superstition follows the Hastings family, who is the longtime proprietor of the La Rochelle town's only funeral house and cemetery. They look like a normal family, but they specialize in afterlife care for unexplained deaths at the hands of demonic Infernals and other unexplained phenomena that have long plagued the town.
To help tackle this infernal threat, Hastings has developed a dark arts skill set over the years. They quell the evil inside the shadows with arcane weaponry, raw might, mystical alchemy, and a vast grasp of the occult and old teachings.
And her character Tilly is a local death examiner who fills the story with both a sensual and intelligent presence.
Initially, Zappardino messed up her audition by using props in her scenes. But then she asked for a second chance to do it, and the casting director liked it. The 12-episode series premiered on 20 October 2017.
'Between'
In 2018, Zappardino appeared in the role of Melissa in the romantic drama film Between, written and directed by Daniel Ademinokan. Set in Atlanta, Georgia, the film follows the story of a very successful 36-year-old Chelsea Hollis (played by Stella Damasus), who has been married and divorced four times. Though she helps people fix their relationships, she has given up on love. Everything changes when she meets Scott Hamilton (played by Travis Grenier). Their one-night stand blossoms into a romantic relationship. She would later discover that the man who is about to change her viewpoint about love may only be much more than her expectation.
The film premiered on 7 October 2018 at the GlennFest Film Festival in Downey, California.
'Swiped'
Zappardino served in multiple roles in the 2019 comedy short film Swiped. She co-wrote, co-created, and co-starred in the short film with Sailor Larocque. Zappardino also served as an executive producer/producer, casting director, and assistant editor in the short film. She portrayed the role of Cat Grey alongside Larocque.
'In Between'
In Between is a 2021 comedy television series, Zappardino appeared as Joanna (Jo) Britt. The series follows a young quirky lesbian who navigates the highs and lows of life as a struggling actress, mother, and wife. It was released in June 2021 in the United States.
New Projects
Zappardino has six projects in the pipeline. She is set to appear in the role of Britta Gail in Michael P. Nash's upcoming horror film BillyFord, expected to be released in 2022. She will appear playing the role of Roger's mother in another forthcoming action crime comedy film The King of Bloody Fookin' Britain, written by Dere Evans and directed by Evans and Julio Mario Barriga. The film has completed its production.
She will be featured in the role of Clara in the upcoming comedy short film Bonus Time, which is in post-production. She plays Asali in the television series Dangerous Moms, which is under production. Furthermore, she will play Madison Williams in the upcoming mystery drama television movie The President Is Missing and Tiponi (2019) in the forthcoming comedy television series American Ménage. Both projects are in pre-production.
'Dangerous Moms'
Zappardino will be appearing in the role of Asali in the pilot episode of the upcoming dark comedy television series Dangerous Moms, adapted from a Spanish drama series Señoras del (h)Ampa. NBC granted a pilot order to the series on 10 May 2021. The pilot is written by Janine Sherman Barrois and directed by Jason Ensler. According to IMDb, the series follows "four diverse mothers who accidentally kill the queen bee of their school's PTA during the demonstration of a new high-end food processor." The series is in the production phase as of October 2021.
Awards and Nominations
Zappardino won two 'People's Choice Awards' at Sneads Ferry Community Theatre (SFCT) 2015 Gala - one for the role of Mimi Ralston in Cocktails with Mimi and another for the role of Savanna Sprunt in Mama Won't Fly. 
In 2019, she won the shared 'September Award' at Indie Short Fest for 'Best Web Series/TV Pilot' for Swiped, with co-writer Sailor Larocque and director Derek Evans. With Larocque and Evans, she also received the shared 'Silver Award' for 'Best Web Series/TV Pilot' for the same series in 2019. 
Additionally, Swiped earned her the 'Best Comedy' nomination at Couch Film Festival in the same year.
Personal Life
Zappardino has not disclosed information on her personal life. But, in an interview with VoyageATL, when she was asked what she would change in her past, she replied, "I probably wouldn't have wasted so much time drinking and being with boys who didn't deserve me because it got in the way of my productivity and emotional state."
She is close with her sister Marie-Valérie Zappardino, a 2021 high school graduate.
Height
Zappardino stands 5 feet 7 1/2 inches (1.71 meters) tall.