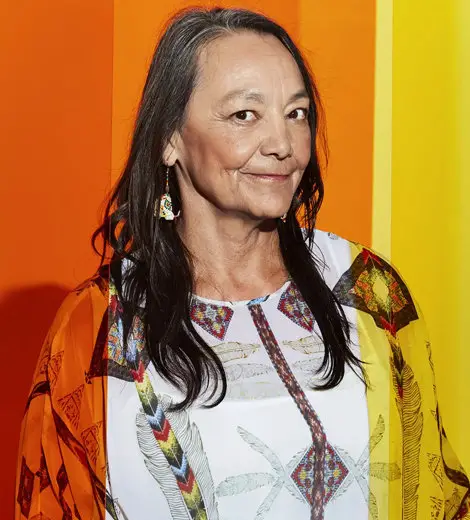 Quick Wiki
Full Name

Tantoo Cardinal

Occupation

Actress

Nationality

American

Birthplace

Alberta, Canada, North America

Birth Date

Jul 20, 1950

Age

72 Years, 10 Months
Actress known for portraying indigenous people's lives
Tantoo Cardinal | Biography
Tantoo Cardinal is set to appear in the upcoming movie 'Killers of the Flower Moon'
Even in the 2000s, Cardinal continued with a successful career appearing in movies such as 'Mothers & Daughters,' 'Maina,' 'Down Here,' and 'Wind River.' In March 2021, it was announced that Cardinal had been cast in 'Killers of the Flower Moon,' starring Leonardo DiCaprio and Robert De Niro. 
---
Tantoo Cardinal is a Canadian film and television actress. 
Who is Tantoo Cardinal?
Tantoo Cardinal is an actress who has changed the image of Indigenous people in the cinema industry and media. She has appeared in countless movies in Hollywood and advocates against racism against indigenous people.
Early Life and Education
Tantoo Cardinal, birth name, Rose Marie Cardinal, was born on 20 July 1950 in Fort McMurray, Alberta, Canada. She comes from a mixed French, Cree, and native American Aboriginal family background. She is the youngest of the four children in her family. Her mother, Julia Cardinal, is of Cree and Metis descent, while her father is Caucasian. 
Her father left when she was six weeks old, and her grandmother looked after her until she was six months. Her mother, Julia, died at a young age. The family lived in poverty. She experienced further family tragedies when her sister was taken during the Sixties Scoop period to be adopted by white families and her brother murdered at the age of 24. 
She started attending Bonnie Doon High School in Edmonton at the age of 15. After moving to Edmonton, she often encountered racist taunts and realized the stereotypes against indigenous people. She also joined a native youth group to help create support networks for Indigenous families. Cardinal has a total of four Honorary Doctorates.
Movie Career 
Cardinal started her career in acting from the BCB docudrama about Catholic missionary Father Albert Lacombe in 1971. In 1978, she starred in her first feature film, a romantic historical drama, Marie Anne. The performance was well-received. 
Eventually, Cardinal started playing small roles in movies such as Death hunt, Running Brave, and Loyalties. She earned a positive response for all her roles, especially for accurately portraying the lives of indigenous people. 
Cardinal was nominated for 'Gemini Award' for 'Best Actress.' Likewise, she also received the 'Best Actress' awards from the Alberta Motion Picture Industry, the American Indian Film Festival, and several international film festivals. 
She gained more opportunities after moving to Los Angeles in 1986. Cardinal then appeared in movies such as Candy Mountain, War party. Along with cinema, she was also seen on TV movies such as Gunsmoke: Return to Dodge and Divided Loyalties. 
In 1990, Cardinal played the role of Black Shawl in Dances with the Wolves, opposite Kevin Costner and Graham Greene. The role gained her international recognition. The movie was a blockbuster and grossed more than $424 million worldwide. She won several Academy Awards, including Best Picture, due to her role. 
After a successful role and global recognition, Cardinal went on to have further success in her career. She played in movies such as Legends of the Fall, Silent Tongue, Where the Rivers Flow North, Tecumseh: The Last Warrior, and Eyre's Smoke Signals. 
Even in the 2000s, Cardinal continued with a successful career appearing in movies such as Mothers & Daughters, Maina, Down Here, and Wind River. In March 2021, it was announced that Cardinal had been cast in Killers of the Flower Moon, starring Leonardo DiCaprio and Robert De Niro. 
TV Career
Along with a movie career, Cardinal also had a successful television career. She made her debut on television by playing the role of Annie in Spirit Bay. She also had several guest appearances on the CBC series North of 60, which helped her win a 'Gemini Award' in 1996. 
She played in various TV shows such as Big Bear, Luna: Spirit of the Whale, Shattered, Longmire, and Blackstone. 
She also played a supporting role in the 2017 Netflix series Western Godless and Stumptown. 
Cardinal also appears on the 2021 hospital drama, New Amsterdam, which deals directly with issues of colonization. 
Honorary Doctorates
Along with her career in acting, she has also received four honorary doctorates for her advocacy. She received honorary doctorates from the University of Rochester in 1993, St. Lawrence University in 2000, the University of Calgary in 2005, and the University of Graser Valley in 2010. 
Personal Life 
Tantoo Cardinal married Fred Martin in 1968. Martin is a University graduate mathematician. The two met when they were 15 in a class and soon began dating. Three years after dating, the couple tied the knots. They have a son together, Cheyenne Martin, who is an economist. Unfortunately, the couple parted ways in 1976.
After the split from her first husband, Cardinal remained single for a while before tying the knot with John Lawlor on 14 January 1988. The couple shares a daughter, Riel Cardinal, who is a medical technician. The couple split in 2000. 
Cardinal has a third child, Cliff Cardinal, who is an actor, and musician by profession. She shares the child with Beaver Richards. However, the two did not get married.