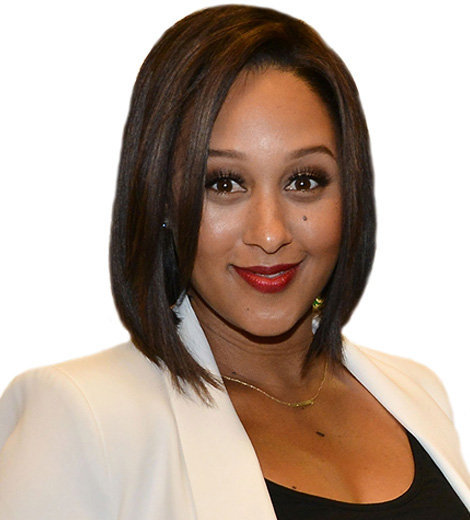 Quick Information
Full Name

Tamera Mowry-Housley

Occupation

Actress, Television Host, Producer, Television Personality, Former Singer

Nationality

American

Birthplace

Gelnhausen, Germany

Birth Date

Jul 06, 1978

Age

43 Years, 2 Months

Did You Know?

She has an estimated net worth of $4million as of September 2021.

Siblings

Tia Mowry (Twin)
American Actress, Television Host, Producer, and Entrepreneur
Tamera Mowry | Biography
Gained Prominence For Appearing In ABC/WB Sitcom 'Sister, Sister'
Tamera and Tia came from Texas to LA with their mother on probation for two months to see if they could make it into the film industry. Their mother promised that they could stay if they got a job in those two months. Luckily, they met a talent scout who saw a sparkling potential in them. They got to meet people who eventually created 'Sister, Sister' for them. 
---
Tamera Mowry-Housley is an actress, television host, producer, and entrepreneur. She is famous for her role in the 90's series Sister, Sister. Co-starring with her twin sister Tia, the series and the personalities captivated large audiences for over two decades.
Who is Tamera Mowry?
Tamera Darvette Mowry-Housley is an American TV personality famous for the sitcom Sister, Sister. She also appeared on the talk show The Real and the reality show, The Masked Singer as a Seashell.
Tamera also appeared in several movies The Hot Chick, Redemption of a Dog, Something To Sing about, Seventeen again, Double Wedding, Rebounding, and Christmas Angel. She also featured on the Disney Channel original movie, Twitches and its sequel Twitches too.
Early Life and education
Tamera Darvette Mowry was on 6 July 1978, in Gelnhausen, Hesse, Germany. She is couple of minutes older than her twin sister, Tia Mowry-Hardrict, to her mother, Darlene Mowry, and her father, Tim Mowry. Her mom is a Bahamian, and her father is of English and Irish ancestry. At the time of Mowry's birth, her father was serving in the United States Army. Later, after her birth, he became a custody officer at the City of Glendale Police Department, and the family relocated to California. She has two younger brothers, Savior Mowry and Tahj Mowry. The siblings were raised in California, and all of their careers were managed by their mother, Darlene Mowry.
She graduated with honors from Pepperdine University, where she earned her bachelor's degree in psychology, emphasizing Abnormal Childhood Development.
Career
Tamera began her acting from a very young age. In the early 1990s, she starred in TV shows such as Flesh 'n' Blood, True Colors, and Full House. Tamera got her breakthrough in 1994, with the enormous success of the TV series Sister, Sister that co-starred her and her twin sister Tia. Alongside starring in Sister, Sister, she managed to work for Are You Afraid of the Dark? during the same time. 
After Sister, Sister ended in 1999, Tamera joined other TV series such as Strong Medicine. She also contributed her voice to various American animated series, namely The Adventures of Hyperman, Family Guy, Detention, and The Super Hero Squad Show. Furthermore, the actress invested her two years in her reality show, Tia & Tamera. She also worked as a co-host for seven years in the talk show The Real. Her additional credits include shows like Melissa & Joey, Talking Dead, Hollywood Darlings, Daytime Divas, The Hot Chick, and Help Us Get Married.
In 2010, Tamera and her sister Tia started their own production company called Twilight Production. She produced a lifetime movie, Double wedding. Besides this, Tamera also owns a company, Need Brand. 
'Sister, Sister'
Tamera and Tia came from Texas to LA with their mother on probation for two months to see if they could make it into the film industry. Their mother promised that they could stay if they got a job in those two months. Luckily, they met a talent scout who saw a sparkling potential in them. They got to meet people who eventually created Sister, Sister for them. 
The ABC show Sister, Sister, had its first premiere in 1994. Besides Mowry twins, the show also starred Jackée Harry, Tim Reid, and Marques Houston as a principal cast. The series with six seasons and 119 episodes were based on the twins who got separated at birth and later coincidentally found each other. The show focused on the lost twins, the parents moving in together, and growing and blending into a family. ABC canceled the sitcom after the first season, but The WB (a new network at the time) took up the show and got it moving for four more seasons until it came to a close in 1999.
An announcement was made in January 2018 regarding Sister's reboot, after nearly two decades of its first premiere. It surprised and astounded the fans, but no news broke out claiming the possibility since the announcement. However, Mowry stated in an interview that it all depends on timing, and she's as excited as everyone if the reboot happens. 
The Talk Show
In 2013, Tamera left behind her full-time career as an actress to co-host the syndicated talk show, The Real. Alongside Mowry, the show's co-host panel comprised Jeannie Mai, Tamar Braxton, Adrienne Bailon, and Loni Love. After seven years of co-hosting the show, Mowry, on 13 July 2020, used her Instagram handle to share her departure from the talk show and her aspiration to explore new chapters of her life.
She wrote, "For seven years, my home and heart has been at The Real. The friendships that I've made there will last a lifetime, and the people that I've had the blessing to interview have changed my life for the better. I'm so proud of what all the ladies and I have accomplished there, including two well-deserved NAACP Image Awards and a Daytime Emmy. However, all good things must come to an end, and it's with a bittersweet smile that I announce that I am moving on from The Real. To my fellow hosts, I love you, I will miss you, and I will always be there for you. Thank you for teaching me, supporting me, and loving all of me. Sisters forever. I'll be rooting for you, as I look forward to spending more time with my family, pursuing amazing new opportunities, and embarking on the next chapter of my life."
'The Masked Singer'
The Masked Singer features celebrities singing songs wearing costumes of a kind that disguises and conceals their identity. Tamera was one of the participants in season 5, masked behind a seashell. The show first premiered on 2 January 2019 in America.
Tamera was very fond of singing from the beginning. She had started her Hollywood career in a theatre group where she had to act and sing. But ever since she got involved in the film industry, she never got the chance to revisit the theatre route or had time to sing to an audience because of her busy schedule. However, her nostalgic memory of the path triggered her to revisit it. Seashell, aka Tamera, got eliminated from the show on season 5, episode 7.
Business Ventures
Soon after Tamera and Tia entered motherhood, they started their own business called Need Brands. The business supports mother and their babies by providing wholesome maternal products.
Other Works
Besides acting, hosting, singing, owning a business, and producing TV films, Tamera is also a co-author of their first children's book series 'Twintuition: Double Vision' and 'Twintuition: Double Trouble' (co-written with her twin sister Tia). In addition to this, she loves baking and is all set to appear on a baking show called Baker's Dozen on the food network.
Tamera has a YouTube channel called The Housley Life. Most of her content in the channel adheres to cooking videos, her day-to-day activities, and Q&As with Mowery and her husband. The channel's video is a medium to help fans keep up with Mowry and her family life.
 Award and Accolades
Considering Tamera's contribution and effort towards her work, she carries several accolades to her name. She received 16 nominations altogether and won seven awards as of September 2021. After being nominated for over two years, she won the 2018 'Daytime Emmy Award' for 'Outstanding Entertainment Talk Show.' She shared this award with other co-hosts of the talk show as well. Likewise, she shared the 'Image Awards' for 'Outstanding Actress in a Comedy Series' Sister, Sister (1994)' and 'Outstanding Lead Actress in a Comedy Series Sister, Sister (1994)' in the year 2000 and 1999 respectively, with her sister Tia. She also won the title of 'Favorite Television Actress' in the 'Kids Choice Awards' three times in a row.
Personal Life
Tamera got married to Adam Housley, an American journalist, and former professional baseball player, in 2011 after several years of dating. The pair welcomed their first child, son, Aden John Tanner Housley, in November 2012 and welcomed their second child Ariah Talea Housley, on 1 July 2015. In 2011, Tamera bought a home in the Napa Valley area of Northern California. Her home there comprises an expansive backyard with a beautiful countryside view and a 400-bottle wine cellar.