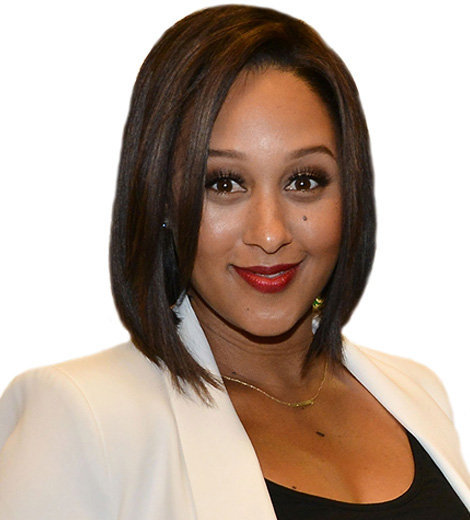 Quick Wiki
Full Name

Tamera Mowry-Housley

Occupation

Actress, Television Host, Producer, Television Personality, Former Singer

Nationality

American

Birthplace

Gelnhausen, Germany

Birth Date

Jul 06, 1978

Age

45 Years, 4 Months

Did You Know?

She has an estimated net worth of $4million as of September 2021.

Siblings

Tia Mowry (Twin)
American Actress, Television Host, Producer, and Entrepreneur
Tamera Mowry | Biography
Gained Prominence For Appearing In ABC/WB Sitcom 'Sister, Sister'
Tamera and Tia came from Texas to LA with their mother on probation for two months to see if they could make it into the film industry. Their mother promised that they could stay if they got a job in those two months. Luckily, they met a talent scout who saw a sparkling potential in them. They got to meet people who eventually created 'Sister, Sister' for them. 
---
Tamera Mowry-Housley is an actress, television host, producer, and entrepreneur. She is famous for her role in the 90's series Sister, Sister. Co-starring with her twin sister Tia, the series and the personalities captivated large audiences for over two decades.
Who is Tamera Mowry?
Tamera Darvette Mowry-Housley is an American TV personality famous for the sitcom Sister, Sister. She also appeared on the talk show The Real and the reality show, The Masked Singer as a Seashell.
Tamera also appeared in several movies The Hot Chick, Redemption of a Dog, Something To Sing about, Seventeen again, Double Wedding, Rebounding, and Christmas Angel. She also featured on the Disney Channel original movie, Twitches and its sequel Twitches too.
Early Life and education
Tamera Darvette Mowry was on 6 July 1978, in Gelnhausen, Hesse, Germany. She is a couple of minutes older than her twin sister, Tia Mowry-Hardrict, to her mother, Darlene Mowry, and her father, Tim Mowry. Her mom is a Bahamian, and her father is of English and Irish ancestry. At the time of Mowry's birth, her father was serving in the United States Army. Later, after her birth, he became a custody officer at the City of Glendale Police Department, and the family relocated to California. She has two younger brothers, Savior Mowry and Tahj Mowry. The siblings were raised in California, and all of their careers were managed by their mother, Darlene Mowry.
She graduated with honors from Pepperdine University, where she earned her bachelor's degree in psychology, emphasizing Abnormal Childhood Development.
Career
Tamera began her acting from a very young age. In the early 1990s, she starred in TV shows such as Flesh 'n' Blood, True Colors, and Full House. Tamera got her breakthrough in 1994, with the enormous success of the TV series Sister, Sister that co-starred her and her twin sister Tia. Alongside starring in Sister, Sister, she managed to work for Are You Afraid of the Dark? during the same time. 
After Sister, Sister ended in 1999, Tamera joined other TV series such as Strong Medicine. She also contributed her voice to various American animated series, namely The Adventures of Hyperman, Family Guy, Detention, and The Super Hero Squad Show. Furthermore, the actress invested her two years in her reality show, Tia & Tamera. She also worked as a co-host for seven years in the talk show The Real. Her additional credits include shows like Melissa & Joey, Talking Dead, Hollywood Darlings, Daytime Divas, The Hot Chick, and Help Us Get Married.
In 2010, Tamera and her sister Tia started their own production company called Twilight Production. She produced a lifetime movie, Double wedding. Besides this, Tamera also owns a company, Need Brand. 
'Sister, Sister'
Tamera and Tia came from Texas to LA with their mother on probation for two months to see if they could make it into the film industry. Their mother promised that they could stay if they got a job in those two months. Luckily, they met a talent scout who saw a sparkling potential in them. They got to meet people who eventually created Sister, Sister for them. 
The ABC show Sister, Sister, had its first premiere in 1994. Besides Mowry twins, the show also starred Jackée Harry, Tim Reid, and Marques Houston as a principal cast. The series with six seasons and 119 episodes were based on the twins who got separated at birth and later coincidentally found each other. The show focused on the lost twins, the parents moving in together, and growing and blending into a family. ABC canceled the sitcom after the first season, but The WB (a new network at the time) took up the show and got it moving for four more seasons until it came to a close in 1999.
An announcement was made in January 2018 regarding Sister's reboot, after nearly two decades of its first premiere. It surprised and astounded the fans, but no news broke out claiming the possibility of the announcement. However, Mowry stated in an interview that it all depends on timing, and she's as excited as everyone if the reboot happens. 
Reboot 
Tamera told POPSUGAR in 2021 that she expects a Sister, Sister reboot since the fans are also enthusiastic about it. But, she further added, the reboot hinges on the timing, the availability of both the sisters, and the proper material.
"It's crazy because my sister and I have developed these individual careers, but at the same time, people want to see us together and we want to do it. It just depends on the timing," Tamera told POPSUGAR. "Sister, Sister was such a classic, and I'm just so grateful. I want to make sure that when we come out, it's not anything that is truly rushed, but that it's really thought out and it's something that people are going to love just as much as the original," she added on her expectation of the reboot if it happens.
However, Tamera's sister, Tia Mowry, told People in 2021 that Sister, Sister's reboot would not happen.
The Talk Show
In 2013, Tamera left behind her full-time career as an actress to co-host the syndicated talk show, The Real. Alongside Mowry, the show's co-host panel comprised Jeannie Mai, Tamar Braxton, Adrienne Bailon, and Loni Love. After seven years of co-hosting the show, Mowry, on 13 July 2020, used her Instagram handle to share her departure from the talk show and her aspiration to explore new chapters of her life.
She wrote, "For seven years, my home and heart have been at The Real. The friendships that I've made there will last a lifetime, and the people that I've had the blessing to interview have changed my life for the better. I'm so proud of what all the ladies and I have accomplished there, including two well-deserved NAACP Image Awards and a Daytime Emmy. However, all good things must come to an end, and it's with a bittersweet smile that I announce that I am moving on from The Real. To my fellow hosts, I love you, I will miss you, and I will always be there for you. Thank you for teaching me, supporting me, and loving all of me. Sisters forever. I'll be rooting for you, as I look forward to spending more time with my family, pursuing amazing new opportunities, and embarking on the next chapter of my life."
'Help Us Get Married'
Tamera hosted the pioneering season of Help Us Get Married that comprised 12 episodes. Help Us Get Married is a talk show series that follows three couples as they seek to arrange their nuptials with the help of the Facebook community. The first season of the program ran from 3 May to 20 July 2018.
"I am excited to be a part of this interactive journey with Help Us Get Married! on Facebook Watch," Mowry said in an interview with Deadline in April 2018. "Directly engaging with the community as they connect with one another, voice their opinions, and ultimately impact the outcome of our couples' special day is unlike anything I have ever done before," she added. Furthermore, she also shared her own wedding experience and emphasized how stressful the decision-making regarding every ceremonial detail can be in the same interview. 
"Through the help of the community on Facebook, I hope we can make the process for each couple much easier as they let us into the most intimate planning of their wedding days and have a lot of fun along the way," she concluded on the promotion of the show.
'Home and Family'
From 2013 to 2021, Mowry appeared in roughly 25 episodes of the talk show Home & Family. The show comprises home remodeling, crafts, parenting advice, lifestyle, health, and fitness improvements. Moreover, from the beginning of December 2020, Mowry served as a contributor to this talk show.
Hallmark Movies 
Mowry has inked a partnership with Crown Media Family Networks and stars in several releases of the Hallmark channel of the network. One of her credits includes the 2019 Hallmark movie, A Christmas Miracle, where she starred as Emma, a single mother who is always upbeat. She also contributed as the executive producer of the show. 
Emma, the protagonist, is searching for a Christmas miracle to report for her temporary job at a lifestyle magazine in the film. As the movie unfolds, she experiences an unexpected relationship with a helpful coworker while pursuing her track of the story. 
Mowry also starred in another Hallmark movie, Christmas Comes Twice, in 2020. She played the protagonist Cheryl Jenkins, who has been working as an administrator for the past five years. The film is about Cheryl mysteriously traveling back to the past five years of her life for a week, as she had wanted, while visiting her family for Christmas, and gets a fresh start on her work and love life.
'The Santa Stakeout'
Another Hallmark Channel film, The Santa Stakeout, will premier on 24 October 2021 and star Mowry as Tanya.  
Tanya and Ryan (played by Paul Campbell) go incognito to investigate a spate of heists in the neighborhood in the film. To conceal their identities, they masquerade as newlyweds and make a compelling couple.
'Baker's Dozen'
Mowry is all set to host Hulu's new eight-part series, Baker's Dozen, premiering on 7 October 2021. Professional and amateur bakers compete in Baker's Dozen to create delectable delights in an aspiration to be crowned as the winner. Instead of the same candidates taking part throughout the season, each episode would feature 13 new competitors. Therefore, during the show's eight episodes, viewers will watch 104 contestants compete in their respective episodes. Winners from each episode will get monetary rewards and a golden rolling pin.
The trailer for Baker's Dozen has already been released, and in it, Mowry annotates herself as an "avid home baker." Bill Yosses, the former White House Executive Pastry Chef, will co-host the show with Mowry. Also, every episode will have a guest judge from the baking industry, as per a press release.
Additionally, Mowry told EW in 2021 that she wants the audience to see the sincerity of her job as a host and judge on Baker's Dozen. "I wanted to be the judge who actually ate," she said, "People can see when you just nibble. How can you get the full flavor that way? Believe me, I got the full flavor. It was fantastic." She added.
'The Masked Singer'
The Masked Singer features celebrities singing songs wearing costumes of a kind that disguises and conceals their identity. Tamera was one of the participants in season 5, masked behind a seashell. The show first premiered on 2 January 2019 in America.
Tamera was very fond of singing from the beginning. She had started her Hollywood career in a theatre group where she had to act and sing. But ever since she got involved in the film industry, she never got the chance to revisit the theatre route or had time to sing to an audience because of her busy schedule. However, her nostalgic memory of the path triggered her to revisit it. Seashell, aka Tamera, got eliminated from the show on season 5, episode 7.
Business Ventures
Soon after Tamera and Tia entered motherhood, they started their own business called Need Brands. The business supports mother and their babies by providing wholesome maternal products.
Other Works
Besides acting, hosting, singing, owning a business, and producing TV films, Tamera is also a co-author of their first children's book series 'Twintuition: Double Vision' and 'Twintuition: Double Trouble' (co-written with her twin sister Tia). In addition to this, she loves baking and is all set to appear on a baking show called Baker's Dozen on the food network.
Tamera has a YouTube channel called The Housley Life. Most of her content in the channel adheres to cooking videos, her day-to-day activities, and Q&As with Mowery and her husband. The channel's video is a medium to help fans keep up with Mowry and her family life.
Award and Accolades
Considering Tamera's contribution and effort towards her work, she carries several accolades to her name. She received 16 nominations altogether and won seven awards as of September 2021. After being nominated for over two years, she won the 2018 'Daytime Emmy Award' for 'Outstanding Entertainment Talk Show.' She shared this award with other co-hosts of the talk show as well. Likewise, she shared the 'Image Awards' for 'Outstanding Actress in a Comedy Series' Sister, Sister (1994)' and 'Outstanding Lead Actress in a Comedy Series Sister, Sister (1994)' in the year 2000 and 1999 respectively, with her sister Tia. She also won the title of 'Favorite Television Actress' in the 'Kids Choice Awards' three times in a row.
Personal Life
Tamera got married to Adam Housley, an American journalist, and former professional baseball player, in 2011 after several years of dating. The pair welcomed their first child, son, Aden John Tanner Housley, in November 2012 and welcomed their second child Ariah Talea Housley, on 1 July 2015. In 2011, Tamera bought a home in the Napa Valley area of Northern California. Her home there comprises an expansive backyard with a beautiful countryside view and a 400-bottle wine cellar.
Sister - Tia Mowry
Tamera Mowry has a twin sister, Tia Mowry. Like Tamera, Tia is also an adept actress and producer. The productions, namely, Sister, Sister (1994-1990), The Hot Chick (2002), The Game (2006), Instant Mom (2013-2015), Fresh Beat Band of Spies (2015-2016), My Christmas Inn (2018), among many others are just a few of her work credits. Tia has been married to Cory Hardrict since 20 April 2008. They are the parents of two children.
Additionally, Tia studied psychology at Pepperdine University in Malibu, California, with Tamera. Tia graduated from Pepperdine University Seaver College.
Reunited With Her Twin Sister
Tia and Tamera had to stay apart for a long time around 2020 because of the pertaining pandemic and their clashing work schedule. After over a year of staying apart from each other, the two reunited, along with their families, in April 2021. Tia told Entertainment Tonight that the meeting was emotional and involved a lot of tears. "I was able to see my sister. "We were so happy to see each other! And we hadn't seen each other in so long."