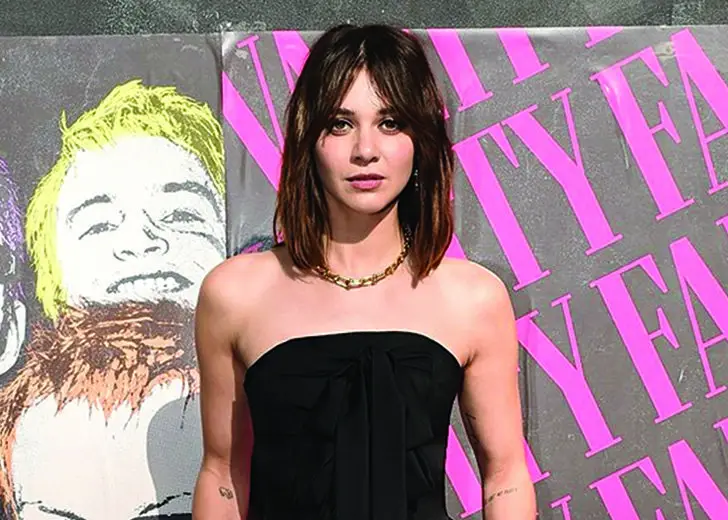 Quick Wiki
Full Name

Sydney Chandler

Birth Date

Feb 13, 1996

Age

27 Years, 7 Months

Ethnicity

White

Nationality

American

Birthplace

Topanga, California, USA

Zodiac Sign

Aquarius

Occupation

Actress

Mother

Kathryn Chandler

Father

Kyle Chandler

Relationship Status

Undisclosed

Height

1.67 m

Net Worth

Undisclosed
Chrissie Hynde in the 2022 series 'Pistol'
Sydney Chandler | Biography
Made her acting debut in the 2016 film 'The Golden Rut'
Sydney Chandler is an American actress known as Chrissie Hynde in the 2022 series 'Pistol.'
---
Who is Sydney Chandler?
Sydney Chandler was born on 13 February 1996 to parents Kyle and Kathryn Chandler. She grew up in Topanga, California, with her sibling Swayer Chandler.
Chandler first appeared in the acting industry as a minor character in the 2016 film The Golden Rut. After that, in 2019, she appeared in a couple of episodes of the television series SKAM Austin as Eve. 
Then in 2019 and 2022, she acted in two short movies, Jellyfish and Chemistry as Sandy. Subsequently, in 2022 she also began appearing as Chrissie Hynde on the TV mini-series Pistol. 
Pistol is based on the story of Steve Jones, a punk guitarist of the band Sex Pistol. During the 1970s, Jones became an influencing persona who brought the punk revolution in Britain. Chandler's character Hynde was a vocalist, guitarist, and songwriter of the band, Pretenders.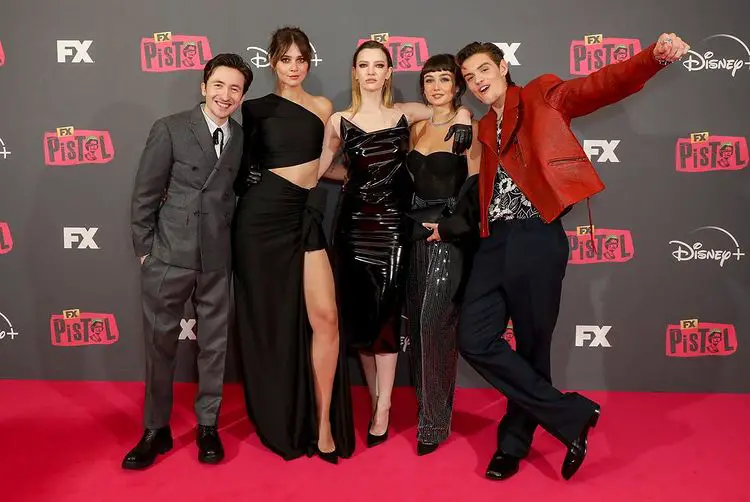 Throughout the series, Hynde tries to find her artistic personality in the 1970s while being sidelined by male artists of that time. 
In addition to that, Chandler is set to star in the 2022 sci-fiction drama movie Don't Worry Darling, alongside Harry Styles and Chris Pine. The film is based on a utopian community where the lead character Violet, played by Chander, suspects that her glamorous life is based on lies. 
On the other hand, in 2022, Chandler landed a role in the series based on a real story, Coercion. 
Sydney Chandler's Father, Kyle Chandler, is an Established Actor
Sydney's father, Kyle Chandler, is also an actor who began his acting career in the 1980s. He married screenwriter Kathryn Macquarrie in 1995 after randomly meeting at a dog park. 
Kyle is prominently known for appearing in the tv series Homefront from 1991 to 1997, followed by the 2005 film King Kong as Bruce Baxter, on Grey's Anatomy as Dylan Young, and the Friday Night Lights series as Eric Taylor from 2006 to 2011. 
In addition, Kyle starred in Argo 2012 as Hamilton Jordan, in the 2013 film Broken City as Paul Andrews, and in The Wolf of Wall Street as Agent Patrick Denham. More recently, he was John Rayburn on the series Bloodline, Colonel Cathcart on the mini-series Catch-22, Mitchell in the 2022 film Midnight Sky and Bill Gurley on Super Pumped. 
Even with a celebrity background and resources, Sydney and her six-year-old sister Swayer grew up in a less affluent environment. As a child, Swayer campaigned alongside her father against shark finning. Yet, at the same time, Kyle admits that he and Kathryn wanted their daughters to have a normal and fun life. 
In 2022, The Bustle Magazine reported that Kyle shared about not wanting the lavish lifestyle that comes with being a celebrity. But be welcomed towards living their life with normality in it. 
"When we have people over the house, I'll fire up the grill outside, and we'll have good food, but it's potluck. I love what I do, but I don't need the lavish lifestyle that's supposed to go with it,' Kyle said. 
Also Read: Victoria Moroles - Age, Boyfriend, Dating, Net Worth & Bio
Who is Sydney Chandler Dating?
Although Chandler has not made formal statements, she has been linked with her Pistol co-star Louis Patridge. Partridge, a model, and actor have known for his work in Enola Holmes, has also not disclosed their personal relationship.