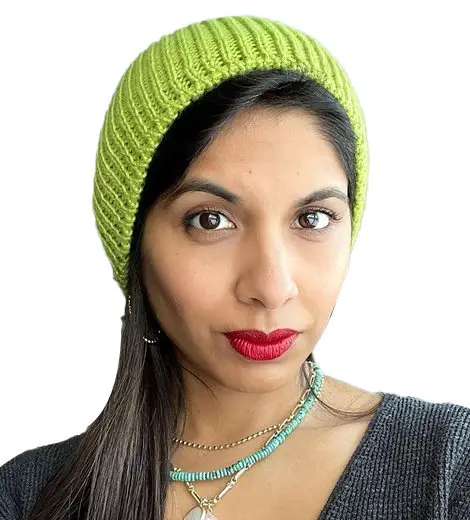 Quick Information
Full Name

Sheena Melwani

Occupation

Vocalist, Social Media Personality

Nationality

Canadian

Birthplace

Quebec Province, Canada

Birth Date

Sep 01, 1983

Age

38 Years, 0 Months
Quotes
"All I've ever known is a life with music. I have been singing for as long as I can remember."
Creator of YouTube/ TikTok series 'Interrupted Series'
Sheena Melwani | Biography 2021
Sheena's first video on the 'Interrupted Series' was when she played 'If the World Was Ending,' by JP Saxe in May 2020
Sheena Melwani is popular for her YouTube/ TikTok videos 'Interrupted Series,' in which she would be on piano performing popular songs and her husband, Dinesh Melwani, impersonating as The Real Indian Dad giving humours comments, as she sings. The series began in May 2020. Melwani has over 7.5 million followers and over 143 million likes in TikTok, as of 5 August 2021.
---
Sheena Melwani is a social media artist who rose to fame after posting cover songs on YouTube and Instagram. 
Who Is Sheena Melwani?
Sheena Melwani is a vocalist and musical artist who gained notoriety for herself through social media platforms. She has a sizable online following, which started to grow after posting the fronts of several hit songs. As of 5 August 2021, she has 462 thousand subscribers on YouTube, over 1.3 million followers on Instagram, 7.5 million followers on TikTok, and 200 thousand followers on Facebook. 
Melwani is more popular for her YouTube/TikTok series titled Interrupted Series. As she sings, her husband Dinesh Melwani gives humorous commentary as "The Real Indian Dad." The first episode premiered in July 2020. Currently, she is working on her debut album.
Early Life 
Sheena Melwani was born on 1 September 1983 in Montreal, Canada, and of Indian descent. She has been an avid music lover since her childhood. According to her, any event or get-together with her friends and family was an opportunity to interact with people. Melwani has progressed throughout her life as a musician, pianist, and songwriter. 
Rise to Fame
In November 2007, Melwani started posting her music videos and cover songs on her self-titled YouTube channel when living alone in Tokyo. She has over 462 thousand subscribers and 99 million views on YouTube as of 5 August 2021. Melwani started her online journey "to overcome the sheer loneliness" as she lived far away from her family and friends. 
Her first video on the channel was a cover song by Christina Aguilera's 'Beautiful.' The video has been viewed over 200,000 times in thirteen years. She then set a goal to gain 1 million views in 100 days and eventually achieved it.
Melwani had also appeared in different radio interviews, news coverage, and in a Japanese live show. Since then, she started posting live shows online and many other cover songs. Some of her popular cover songs include 'Bleeding Love' by Leona Lewis, 'With You' by Chris Brown, 'Hate That I Love You' by Rihanna and Neyo, 'Bubbly' by Colbie Caillat, 'No One' by Alicia Keys, 'All I want for Christmas' by Mariah Carey and 'Oh Holy Night' by Celine Dion. Her varied worldwide fan base has grown, also for her extensive travel and personal experiences.
According to her YouTube Bio, Sheena Melwani wants to inspire people by combining modern digital technologies with mainstream music to connect and influence positively. 
A Seven-Year Hiatus 
Her journey as an online artist paused when she gave birth to her first child in February 2011. In a video titled 'Where is Sheena Melwani?,' she explained that she initially took a break from work to focus on her son but eventually decided to be a full-time mom until he went to kindergarten. However, she was sure that she wanted to pursue music full-time. 
Now, both of her children are in school, Melwani is on her toes pursuing music full-time. 
Back to Business
After taking a seven-year break from the online world, Melwani started posting videos in May 2020. Since then, she had posted many cover songs, live videos, and even funny skits. She also hosts a live online broadcast called SheenaTV that showcases her musical variety and engages the audience in stimulating interactive conversations. Some of her videos include her husband, Dinesh Melwani, aka Trid. But, his face was not revealed and would be disguised by a large cartoon bobblehead.
Melwani had also posted several pranks and short videos, and those have also garnered millions of views on the platform. Her popular short videos are 'M&M Magic Trick!,' 'Senses Challenge,' 'Dad Jokes Medical Edition,' 'Magic Card!,' and 'Water Swap Prank.'
'Interrupted Series' & The Real Indian Dad 
The YouTube/ TikToks series, Interrupted Series, began in May 2020, when Melwani played 'If the World Was Ending,' by JP Saxe. Her husband, Dinesh Melwani, impersonating as The Real Indian Dad, interacted with his uproarious wisecracks as she sang the song.
Since then, Melwani had released numerous more covers, with The Real Indian Dad's witty comments in the background. She had performed the super hit pop songs including 'Hot N Cold' by Katy Perry, 'Grenade' by Bruno Mars, 'All of Me' by John Legend, 'Chandelier,' by Sia, and 'Hello,' by Adele.
Speaking to CNN about the series, she stated, "I think one of the most important things that has come out of all of this is much larger than just videos of a girl singing and being hilariously interrupted. The joy that these videos have brought people is the true gift. You can see many comments from people all over the world saying how much they enjoy them and how much their families are bonding over the laughter and music."
The duo has also become very popular in TikTok, where Melwani has over 7.5 million followers and over 143 million likes as of 5 August 2021. The series had received over a billion views across TikTok and YouTube. Furthermore, her business will now be expanded through William Morris Endeavor (WME), with representation in podcasting, television, music, brand endorsements, touring, and other media.
Personal Life
Melwani has been married to Dinesh for over a decade. The couple has a son and a daughter. Dinesh is a transactional attorney who counsels US and foreign clients on a wide range of business issues.