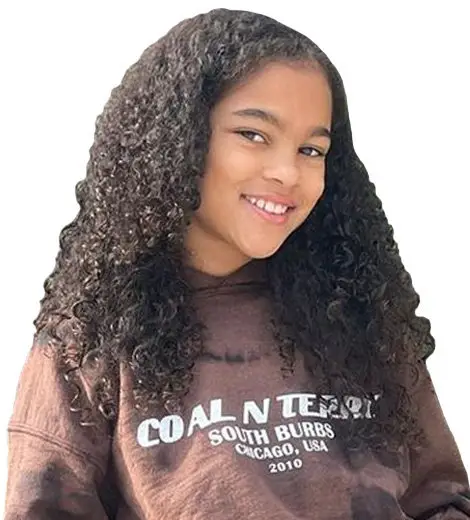 Quick Wiki
Full Name

Shai Moss

Occupation

Actress

Nationality

American

Birth Date

Apr 27, 2011

Age

12 Years, 7 Months
Daughter of Rapper Bow Wow and Social Media Personaity Joie Chavis
Shai Moss | Biography 2021
Shai Moss is a celebrity kid, born to popular rapper Bow Wow and Social Media personality Joie Chavis. She has two younger half-brothers, Hendrix, from her step-father Future, and Stone, from her step-mother Olivia Sky. the 10-year-old, through her Instagram post, has given a hint that she works in the TV series' Side Hustle.'
---
Shai Moss is a celebrity kid. She is the daughter of the famous American rapper Bow Wow.
Who is Shai Moss?
Shai Moss is the daughter of American rapper and actor Shad Moss, alias Bow Wow, and social media influencer Joie Chavis. In January 2021, Shai, at the age of nine, entered the entertainment industry.
How old is Shai Moss?
Shai Moss was born on 27 April 2011 in the U.S. She is the first child of Bow Wow and Joie Chavis. She recently celebrated her 10th birthday.
Booking First Job
At age nine, Shai booked her first acting job in January 2021, following an audition the previous month. She got the job through a talent agency named A3 Artists Agency and her manager Shanelle Gray. After completing her first job, Shai soon booked her second job in February. In her Instagram post dated 25 April 2021, Shai had shared a video clip with a caption that hinted that she had worked on the comedy television series, Side Hustle.
Mother Joie Chavis
Joie Chavis, Shai's mother, is a famous social media personality and entrepreneur. She initially posted health and fitness-related videos and posts on her Instagram account. After becoming an Instagram star, she went on to launch her fitness and lifestyle YouTube channel, Joie in Life, in February 2020. As of July 2021, Joie has 1.9 million followers on her Instagram account and 141k subscribers on her YouTube channel. She had also founded an online clothing and boutique shop called ShopShai, named after her daughter Shai.
Father Bow Wow
Shad Gregory Moss, a.k.a. Bow Wow, is a famous rapper, actor, and producer. He developed a strong interest in rap music from a young age. Shad released his first rap studio album Beware of Dog, in 2000 when Shad was only 13 years old. He began his rap career with the moniker Lil' Bow. After a few years, he started using the name Bow Wow in his albums. His first album included hit songs like 'Bounce With Me' featuring R&B group Xscape, 'Bow Wow (That's My Name)' featuring Snoop Dogg, 'Puppy Love,' and 'Ghetto Girls.' The superhit album sold more than two and a half million copies. 
His second album, Doggy Bag, released in 2002, also became commercially successful. Doggy Bag included hit singles 'Thank You' and 'Take Ya Home.' The album peaked at number two on the Billboard album chart. Though his third album Unleashed peaked at number four on the Billboard album chart, it was not a commercial success. In 2005, he released his fourth album, Wanted, which included singles like 'Let Me Hold You,' featuring Omarion and 'Like You' featuring Ciara. Bow Wow later released hit albums such as The Prince of Fame (2006), Face Off (2007), and New Jack City II (2009).
Aside from his successful musical career, Bow Wow appeared in several films and television series. After guest-starring in television shows like Moesha and The Steve Harvey Show in 2001, Bow Wow made his big-screen debut in 2002 in the action comedy film All About the Benjamins. He went on to appear in films such as Like Mike (2002), Johnson Family Vacation (2004), Roll Bounce (2005), The Fast and the Furious: Tokyo Drift (2006), Hurricane Season (2009), Lottery Ticket (2010), and Madea's Big Happy Family (2011). 
Bow Wow also served as an executive producer in 39 episodes of Growing Up Hip Hop: Atlanta from 2017 to 2020. He also was the executive producer for the TV movie In Broad Daylight in 2019.
Relationship between Bow Wow and Joie Chavis
Bow Wow and Joie Chavis started dating in March 2010 and welcomed Shai the following year. In 2012, Joie filed a lawsuit against Bow Wow for child support. As a result, the court ordered Bow Wow to pay $3000 every month to Joie. The court also ordered Bow Wow to pay $11,500 unpaid child support payments. However, Joie admitted in a YouTube Q&A in April 2021 that she did not get any child support.
Even though Bow Wow and Joie did not have the right balance for several years, they eventually teamed up and co-parented their child Shai. In an interview with Jason Lee in March 2021 on Fox Soul TV, Bow Wow shared that he also plans to co-parent Joie's son Hendrix.
Siblings
Shai has two younger half-brothers, Hendrix Wilburn and Stone Moss. Hendrix was born in December 2018 to Shai's mother Joie and step-father Nayvadius DeMun Wilburn, a.k.a. Future. Stone was born in June 2020 to Shai's father, Bow Wow, and step-mother Olivia Sky, an Instagram model.