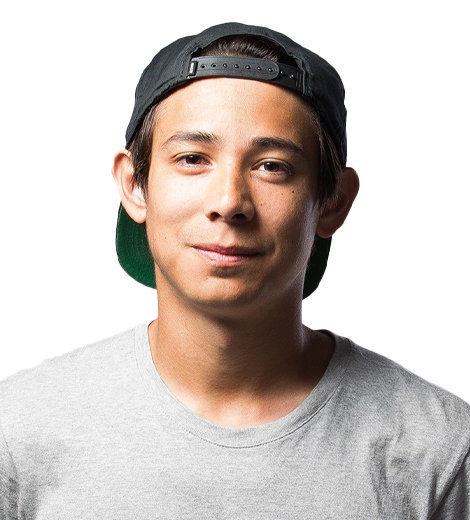 Quick Information
Full Name

Sean Malto

Occupation

Professional Skateboarder

Nationality

American

Birthplace

Maryland, USA

Birth Date

Sep 09, 1989

Age

32 Years, 0 Months
Professional Skateboarder
Sean Malto | Biography
Malto was featured in Mountain Dew's short film 'Modern Lines,' in 2019
Sean Malto started skateboarding at the age of 10 as a hobby. He started taking it seriously after he began receiving offers and free products from sponsors at the age of 13. At 20, he became Transworld Skateboarding (TWS) magazine's 'Rookie of the Year.' The following year, he was nominated for the TWS 'Reader's Choice.' He also won the 'Street League Championship' and took the silver medal at 'X Games' in 2011. Two years later, he finished in the fourth position at the '2013 Dew Tour Toyota City Championship.'
---
Sean Malto is an American professional skateboarder.
Who is Sean Malto?
Sean Malto is a professional skateboarder who started skateboarding at 10. His skating talent earned him several awards, including Transworld Skateboarding (TWS) magazine's 'Rookie of the Year' in 2009, the 'Street League Championship' in 2011, and 'X Games' silver medal in 2013. He has also appeared as a skater in many documentaries, television shows, short films, and music videos. 
Early Bio
Sean Michael Malto was born on 9 September 1989 in Maryland, USA. Growing up in a military family in Kansas City, Midwest, Malto gained discipline from his family. He started skateboarding at the age of 10 as a hobby, following the path of his older brothers. 
In an interview with weareiowa.com in May 2021, Malto said that he grew up skating in the streets because of the lack of skate parks in the Midwest. Later, he started taking skateboarding seriously after getting offers and free products from his sponsors from 13. He eventually ventured into the skateboarding career.
Career
Malto went on his first trip at the age of 15 and appeared in the Crailtap tour edits. He eventually honed his skateboarding skills and combined tricks like lighting-quick ledge combos and heavy flip-in rail tricks. 
In 2009, he became Transworld Skateboarding (TWS) magazine's 'Rookie of the Year.' The following year, he was nominated for the TWS 'Reader's Choice' in 2010. He also won the 'Street League Championship' and took the silver medal at 'X Games' in 2011. Two years later, he finished in the fourth position at the '2013 Dew Tour Toyota City Championship.'
Injuries
Malto suffered multiple injuries during his skateboarding career. In the October 2020 Youtube video titled 'The Scariest Injuries of Sean Malto's Career,' Malto shared some severe injuries he suffered while skateboarding. He got injured at around 11 or 12 years old when his back foot slipped and fell into the ground. Malto also got injured before his first day of high school that knocked out his three teeth. However, he immediately went to the dentist and repaired his teeth. 
He then suffered a major ankle injury in 2013 that sidelined him from his skateboarding career. Malto underwent multiple surgeries and spent a year recovering from the injury. 
"I was all excited about I'm like I'm just going to land this go park. Whatever just kind of got lazy on the bail. I kind of caught up just like toss it but didn't fully get it and so when I came down my back foot rolled. It literally felt like I snapped my ankle. Right when I did it I was like I broke my ankle," he recalled. "I'll probably deal with that [ankle injury] for the rest of my life," he added. 
On-Screen Appearances
Malto had appeared in several television movies, shows, documentaries, and short films. He was featured in the 2008 sports TV movie Slaughter at the Opera, in which skateboarders compete to win big cash prizes. In 2010, he appeared in the TV movie Transworld Skate & Create and in one episode titled 'Jingle Z' of the comedy reality TV show Rob Dyrdek's Fantasy Factory. He then appeared in two songs of the 2012 sport-documentary Pretty Sweet, written by Ty Evans and co-directed by Evans, Spike Jonze, and Cory Weincheque.
Malto also appeared in Adam Bhala Lough's two sports documentaries, The Motivation (2013) and Motivation 2: The Chris Cole Story (2015). As a skateboarder, he also appeared in Patrik Wallner's short documentary Gurus of the Ganges (2013) and Ty Evans' sports documentary We Are Blood (2015), written by Mark Anders.
In 2016, he was featured in two episodes titled 'Celebrity Golfing' and 'Heating Up Street League' of the sports television series Sheckler Sessions as a skater. The same year, Malto starred in the 2016 short film Malto, which focused on Malto's skateboarding career and the time he spent recovering from a severe injury. Ty Evans directed the short film.
'Modern Lines'
In 2019, he was featured in Mountain Dew's short film Modern Lines, alongside skateboarders Curren Caples, Mariah Duran, Chris Cobourn, and many more. The short film explained the process of creating the park. It also featured the behind-the-scenes of an innovative new skate course curated by professional skater Curren Caples and designed by California RampWorks. Malto told Hype Beast in October 2019 that Modern Lines blended both street and park into one continued course, which is unique from ordinary parks.
In 2020, Malto also appeared as a skater in the music video 'Circle the Drain' by Soccer Mommy. 
Video Game Appearance
Malto appears as a playable character in the 2010 skateboarding video game Tony Hawk: Shred. 
Sponsors
Malto has been sponsored by many brands like Girl, Mountain Dew, Nike SB, GoPro, Beats by Dre, Spitfire Wheels, Escapist Skateboarding, Thunder Trucks, and much more.
Personal Life
Malto is dating a model Briti Sumida. Previously, he dated choreographer and creative director Dani Vitae.