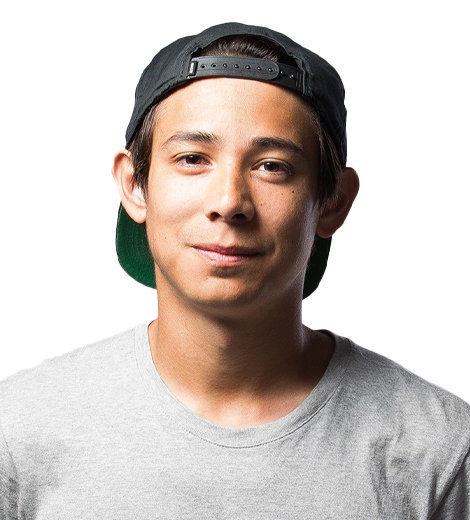 Quick Wiki
Full Name

Sean Malto

Occupation

Professional Skateboarder

Nationality

American

Birthplace

Maryland, USA

Birth Date

Sep 09, 1989

Age

34 Years, 2 Months
Professional Skateboarder
Sean Malto | Biography
Malto was featured in Mountain Dew's short film 'Modern Lines,' in 2019
During the coronavirus pandemic, when the contest season and other projects were on pause, Malto utilized the time to travel back to his home, Kansas City, Missouri. He then dropped his original six-part web series, 'Back To KC,' in December 2020 through Mountain Dew's official YouTube channel. Malto covered his life experiences in the city, including the BBQ lesson, the streets, and the switch flip, by paying tribute to the spots and skate community of Kansas City that shaped him.
---
Sean Malto is an American professional skateboarder.
Who is Sean Malto?
Sean Malto is a professional skateboarder who started skateboarding at 10. His skating talent earned him several awards, including Transworld Skateboarding (TWS) magazine's 'Rookie of the Year 'in 2009, the 'Street League Championship' in 2011, and 'X Games' silver medal in 2013. He has also appeared as a skater in many documentaries, television shows, short films, and music videos. 
Early Bio
Sean Michael Malto was born on 9 September 1989 in Maryland, USA. Growing up in a military family in Kansas City, Midwest, Malto gained discipline from his family. He started skateboarding at the age of 10 as a hobby, following the path of his older brothers. 
In an interview with weareiowa.com in May 2021, Malto said that he grew up skating in the streets because of the lack of skate parks in the Midwest. He started taking skateboarding seriously after getting offers and free products from his sponsors when he was 13. He eventually ventured into the skateboarding career.
Career
Malto went on his first trip at the age of 15 and appeared in the Crailtap tour edits. He eventually honed his skateboarding skills and combined tricks like lighting-quick ledge combos and heavy flip-in rail tricks. 
In 2009, he became Transworld Skateboarding (TWS) magazine's 'Rookie of the Year.' The following year, he was nominated for the TWS' Reader's Choice' in 2010. He also won the 'Street League Championship' and took the silver medal at 'X Games' in 2011.
Mountain Dew Skate Team
On 10 October 2013, Malto officially signed with the Mountain Dew's Mountain Dew Skate Team. The team consisted of professional skateboarders such as Paul Rodriguez, Keelan Dadd, Theotis Beasley, Nick Tucker, and Boo Johnson. 
"I'm beyond excited. Mountain Dew has put together such an amazing team with Paul and the crew. I'm just stoked to be a part of it, especially leading into the Dew Tour in San Francisco," Malto shared his excitement of joining the Mountain Dew Skate Team with PR Newswire.
After joining the team, he debuted at the Dew Tour's Toyota City Championship in San Francisco, California, from 10 to 13 October. He finished in the fourth position at the '2013 Dew Tour Toyota City Championship.'
Back to Kansas City
During the coronavirus pandemic, when the contest season and other projects were on pause, Malto utilized the time to travel back to his home, Kansas City, Missouri. He then dropped his original web series called Back To KC in December 2020 through Mountain Dew's official YouTube channel. 
According to Malto, his Back to KC web series was about paying tribute to the spots and skate community of Kansas City that shaped him. In the six-part web series, he covered his life experiences in the city, including the BBQ lesson, the streets, and the switch flip. 
In an interview with Dew Tour in December 2020 about the Back to KC project, Malto said, "I do love Kansas City, and I feel like it really shaped who I am as a person and who I am as a skateboarder. When I was talking with Mountain Dew about trying to do a project this year, I wanted to do something that, one, we're all safe in terms of social distance and all that, and, two, that was really special to me. I felt like in Kansas City, I could do both of those things and use people I knew in the community of Kansas City. This filmer I've been working with for pretty much all my skateboarding career, Ryan Lovell, is living in Kansas City, and it really came together naturally."
Injuries
Malto suffered multiple injuries during his skateboarding career. In the October 2020 Youtube video titled 'The Scariest Injuries of Sean Malto's Career,' Malto shared some severe injuries he suffered while skateboarding. He got injured at around 11 or 12 years old when his back foot slipped and fell into the ground. Malto also got injured before his first day of high school that knocked out his three teeth. However, he immediately went to the dentist and repaired it. 
He then suffered a major ankle injury in 2013 that sidelined him from his skateboarding career. Malto underwent multiple surgeries and spent a year recovering from the injury. 
Dew Tour Olympics
After a severe ankle injury, multiple surgeries, and a long road to recovery, Malto got back into skateboarding by participating in a global Olympic qualifying event, the Dew Tour, on 21 May 2021. He skated alongside 83 other professional skaters in Des Moines, Iowa, to earn points to secure a spot for the United States skateboarding team in the sport's first-ever Olympic debut at the Tokyo 2020 Olympics. He scored 18.28 in the Olympic qualifying event but did not make his spot in the country's Olympic team.
The Summer Olympics was held from 23 July to 8 August 2021 in Tokyo, Japan. The Summer Olympics was supposed to happen in 2020 but rescheduled for 2021 due to the COVID-19 pandemic.
Olympic Skateboarding Uniform
In 2020, Nike designed the first-ever Olympic skateboarding uniforms for the sport's Olympic debut at the Tokyo 2020 Olympics. Nike worked closely with Malto to create attire for skateboarding that is not usually associated with having a uniform.
"Skating has been such an individual thing, it's all personal preference and your style, the clothing matches the style of your skating. So having a uniform is different, but it also is cool, that it now it is a bigger thing," Malto told Dezeen about having a skateboarding uniform.
Golf Interest
Skateboarder Malto has been a keen golfer. He learned to play golf with his father and brother. Malto carries a 9-handicap, and he has once partnered with multiple times X Game medalist professional skateboarder Eric Koston in a golf tournament in Munich exclusively for action-sport athletes, reported Gold Digest in March 2018. 
Malto also posts about golf on his Instagram and reports no harm to his street credibility. To Malto, "golf is largely accepted in the skate world, recognized as another social but ultimately individually driven passion that presents a steep initial learning curve and technical mastery that's forever elusive."
In 2019, Malto, Koston, and photographer Atiba Jefferson visited The Kingdom at TaylorMade Golf to get fit for the latest equipment. 
Collaborations
In 2014, Malto became a part of the SYNDCT brand ambassador program of a design-driven brand called Incase. The brand and Malto announced on 12 May 2015 the release of their first collaborative product called Sean Malto Field Bag, created for iPad mini users. The Field Bag featured signature design elements. Such elements include custom leather details and topographic print lining in a dark khaki colorway.
In June 2019, Malt was requested to select his favorite pieces from California artist and illustrator Tim Lahan's archive to create a line of summer essentials, including accessories and apparel. 
In December 2020, The Berrics, a private indoor skatepark, partnered with Illumination Entertainment for a bright yellow skate deck to celebrate the 10th anniversary of Minions. To highlight the collaboration, Malto and Koston skated around The Berrics indoor skatepark wearing giant inflatable Minions suits.
On-Screen Appearances
Malto had appeared in several television movies, shows, documentaries, and short films. He was featured in the 2008 sports TV movie Slaughter at the Opera, in which skateboarders compete to win big cash prizes. In 2010, he appeared in the TV movie Transworld Skate & Create and in one episode titled 'Jingle Z' of the comedy reality TV show Rob Dyrdek's Fantasy Factory. He then appeared in two songs of the 2012 sport-documentary Pretty Sweet, written by Ty Evans and co-directed by Evans, Spike Jonze, and Cory Weincheque.
Malto also appeared in Adam Bhala Lough's two sports documentaries, The Motivation (2013) and Motivation 2: The Chris Cole Story (2015). He also appeared as the real-life Malto in Patrik Wallner's short documentary Gurus of the Ganges (2013) and Ty Evans' sports documentary We Are Blood (2015), written by Mark Anders.
In 2016, he was featured in two episodes titled 'Celebrity Golfing' and 'Heating Up Street League' of the sports television series Sheckler Sessions as a skater. The same year, Malto starred in the 2016 short film Malto, which focused on Malto's skateboarding career and the time he spent recovering from a severe injury. Ty Evans directed the short film.
'Modern Lines'
In 2019, he was featured in Mountain Dew's short film Modern Lines, alongside skateboarders Curren Caples, Mariah Duran, Chris Cobourn, and many more. The short film explained the process of creating the park. It also featured the behind-the-scenes of an innovative new skate course curated by professional skater Curren Caples and designed by California RampWorks. Malto told Hype Beast in October 2019 that Modern Lines blended both street and park into one continued course, which is unique from ordinary parks.
'Trust Fall'
Malto also appeared in Nike SB's first full-length men's skate film Trust Fall in 2019. Filmed by Ant Travis and Jacob Harris, Trust Fall is a 25-minute film and sequel of the Nike SB's 2015 film, Chronicles Vol. 3, and is set on both sides of the Atlantic. The film featured Donovon Piscopo, Caleb Barnett, Blake Carpenter, Kyron Davis, Daan Van der Linden, and Casper Brooker.
Music Video Appearance
In 2020, Malto also appeared as a skater in the music video 'Circle the Drain' by Soccer Mommy. 
Video Game Appearance
Malto appeared as a playable character in the 2010 skateboarding video game Tony Hawk: Shred. 
TV Commercials
As a professional skateboarder, Malto was featured in Mountain Dew's several TV commercials, including Fireboard and Fade Away. 
On the Mountain Dew TV commercial Fireboard, Malto effortlessly cruises into the sunset on the beach with his Mountain Dew-themed skateboard and sparks a fire in the process. 
Malto joins a group of fellow skaters for a late-night ride in a parking garage in the Fade Away commercial. While the group moves in a different direction to explore new territory, Malto sets his sight on tackling a hardflip over a parked SUV. When Frédéric Chopin's soothing music, 'Fantasie-Impromptu Op.66,' lingers in the background, time slows down, and everything fades away.
In January 2019, Malto took to Facebook to share that he shot the new Mountain Dew commercial Let's Do, alongside skateboarder Mariah Duran, hip-hop group Migos, and mixed martial artists Holly Holm.
Sponsors
Malto has been sponsored by many brands like Girl, Mountain Dew, Nike SB, GoPro, Beats by Dre, Spitfire Wheels, Escapist Skateboarding, Thunder Trucks, and much more.
Shoes: Nike SB Dunk Low Elite Sean Malto
In March 2017, Nike SB introduced the Nike SB Dunk Low Elite with Sean Malto colorway. The Sean Malto pairs featured two different shades of blue with samurai-inspired graphics and decorative red stitching.
Favorite Shoe
Janoski is Malto's favorite skate shoe.
Personal Life
Malto is dating a model Briti Sumida. Previously, he dated choreographer and creative director Dani Vitae.