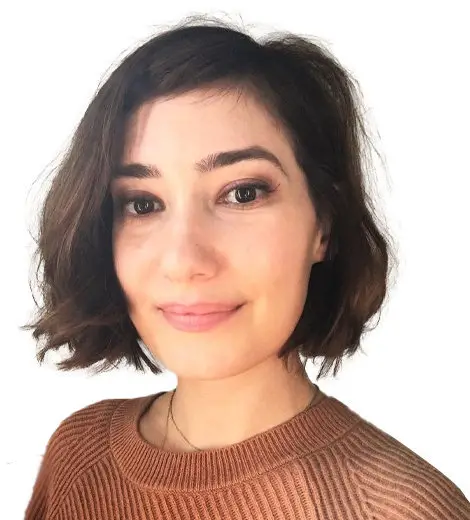 Quick Wiki
Full Name

Schuyler Helford

Occupation

Actress, Writer, Producer

Nationality

American

Birthplace

California, USA

Birth Date

Mar 10, 1991

Age

32 Years, 8 Months
Cast of the Television Series 'Call me Kat'
Schuyler Helford | Biography
Helford's father Bruce Helford is an acclaimed writer and producer
Schuyler Helford landed the role of Brigitte in the 2021 comedy television series 'Call Me Kat.' The series was inspired by Miranda Hart's British sitcom Miranda. The show got renewed for a second season in May 2021.
---
Schuyler Helford is an actress prominently known for her roles in the television series 'Anger Management,' and 'Call Me Kat.'
Who Is Schuyler Helford?
Schuyler Helford is an American actress, writer, and producer. The actress made her debut on screen in the television sitcom Anger Management as Sateen in 2013. Most recently, she portrayed the role of Brigette in the comedy series Call Me Kat (2021). 
She has also worked on movies like Haunt and Discover Indie Film, both released in 2019. As a writer, she has worked on projects like The 2017 CBS Diversity Sketch Comedy Showcase, television mini-series Indoorsy, and sitcom #Cybriety. 
Early Life & Education 
Schuyler Rishona Helford was born on 10 March 1991 in Los Angeles County, California, to Bruce and Jan Corey Helford. She has a brother, Aven Helford. Helford completed her high school education at Windward School and went to Bard College to pursue a BA in Theatre Studies.
Her father, Bruce Helford, an acclaimed writer and producer, had worked on sitcoms like Anger Management, The Drew Carey Show, George Lopez, and Family Ties. Bruce had also worked on ABC's Roseanne reboot, which got canceled after Roseanne Barr's racist tweet-storm. Though the show was canceled, Bruce helped to create its spin-off show, The Connors.
Career
Helford made her acting debut in the television comedy show Anger Management in 2013. She played the role of Sateen and appeared in four episodes throughout 2013 and 2014. She then appeared in an episode of the 2014 television series The Middle as Chloe. 
In 2015, Helford worked in the television show #Cyberiety as an actress, producer, and writer. She appeared in eight episodes playing Schuyler and wrote seven episodes between 2015 and 2016. Helford had also featured in a handful of short movies, including The Past Inside the Present (2016), Edited (2018), Discover Indie Film (2019), and Group Chat (2019). 
Her credits as a writer and producer include the television series Indoorsy, 2017 CBS Diversity Sketch Comedy Showcase, the 2018 short Edited, and the 2016 short film The Past Inside the Present. 
'Call me Kat'
Call Me Kat is an American comedy television series inspired by Miranda Hart's British sitcom Miranda. Darlene Hunt created the show. The first episode of the sitcom premiered on 3 January 2021 on Fox as a mid-season addition in the 2020–21 television seasons. The show got renewed for a second season in May 2021. 
The show's premise was based on a 39-year-old woman (played by Mayim Bialik) who created a cat-themed cafe using the money she and her parents had set up for her wedding. Helford portrayed the role of Brigitte alongside artists like Mayim Bialik, Kyla Pratt, Cheyenne Jackson, Julian Gant, Leslie Jordan, and Swoosie Kurtz. Helford appeared in six episodes in the first season. 
'Haunt'
In 2019, she portrayed the role of Mallory in the horror film Haunt. The American slasher was written and directed by Scott Beck and Bryan Woods. Katie Stevens, Will Brittain, and Lauryn McClain starred in the film. The movie's plot revolved around a gang of friends who discovered an extremely haunted mansion that aims to feed on their deepest fears.
Personal Life
Helford is currently in a relationship with American singer and songwriter Josh Groban. The duo was first spotted together holding hands at the 'Tony Awards' in 2018. Since then, they have attended several public occasions together. Groban revealed in Suffle that the two spend a lot of time together watching Netflix and enjoyed each other's company during the pandemic. 
Before being in a relationship with Helford, Groban dated American actress January Jones for over two years and separated in 2006. He also dated 2 Broke Girls star, Kat Dennings, from 2014 to 2016. Groban was also romantically involved with American singer and musician Katy Perry, who had revealed that her 2018 song 'The One That Got Away,' was about him. 
About Josh Groban
Born on 27 February 1981, Josh Groban, real name Joshua Winslow Groban, is an American singer, musician, songwriter, actor, and record producer. His first four solo albums were certified multi-platinum, and he was named the best-selling artist in the United States in 2007, with over 22.3 million albums being sold. He had sold over 25 million records around the world as of 2012. Two of his most successful albums, Closer and Awake, had sold over 35 million copies worldwide.
Groban made his Broadway debut in Natasha, Pierre & The Great Comet of 1812, for which he was nominated for a 'Tony Award,' for his performance as Pierre. 
His acting credits include television shows such as The Office, It's Always Sunny in Philadelphia, The Crazy Ones, and Parks and Recreation. His big-screen appearances include Crazy, Stupid Love, and The Muppets Most Wanted.