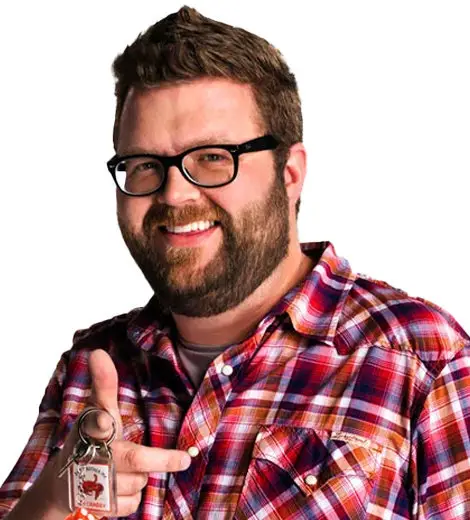 Quick Wiki
Full Name

Rutledge Wood

Occupation

Auto Racing Analyst, TV Host

Nationality

American

Birthplace

Alabama, USA

Birth Date

Apr 22, 1980

Age

43 Years, 5 Months
TV Host, Auto Racing Analyst
Rutledge Wood | Biography
Wood showed off his car collection during the Season 2 premiere of the MA Motorsports' show, 'Garage Tours With Chris Forberg'
Rutledge Wood joined NBC Sports as a specialty motorsports reporter in 2015. As the NBC Sports Group reporter, he covered the 2016 Olympic Games and the 2018 PyeongChang Olympics. He also covered the Kentucky Derby and Super Bowl LII. Lately, he has been serving as a features reporter for NBC Sports Group's NASCAR coverage. As a features reporter, he covers raceways, towns, and fans.
---
Rutledge Wood is a TV host best known for co-hosting History Channel's motor racing show 'Top Gear USA.'
Who is Rutledge Wood?
Rutledge Wood is an American TV show host and auto racing analyst. He has been contributing as a features reporter for NBC Sports Group's NASCAR and other major game coverage since 2015. 
He formerly worked as a correspondent for FOX Sports 1's NASCAR Cup Series pre-race show, NASCAR RaceDay. 
Wood is famous for co-hosting History Channel's Top Gear USA (2010-2016). He has also hosted and co-hosted several Netflix shows such as HyperDrive (2019), Floor Is Lava (2020), and The American Barbecue Showdown (2020).
Furthermore, Wood is a classic car enthusiast. He has a collection including a 1970 Dodge Charger and 966 VW Double Cab Pickup.
Early Life and Education
Rutledge Wood was born on 22 April 1980 in Birmingham, Alabama, to Bill and Claudia Wood. His parents weren't wealthy but managed to buy a beat-up old house on Euclid Avenue so that their children would be in a better school in Mountain Brook. Wood attended Crestline Elementary School and then Mountain Brook Junior High School. 
In 1995, Wood's father, staff at a telecommunication company AT&T, was transferred to Peachtree City, Georgia. He was 15 years old when he moved from Birmingham, Alabama, to Peachtree, Georgia, with his family.
At Georgia, he completed high school. He then went to the University of Georgia and graduated with a degree in marketing. 
Wood mentioned on his website that he learned the business of buying, restoring, and selling new and old vehicles from his father.
NASCAR
According to Wood, his friends, who were avid fans of The National Stock Car Auto Racing (NASCAR), inspired him to follow the sport when he was in college. After graduating from the University of Georgia, he got his first job at NASCAR. There, he traveled with the NASCAR circuit for Country Music Television's mobile marketing activation. He also worked as a karaoke host during that time. Shortly after that, he was hired by Speed Channel (now FoxSports 1) in February 2005. He worked at FOX Sports 1 for 10 years, covering NASCAR. 
Wood has hosted and co-hosted many NASCAR events and shows for Fox Sports, including Speed Road Tour Challenges reality television game show, NASCAR Smarts quiz show, NASCAR: After The Lap talk-show, and NASCAR Live. In 2012, he served as a correspondent for NASCAR Sprint Cup Series pre-race show NASCAR RaceDay. He also co-hosted the annual NASCAR Awards Banquet.
'Top Gear USA'
In 2010, Wood started hosting History Channel's motor racing television show Top Gear USA, alongside Adam Ferrara and Tanner Foust. The show was a spin-off of the British TV show of the same name. In each episode, the trio goes through challenges to know who chose the best car that fits their challenges. They also share information the audience needs to know about cars. After running for six seasons, History Channel stopped the show in 2016.
'Lost In Transmission'
While Wood was still a co-host for Top Gear USA, he co-hosted the History Channel's reality television show, Lost In Transition, in 2015. He co-hosted the show with his friend and fellow car fanatic, George Flanigen.
NBC Sports
Wood joined NBC Sports as a specialty motorsports reporter in 2015. As the NBC Sports Group reporter, he covered the 2016 Olympic Games and the 2018 PyeongChang Olympics. He also covered the Kentucky Derby and Super Bowl LII.
Lately, he has been serving as a features reporter for NBC Sports Group's NASCAR coverage. As a features reporter, he covers raceways, towns, and fans.
Tokyo Olympic 2020
In July 2020, Wood went for a driving tour of Tokyo with Olympic Silver Medalist Gus Kenworthy to get an inside-the-car view of the Olympic host city.
2021 NASCAR
Wood provided on-site reports of the NASCAR Cup Series as an NBC Sports motorsports reporter in June 2021. He also shared stories about NASCAR's return to Nashville at Nashville Superspeedway. Other team members of NASCAR Cup Series coverage included professional race car driver Dale Earnhardt Jr., singer-songwriter Brad Paisley, and NBC Sports' lead NASCAR race announcer Rick Allen.
Food Network
Wood served as a co-host of the half-hour reality show Super Southern Eats on Food Network in 2017. He co-hosted the show alongside Southern food expert Damaris Phillips. In Super Southern Eats, the duo travels across the American South to find restaurants that serve the Southern staples. The show premiered on 22 July 2017 on Food Network. 
In the show's pilot titled 'Southern Fried Georgia,' Wood and Phillips start the most delicious road trip in central Georgia, where they devour legendary sausages, fried pork chops, and lard-filled biscuits at a gas station. They then go to a BBQ joint in the college town of Athens, Georgia, where they taste smoked pork. Finally, they visit a legendary Atlanta institution to taste the local fried chicken.
'Hyperdrive' and 'Floor Is Lava'
In 2019, Wood co-hosted the Netflix reality television show Hyperdrive, where drivers worldwide compete on the automotive obstacle courses. 
His appearance on Hyperdrive earned him Netflix's new show called Floor Is Lava, a game show where a team of contestants compete to navigate rooms flooded with lava by leaping over obstacles. The show was released on 19 June 2020. In April 2021, Netflix renewed Floor Is Lava for the second season. As per Variety, Wood will return to host the show, scheduled in 2022.
'The American Barbecue Showdown'
Wood also starred in the Netflix eight-part competition series The American Barbecue Showdown. Released on 18 September 2020, the show featured contestants competing for the American Barbecue Champion title.
Car Collections
Wood is an avid car collector. He has an eclectic car collection in his garage. Some of his car collections include 1966 VW Double Cab PickUp, 1949 Chevrolet 3100 Thriftmaster, 1953 Plymouth Suburban Wagon, and 1970 Dodge Charger. 
He showed off his car collection during the Season 2 premiere of Garage Tours With Chris Forberg.
Wood's dream car is a 1986 Porsche 911 RWB built by Rauh Welt Begriff. Japanese car tuner Akira Nakai, Randy Allgood, and the team at Kenwood Rod Shop transformed the air-cooled 911 into a fire-breathing hot rod. The customized car was showcased at the 2019 SEMA Show in Las Vegas, Nevada.
Wood says he also likes to drive on his Toyota 86. Speaking about Toyota 86, he said, "It's a two-seater car — it has a back seat, but it's not really a back seat — and there's no radio. It's basically like my little race car. I'll get in it and will just drive and drive, and it's the most fun thing to me because it just totally clears the head. Driving for an hour or two hours is just so peaceful."
Business and Collaborations
Wood runs a merch that offers products, including T-shirts for men, women, and children, stickers, and accessories. 
In addition, he has done collaborations with many companies, including Rauh Welt Begriff, Summit Racing Equipment, Toyota, Lexus, Magnaflow, and Ridetech. He has also partnered up and collaborated with Kenwood Rod Shop, Koru Works, Brian's Paint & Body Shop, Enjuku Racing, Atlanta Motor Speedway, and Odyssey battery.
Among many collaborations, a team at Kenwood Rod Shop helped him restore his 1953 Plymouth Suburban. After restoration, his vehicle got a 408ci engine, a new sound system, a custom Magnaflow exhaust, and a six-speed transmission.
Toyota
After purchasing a truck built in 2007 for Specialty Equipment Market Association (SEMA) by Toyota as a 2008 Tundra, Wood customized it to the 2016 Regular Cab Short Bed (RCSB) TRD Pro Tundra with the help of his friends at Toyota. He added a wide body kit courtesy of Honey D, Fuel Offroad 20 inches wheels wrapped in 33 inches General Grabber tires, an Odyssey battery, a 3M wrap, a MagnaFlow exhaust, and a Kicker sound system.
Later, Wood and his build team built a Hyper Boosted 2020 Toyota Supra for the 2019 SEMA show.
Wood took to different social media to claim himself as a Toyota ambassador. He also stated that his friends call him to ask for his advice on their next car purchase.
Personal Life
Wood is happily married to Rachel. The couple has three daughters. Wood is living in Georgia with his wife and daughters as of 2021.
Social Media
Wood has a legion of fan following on various social media platforms. As of November 2021, he has 354k followers on Instagram, 265k followers on Facebook, and nearly 210k followers on Twitter. He also has a self-titled YouTube channel with 8.06k subscribers as of 2021.
Furthermore, Wood has a profile on Cameo, an app where people can book personalized video messages from celebrities. He has received positive reviews and has 105 fans on Cameo as of 2021.
Net Worth
According to Celebrity Net Worth, Wood has a net worth of $3 million. He accumulated his wealth and net worth primarily through his career as a NASCAR analyst.