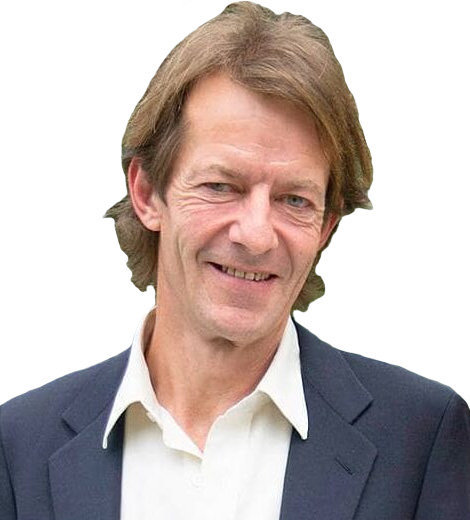 Quick Wiki
Full Name

Robie Unaicke

Occupation

Businessman, Mathematical Researcher

Nationality

British

Birthplace

England, UK
British Actress Rosamund Pike's Partner
Robie Uniacke | Biography 2021
Founder of IT firm Pale Fire Ltd., Co-Founder of production company Primitive Streak
Robie Uniacke, a businessperson, and a mathematical researcher, established an IT company in 2010. He was disqualified from the firm in 2018 after he owed a total of £179,602 to HMRC and was declared insolvent by the liquidators. He co-founded a production firm along with his decade-long partner, actress Rosamund Pike.
---
Robie Uniacke is a businessperson better known as the Emmy Award-winning British actress Rosamund Pike's partner.
Who Is Robie Uniacke?
Robie Uniacke is a well-known British businessperson and mathematical researcher who launched the prominent IT Company Pale Fire Ltd in 2010. But, he was dismissed from the company director's post in May 2018 due to his poor management. He is also the co-owner of Primitive Streak, a production company specializing in prestige international literary property alongside his partner Rosamund Pike.
He has been romantically linked with Pike since 2009, and the couple shares two sons. Although he had already married two other women, both of his marriages ended in divorce. Uniacke is a father to four children from his previous relationships.
Early life and Education
Robie Uniacke was born in 1961 in England. He is a graduate of the prestigious Eton College in Windsor. Tatler, a British magazine, described him as an "elusive and mysterious" man who appeared to have lived a life of luxury.
"He takes society swans to art exhibitions, educates them a little, and is very charismatic," a family friend revealed to the Daily Mail in 2012 and added, "He was known for being the coolest guy in his year at Eton. Those who were there with him are still in awe of him."
The Dissolution of His IT Firm 
Robie Uniacke was the owner of an IT firm, Pale Fire Ltd, established in 2010. In May 2018, he was disqualified as a company director because of his incompetent leadership.
According to the liquidator's report, it was declared insolvent and liquidated in 2016, and his account was overdrawn by £133,000 at the time. Moreover, the businessman had no income and no assets, yet the liquidator accepted his offer of £25,000 "in full and final settlement of the overdrawn… account… by a third party."
Uniacke was asked to sign a "schedule of unfit conduct," as part of the disqualification procedure. He accepted he failed to guarantee Pale Fire meet its statutory obligations and caused Pale to trade to the prejudice of HM Revenue and Customs (HMRC) on VAT and corporate tax.
He further admitted that no payments to HMRC were made after July 2012, even though £260,508 was put in his account over the next two years. He also admitted that £144,060 went to himself, and the rest was utilized for other expenses. As a result, he ended up owing a total of £179,602 to HMRC and was finally disqualified from his position.
New Production Firm
Uniacke and his girlfriend Pike founded a production company, Primitive Streak, that focuses on prestigious worldwide literary property. The company is co-producing a Netflix series, The Three-Body Problem, along with production companies like Bernadette Caulfield and Plan B Entertainment.
The series is based on a sci-fi book trilogy by Chinese author Liu Cixin about humanity's first contact with an alien society. It is being handled by the Game of Thrones creators David Benioff and D.B. Weiss.
Relationship between Robie Uniacke and Rosamund Pike 
Uniacke and Pike began dating in 2009. The two allegedly met at a soiree. However, other information about their relationship has been kept under wraps. Uniacke is 17 years elder to Pike, and the two have made a few public appearances together. Although the couple has not married yet, they have been together for over a decade.
The couple is blessed with two sons, Solo, born in 2012, and Atom, born in 2014. The family lives in a Georgian townhouse in Islington. Their children have reportedly learned Chinese from their polymath father.
The Gone Girl star is proud about Uniacke's vast knowledge, when she shared about it in a 2014 interview with The Telegraph, "I have a very clever partner who's got a very astute mind and is very, very well-read and articulate and ruthless about how something I do might play out on screen," and added, "My tendency is to identify with a character and imagine there is more on the page than there is. He's quite good at putting a check on that." 
Similarly, in a 2019 interview with The Guardian, she shared Uniacke is a feminist and said, "it's a thing I prize highly and appreciate daily. Someone who's self-confident enough and secure enough to deal with this crazy... It is crazy, how our life is." She continued, "Just the constant shifting. The fact we keep any form of routine is quite remarkable, really."
Robie Uniacke's previous marriages
Uniacke had been married twice before he met Pike. He was first married to British actress Emma Howard. The couple shares one child Robie, before separating in 1989. 
Uniacke's second marriage was with an interior designer, Rose Batstone. With Rose, he shares three children: Hector, Olive, and Florence, and the couple eventually split. Rose subsequently married David Heyman, the director of the Harry Potter films and the Fantastic Beasts franchise.
A Drug Addict in the past
Robie Uniacke also has a troubled past with drugs and alcohol. Following his first divorce in the 1980s, he and his ex-wife both sought treatment for heroin addiction. However, his past transgressions have affected his profile, as he continues to be referred to in tabloids as "former heroin addict Robie Uniacke." However, according to Pike's profile in The Guardian, he is now clean with no addiction issues.