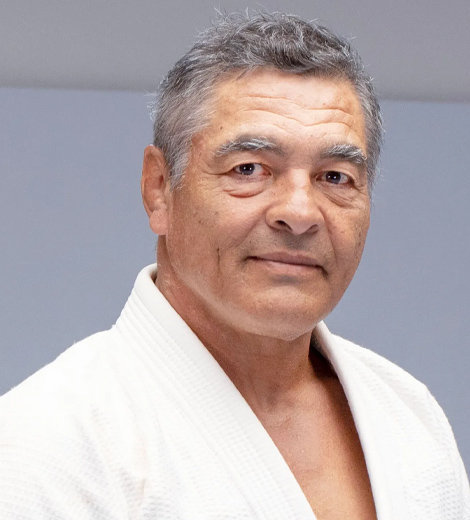 Quick Wiki
Full Name

Rickson Gracie

Occupation

Mixed Martial Artist, Jiu-Jitsu Athlete

Nationality

Brazilian

Birthplace

Rio De Janeiro, Brazil

Birth Date

Nov 21, 1958

Age

64 Years, 10 Months
Jiu-Jitsu Athlete, Son of the Co-founder of the martial art Gracie Jiu-Jitsu (or) Brazilian Jiu-Jitsu
Rickson Gracie | Biography
Rickson penned his memoir 'Breathe: A Life in Flow' during the pandemic
Gracie is said to have a 410-to-0 fighting record. Nevertheless, there is confusion in the claim, as the calculation includes jiu-jitsu competitions, street fights, and NHB battles, making it difficult for verification. 
---
Rickson Gracie is a Brazilian Jiu-Jitsu athlete who is said to have won all matches with zero losses.
Who is Rickson Gracie?
Rickson Gracie is well-recognized as the son of the Jiu-Jitsu legend Helio Gracie. It was his family that broadened the discipline of Brazilian Jiu-Jitsu (BJJ) into a global phenomenon.
Gracie is said to have a 410-to-0 fighting record. Nevertheless, there is confusion in the claim, as the calculation includes jiu-jitsu competitions, street fights, and NHB battles, making it difficult for verification. 
Gracie has performed notably in prestigious international tournaments like Vale Tudo Japan, Pride, and Colosseum.
Early Life and Education
Rickson was born on 21 November 1958 in Rio De Janeiro, Brazil, to Jiu-Jitsu legend Helio Gracie. Rickson was born in a big family with eight siblings - Rorion, Relson, Rolker, Royler, Royce, Robin, Rerika, and Ricci. Rickson is the third child of the family and, he is a half-brother with Rolker, Royler, Royce, and Robin.
Rickson showed signs of an avid fighter since childhood, and so, Helio trained him to represent the family and its legacy in the martial world. With sufficient training, Rickson started competing in matches at the very young age of four. When Rickson reached 15, he was already a well-trained jiu-jitsu martial artist. 
He received the black belt at the age of 18. At 20, Rickson won his first bout against Rei Zulu, the father of Zuluzinho, a Brazilian Vale Tudo fighter and mixed martial artist. Five years later, the two again faced off, and the match again ended with Rickson's victory.
Rickson always takes pride in the fact that he did not pursue multiple training in other martial arts as a means of defeating the best. Instead, he purely followed his Brazilian Jiu-Jitsu practice with no urge of being an MMA fighter. In Brazilian Jiu-Jitsu, Rickson was named one of the first 8th degree black and red belts. He currently holds the 9th-degree red belt.
Jiu-Jitsu popularity
Helio Gracie along with his brothers Oswaldo, Gastao Jr., George, and Carlos Gracie co-founded and developed the self-defense martial art Gracie Jiu-Jitsu, aka, Brazilian Jiu-Jitsu. The Gracie family popularized Jiu-Jitsu martial art by holding challenge contests at their family's Rio de Janeiro training institutions. However, the outreach of its popularity goes to Rickson, his brothers, and cousins. As a consequence of their triumphs in the discipline, Jiu-Jitsu was practiced by many people, including MMA fighters, Hollywood celebrities, notable chefs, and suburban youngsters, looking for a pastime after school.
Net Worth
Above all, the Gracie family is behind the four-billion-dollar worth Ultimate Fighting Championship (UFC) and the Brazilian jiu-jitsu institutes that occupy strip malls throughout America.
Rickson's Career
Rickson claims to have a 410-to-0 fighting record. But, there is some debate around this distinction. In the early 1990s in Oklahoma City, Rickson was reportedly beaten in a Sambo competition by Dr. Ron Tripp. Furthermore, his 400-plus victories include jiu-jitsu competitions, street fights, and NHB battles, making it difficult to authenticate. 
He has held a record of defeating 25 rivals in a single day in California. His notable battles include the one with the luta livre champion Hugo Duarte. He fought the match on the beach in Rio de Janeiro, on the sand, after provoking Duarte for a spot face-off and eventually won it. Rickson also battled with Eugenio Tadeu, another luta livre fighter, in a 50-minute fight that ended in a tie. Thereafter, Rickson departed from Brazil to the United States.
Besides the ring bouts, Rickson is one of the main heads of the Rickson Academy, where he teaches self-development and healing techniques.
Vale Tudo Japan
Gracie was invited to compete in Satoru Sayama's Vale Tudo Japan tournament in 1994.
In his opening match, Gracie was pitted against Yoshinori Nishi, a Daido-juku stylist, which he won. He then defeated Dave Levicki, a considerably larger wing Chun practitioner, in the next round and ended up winning the tournament by defeating American kickboxer Bud Smith in the finals. 
Gracie was again welcomed to the Vale Tudo Japan in 1995, where he fought the pro wrestler Yoshihisa Yamamoto of Fighting Network Rings in the opening round and won. It was followed by a battle with Koichiro Kimura (defeated) and shot wrestler Yuki Nakai in the finals. He recorded his second win in the tournament.
Pride
In 1997, Gracie agreed to compete in the Pride 1 event against Nobuhiko Takada. He instantly defeated him and was promptly challenged by Akira Maeda, the director of the Fighting Network Rings. However, Gracie gave no response. 
Subsequently, the deal for Gracie to fight Mario Sperry at Pride 3 was scrapped owing to Carlson Gracie's denial. He was also provided the option to fill in for Royce Gracie to battle with Mark Kerr, but Rickson declined it due to the lack of preparation time. Ultimately, Rickson chose to rematch Takada at Pride 4 and won again.
Colosseum
After Takada's apprentice Kazushi Sakuraba beat Royler Gracie in the Pride 8 event in May 2000, he challenged Rickson but received no answer. Instead, he accepted to face Masakatsu Funaki, a retired Pancrase star, in a Colosseum event. Gracie's demand for special regulations in the match almost canceled the event, but the Pancrase administration eventually consented to it. Gracie won the match, but it left both parties severely injured.
Following the Colosseum event, Gracie indicated an interest in fighting Naoya Ogawa, a judo medalist, scheduled to compete in the following Colosseum tournament. However, tragedy struck when Rickson's eldest son Rockson died in January 2000. As a result of the incident, Gracie considered retiring, and the event was called off after considerable back-and-forth discussion.
Book
Rickson penned his memoir 'Breathe: A Life in Flow' during the pandemic when most professional and personal activities had to be shut down to abide by the lockdown measures. 
TV Credits
Rickson and two other fighters, Todd Hays and Koichiro Kimura, were featured in the documentary Choke. The documentary was about Gracie and two other fighters, their preparation, and their fights for the 1995 Vale Tudo Japan tournament. It was directed by Robert Goodman and was released in 1995. 
Rickson also starred as Bruce Banner's martial arts instructor in the film The Incredible Hulk in 2008. He has also been on the National Geographic television show Fight Science.
Personal Life
Rickson is married to Cassia. Cassia is Rickson's second wife. He has four children - Rockson Gracie (dead), Kauan, Kaulin, and Kron Gracie.
Rockson, his eldest son, died of a drug overdose in 2000, shortly after relocating to New York to pursue a career in modeling. During that time, Rickson was supposed to face off the famous Japanese MMA fighter Kazushi Sakuraba for a heavily hyped battle, but he didn't show up. 
Moreover, it was around the period of his son's death that Rickson divorced his first wife. Thereafter, he returned to Brazil and struggled with depression. He managed to cope with the loss of his son and eventually met his second wife.