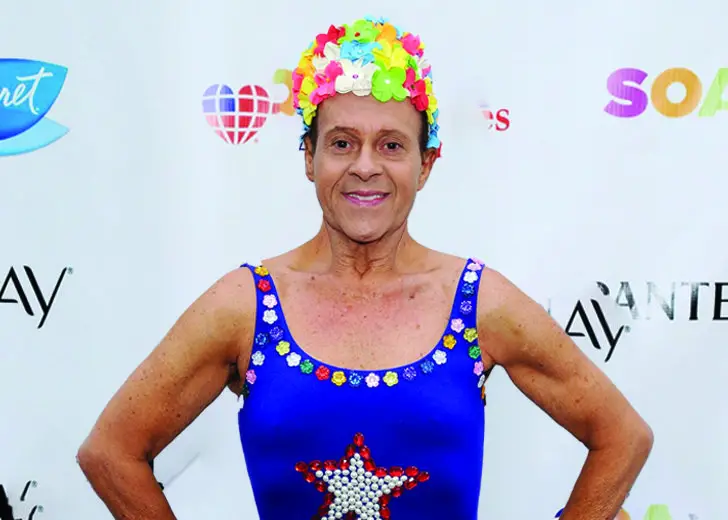 Quick Wiki
Full Name

Milton Teagle 'Richard' Simmons

Nickname

Richard Simmons

Birth Date

Apr 12, 1948

Age

75 Years, 5 Months

Nationality

American

Birthplace

New Orleans, Louisiana, USA

Zodiac Sign

Cancer

Occupation

Philanthropist, Fitness Instructor, Television Personality

Net Worth

$20 Million

Sexual Orientation

Not Disclosed
Fitness Star of Slimmons
Richard Simmons | Biography
Appeared on 'General Hospital'
Richard Simmons is a Los Angeles-based fitness instructor, philanthropist, and television personality. 
---
Who is Richard Simmons?
Richard Simmons was born on 12 July 1948 in New Orleans, Louisiana. While growing up, he was overweight, and at the end of high school, he was 268 pounds. He recounts that growing up in French Quarter, fat was a food category, and dessert was mandated. 
Besides, Simmons was a young entrepreneur. He sold pralines on New Orleans street corners, where he learned to charm and entertained clients. He also experimented with weight-loss options, from odd diets to laxatives. But before moving to Los Angeles in 1973, he had control of his weight by adopting a balanced, moderate eating and activity routine.
However, at that time, there was no substantial fitness movement in the country, and health clubs were for those already in shape. So Simmons drove around Los Angeles to locate a facility that welcomed individuals of all shapes and sizes. And after failing to find one, he decided to build his own.
Simmons consulted with doctors and nutritionists to ensure the safety of a program tailored to the needs of everyone. He accounted for overweight, obese, seniors, and the physically challenged. Then in 1974, he launched Slimmons in Beverly Hills, where he taught workshops and hosted inspiring talks until 2013.
He became renowned as a fitness guru and advocate, which resulted in several local and national television and radio appearances. He also landed a role on the television series General Hospital. While he hosted the nationally syndicated show, The Richard Simmons Show, which aired for four years and won multiple 'Emmy Awards.'
Simmons created a healthy pathway to exercise and lose weight at the same time. He encouraged efficient meal plans to keep track of calories and help individuals take control of their diet. In addition, he released 65 fitness DVDs, which sold over 20 million copies. 
Also Read About - Jonathan Coyle - Birthday, Wife Eva Marie & Net Worth
His sessions combined upbeat music with rocking workouts heightened with his witty commentary and encouragement. His most popular routines were titled 'Sweatin' to the Oldies,' 'Dance Your Pants Off,' 'Party Off the Pounds,' 'Disco Sweat,' 'Blast Off the Pounds,' 'Platinum Sweat,' and 'Sit Tight,' which was designed for people who could not stand.
Furthermore, Simmons also released nine books, among which 'Never Say Diet' was the New York Times Bestsellers. In addition, he launched his autobiography 'Still Hungry After All These Years' in 1998 and is the author of a couple of cooking books. 
Is Richard Simmons Gay?
As of 2022, Simmons has not disclosed his sexuality. The speculations of him being gay started in 2010. An article in the National Enquirer alleged him of having a sexual affair with Blake McDonald during the 1980s. 
He did not respond to the article and the speculation. However, in interviews, he confessed that he had a 'loner' phase where he did not have a partner. At the same time also added that conventional relationships did not bode well for him so he did not get married.   
Richard Simmons's Net Worth
According to celebrity net worth, Simmons holds an accumulated wealth of $20 million.