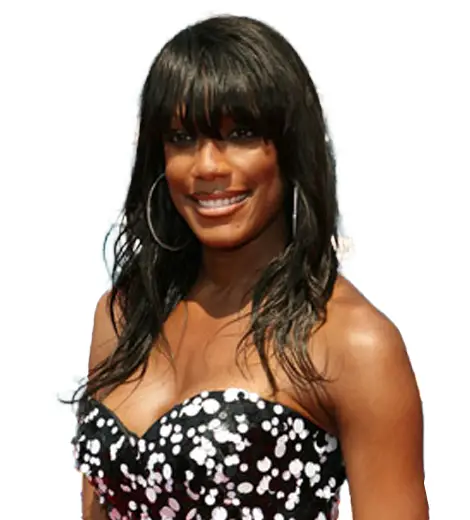 Quick Information
Full Name

Rhona Bennett

Occupation

Actress, Singer, Author

Nationality

American

Birthplace

Illinois, USA

Birth Date

May 10, 1976

Age

45 Years, 2 Months
One of the singers of female R&B Group En Vogue, Cast of 'Coming 2 America'
Rhona Bennett | Biography 2021
Founder of online coaching university Personal Power University
Rhona Bennett landed a breakout role on The WB's comedy sitcom 'The Jamie Foxx Show,' in 1999. She played in the recurring role, alongside Oscar-winning actor Jamie Foxx, as his singing partner Nicole Evans, on 12 episodes, from 1999 to 2000. In 2003, she joined a contemporary female R&B group En Vogue and released their sixth album, 'Soul Flower' on 24 February 2004. After touring with the group for several years, she left En Vogue in 2008. Later, she rejoined the group during their reunion tour in 2012. Bennett did a cameo in the 2021 comedy film 'Coming 2 America.'
---
Rhona Bennett is an American actress best known for playing Nicole on 'The Jamie Foxx Show.' She is also a member of the Grammy-nominated female R&B group En Vogue.
Who is Rhona Bennett?
Rhona Bennett began her professional acting career in early 1990. She frequently appeared as Mouseketeer on the Disney Channel's The All-New Mickey Mouse Club from 1991 to 1995. She also appeared in multiple television series such as Martin, Living Single, and Homeboys in Outer Space in the mid-1990s before landing a breakout role of Nicole on comedy sitcom The Jamie Foxx Show in 1999
Bennett also has a promising musical career. In 2001, she released her eponymous album, Rhona. Two years later, she joined the legendary female R&B group En Vogue.
Early Bio
Rhona Lynn Bennett was born on 10 May 1976 in Chicago, Illinois, the U.S. She grew up in Calumet Park, a suburb of Chicago.
Television Shows and Appearances
After being discovered by a local agent, Bennett made her on-screen debut at the age of 14. She played her first acting role as Ernestine Dillard Johnson in an episode titled 'Say It Loud' of the ABC drama series Brewster Place, alongside Oprah Winfrey. The series was a spinoff of the 1989 miniseries The Women of Brewster Place, which was adapted from Gloria Naylor's 1982 novel of the same name.
In 1991, she scored a recurring role on the Disney Channel's variety show The All-New Mickey Mouse Club, a.k.a. MMC, a revival of the 1950's variety television show The Mickey Mouse, aired on ABC. She appeared as Mouseketeer in six episodes of MMC until 1995. During her time on MMC, she shared the stage with future stars such as Justin Timberlake, Christina Aguilera, Britney Spears, and Ryan Gosling. From 1993 to 1995, she also starred in the role of Nichole 'Niki' Williams in MMC's spinoff Emerald Cove.
Later, Bennett moved to California and guest-starred in Fox's sitcoms Martin in 1995 and Living Single in 1996. She then portrayed the role of Loquatia on UPN's sci-fi comedy series Homeboys in Outer Space as series regular from 1996 to 1997. Bennett then landed a breakout role on The WB's comedy sitcom The Jamie Foxx Show, alongside Oscar-winning actor Jamie Foxx. She appeared in the recurring role of Jamie's singing partner Nicole Evans on 12 episodes of The Jamie Foxx Show from 1999 to 2000.
Musical Career
In 1999, Bennett signed a record deal with Rodney Jerkins' Darkchild Records, where she was named the first lady of Darkchild Records. She then released her first single titled 'Satisfied' in 2001, followed by her eponymous LP, Rhona, the same year. The LP became the number one dance hit.
En Vogue
In 2003, Bennett joined En Vogue, a contemporary female R&B group formed by four singers, namely Terry Ellis, Dawn Robinson, Maxine Jones, and Cindy Herron, in 1989. By the time she joined the group, two original members of En Vogue — Robinson and Jones — had already left the team. Soon, Ellis, Herron, and Bennett started working for the group's sixth album, Soul Flower. The album was released on 24 February 2004, featuring singles 'Losin' My Mind' and 'Ooh Boy.' After touring with the group for several years, Bennett left En Vogue in 2008. Later, she rejoined the group during their reunion tour in 2012. In 2018, the group released a new album after 14 years titled Electric Cafe, featuring Ne-Yo, Raphael Saadiq, and Snoop Dogg. On 3 April 2020, En Vogue released the 30th-anniversary edition of their platinum album Born to Sing, which featured hit tracks such as 'Hold On,' 'Lies,' and 'You Don't Have To Worry.' The 2020 edition featured additional nine new remixes.
Movies
In 1995, Bennett appeared in the role of a waitress in the musical drama TV movie Divas. She then portrayed the role of Penelope in the 1999 romantic comedy-drama film No Vacancy. Bennett also appeared in John Whitesell's 2003 comedy film Malibu's Most Wanted. After more than a decade, she appeared in the 2014 musical drama film Le jour de père, portraying the role of Jessica. Later, she did a cameo in the 2021 comedy film Coming 2 America.
Mini-book Series
In addition to acting and musical career, Bennett had authored self-help mini-book series. She published 'Got Motivation?: How To Stay Motivated' on 10 August 2012 and 'Find and Pursue Your Passion: … Even With a 'Regular' Job' on 29 October 2012.
In 2014, Bennett dealt with a cancer scare when a Melanoma cancerous mole was discovered on her abdomen. Her father also was diagnosed with Mesothelioma cancer the same year. After experiencing the adverse situation that year, she wrote the mini-book series 'Beyond The Fear,' to motivate people facing similar kinds of illness and adversity. The mini-book series was published on 12 October 2015.
Awards and Nominations
Along with fellow cast members of The All-New Mickey Mouse Club, Bennett was nominated for the 'Young Artist Award' for 'Outstanding Young Ensemble Cast in a Youth Series or Variety Show' in 1993. As a member of En Vogue, Bennett, Ellis, and Herron received the 'Urban Music Icon Award' in 2020. En Vogue had garnered the 'Grammy Award' nominations seven times in the 1990s.
Other Works
Bennett has founded an online coaching university named Personal Power University to support people in their personal growth.