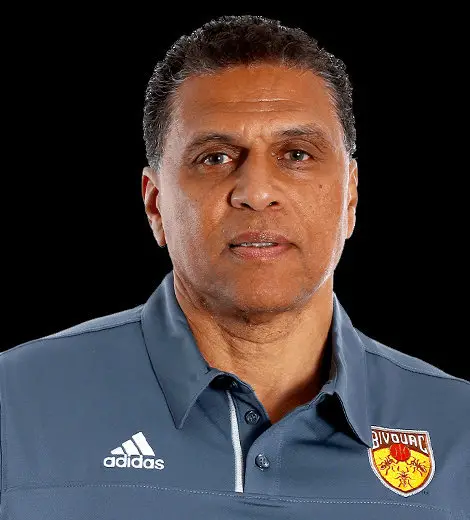 Quick Wiki
Full Name

Reggie Theus

Occupation

Former NBA Player, Basketball Analyst, Panelist, Host, Basketball Coach

Nationality

American

Birthplace

California, USA

Birth Date

Oct 13, 1957

Age

65 Years, 7 Months
Basketball Coach, Former NBA Player
Reggie Theus | Biography
In 2017-18, Reggie Theus entered his fifth season as the head coach of the CSUN Men's Basketball team
By the time he retired in 1991, Theus had scored at least 19,000 points and dished out 6,000 assists. 
---
Reggie Theus is a former basketball player and basketball coach. 
Who is Reggie Theus?
Reggie Wayne Theus is popularly known for his career in the NBA. He played the position of shooting guard and point guard. 
Theus was born on 13 October 1957 in Inglewood, California. He is currently 64 years old. Theus completed his Bachelor's degree from California Coat University in 2002, majoring in Business Administration. He also holds a degree in Public Administration.
Career 
Theus started his career as an All-American under Jerry Tarkanian at the University of Nevada, Los Angeles. In 1978, he was the ninth overall draft pick by the Chicago Bulls. Theus played in the NBA for 13 years and also earned two All-Star nods. During his NBA career, he played for the Kings, Hawks, Magic, and Nets. 
 Theus was added to the UNLV Athletics Hall of Fame in 1989. By the time he retired in 1991, Theus had scored at least 19,000 points and dished out 6,000 assists. 
After retiring, Theus first appeared in the network television sitcom Hang Time. Likewise, he also served as a broadcaster for ESPN and TNT. He also made a career on Fox Sports as an analyst, panelist, and host for shows such as Inside the NBA, Best Damn Sports Show Period. 
Where is Reggie Theus now?
The successful NBA player now works as a basketball coach. He has over 12 years of collegiate and professional coaching experience. 
From 2003 to 2005, he worked as an assistant coach at the University of Louisville. After a certain period, he began his career as the head coach at New Mexico State University between 2006 and 2007. 
In 2007, he got the opportunity to work for Sacramento Kings. Theus continued in his position in 2009 until he was offered to work as an Assistant Coach with the Minnesota Timberwolves the same year. His tenure with Minnesota Timberwolves ended in 2011. 
With Theus as the head coach, the Matadors won the Big West Tournament final in the 2013 and 2014 seasons. He has coached two Academic All-Americans, and several of his students have been honored at the Varsity N Scholar-Athlete Recognition Ceremony. 
Additionally, in 2017-18 Theus entered his fifth season as the head coach of the CSUN Men's Basketball team.
Wife
According to online sources, Theus is married to Elaine. As the couple prefers to keep their lives private, no further information is available about them. 
Previously, Theus was dating Juanita Jordan from 1983 to 1984. 
Family 
Theus and Elaine have three children together - Raquel Theus, Reggie Theus Jr., and Rhyan.
Raquel (Roqui) is currently working as a host and reporter for KLAS Show Las Vegas Now. Her brother Reggie Theus Jr. is also involved in basketball. He previously played for Cal State Northridge and is currently playing for the Matadors. Not much information is available on Rhyan. 
The couple, along with their children, resides in Los Angeles. 
Net Worth and Height
Reggie Theus had a successful career in the NBA and is currently working as a basketball coach for the NBA. According to Celebrity Net Worth, Theus has a net worth of $6 million. The professional basketball player is 6 feet and 6 inches or 2 meters tall.