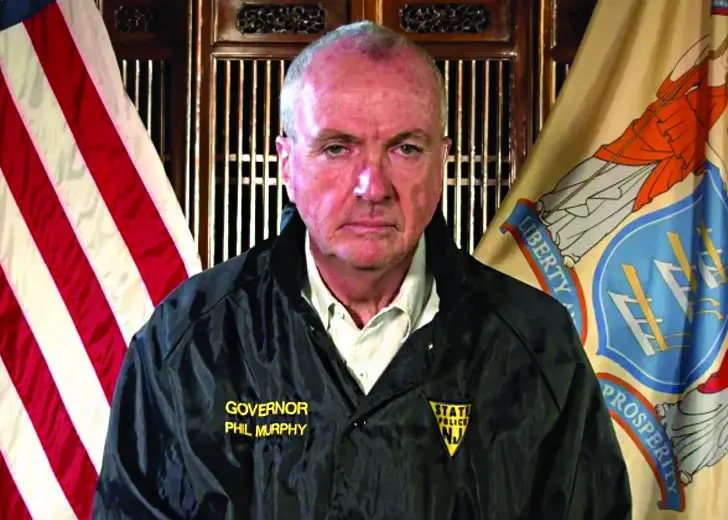 Quick Wiki
Full Name

Phil Murphy

Birth Date

26 December (Year Not Disclosed)

Nationality

American

Birthplace

United States (Military Family)

Zodiac Sign

Capricorn

Religious Affiliation

Christian Evangelist

Occupation

Sports Journalist

University

George Mason University

Education

Accounting Major

Relationship Status

Married (Twice)

Wife

Not Disclosed

Net Worth

Not Disclosed

Ex-Spouse

Not Disclosed

Past Relationship Status

Divorced
Sports Event Host of ESPN
Phil Murphy | Biography
Holds a degree in Accounting
Murphy is an international Sports Event Host of ESPN News, America. 
---
Who is Phil Murphy?
Phil Murphy is a sports anchor and show host on ESPN, where he started as an intern in 2007 while studying in college. 
Murphy was born on 26 December in a military family. While growing up, he was used to changing schools and countries, and he has admitted to having enrolled in 12 kindergarten schools. 
In the 2020 Sports Spectrum podcast, Murphy revealed that he did not have friends as a child and grew up being lonely. While on the other hand, he traveled a lot with his parents, which made him appreciate his living condition. But, his sister, who is a couple of years younger than him, did not like traveling as much as him. 
"When I was 12-13-14 years old, I was living in Germany as an American in a German village, and then you know we'd take day trips to Italy or Netherlands or Austria, or wherever that's pretty cool it was a great experience I mean I wouldn't trade it for anything, and I was the perfect age for it, 12 to 14," Murphy shared about his childhood. "My sister was a couple years younger than me, and she didn't really appreciate it, you know. We'd say, oh, we're going to the Czech Republic, we're going to Prague and I'm like all right cool, we're going to Prague. She'd say, but I'm supposed to go to so-and-so's house this weekend where she's having a sleepover."
Murphy settled in America, where he went to George Mason University and majored in Accounting. But during the second year of college, he applied to multiple job openings to get an internship. Then he got a call back from the newly formed Statistics and Information Department of ESPN News, and he was hired during the summer of 2007. 
Also Read About - Monica McNutt - Age, Bio, Wiki, NBC, ESPN & MSG
From Intern To Sports Anchor at ESPN
Murphy worked as an intern for two years, and by then, he had graduated from college. After leaving the position, the network offered him a job opening. He was interviewing for the part when the recruiter told him about other positions, and his one interview turned into nine. 
After that, Murphy was hired as a Multimedia Editor for the former department of ESPN Rise Magazine. He worked there from 2010 to 2012.
ESPN Rise was dissolved in 2011, and he was appointed as a sports anchor. Since then, he has delivered US Sports News on the international platform and hosted UFC Events, NBA Star Games, World Series, etc. More recently, he was the official ESPN reporter for the 2020 Super Bowl. 
Murphy's Broken Marriage and Second Chances
In the Sports Spectrum podcast, Murphy also shared that his first marriage ended in divorce. He was married in 2012, and in 2014 he discovered that his wife was being unfaithful in their relationship. He tried to make up with her for eight months, but she was not mutual about keeping the marriage. 
"It came to a point when it was just she was gone and not coming back, had moved out of the house. I moved out because I wanted to give her space, and then I went back to the house, and you know the scene where you open the fridge and all the food is spoiled," Murphy revealed. "Like that was my life and she hasn't been here in weeks. She's living with somebody else now so that's when I made the decision to say, hey, if you're not going to file to terminate this, then I will."
Murphy got a divorce that same year, and 15 months later, he met his current wife. He has not revealed her name or identity to the media, while on the podcast, he said that she comes from the Christian faith. So, during the initial phase of their relationship, she was not confident in him because of his past. But they continued seeing each other for over a year in long-distance and nine months while living in the same city. 
Eventually, he was given a second chance, and they got engaged and married. Then in 2020, they had their first child, Indy. 
Maintaining Family, Kids: Work-Life Balance
Although the pandemic shut down almost all the scheduled sports events in 2020, Murphy was about to miss the early days of his daughter's birth at that time. He disclosed that his daughter was born on 3 May 2020, and from 31 May, he was scheduled for back-to-back reportings from different parts of the world. 
In addition to the traveling, he would have been occupied for over two months. Because of this, Murphy was terrified that his child would forget about him. 
He said, "I couldn't fathom being away from her for that long. Both my wife and my daughter, you know, especially my daughter, because of how she just changes so much week to week and how she recognizes me. I keep going back. I'm like haunted by the thought of what if she didn't recognize me the same way as she does now, and she lights up every time I come into the room."
However, the cancellation of sports events led Murphy to work from home, specifically from his basement. He called it a blessing, and he has been grateful for those moments throughout the years.