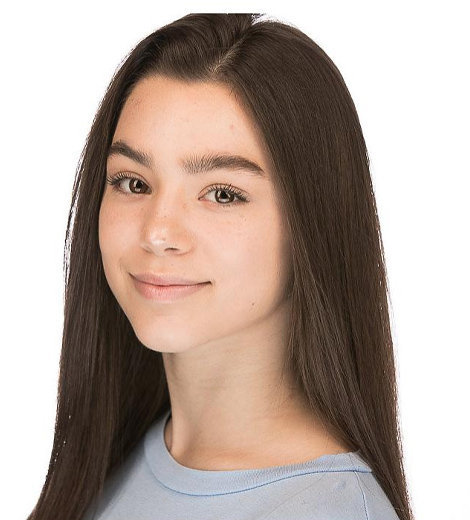 Quick Wiki
Full Name

Paeka Campos

Occupation

Actress, Content Creator, Social Media Personality

Nationality

American

Birthplace

Houston, Texas, USA

Birth Date

May 01, 2002

Age

21 Years, 0 Months

Height

5 Feet 4 Inches
American Content Creator, Actress, and Singer
Paeka Campos | Biography
Famous for Role in Movies Like 'Middle Witch,' 'Harbinger,' 'El Guey,' and 'Divine Access'
Campos made her movie debut in 2012 in the movie 'The Girl' as a minor character. After that, she appeared in other films, including 'Hidden in the Woods,' 'Extra Credit from Hell,' 'El Guey,' and 'The Place in Between.'
---
Paeka Campos is a content creator, actress, and singer known for her role in the movie Harbinger.
Short Bio
Paeka Campos is prominently known as a content creator, Instagram model, and TikTok star. She has also appeared in movies, and she made her music debut in 2021.
She began her career as a minor role actress in 2012. After that, she appeared in films such as Extra Credit from Hell, Middle Witch, El Guey, Harbinger, and Divine Access in 2015. Besides that, in 2021, Campos appeared as a leading character in the movie The Place in Between. While she also released her first single, 'Wassup' with visualizer, in 2021.
How old is Paeka Campos? 
Campos was born on 1 May 2002 in Houston, Texas, to American parents. She is 20 years old as of 2022.
She Has Nearly A Dozen Acting Credits
Campos grew up in Houston and began her career as a model and actress at a young age. She made her movie debut at the age of 10 in the 2012 thriller crime drama movie The Girl as a minor character. After that, in 2014, she appeared in another minor role in the film Hidden in the Woods.
In 2015, she played the role of Brooke in a short movie, Extra Credit from Hell. The same year, Campos was also cast in four other movies. She played Tasha in the short film Middle Witch, Mira Gonzaga in Harbinger, Arina Rodriguez in El Guey, and a minor character in Divine Access. 
Subsequently, in 2018, she appeared as Molly in the short movie Goodbye Sirena, alongside Austin indie rock angel Laurie Gallardo. Written by Tracee Beebe and directed by Melissa Dalley, Goodbye Sirena wears its heart on its sleeve but still surprises the audience. It is lyrical and haunting with an evocative original score by Lauren Sanders. The short movie revolves around the story of Molly and her mom, who are about to leave each other. As per the movie's description, it is Molly's last day, and her mother is having difficulty letting go. The mother and daughter duo spend the day revisiting their sweet memories to find a way to say goodbye. The short film was shot in post-Hurricane Harvey Corpus Christi and dedicated to the invulnerable spirit of the people of the Texas Gulf Coast.
Most recently, in 2021, Campos landed the lead role of Lyra in the film The Place in Between. Released on 2 April 2022, the movie embarks on an estranged mother and daughter's road trip to fulfill her dying father's wish. In the journey, they attempt to reconnect with each other, and while in the process, they encounter their flaws and unmet expectations, with different reasons for their strangeness.
She Played 12-Year-Old Mira Gonzaga In The Horror Thriller Film 'Harbinger'
Harbinger is the 2015 fantasy/eco-thriller drama film in which Campos portrayed the role of 12-year-old Mira Gonzaga, who has been having haunting nightmares. As her terrible dreams escalate, her father moves her and her pregnant mother away from the city to a secluded ranch in the Texas hill country. Unfortunately, Mira's nightmares do not end as her deceased grandmother and visions of forthcoming things haunt her dreams and her waking reality. A dark transformation begins when nearby fracking operations start to infiltrate the ranch's water supply. Mira's parents begin to feel its dire effect, and Mira's worst night dreams become real.
Sharing her experience working in the film, Campos said, "It was so much fun to work on Harbinger. I think it's like a really awesome movie. Me growing up as a kid, I have always wanted to get out of my world and read like a book… watch movie… fantasy, sci-fi… and that's how Harbinger is."
She further explained her film character, Mira, as a very strong and independent girl. She further said that getting into character for her depended on the scene. If it were a sad scene, she would think about her grandmother and how she passed away from leukemia. If there were a happy scene, she would just think of the life she was living.
Harbinger was written and directed by Cody Duckworth, and Campos said she had a wonderful experience working with him. She said Duckworth was so friendly that she could speak freely with him, and he helped her create and bring the character Mira alive.
She Is A Model
In addition to her acting career, Campos has appeared in the Coca-Cola TV commercial 'Food Feuds: Tailgate.' 
In July 2021, she released a visualizer of her upcoming song, 'Wassup' on YouTube. She specified that the song was recorded on 12 February 2021 and the music video was in progress.
She Is A Social Media Star
Along with her acting and modeling career, Campos also became popular on Instagram and the TikTok platform. She holds nearly 750k followers on Instagram, followed by 2.1 million followers and 224.2 million likes on TikTok as of October 2021. 
In 2019, Campos began her YouTube channel, which has accumulated nearly 250k subscribers as of October 2021. She also has an Only Fans account but has not been active on the platform since May 2020.
However, her followers and subscribers have decreased over time. As of May 2022, she has 662k followers on Instagram, 2 million followers on TikTok, and 241k subscribers on YouTube.
Paeka Campos Dated Fellow TikTok Star Gero Hanirias
Campos was in a relationship with Gero Hanirias. The pair began dating in 2017, and they went on to become one of the most popular internet couples. But the former couple announced their breakup in February 2021. Campos took to her Instagram to share the breakup news with her fans. "Hey guys. Wanted to come on here because I know a lot of you have been worried [and] curious about where [and] how I've been. I was just not ready yet to have all the pain out there for what feels like the whole world to just watch [and] form their own opinions on. But yes, Gerohan [and] I broke up. In the most respectful way we are going to go through this privately off of social media and take time to heal [and] focus on self-love," she wrote in a now-deleted post.
Campos and Hanirias were widely popular with their social media platforms. They had even created a joint Instagram, TikTok, and YouTube channel to post couple-relationship content. However, after the breakup, they eliminated their content platforms. The two never disclosed the reason behind their split. 
They later alleged there was cheating involved while trying to clear their name. The drama between Campos and Hanirias started when she liked one of the comments on her videos that suggested that girls get slammed for moving on while boys who cheated are not told anything.
After that, Hanirias posted a video on his Instagram, stating that he had been quiet about the whole situation because he and Paeka agreed to keep things private, but he decided to speak up and defend himself as she had been bashing his name for weeks. 
"First of all, I want to say that I am not here to speak badly about Paeka's name or speak badly about her in general. I am just here to clear my name," Hanirias said. "The only time I would consider myself being faithful was back in 2017 when I met up with a middle school friend without her knowing. This was never physical or never sexual. Me and that other person never kissed or anything." At the end of the video, Hanirias hinted that Paeka was the one who cheated right before their breakup. He also said in a TikTok video that he knows what happened in Houston.
In response, Campos posted a video of her own, stating that she had not been bashing Hanirias for weeks and that she had told her truth about him being unfaithful. She also said that she went to Houston to work on her first song with another artist, but Hanirias used it against her. She reportedly spent time with fellow social media star Amador Meza in Houston.
Paeka Campos And Amador Meza Relationship Drama
The drama between Campos and Meza started due to his comment on TikTok. The two had been hanging out and making content together for their social media. Meza had posted a dance video with Campos on TikTok. Though he had taken it down after some time, it was re-uploaded after Campos and Hanirias accused each other of cheating.
Meza later posted a similar dance video with another female friend, but viewers noticed the dancing was less intimate. One TikTok user asked, "How come you didn't grab her like you did Miss Paeka" in the comment section, to which Meza replied, "Cuz Ms. P wanted me to grab her like that." 
One TikTok user, @teaspillerxd8, re-uploaded the video with a screenshot of the comments. Campos denied Meza's comment on her as she commented, "Lmao um?? False." Following this, many people slammed Meza for lying, and his comment section was filled with negative comments. 
Meza then posted a YouTube video titled 'The lies must be stopped' on 3 May 2021, detailing his relationship with Campos. In the 14-minute video, he talked about his time with Campos and added alleged proof that claimed he was not lying. He claimed that their relationship began after he defended a video of Campos wearing braids. He shared several screenshots of the two texting each other, flirting, and making plans to meet up. 
Meza claimed that Campos flew out to meet him, and they rented an Airbnb, where they made the flirty dance video. As per Meza, Campos wanted to make Hanirias jealous with their dance videos on Tiktok. However, he also claimed that they had sex at the Airbnb. 
Meza said that Campos asked him to delete one of his posts and a repost he shared of them with a heart emoji. Campos was upset over his social media activity, and she did not want to engage in another relationship following her breakup with Hanirias. He went on to say that though she was not interested in a relationship, she told him that she wanted to keep talking to him. He claimed they slept in separate beds, but she was next to him when he woke up.
Meza further said that Campos unfollowed him after they seemingly made up and spent time together in Santa Monica. He also claimed that Campos left rose quartz (known as the stone of universal love) in his car. He asked her why she left the rose quartz stone in his car in a text. Campos later addressed the whole situation in a now-deleted YouTube video titled 'The Truth.'
Who Is Paeka Campos Dating?
Followed by that, Campos began dating video creator and editor Elijah Rivera. They confirmed their relationship through their Instagram.