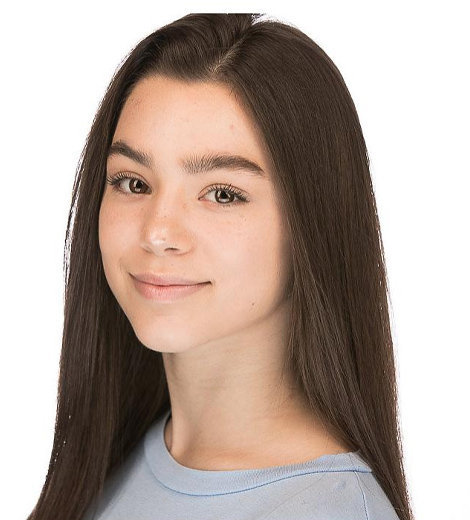 Quick Information
Full Name

Paeka Campos

Occupation

Actress, Content Creator, Social Media Personality

Nationality

American

Birthplace

Houston, Texas, USA

Birth Date

May 01, 2002

Age

19 Years, 5 Months
American Content Creator, Actress, and Singer
Paeka Campos | Biography
Famous for Role in Movies Like 'Middle Witch,' 'Harbinger,' 'El Guey,' and 'Divine Access'
Campos made her movie debut in 2012 in the movie 'The Girl' as a minor character. After that, she appeared in other films, including 'Hidden in the Woods,' 'Extra Credit from Hell,' 'El Guey,' and 'The Place in Between.'
---
Paeka Campos is a content creator, actress, and singer known for her role in the movie 'Harbinger.'
Who is Paeka Campos?
Paeka Campos is prominently known as a content creator, Instagram model, and TikTok star. She has also appeared in movies, and she made her music debut in 2021.
She began her career as a minor role actress in 2012. After that, she appeared in films such as Extra Credit from Hell, Middle Witch, El Guey, Harbinger, and Divine Access in 2015. Besides that, in 2021, Campos appeared as a leading character in the movie The Place in Between. While she also released her first single, 'Wassup' with visualizer, in 2021.
How Old Is Paeka Campos? 
Campos was born on 1 May 2002 in Houston, Texas.
Early Life & Parents 
Campos was born to American parents. She grew up in Houston and began her career as a model and actress from a young age.
Acting Career & Movies
Campos made her movie debut in 2012 in the movie The Girl as a minor character. After that, in 2014, she appeared in another minor role in the film Hidden in the Woods.
In 2015, she played the role of Brook in a short movie, Extra Credit from Hell. The same year, Campos was also cast in four other movies. She played Tasha in the short film Middle Witch, Mira Gonzaga in Harbinger, Arina Rodriguez in El Guey, and a minor character in Divine Access.
Subsequently, in 2018, she appeared in the short movie Goodbye Sirena. Most recently, in 2021, she landed the lead role of Lyra in the film The Place in Between.
The movie embarks on an estranged mother and daughter's road trip to fulfill her dying father's wish. In the journey, they attempt to reconnect with each other, and while in the process, they encounter their flaws, unmet expectations, with different reasons for their strangeness.
Coca-Cola TV Commercial
In addition to her acting career, Campos has appeared in the Coca-Cola TV commercial 'Food Feuds: Tailgate.'
Social Media and Music
In 2019, Campos began her YouTube channel, which has accumulated nearly 250k subscribers as of October 2021. She also has an Only Fans account but has not been active on the platform since May 2020.
Along with her acting career, Campos also became popular on Instagram and the TikTok platform. She holds nearly 750k followers on Instagram, followed by 2.1 million followers and 224.2 million likes on TikTok as of October 2021.
Subsequently, in July 2021, she released a visualizer of her upcoming song, 'Wassup' on YouTube. She specified that the song was recorded on 12 February 2021 and the music video was in progress.
Who Is Paeka Campos Dating?
Campos was in a relationship with Gero Hanirias. But the former couple announced their breakup in February 2021. Campos took to her Instagram to share the breakup news with her fans. "Hey guys. Wanted to come on here because I know a lot of you have been worried [and] curious about where [and] how I've been. I was just not ready yet to have all the pain out there for what feels like the whole world to just watch [and] form their own opinions on. But yes, Gerohan [and] I broke up. In the most respectful way we are going to go through this privately off of social media and take time to heal [and] focus on self-love," she wrote.
Campos and Hanirias were widely popular with their social media platforms. They had even created a joint, Instagram, TikTok, and YouTube channel to post couple-relationship content. However, after the breakup, they eliminated their content platforms.
Followed by that, Campos began dating video creator and editor Elijah Rivera. They confirmed their relationship through their Instagram.