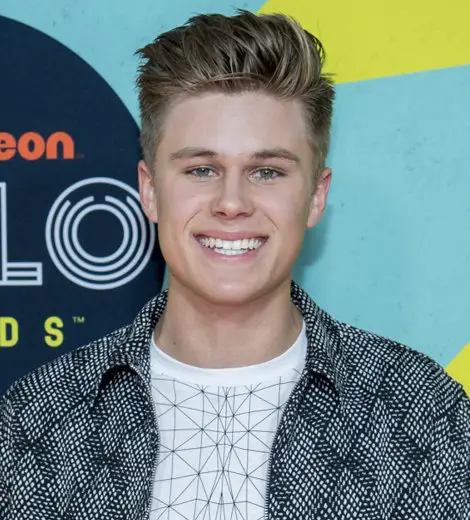 Quick Wiki
Full Name

Owen Joyner

Occupation

Actor

Nationality

American

Birthplace

Norman, Oklahoma, USA

Birth Date

Jul 19, 2000

Age

23 Years, 4 Months
Cast Of Nickelodeon Series 'Knight Squad'
Owen Joyner | Biography
Famous for portraying Crispo Powers on the Nickelodeon's comedy series '100 Things to Do Before High School'
In 2020, Joyner played the role of Alex Mercer in the Netflix series 'Julie and the Phantoms.' He appeared in 9 episodes of the comedy-drama created by Dan Cross and David Hoge.
---
Owen Joyner is an American actor prominently known for his role of Arc on the Nickelodeon series Julie and the Phantoms.
Who Is Owen Joyner?
Owen Joyner is an American actor who has been working in the entertainment business since he was a teenager. At age 14, He got his first television role as Christian 'Crispo' Powers in Nickelodeon's 100 Things To Do Before High School (2014-2016). In addition, his TV series credentials include Knight Squad (2018-2019) and Julie and the Phantoms (2020). He also guest-appeared on the TV series Henry Danger in 2019. 
His movie credits encompass Nickelodeon's Ho Ho Holiday Special (2015), It's on! (2016), and The Veil (2017), where he portrayed the role of a mountain tribe boy.  
Gay Character in 'Julie and the Phantoms'
Joyner portrayed the gay character of Arc in the Nickelodeon series Julie and the Phantoms (2018–2019). In an interview with NewNowNext, he briefly talked about playing a queer character in the television comedy Julie and the Phantoms. He revealed he didn't know Alex (his character) was gay yet when he went in to audition for the producers. He instead was in a belief that he got a complete pilot screenplay.
"Nothing really changed with how I wanted to execute the character once I found out he was gay, I was just honored that [executive producer] Kenny [Ortega] trusted me with a character that I thought had a really important message for a younger generation to watch," Joyner said. "I just wanted to play him earnestly, respectfully, and do something people would be proud of."
On playing Gay Character
Twilight actor Boo Stewert played Joyner's love interest, Willie, in the series. Joyner says Stewart was easy to work professionally and that in turn led to them turning into real-life friends.
 "The day he landed in Vancouver, I think we were filming one of our biggest scenes the next day, he shot me a text and came over to my apartment," Joyner remembered. "We went over the scenes for a couple of hours and it was like we had been friends forever. Plus it's not that tough to act like you're in love with Booboo Stewart."
Joyner hopes that his character's storyline with Willie would continue in the future plotlines. I would hope we get to see a little more from Willie and Alex, maybe a couple more adventures with them on location," he said. "I'd like a couple more dance moments from Alex, but I'm sure Kenny Ortega will come through with those."
The first season of the show ended in 2020. The fans are now awaiting the second season. 
How Old Is Owen Joyner?
Joyner was born in Norman, a city in Oklahoma, USA, on 19 July 2000 to parents Mike and Dinnah Joyner. Joyner is 21 years old as of 2021.
Who Is Owen Joyner Dating?
Joyner keeps his personal life under a veil. As a result, there has been no confirmation from reliable sources whether he is dating someone. Similarly, his social media activities also lack references to his dating life or relationship. 
Co-star Savannah May Says Joyner Is Like Family
Joyner's Julie and the Phantom co-star Savannah told to MEAWW in an interview that she had developed a close bond with him and conveyed that she was upset when they wrapped Knight Squad.
"I truly love him. He's like family to me now. And when we wrapped 'Knight Squad' I was really upset we weren't going to be working together anymore, and then fast forward a few months and we booked another series together," she shared. "It was the coolest thing to be able to go from one series to the next. He was one of the first friends I made in LA, we met on the pilot of 'Knight Squad'. Knowing someone for so long definitely has its advantages when it comes to working with them again. Cause I know how he works, I know how he thinks."