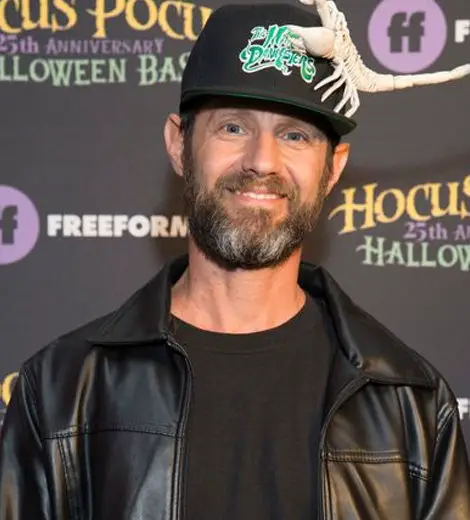 Quick Wiki
Full Name

Omri Haim Katz

Occupation

Former Actor, Hair Dresser, Entrepreneur

Nationality

American

Birthplace

Los Angeles, California, USA

Birth Date

May 30, 1976

Age

47 Years, 6 Months
Max Dennison in the Halloween Classic Movie 'Hocus Pocus'
Omri Katz | Biography
His Last Onscreen Role Was in the Short Film 'Journey into Night'
Katz began his acting career at the young age of seven, playing John Ross Ewing III in the classic soap opera 'Dallas' in 1983. He was promoted to the main cast during the series. He appeared in 149 episodes from 1983 to 1991. Then, in 1996, the former actor returned to the role of J. R. in the TV movie adaptation of 'Dallas,' titled 'Dallas: J. R. Returns.'
---
Omri Katz is a former American actor prominently recognized for his role as Max Dennison in the Halloween classic movie 'Hocus Pocus.'
Who Is Omri Katz?
Omri Haim Katz is a retired American television and film actor. He worked in the entertainment industry from 1983 to 2002.
Katz rose to prominence from his television debut starring in the soap opera Dallas in 1983. He even earned the 'Soap Opera Digest Award' for his role as John Ross Ewing III. Afterward, Katz appeared as a guest actor in other shows, including Simon & Simon Boy, The Torkelsons, The General Hospital, and Zorro. Eventually, in 1991, he landed his first leading role as Marshall Teller in the NBC series Eerie, Indiana. 
In 1993, Katz made his silver screen debut with the feature film Matinee. However, the same year, his second film, Hocus Pocus, became a cult hit and remained a Halloween classic. 
In 2002, he announced his departure from the acting world with a short film Journey into Night that marked his last performance on the big screen. Katz has since been working as a hairdresser at a Los Angeles salon.
Early Life & Parents
Omri Haim Katz was born in Los Angeles, California, on 30 May 1976. He was born as the youngest child of Israeli Jewish immigrants, Rina and Yoram Katz. However, his parents are divorced now. He grew up with his elder brother, Michael Katz, and his elder sister, Lali Katz. During his childhood, Katz even spent a year in Israel.
Movies & TV Shows
Omri Katz began his acting career at the young age of seven, playing John Ross Ewing III in the classic soap opera Dallas in 1983. The drama series centered around the life of the Ewing family and their massive oil empire. The series depicted the family's eldest son J.R. and his two brothers' shady tactics for acquiring power. 
Katz was promoted to the main cast during the series. He appeared in 149 episodes from 1983 to 1991. During his second year in the series, Katz earned the 'Soap Opera Digest Award' for Outstanding Youth Actor in a Prime-Time Soap Opera. In 1986, he was nominated for the same award for the second time.
Following his success in Dallas, Katz went on to star in several other television shows and films. In 1984, he made a guest appearance on the show Simon & Simon Boy in the episode titled 'Yes, Virginia, There is a Liberace.'
In 1991, Katz earned the lead role of Marshall Teller in the NBC sitcom Eerie, Indiana. That year, Katz even earned a nomination for a 'Young Artist Award' for Best Young Actor in a TV Series for this portrayal. Unfortunately, the series lasted for a single season despite its popularity. Nevertheless, it was a smash on Disney's channel and even spawned a spin-off. However, the sequel did not involve him. 
Later the same year, he played Jack Adams in the television series Zorro in an episode 'The Man Who Cried Wolf' and played Timmy in the television movie Adventures in Dinosaur City. The following year, Katz made a guest appearance in an episode of the sitcom, The Torkelsons, as Jason in 1991. 
In 1993, Katz made his feature film debut as Stan in the comedic drama Matinee. Later that year came his most renowned film, Hocus Pocus. He was also cast as Tony Hemingway in the sitcom The John Larroquette Show in 1993. He was cast in six episodes of the series till 1995. 
Then, in 1996, the former actor returned to the role of J. R. in the TV movie adaptation of Dallas, titled Dallas: J. R. Returns. After a brief hiatus, in 1999, he appeared as Brad in the episode 'Tests and Breasts' of television series Freaks and Geeks. Since then, his only other major television appearance was in 2000 as a tattoo artist on the long-running series General Hospital. 
In 2002, he played his last role as the lead in the short film Journey into Night and retired from acting.
'Hocus Pocus'
In 1993, Katz played the role of Max in Disney's Halloween comedy-fantasy film Hocus Pocus. He also earned a nomination for a Young Artist Award for this portrayal. The movie revolves around a trio of witches who a teenage boy unintentionally resurrects on a Halloween night in Salem, Massachusetts. 
The American comedy fantasy movie directed by Kenny Ortega starred Katz alongside renowned actors like Sarah Jessica Parker, Bette Midler, and Kathy Najimy. Hocus Pocus has been a cult classic for many since its release in the early 1990s, and it is annually broadcast on many networks, notably during the Halloween season.
What Is Omri Katz Doing Now?
After retiring from the entertainment industry at 26, Katz has worked as a hairdresser in an LA-based salon. Moreover, he is also an entrepreneur and runs a company named The Mary Danksters. The company sells clothing lines for men and women related to cannabis culture. Katz also promotes his company on his Instagram @dankster_omz.
What Is Omri Katz's Net Worth?
According to Celebrity Net Worth, Katz has an estimated net worth of $1 Million as of October 2021.
Is Omri Katz a Gay or Has a Wife?
Katz is not gay. He was speculated to be dating Halloween actress Danielle Harris in the early 1990s. However, Katz is not married yet and does not have a wife.