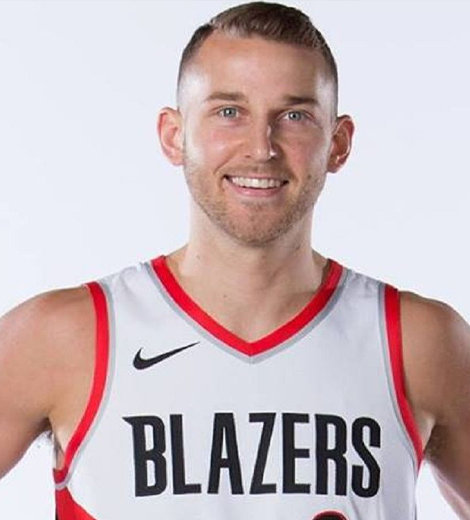 Quick Wiki
Full Name

Nikolas Tomas Stauskas

Occupation

Professional Basketball Player

Nationality

Canadian

Birthplace

Ontario, Canada

Birth Date

Oct 07, 1993

Age

30 Years, 1 Months
Professional Basketball Player
Nik Stauskas | Biography
Nik Stauskas' career-high free throw percentage is 83.16%, which is the second-highest in Michigan history, and his three-point shot percentage is 44.10%, which ranks fifth
On 10 July 2015, Stauskas was signed by the Philadelphia 76ers. On 13 February 2014, Stauskas, along with three other Big Ten players Roy Devyn Marble, Gary Harris, and Keith Appling, was named to the 30-man Naismith College Player of the Year midseason. In March of the same year, Stauskas was one of two Big Ten players to get listed among the 15 finalists for the 'John R. Wooden Award.'
---
Nik Stauskas is a Canadian professional basketball player.
Who is Nik Stauskas?
Nik Stauskas is a basketball player, who has been playing for the NBA Philadelphia 76ers since 2015. Stauskas was named the Big 10 Player of the Year in 2014.
Early Life and Education
Nikolas Tomas Stauskas was born on 7 October 1993 in Mississauga, Ontario, Canada, to parents Paul and Rita Stauskas. As of now, the athlete is 28 years old. 
Stauskas grew up with his brother Peter. Three of his four grandparents were residents of Lithuania before the 2nd World War. So, he speaks fluent Lithuanian as he attended Lithuanian Saturday School in Toronto as a kid. 
Stauskas first played basketball in Ausra Sports Club, Toronto. When he was 9, at a Raptors open practice for fans held at the Air Canada Center, Stauskas played Carter one-on-one. It boosted his enthusiasm for basketball. By 2013, he impressed his head coach at Michigan.
Nik went to Loyola Catholic Secondary School, South Kent School, and St. Mark's School (CAN) for his high school. He led the St. Mark's School to back-to-back NEPSAC Class AA Championship Games. For his degree, Nik went to Michigan University, where he got drafted by the Sacramento Kings. He was the number 8 pick of 2014. 
Career
During the May NBA Draft of 2014, Stauskas was drafted 8th overall by the Sacramento Kings. It was the highest selection for Michigan players since Jamal Crawford, who went 8th in the 2000 NBA draft. Stauskas signed a one-year rookie scale contract with the Sacramento Kings on 8 July 2014. He was a starting member of the 2014 NBA Summer League. 
During the 2014-15 Annual Rookie Photo Shoot, Stauskas was named the second-best shooter next to Doug McDermott in the Rookie class. On 8 December the same year, he posted career highs of 15 points and 8 rebounds in a match against Utah. On the 15 April season finale of the Sacramento Kings, Stauskas played against the Los Angeles Lakers and tallied 5 assists. 
On 10 July 2015, Stauskas was signed by the Philadelphia 76ers. On 13 February 2014, Stauskas, along with three other Big Ten players Roy Devyn Marble, Gary Harris, and Keith Appling, was named to the 30-man Naismith College Player of the Year midseason. In March of the same year, Stauskas was one of two Big Ten players to get listed among the 15 finalists for the 'John R. Wooden Award.' The United States Basketball Writers Association (USBWA) named him as District V Player of the Year on 11 March. On 12 March, Nik Stauskas got listed on The National Association of Basketball Coaches Division I All‐District 7 first team.
Stauskas's career-high free throw percentage is 83.16%, which is the second-highest in Michigan history, and his three-point shot percentage is 44.10%, which ranks fifth.
Personal Life
Nik is married to his girlfriend of three years, Alexandra Stauskas. The couple started dating on 8 August 2017. Nik proposed to her for marriage a year later in 2018, and their wedding took place in August 2020.
As of 2021, Alexandra is 27 years old. 
Net Worth
The NBA star's net worth is yet unknown.