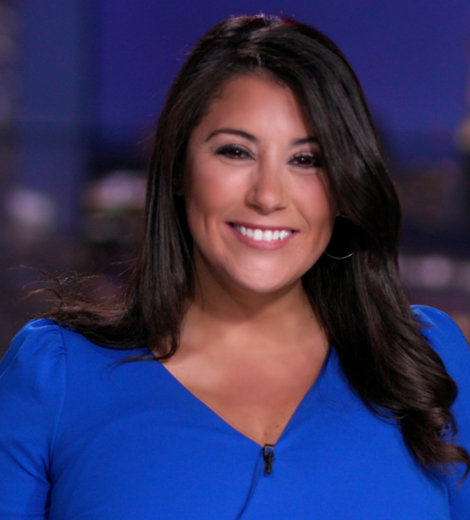 Quick Wiki
Full Name

Nathalie Pozo

Occupation

Journalist

Nationality

American
Co-anchor Of WCVB News Center 5
Nathalie Pozo | Biography
Former Anchor Of WHDH Channel
Pozo served at FOX 5 for three years and eight months, then joined WHDH channel 7 Boston in October 2017. After that, she worked at WHDH 7 Atlanta for three years and a month before leaving to join WCVB TV. At Boston, she became famous for her primary news coverage like gunshots at David Ortiz, famous former MLB (Major League Baseball) player, presidential politics, etc. Moreover, for her reports of shooting at David Ortiz, Pozo received several prestigious awards nominations and won an 'Emmy Award.'
---
Nathalie Pozo is an award-winning journalist and news anchor. She currently appears as co-anchor on WCVB NewsCenter 5.
Who is Nathalie Pozo?
Nathalie Pozo is best known for anchoring news on WCVB channel five and WHDH channel.
She began her venture in journalism as a reporter in a Florida-based news channel. She then moved to WPBF and WTVJ before settling down at FOX 5 Atlanta in February 2014. In Atlanta, she covered several significant events like the Pulse NightClub shooting in 2016 in Orlando, Florida, search stories of escaped prisoners in Atlanta, etc.
Pozo served at FOX 5 for three years and eight months, then joined WHDH channel 7 Boston in October 2017. After that, she worked at WHDH 7 Atlanta for three years and a month before leaving to join WCVB TV. At Boston, she became famous for her primary news coverage like gunshots at David Ortiz, famous former MLB (Major League Baseball) player, presidential politics, etc. Moreover, for her reports of shooting at David Ortiz, Pozo received several prestigious awards nominations and won an 'Emmy Award.'
Early Age
There are not many authentic details about Nathalie's early life and parents. However, her parents are of Cuban descent, a Caribbean country in North America. She was born as the eldest of their five children and grew up in Miami.
Although the WCVB reporter has not given out her birthdate, bostonglobe.com has mentioned her age in 2020 as 37 years. Thus, as of 2021, she is 38 years old. Regarding her education, Pozo received her associate degree in Arts from Florida International University in 2003. She then joined the University of Miami in 2004 and received her Bachelor's degree in communications in 2006.
WCVB Channel
Pozo joined the WCVB Channel 5 as their weekend evening anchor in October 2020 after leaving WHDH 7 Boston the same month. She announced her joining WCVB through her official Twitter account @Nathalie Pozo with a picture of a press release on 2 October 2020. In addition, she also shared the news with her 3.5k Instagram followers.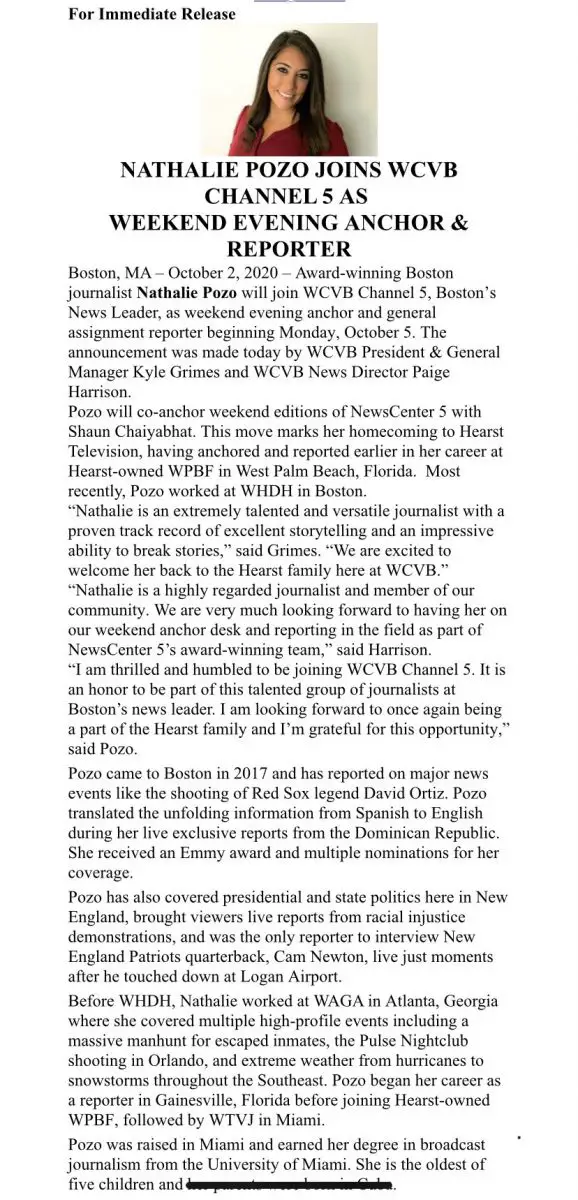 Both her Twitter and Instagram posts read,
Excited to share some news! I will be joining @WCVB as their weekend evening anchor. I am humbled and very grateful for this opportunity!
Husband
Nathalie married her husband Eddy Reyes on 28 October 2015. Atlanta news channel Fox 5 Atlanta congratulated her for her wedding through their official Facebook handle. The Facebook post read, "JUST MARRIED: Congrats to our Nathalie Pozo FOX5 on tying the knot this weekend!"
The couple has completed six years together as of 2021. Pozo and her husband regularly go out for vacations and plan outings. In addition, on 19 August 2019, she shared moments of her tour in the Bahamas on her Instagram handle @nathalie.pozo. According to her post, she is the one who usually plans trips, but this time it was Eddy who planned it for her, and she liked it.