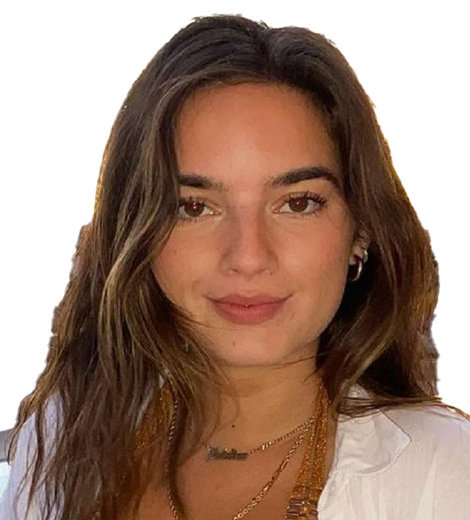 Quick Wiki
Full Name

Natalie Noel

Occupation

Social Media Influencer, Co-Founder of the Photography App Dispo

Nationality

American

Birthplace

Illinois, USA

Birth Date

Dec 01, 1996

Age

27 Years, 0 Months
Quotes
"In the modeling fashion world, you see a lot of really skinny and you see a lot of plus-size [models], and being able to be that middle norm, which is such a large amount of the population, I think that's so cool. So when people say 'You have the normal body,' I love that. Like I love that I represent body normalcy."
Former Assitant of YouTuber David Dobrik, Co-founder of Photography App Dispo
Natalie Noel | Biography
Noel walked on the Sports Illustrated Summer Show in July 2021
Natalie Noel, along with her friend and popular YouTuber David Dobrik co-founded a photography app Dispo. She joined his company as an intern even before she could complete her college studies and eventually took over as the firm's Executive Assistant after graduation. The social media influencer has garnered 3.8 million followers on Instagram and 3.4 million followers on Tiktok.
---
Natalie Noel is the co-founder of the Dispo app. She is the executive assistant of David Dobrik.
Who is Natalie Noel?
Noel began gaining prominence in 2017 after she started working for her high school friend and YouTuber David Dobrik.
She was still in college when Dobrik asked her to help him out in his growing business. Then, she joined his company, David Dobrik LLC, as a business intern. Though she joined the company for her college credits, she started to love her work at Dobrik and eventually moved to Los Angeles after graduation and took the Executive Assistant position.
Soon, Noel began appearing in Dobrik's videos and vlogs and became a member of Dobrik's YouTubers collaborated vlog squad. In 2020, she, along with Dobrik, co-founded a digital photographic app called Dispo.
Noel is also an Instagram influencer with 3.8 million followers. In March 2021, she was enlisted in the Sports Illustrated Swimwear Roster and walked on their July Summer Show.
Early Bio and Education
Natalie Noel, originally, Natalie Mariduena was born on 1 December 1996 and grew up with her two sisters. She went to Vernon Hills High School, Vernon Hills, Illinois. For college, she went to study at Lake Forest College, Chicago, in 2014 and graduated with a Bachelor of Arts degree in Psychology and Environmental Studies in 2018. 
She was a soccer lover while growing up. She had played for the Women's Varsity Soccer during college. She was also at the Alpha Phi Sorority.
Career
In 2017, Noel began working for the Slovakian YouTube star David Dobrik under his private firm David Dobrik LLC. Dobrik initially tasted success with his videos in the video-sharing platform Vine, after which he began to start his vlog channel. Noel knew Dobrik even before she could join the company. Noel and Dobrik were high school friends at Vernon Hills, which was why the former had offered to help him in his growing business in Los Angeles, California. 
Noel had not completed her college and was on her final semester when she got the call. She did not want to leave her studies yet wanted to work with Dobrik. So, she flew to Los Angeles, worked as a business intern, and received college credits to finish college.
Noel initially planned to discontinue working in Los Angeles after the internship. But, she soon liked the work and moved to California to take up Dobrik's Executive Assistant position. 
At Dobrik, Noel was responsible for merchandise designing, content creating and occasionally appeared alongside Dobrik in his videos. After some time, she became a part of his videos and quickly became a member of Dobrik's vlog squad, where he collaborated with other YouTube personalities for vlogs.
Noel also co-founded a photographic app company Dispo in 2020. The brand provides digital cameras for in-the-moment shots. 
Influencer and Sports Illustrated Swimsuit
While Dobrik's brand deals and accounts were gaining followers, Noel also accumulated substantial followers. She has garnered 3.8 million followers on Instagram and 3.4 million followers on Tiktok.
In March 2021, Noel got enlisted on the Sports Illustrated Swimwear Roster. She shared the news with her Instagram fans and talked about body normalcy.
In two months, Noel walked on the Sports Illustrated Summer Show in July 2021. She further added about her perspective on body image after being in full-display in the media.
About the feedback on her coming out for the ramp, Noel said, "I've definitely struggled with my body just as much as any other woman, especially during this time where it's put on full display. As much as there has been like constant positivity and I've gotten so, so much positive feedback from this whole experience from the team and from friends and family and other supporters online, that also comes with a large amount of negative feedback. People tell me that you don't deserve to be in the magazine or you're not like the other model...whatever negative stuff they say, but you just have to persevere."
Dobrik's Allegations
In March of 2021, a rape allegation by a former vlog squad member surfaced against another squad member. The victim allegedly claimed that she was intoxicated to the point of unconsciousness while filming a video in 2018. She claimed that she was not even 21 when the incident occured and was involved in sexual activities, for which she was unable to foster consent.
After the allegation, the video in which the victim claimed to be present was removed from Dobrik's account, and Dobrik also stepped down from the Dispo app.
Soon, Dobrik took a leave from posting videos on his channel for three months due to the allegation and the backlashes he was receiving.
Noel, on the other hand, made a formal apology and stood up for the victim. 
Personal Life
Fans of Dobrik and Noel speculated that they were dating behind the scenes. But, both of them denied the allegation and called each other good friends.
In 2020, Noel publicly announced her relationship with a fellow vlog squad member, Todd Smith.