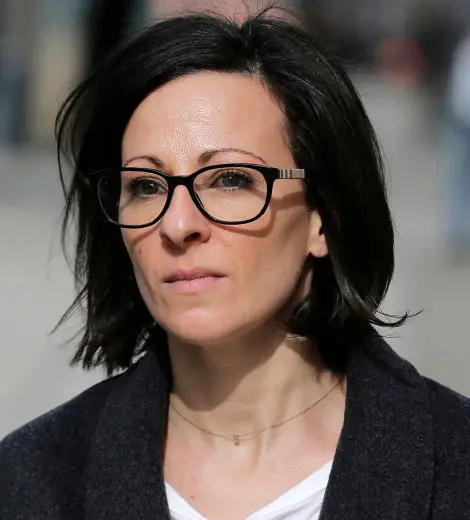 Quick Wiki
Full Name

Nancy Salzman

Occupation

Former Nurse, Hynotist, Felon

Nationality

American

Birthplace

New York, USA

Birth Date

Jul 16, 1954

Age

69 Years, 2 Months
Co-founder of the cult-based company NXIVM
Nancy Salzman | Biography
The NXIVM group, rebranded in 1998, was originally established as the Executive Success Program (ESP), in 1997
The cult-based NXIVM group co-founded by Salzman and Keith Raniere made headlines due to its illegal activity. The group was also featured in the nine-part HBO true-crime documentary series 'The Vow,' directed and produced by Jehane Noujaim and Karim Amer. The series premiered on 23 August 2020, and the first season concluded on 18 October 2020. The series was renewed for the second season in October 2020.
---
Nancy Salzman is a former nurse and co-founder of NXIVM, an American cult-like group and multi-level marketing company in Clifton Park, New York. 
Who is Nancy Salzman?
Salzman is a former psychiatric nurse. In the late 1990s, Salzman, along with Keith Raniere, co-founded the NXIVM. It was previously named as Executive Success Program. The 2017 New York Times expose revealed that there was an inner cult within NXIVM. People involved in the cult, including Salzman, were charged with racketeering conspiracy in 2018. Salzman pleaded guilty in March 2019 but was sentenced to 42 months imprisonment in September 2021.
How old is Nancy Salzman?
Nancy Salzman was born on 16 July 1954 in New York, USA. She is 67 years old as of 2021. 
Education
Salzman attended Shenendehowa High School. After graduating from high school, she enrolled in Union College in Schenectady, New York.  
Early Career
Salzman was a nurse before entering the business field. According to the New York State Education Department (NYSED) database, Salzman was licensed for professional nursing on 24 October 1983. The license expired in 2019, as per the database.
According to CNN, Salzman was a nurse who specialized in neuro-linguistic programming (NLP), psychotherapy of changing another person's thoughts through communication techniques. She was a trained hypnotist. 
NXIVM
Salzman first met Keith Raniere, a hypnotist, in 1997 at Raniere's health food store in Clifton Park, New York, with his girlfriend, Toni Natalie. When Salzman and Raniere met, they shared the common hobby of hypnosis and NLP. The duo subsequently co-founded which they called a "human potential school" and developed a curriculum "designed to assist individuals with achieving their life goals," according to a court filing by Salzman's daughter's attorneys. 
Their Executive Success Program (ESP), established in 1997, was rebranded to the NXIVM group in 1998. To NXIVM's members, Salzman was given the title of "Perfect," which denoted her second-in-command status. 
The relationship between Salzman and Raniere solidified in 1999 when Salzman took Raniere's side following a controversial bankruptcy lawsuit over the failed business of Raniere and Natalie. The NXIVM group then attracted thousands of people, importantly, wealthy individuals and celebrities. 
According to the New York Times, an estimated 16,000 people enrolled in courses offered by NXIVM beginning in the late 1990s. In 2017, New York Times exposed an inner cult within the NXIVM group, where women became sex slaves of the group leader Raniere.
Racketeering Conspiracy
After the expose, the federal inquiry started. Raniere flew to Mexico, where he was arrested in March 2018. A few days later, on 27 March, FBI agents also raided Salzman's residence in Halfmoon, New York, and seized more than $520,000 illegal cash stuffed in bags, envelopes, and shoe boxes. 
Federal agents arrested Salzman on 24 July 2018 on the charge of racketeering. She was charged with identity theft and altering records to influence the outcome of a lawsuit against the NXIVM.
In March 2019, she pleaded guilty to the racketeering charge of stealing the identities of the NXIVM group's critics and hacking into their emails between 2003 and 2008. During the trial, Salzman admitted to interfering with the group's perceived enemies twice. She also admitted to attempting to alter footage and records in connection with the lawsuit against the NXIVM group, as per Oxygen. 
Jail Sentence
On 8 September 2021, Salzman was sentenced to three and half years jail term and ordered to pay a $150,000 fine for racketeering conspiracy and "predicate acts of conspiracy to commit identity theft and conspiracy to obstruct justice."
'The Vow'
The NXIVM group made headlines in newspapers due to its illegal activity. The group was also featured in the nine-part HBO true-crime documentary series The Vow, directed and produced by Jehane Noujaim and Karim Amer. The series premiered on 23 August 2020, and the first season concluded on 18 October 2020. The Vow featured the key figures of the NXIVM group. It also explored the group from the point of view of people who personally knew them. 
Salzman was featured more in the first episode of the series and appeared via a phone conversation in the final episode of the first season. In the voice-over, she said, "Loyalty is good in certain contexts and very bad in other contexts. Talk about getting lost in a movie, we're kind of lost in the role of our life. What you have to do is stop believing that that's who you are. Then you can change your role."
As per Orphan Daily, The Vow explained that Salzman was "extremely influential in recruiting new members to NXIVM through the Executive Success Program (ESP), the groups on-ramp to indoctrination."
In October 2020, the network renewed the series for the second season.