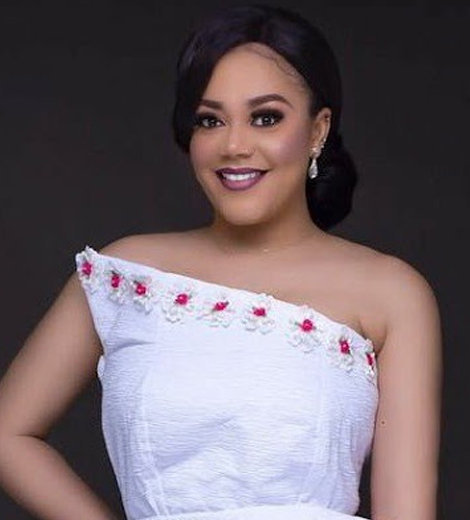 Quick Wiki
Full Name

Nadia Buari

Occupation

Actress, Director, Entrepreneur

Nationality

Ghanaian

Birthplace

Sekondi-Takoradi, Ghana, West Africa

Birth Date

Nov 21, 1982

Age

40 Years, 10 Months
Award-winning Ghanaian Actress
Nadia Buari | Biography
Made her acting debut in the film 'Mummy's Daughter' in 2006
Buari began her professional acting career in 2006, appearing in the film 'Mummy's Daughter,' directed by Frank Rajah Arase. The same year, she featured in other films, including 'Beyonce: The President's Daughter' and 'Darkness of Sorrow.'
---
Nadia Buari is an award-winning Ghanaian actress.
Who Is Nadia Buari?
Nadia Buari is an actress, director, and entrepreneur. She has appeared in many African films, including Beyonce: The President's Daughter (2006), Agony of the Christ (2008), The King Is Mine (2009), The Diary of Imogen Brown (2013), and Deranged (2020). Moreover, according to her website, she has featured in over 150 movies as of 2021.
She also owns several businesses, including Resolution Security Company, NSB Investment Limited, and NSB Productions.
How Old Is Nadia Buari?
Nadia Buari was born in Sekondi-Takoradi, Ghana, West Africa on 21 November 1982.
Family
Buari was born as the eldest of five children of Caddy and Alhaji Sidiku Buari. Her mother, Caddy, is a professional beautician, and her father, Alhaji Sidiku, is a composer, actor, and businessperson.
Education
Buari graduated with a bachelor's degree in fine arts from the University of Ghana, Legon. She was engaged in the theater and drama club at the University of Ghana during her college years.
Acting Career
Buari began her professional acting career in 2006, appearing in the film Mummy's Daughter, directed by Frank Rajah Arase. The same year, she featured in other films, including Beyonce: The President's Daughter and Darkness of Sorrow.
In 2008, she was cast in six films such as In the Eyes of My Husband, Hidden Treasure, Beauty and the Beast, Agony of the Christ, Return of Beyonce, and Game Boy. The following year, she appeared in films Heart of Men, Behind a Smile, Stone Cold, The King is Mine, and Sin of the Soul. 
Her other film credits include Chelsea (2010), Trinity (2010), Checkmate (2010), Who Owns the City (2011), Crazy Scandal (2011), Innocent Sin (2011), Single & Married (2012), Rain (2012), Behind the Mask (2012), Secret Burden (2013), Hands of Time (2013), and The Diary of Imogen Brown (2013).
'Deranged'
In 2020, Buari starred in the drama film Deranged alongside Ramsey Nouah and Zynnell Zuh. Deranged follows a story of a substitute teacher and an obsessive student who starts an illegitimate affair that would later jeopardize everyone involved.
'The Diary of Imogen Brown'
Buari made her directorial debut in the 2013 movie The Diary of Imogen Brown, becoming the first African actress to direct a film. According to her website, it was the first time in the Ghanaian movie industry where an actress used a movie to educate society on the effects of drug abuse. The film premiered in Ghana in 2013. It was well-received in the sub-region of Africa.
Companies
Besides her career in the film industry, Buari is also a serial businesswoman. She is a founder and executive chairperson of a security company called Resolution Security Company, designed to protect people, properties, and places. The company also has served banks and esteemed houses and companies in the sub-region of Africa. 
She is also the CEO of a real estate development company called NSB Investment Limited, focused on construction, sale, rent, and redesigning properties.
She also owns and operates NSB Productions, which she established to produce, promote, and distribute movies. Furthermore, she also founded a business to manufacture diapers for babies.
Other Projects
Given her celebrity status, Buari has been named brand ambassador to several prestigious brands. She has been a brand ambassador to brands like Glo Telecommunications, Devon Luxury Soap, and Astermin.
Awards and Honors
For her remarkable performance, Buari has received many awards and honors throughout her acting career. In 2007, she won the 'Best African Actress' at the 'Five Continents Annual Academy Awards.' In 2009, she was honored for 'Best Supporting Actress' at the 'Zafaa Global Awards.' In addition, she won the 'Best Actress in a Supporting Role' at the 'Ghana Movie Awards' in 2010 and 2011. 
In 2012, she won the 'Best Actress in a Leading Role' at 'Ghana Movie Awards.' She is also the 'Honoree Award' recipient at the 2012 Uganda Nile's Diaspora International Film Festival. In the same year, she was honored as 'The African Jewel' at the 'African Goodwill Recognition Awards' in Los Angeles. She also won the 'African Women of Worth Award' at the 'Queen's Choice Awards' in Ghana. 
In 2013, she received an award for 'Best Actress' at the 'African International Film Festival' in Ghana. That same year, she was awarded the 'Most Fashionable Actress' at the African Fashion Week in London.
Is Nadia Buari Married?
Buari got engaged to her fellow Nollywood actor Jim Iyke in March 2014. But, unfortunately, she would later break up with Iyke because of unresolved personal misunderstandings. However, talking about her marital status in a 2019 interview with GhanaWeb, Buari revealed it is her choice to keep her private life out of public attention.
Children 
Buari and her ex-boyfriend share twin daughters, who were born in February 2015. However, in June 2019, GhanaWeb reported Buari revealed she has four children. According to the article, she gave birth to her third daughter in February 2017 and the fourth one in January 2018.