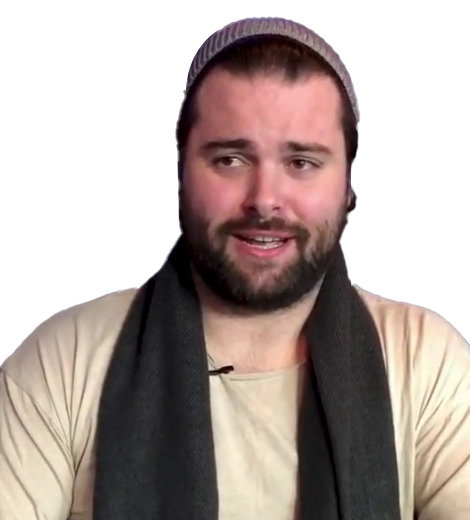 Quick Wiki
Full Name

Myles Montplaisir

Occupation

Content and Marketing Specialist, Social Media Personality

Nationality

American

Birthplace

North Dakota, USA

Birth Date

Mar 22, 1993

Age

30 Years, 8 Months
Quotes
"My favorite one is when people call me the fat Baker Mayfield. That happens more than you think. I'm self aware enough to know I can see it. … The positivity is so much more overwhelming than the negativity."
Founder of Entertainment Company You Betcha, Co founder of Social Media Marketing Company Notion Media
Myles Montplaisir | Biography
Montplaisir co-hosts 'Raging Workaholics Podcast' on Youtube
Myles Montplaisir launched You Betcha, in 2018. It is an entertainment channel on social media platforms with hilarious content from the perspectives on Midwest life in the form of podcasts, vlogs, and video skits. You Betcha have its assortment of merchandise and also makes money via ads on Facebook, YouTube, and Instagram, in addition to selling products.
---
Myles Montplaisir is a content creator and owner of the entertainment company, You Betcha.
Who is Myles Montplaisir?
Montplaisir is a video content and marketing specialist who co-founded Notion Media, a cost-effective social media marketing firm. He is also known for his collegiate football career at Minnesota State University Moorhead. Besides, he is one of the instrumental team members of the Internet media company, You Betcha. The company produces witty social media content related to the Midwest lifestyle and living.
He also hosts the Raging Workaholics Podcast on Youtube alongside Sarah, a powerful corporate CFO.
Early Life and Education
Myles Montplaisir was born on 22 March 1993 in Fargo city of North Dakota to Mike Montplaisir and Mary Montplaisir. He comes from a family with substantial aptitude in athletics. His father played golf for Minnesota State University Moorhead for two seasons, while his brother Chase is a quarterback on the Dragons' roster at the same University.
Myles did his high school at Shanley High School. Thereafter, he pursued his bachelor-level studies in the stream of exercise science at Minnesota State University Moorhead (MSUM). Alongside, Montplaisir was a football player for the Minnesota State Moorhead Dragons. He graduated from the University in 2016.
Football Career
Montplaisir actively participated in football at both Shanley High School and MSUM. 
At Shanley High School, he was named 'AA North Dakota Senior Athlete of the Year' and earned eight varsity letters in football, basketball, and baseball. Furthermore, he was named to the All-Eastern Dakota Conference and All-State football teams twice and carried captainships in football and basketball.
At MSUM, Montplaisir was a member of the MSU Moorhead Dragons football team. The year 2011 became his Redshirt year, which entails delaying or suspending an athlete's activity to extend their candidacy term. However, in 2012, he briefly played at quarterback at the start of the season and later made it to wide receiver. He ran for 140 yards on 60 carries for a season-long average of 2.3 yards per carry, and 15.6 yards per game, with one rushing score and a season-long rush of 38 yards. While opening the season as the starting quarterback, he completed 15 of 37 throws for 176 yards and four catches for 34 yards, averaging 8.5 yards per catch.
Similarly, he began the 2013 season as a linebacker and eventually made his way to tight end. Against St. Cloud State, he caught six throws for 170 yards and two scores, including an 80-yard touchdown reception in that season. He also ran for 19 yards and two touchdowns during the fall season that earned him a spot on the NSIC All-Academic Team. He appeared in 11 games as a tight end player in 2014 alongside contributing on special teams. He recorded three catches for 73 yards on the season, including a crucial 46-yard catch in the victory against Bemidji State. He was again named to the NSIC Fall All-Academic Team that season.
Notion Media
Besides football, Montplaisir is a well-known figure in the marketing and advertising sector. In 2016, he co-founded Notion Media and is still continuing in the company. Notion Media's services range from daily social media administration to content development to paid advertising campaigns.
You Betcha
In 2018, Montplaisir launched You Betcha, a Midwest entertainment channel on social media platforms, namely Facebook, Instagram, YouTube, and Twitter. You Betcha's Facebook page has over 630 million likes and offers insight on business approaches and guidance for aspiring web producers. 
You Betcha encompass hilarious content from the perspectives on Midwest life in the form of podcasts, vlogs, and video skits. Montplaisir shared at an event organized by 1 Million Cups for entrepreneurs in 2020 that the channel was created out of the Midwest's peculiarities.
"Our mission was to create an entertainment channel for the internet that celebrated being from the Midwest," Montplaisir said and added, "I think the Midwest is cool, so why can't we celebrate that and put that into videos and post about it on the internet?"
You Betcha's induction video, which was a comparative discussion on New Glarus Brewing Company's two beers - Spotted Cow and Busch Light, had amassed a viral reputation with over 4.8 million views. After that, in a little over two years, the channel produced a multitude of content on Midwesternisms and along-the-line videos, products, partnerships, guest appearances, podcasts, and more. The '5 Stages of Shoveling,' '5 Stages of a Round of Golf,' and 'When Someone Finds Out You're From the Midwest' accumulate to the channel's popular production. All the given videos incorporate witty and satirical remarks on Midwest life in a faux serious tone.
You Betcha also have its assortment of merchandise. According to Montplaisir's statement at 1 Million Cups in 2020, the merchandise includes apparel, stickers, and You Betcha-branded cornhole bags. It is a key source of income for You Betcha. The channel also makes money via ads on Facebook, YouTube, and Instagram, in addition to selling products.
The team of You Betcha
The idea for You Betcha sparked through a meetup between Ryan Sheeley and Montplaisir. They built an instant connection and had a creative discussion on the Internet's potential in their first meetup itself. That's when Montplaisir suggested the idea of You Betcha to Sheeley. 
Sheeley acted upon the idea by manually producing shirts for the team, earning him the moniker "Ryan the T-shirt Guy" online. Laken Samis was soon hired as the team's operations director to manage people. As the channel developed, two additional content producers, Tyler Ziegler and Jake Zell, joined the team of You Betcha, bringing the total number of full-time workers to five and a few young part-time employees. 
The team has extended its marketing and advertising business into the podcast industry with You Betcha Radio and even shows off its gaming talents on Twitch.
'Raging Workaholics Podcast'
Montplaisir also facilitates Raging Workaholics Podcast, a Youtube session. Myles teamed up with Sarah, a powerful corporate CFO, to provide a much-needed perspective on all aspects of the business through the podcast.
The channel has 228 subscribers as of September 2021.