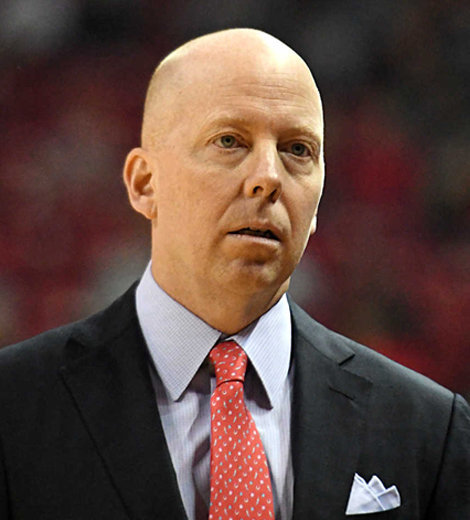 Quick Wiki
Full Name

Mick Cronin

Occupation

Basketball Head Coach

Nationality

American

Birthplace

Cincinnati, USA

Birth Date

Jul 17, 1971

Age

52 Years, 4 Months

Father

Harold Cronin

University

University of Cincinnati
Head Coach Of UCLA Bruins Men's Basketball Team
Mick Cronin | Biography
Former Head Coach of Murray, Bearcats and Current Head Coach of Bruins
Soon after the 2006 season with Murray, Cincinnati hired Cronin for the head coach job. He coached the Bearcats from 2006 to 2019. During his 13 years with them, he led the team to their nine consecutive NCAA tournaments. In addition, Cronin became the only coach from the Cincinnati Bearcats to win against a higher seed team in the NCAA tournament. And in 2018, he won the 'Sports News Coach of the Year Award.'
---
Cronin is an American college basketball player and coach. He currently serves as head coach of the UCLA Bruins men's basketball team.
Who is Mick Cronin?
Mick Cronin was born a former coach Harold Cronin and mother Peggy Cronin on 17 July 1971 as one of their three children.
Born and raised in Cincinnati, Cronin attended La Salle High School, where his father served as a teacher and basketball coach. Thus, playing with his dad, he excelled in his games. 
Cronin ended the 1989-1990 high school basketball season as overall second in the school's 3-point shooting. Then while still a student, he landed an assistant coach job in Woodward High School, where he worked from 1991 to 1996 and held a 57 win three-loss record.
In 1996, Cronin graduated from the University of Cincinnati with a degree in history. He left his job at Woodward HS and joined Cincinnati Bearcats as an assistant coach the same year. Ultimately landed his first head coach job in 2003 at Murray State University. He stayed with their team until 2006 and led them to two win NCAA tournament trophies. Further, in 2006, the 'Ohio Valley Conference' named Mick Cronin the 'Coach of the Year.'
Soon after the 2006 season with Murray, Cincinnati hired Cronin for the head coach job. He coached the Bearcats from 2006 to 2019. During his 13 years with them, he led the team to their nine consecutive NCAA tournaments. In addition, Cronin became the only coach from the Cincinnati Bearcats to win against a higher seed team in the NCAA tournament. And in 2018, he won the 'Sports News Coach of the Year Award.'
In 2021, at 50 years of age, he coaches the men's basketball team of the University of California, Los Angeles.
Parents and Siblings
Mick Cronin's family includes his father, mother, two siblings, brother Dan Cronin and sister Kelly Cronin. Dan Cronin is a survivor of cancer. His father, Harold Cronin, also known as Help, was a high school teacher and basketball coach with a record of over 400 wins. In addition, Harold also served as a baseball scout for the professional baseball team of Atlanta, Atlanta Braves.
Wife
The award-winning basketball coach was previously married to ex-wife Darlene Taylor in 2003. With her, Mick Cronin is the father to his only daughter, Samantha. He split from Darlene in 2009 and currently lives with his now 14-year-old daughter in Cincinnati.
Salary and Net Worth
In over three decades of coaching since 1991, Mick Cronin has worked with several University basketball teams. During his time in Cincinnati, i.e., from 2006 to 2019, he earned an average salary of around $1.5 million. Moreover, with UCLA, Mick currently makes $4 million annually.