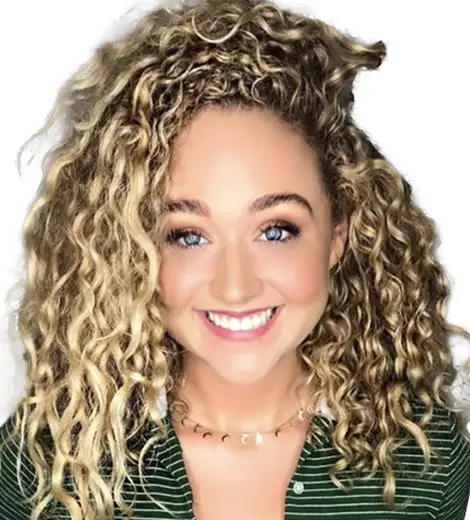 Quick Wiki
Full Name

Mecca WHite

Occupation

Actress

Nationality

American

Birthplace

Los Angeles, California, U.S.

Birth Date

Oct 07, 1995

Age

28 Years, 2 Months
Wrote, Directed, Edited, Produced, and also Starred as Alex in the Comedy Short Film 'Juice Truck'
Mecca White | Biography
Daughter of Bahamas-born American Actress Persia White
In 2018, Mecca released her first short film Juice Truck, which follows the story of two socially awkward women who try to sell pressed juice in Santa Monica, California. According to Mecca, it was her thesis project for school. She wrote, directed, edited, produced, and also starred as Alex in the comedy short film 'Juice Truck.' 
---
Mecca White is an American actress better known for being the daughter of the famous actress and musician Persia White.
Who is Mecca White?
Mecca White is an actress, screenwriter, director, and producer known for her award-winning comedy short film Juice Truck (2018). She has also appeared in other short films such as Carousel (2017) and Iconic (2019). Her mother, Persia White, is an actress and musician famous for starring in the role of Lynn Ann Searcy on Girlfriends.
Early Age and Education
Mecca Morgan White was born in Los Angeles, California, on 7 October 1995. She is a graduate of the Los Angeles Film School, Class of 2016, with a degree in Film/Cinema/Video Studies. She has also studied acting at the New York Film Academy, The London Academy of Music and Dramatic Arts, The Groundlings, and the Sanford Meisner Center.
Career Start
Mecca made her on-screen debut in 2002 as a child actor when she was featured in Season 2 Episode 20 titled 'My Mother, Myself' of the UPN/The CW hit comedy television series Girlfriends. The episode was aired on 6 May 2002, and she played the role of Savannah.
'Carousel'
In 2017, Mecca portrayed the role of a cashier in the thriller short film Carousel, which follows a story of a man who escapes death and returns to the small town where he grew up. The short film was co-written and starred by Joseph Morgan and Persia White and directed by Morgan. The short film eventually won the 'Best Drama Short' in London Independent Film Awards and the 'Best Director' at Philadelphia FirstGlance Film Festival in 2018.
'Juice Truck'
In 2018, Mecca released her first short film Juice Truck, which follows the story of two socially awkward women who try to sell pressed juice in Santa Monica, California. According to Mecca, it was her thesis project for school. She wrote, directed, edited, produced, and also starred as Alex in the comedy short film Juice Truck. 
During an interview on the 2018 Westfield International Film Festival Red Carpet, Mecca shared that working in the short film as a director was the hardest thing she had ever done since she also wrote and was acting in it. She also mentioned Juice Truck as her big project.
For her outstanding works in Juice Truck, Mecca won a couple of awards and nominations in 2018. That year, she won the 'Best Woman Filmmaker Award' in Los Angeles Independent Film Festival (LAIFF) Awards and the Festival award under the category 'Best Editing' at West Nordic International Film Festival. Furthermore, she was nominated as the 'Best Female Filmmaker - Short Film' and a shared 'Best Short Narrative - Comedy' at Westfield International Film Festival for Juice Truck.
'Iconic' and 'Dhar Mann'
After her hit project, Mecca appeared in the 2019 short film Iconic, portraying the role of Niki. The short film was directed by Dana Boulos and co-written by Boulos and Margot Czeropski. It premiered on 7 May 2019 in Los Angeles, California.
Two years later, she appeared in the role of a court Spectator in Season 5 Episode 53 of the short television mini-series Dhar Mann, alongside Dhar Mann. The episode was titled 'Prosecutor Sends Innocent Black Man To Jail, Lives To Regret It' that aired on 27 February 2021.
Theater Career
In addition to her television and short film career, Mecca also performed in several theater plays. She has acted in the production of Footloose. She also has performed as Crystal in Little Shop of Horrors, Princess Reason in Phantom Tollbooth, Mary in Cyrano de Bergerac, and Maria in Twelfth Night.
Parents
Mecca's mother, Persia White, is also an actress best known for starring in the role of Lynn Ann Searcy in the comedy sitcom Girlfriends. Persia is also a musician who is one of the members of the industrial rock band XEO3.
Who is Mecca White Father?
Persia tied the knot with a British actor, filmmaker, and her The Vampire Diaries co-star Joseph Morgan on 5 July 2014 after three years of dating. Mecca has built a strong bond with her stepfather and also worked with him on several projects. Her mother was previously married to a poet, musician, and actor, Saul Williams, Mecca's rumored biological father. They were married for less than a year who divorced in 2009. They had dated for five years before their engagement in 2008.
Persia hasn't disclosed Mecca's biological father's identity as of 17 August 2021.
Social Media
Mecca is active on Instagram and TikTok. She has 55.8k followers on Instagram and 43.5k followers on TikTok as of August 2021. She also has a YouTube Channel named 'Mecca WhiteTV' where she uploads videos about the works she is working on and other fun videos. Her YouTube channel has 733 subscribers as of August 2021.