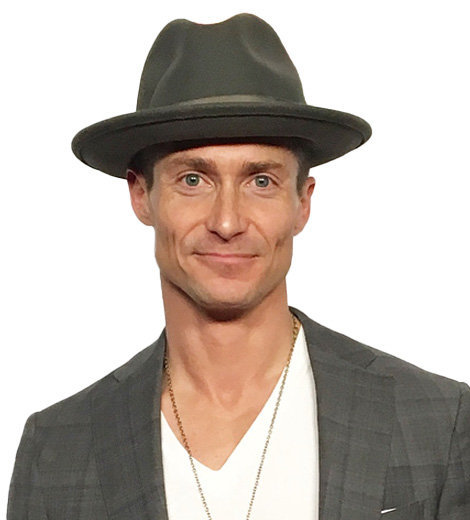 Quick Wiki
Full Name

Matthew MacCaull

Occupation

Actor, Voice Actor

Nationality

Canadian

Birthplace

Quebec, Canada

Birth Date

Apr 04, 1978

Age

45 Years, 7 Months
Quotes
"Do as much work as you can conceivably think of doing, if only to give you confidence. A lot of people hear the word confidence and start fronting this bravado, but confidence comes from knowledge, knowing your craft honestly and sometimes—much to the chagrin of actors—a heck of a lot of work. Moviemaking is not just about acting but [also] the technical sides of the film, what each person's job on set is. The more I know about a cinematographer's job, the better performance I can give."
Cast of Disney movie 'Tomorrowland'
Matthew MacCaull | Biography 2021
He won the 'Leo Award' for his work in the 2014 TV movie 'Black Fly.'
Matthew MacCaull joined the cast of the 2015 Disney adventure film 'Tomorrowland,' alongside Britt Robertson, George Clooney, Hugh Laurie, and Kathryn Hahn. He portrayed Dave Clark, a minion of evil forces. As Disney maintained the confidentiality of the script, MacCaull claimed that he was given only his character name and the contents required for his character when he went for the audition. Even after he was in, he was asked to read the script only in a closed environment.
---
Mathew MacCaull is a Canadian actor who played the role of Dave Clark in the Disney movie 'Tomorrowland.'
Who is Mathew MacCaull?
Matthew MacCaull completed his Classical Acting training at the Royal Academy of Dramatic Art in 2006.
Though he began his acting debut on a big screen with the 1999 movie Exiles, he got opportunities to play minor roles in TV series, TV movies, and short films after that. His initial projects include the TV series Mentors (2001), and Cold Squad (2001), TV movies Migratory Bird (2001), and Heart in America (2002), among others. 
His work in the 2014 TV movie Black Fly won him a 'Leo Award' and earned a nomination at the 'Union of British Columbia Performers Awards.'
In 2015, MacCaull landed a breakout role in the mysterious Disney summer movie Tomorrowland, in which he appeared as Dave Clark, a minion of evil forces. Despite limited screen time and crucial presence, MacCaull's 15 years of industry experience garnered him special attention. 
From 2015 to 2019, he played recurring roles on several TV series episodes, including iZombie, Star Trek Beyond, Lucifer, Legends of Tomorrow, and Hailey Dean Mystery. 
In 2020, he appeared on the TV series Aurora Teagarden Mysteries and Project Blue Book. Further, he portrayed Agent Kyle Long on the 'Forever and a Dog' episode of the Disney TV series Turner & Hooch, released on 16 July 2021.
Early Life
Matthew MacCaull was born on 4 April 1978 in Montreal, Quebec Province, Canada. He grew up in a large family, and his grandmother was his role model. He watched her learn new instruments every time, and it made him believe that he can achieve anything if he put his mind and heart into it.
Education and Acting Training
MacCaull studied English Literature from 1998 to 2000 at the University of Alberta. In 2003, he joined Dalhousie University and completed Bachelor of Arts English Literature with honors. Between 2003 and 2005, MacCaull also studied Bachelor of Arts in Philosophy at King's University College and graduated with honors.
In 2006, MacCaull went to the Royal Academy of Dramatic Art and got certified in Classical Acting. He also completed an eight-week program in 2011 from the Arts Club on artistic skills such as Voice, Laban Movement, Scenes, and Monologues.
Before being signed by the Pacific Artists Management Agency in 2007, MacCaull took numerous jobs to sustain as a rookie actor. He worked as a bartender most of his college life. Even after being signed by the agency, MaccCaull worked as a lifeguard on the beach during summertime.
Career
MacCaull began his career by acting in small roles. His debut character was in the 1999 movie Exiles. He then appeared in numerous roles; among them was the 2000 TV series Mentors, a Taiwanese movie Migratory Bird in 2001, TV series Jeremiah in 2004, and TV movie Mom at Sixteen in 2005.
In 2006, MacCaull appeared in movies like Fatal Desire and A Christmas Wedding. Then, in 2007, he did the TV series Kaya and Battle in Seattle. Then he acted on TV serials Fringe, The Killing, Once Upon a Time, and one of the popular series Supernatural in 2011.
Continuing to do other minor roles, MacCaull appeared on one of the episodes of This American Housewife in 2012. He was also seen on the TV series Motive and King & Maxwell in 2013.
In 2014, he was seen on the TV series Rush. His work in the 2014 film Black Fly garnered him a 'Leo Award' and a nomination for the 'Union of British Columbia Performers Awards.'
'Tomorrowland'
In 2015, MacCaull joined the cast of the mysterious Disney adventure film Tomorrowland, alongside Britt Robertson, George Clooney, Hugh Laurie, and Kathryn Hahn.
He portrayed Dave Clark, a minion of evil forces. Clark has a creepily pearly grin, walks in strange strides, has enough venom, and shows extreme politeness. Though his screen time was limited and crucial, MacCaull garnered him special attention among the cast.
During the production, Disney was very confidential about the script and the contents of the movie. MacCaull auditioned, knowing only the name of his character, the writer, and the director and some contents of the scene he was supposed to act on. He created a profile of Clark based on that information and did his research in the process.
Even after making it through the audition, MacCaull was allowed to read the script in a confined environment. However, he admitted taking some shots of the script while no one was looking. He justified that he wanted to work through the bigger part of his scene and needed to do that for the character.
When the movie came out, his character was taken as an integral part of Tomorrowland. His staple smile and devilish character won the hearts of the audience. However, he remained down to earth and accepted that he was fortunate enough to be cast and be recognized in such huge production.
"I've been acting professionally for 15 years, and I'd say that I'm largely unknown [laughs]. My friends seem to think that this [role] is enough to get me more offers and get me known on a larger scale. I don't disagree with that, but I've got a more pragmatic view of my work in this profession. Honestly, in this industry, you're somebody one day and nobody the next. If more work comes out of this as a result, that would be fantastic, [and] if nothing comes out of it, which is I guess the worst-case scenario, I just feel fortunate to have done this."
After 'Tomorrowland'
MacCaull's subsequent roles were on the TV series. He portrayed Sebastian Meyer on iZombie in three 2015 episodes, 'Blaine's World,' 'Dead Rat, Live Rat, Brown Rat, White Rat' and 'Mr. Berserk'.
In 2016, on When Calls the Heart, MacCaull appeared as Wade Barrett on four episodes, 'Heartbreak,' 'Forever in My Heart,' 'A Gentle Heart,' and 'Heart of a Hero.'
MacCaull also appeared in the 2016 production of the infamous franchise, Star Trek Beyond. Followed by that, he played the role of Nicholas Sands on the 2016 episode 'Sin-Eater' on Lucifer.
Another significant role was on the DC's TV series Legends of Tomorrow. Between 2016 and 2018, he featured on several episodes playing the role of Henry Heywood, also known as Commander Steel, a member of the Justice Society of America.
From 2016 to 2019, he played another recurring role of Dr. Jonas McClellan on the TV series Hailey Dean Mystery.
Further, in 2018 he starred as Jessup Lance on the episode 'One to the Heart' on the TV series Take Two. Then, he was seen in the 2019 movie My Wife's Secret Life.
In 2020, he appeared on Aurora Teagarden Mysteries as Parker Stevens, Mike Connors on Project Blue Boos, and Greg in the movie Welcome to the Circle.
MacCaull's 2021 Projects
MacCaull's latest 2021 projects were the TV series The Good Doctor, in which he portrayed Alan Palmer on the episode 'The Uncertainty Principle.' He plays Muntz on the TV series Debris. In addition to that, his role as Agent Kyle Long on the episode 'Forever and a Dog' of the Disney TV series Turner & Hooch was released on 16 July 2021.
Podcast
In 2021, MacCaull worked on a murder mystery podcast titled Ghost Town Killer, released on 25 May 2021.
The podcast unravels a detective story set in a post-truth society. The story follows Lilith Black, who is a paranormal investigator turned journalist, and her search for her sister's killer in her little town. She battles long-held preconceptions in her village to identify the culprit and finds paranormal activities evident in the town.
Personal Life
In 2019, MacCaull officially announced that he was in a relationship with the actor and writer Alix Lane. Lane is also from Vancouver, Canada and has appeared in movies such as Black Pumpkin in 2018, Play the Flute in 2019, and Big Sky in 2020.