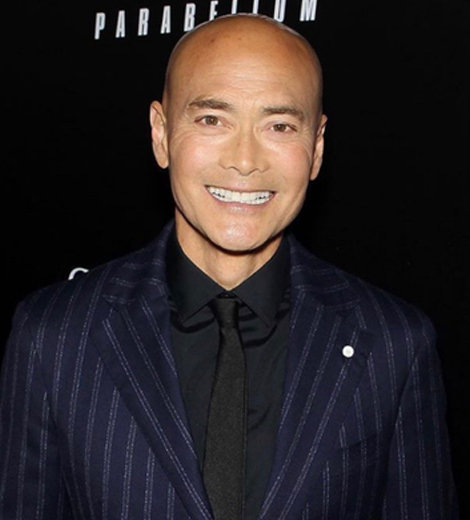 Quick Wiki
Full Name

Mark Dacascos

Occupation

Actor, Martial Artist

Nationality

American

Birthplace

Hawaii, USA

Birth Date

Feb 26, 1964

Age

59 Years, 7 Months
Cast of Food Network's show 'Iron Chef America'
Mark Dacascos | Biography
Mark Dacascos was discovered by Director Wayne Wang's assistant and hairstylist while he was walking down the street in San Francisco
Before acting, Dacascos is a martial arts expert. He is proficient in Muay Thai, Capoeira, Wushu, and his father Al Dacascos' style Wun Hop Kuen Do.
---
Mark Dacascos is an actor known for his presence in the Food Network's show 'Iron Chef America.'
Who is Mark Dacascos?
Dacascos was born on 26 February 1964 in Honolulu, Hawaii. His father, Al Dacascos, is a martial arts instructor and of Philippines, Chinese and Spanish ancestry. His biological mother, Moriko McVey-Murray, is of Irish and Japanese ancestry, while his stepmother Malia Bernal is an award-winning martial artist.
Dacascos went to Los Angeles Valley University, where he was a member of the gymnastics team. Further, he also attended Portland State University in Oregon.
Before acting, Dacascos is a martial arts expert. He is proficient in Muay Thai, Capoeira, Wushu, and his father's style Wun Hop Kuen Do.
Career
Dacascos got into acting after he was discovered by Director Wayne Wang's assistant and hairstylist while he was walking down the street in San Francisco Chinatown. He acted in minor characters for a while and played a breakout role in the 1993 movie Only The Strong.
Subsequently, he co-starred in the video game-based movie Double Dragon. He then starred in the 1996 film Sabotage, Drive in 1997, Sanctuary, and No Code of Conduct in 1998.
Further, Dacascos was also seen in action movies such as Crying Freeman in 1995, Brotherhood of the Wolf in 2001, Cradle 2 the Grave in 2003, Nomad: The Warrior in 2005, Sultanin Sirri in 2010, Operation Rogue in 2014, Maximum Impact in 2017, among others.
Most importantly, Dacascos played the role of Zero on the infamous American franchise John Wick: Chapter 3 – Parabellum in 2019.
'Iron Chef America'
In addition to movies, Dacascos also appeared as a Chairman of the infamous show Iron Chef America. The show is based on a Japanese sensation where World-class chefs compete against America's renowned Iron Chefs each week.
Iron Chef America, which began in 2005, is hosted by Alton Brown, who proclaims Dacascos as the DNA of the show.
Net Worth
According to Celebrity Net Worth, Dacascos holds an estimated net worth of $2 million.
Wife and Children
Dacascos got married to actress Julia Condra on 5 January 1988. They met each other while filming the 1995 movie Crying Freeman. They starred as a couple in the film. 
They have three children together, a daughter and two sons.