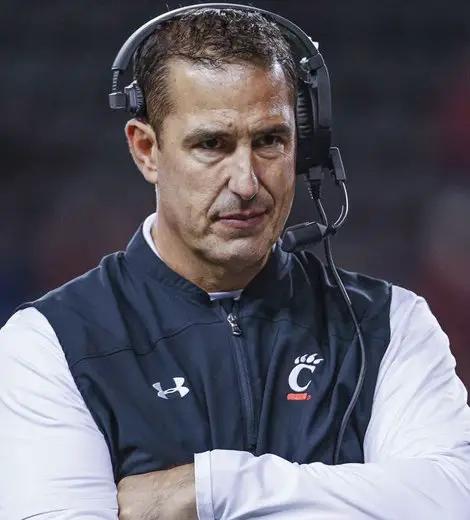 Quick Wiki
Full Name

Luke Joseph Fickell

Occupation

Former football player and Professional coach

Nationality

American

Birthplace

Columbus, Ohio, USA

Birth Date

Aug 18, 1973

Age

50 Years, 3 Months
Former American Football Player, Head Football Coach at the University of Cincinnati
Luke Fickell | Biography
Fickell debuted as an undrafted free agent with the NFL's New Orleans Saints
On 10 December 2016, the University of Cincinnati hired Fickell as their 39th head coach, replacing Tommy Tuberville.
---
Luke Joseph Fickell is the current head football coach at the University of Cincinnati. He was hired in December 2016.
Who is Luke Fickell?
Luke Joseph Fickell is a former American football player and professional coach born on 18 August 1973 in Columbus, Ohio.
He graduated from DeSales High School in 1992 and started his playing career there. Fickell was a standout member of the defensive unit after redshirting for the Ohio State Buckeyes in 1992. From 1993 to 1996, he made a school-record 50 consecutive starts at nose guard. After graduating from Ohio State in 1997, Fickell debuted as an undrafted free agent with the NFL's New Orleans Saints. However, Fickell spent the rest of the season on the injured reserve list after tearing his ACL and was ultimately released by the team.
Following his brief tenure in the NFL, Fickell joined the Ohio State Buckeyes coaching staff in 1999 as a graduate assistant under his previous coach, John Cooper. Fickell was then hired as the defensive line coach at the University of Akron in 2000. Two years later, he returned to Ohio State as the special team's coordinator under second-year head coach Jim Tressel.
Fickell took over as linebackers coach in 2004, and in 2005 added the title of co-defensive coordinator to his responsibilities. In 2010, he was voted 'Assistant Coach of the Year' by the AFCA, joining the ranks of Carroll Widdoes, Woody Hayes, Earle Bruce, and Jim Tressel as Buckeyes coaches to receive the honor.
Fickell was elevated to assistant head coach and would have taken over as temporary head coach during Jim Tressel's five-game suspension to start the 2011 season. However, Tressel resigned on 30 May 2011, following an NCAA inquiry, and Fickell was named head coach. In the 2012 Gator Bowl, he coached the Buckeyes against Meyer's last team, the Florida Gators.
On 10 December 2016, the University of Cincinnati hired Fickell as their 39th head coach, replacing Tommy Tuberville.
Wife & Kids
Luke Joseph Fickell is married to his wife, Amy Fickell. The couple has six children, five sons and one daughter, namely, Ashton and Aiden (eldest twins), Lakyn and Lucian (youngest twins), daughter Luca, and the oldest son London. London is a member of the UC football team.
House
The Fickells live on a forested green swath that flows into a peaceful creek about 20 minutes from Cincinnati's campus. 
Salary
According to an August 2020 article from ESPN, Fickell agreed to a contract extension with the Cincinnati Bengals through the 2026 season, bringing his annual pay to $3.4 million. He was previously signed through 2022 and earned $2.3 million in 2019.