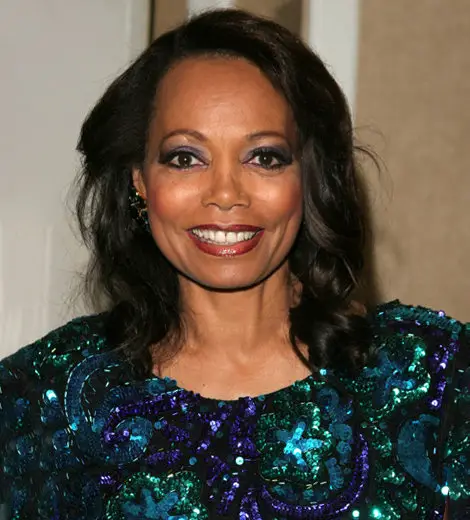 Quick Wiki
Full Name

Loletha Elayne Falana

Occupation

Singer, Actress

Nationality

American

Birthplace

New Jersey, USA

Birth Date

Sep 11, 1942

Age

81 Years, 2 Months

Zodiac Sign

Virgo

Mother

Cleo Falana

Father

Bennett Falana

Brother

Fluffy Falana

Net Worth

$10million

Ex-Spouse

Feliciano Tavares

Nickname

First Lady of Las Vegas

Religious Affiliation

Roman Catholicism

Height

5 Feet 4 Inches (1.65 Meter)
Singer, Cast of the 1966 musical drama movie 'A Man Called Adam'
Lola Falana | Biography
After Lola Falana sufficiently grew healthy in 2006, she devoted her life to Catholic Ministry
Lola had a long time encounter with a neural disease, multiple sclerosis. It first struck her in 1987, paralyzing the whole left part of her body. It also partially impaired her vision, hearing senses, and voice. At that time, Lola Falana put her faith and converted to Roman Catholicism.
---
Lola Falana is an American singer and award-winning actress best known for her role as Theo in the 1966 musical drama movie, A Man Called Adam.
Who is Lola Falana?
Lola Falana is a model, dancer, singer, and stage and film actress. 
Falana entered the entertainment industry in 1958 with a dance performance alongside singer Dinah Washington at a nightclub in Philadelphia. The performance earned her several other career-building opportunities. In 1964, American Musician Sammy Davis Jr. cast her in the supporting role in the musical Golden Boy. He then hired her in her debut acting gig in the 1966 film A Man Called Adam.
She holds credit as a singer for songs like 'My Baby,' 'Song for you,' 'Don't Cry Mary,' 'Whatever Lola Wants, Lola Gets,' among many others. She also became a familiar household face with her appearances in the 1970s TV shows like The New Billy Cosby Show, The Streets of San Francisco, The Lola Falana Show, and The Muppet Show. At the height of her career, Falana was crowned "First Lady Of Las Vegas." She became the highest-paid female performer in the history of Las Vegas, making millions of dollars.
Falana is also a fluent speaker of the Italian language, which she learned during her Italy tour in the mid-1960s. She has also starred in several Italian movies like Teatro Dieci, Spaghetti Western, among many others. 
How Old Is Lola Falana Now?
Loletha Elayne Falana was born on 11 September 1942 in Camden, New Jersey, to welder father Bennett and seamstress mother Cleo Falana as their third child out of six children in their family. As of April 2022, Falana is 79 years old.
She Was Destined To Be A Singer And Dancer From A Very Young Age
Growing up, Falana developed a passion for singing and dancing. She was dancing by the age of three. At five, she was one of the singers in the church choir. Falana danced at local nightclubs in Philadelphia, Pennsylvania, during her junior high school. 
Her love for dancing and singing led her to drop out of high school, and thus, she never graduated.
She Appeared As A Special Guest Star On 'The Muppet Show'
Falana made a special guest appearance on Season 4 Episode 11 of the ABC sketch comedy TV series The Muppet Show. The episode was aired on 24 November 1979. 
The 30-minute episode begins with Falana talking on the phone with her agent, trying to get out of doing The Muppet Show. Then, Gonzo the Great blows his trumpet and says he gives autographs after the show. After that, Kermit the Frog introduces Lola Falana as a singer, dancer, comedian, and the show's special guest star. 
Kermit subsequently announces that Gonzo is leaving The Muppet Show because Gonzo received an offer from a film studio in Bombay, India. Gonzo promises Kermit that he will never forget the "little people." Gonzo and the chickens sing 'Pick a Little, Talk a Little/Goodnight Ladies" for his farewell.
A jealous Miss Piggy then asks Gonzo to keep her in mind when talking to producers. After that, Lola, the Muppet Monsters, and Fletcher Bird dance and sing 'He's the Greatest Dancer.' Gonzo joins them until Fletcher kicks him offstage. However, Lola compliments Gonzo on his dancing. She also flirts with him, making Camilia furious.
Gonzo performs a tearful 'My Way' and then leaves the stage. Later, Lola finds Gonzo hiding in her closet. Gonzo gives a telegram he just got from the Bombay movie studio to Lola. She reads the telegram, which reads that the producers in Bombay thought they were hiring performer Gonzo the Mediocre, so they canceled the contract with Gonzo. She then tries to console Gonzo by singing 'Smile.'
When Gonzo returns to the theater, he has to face his replacement. He finds Trevor the Gross copying his act. Gonzo stops Trevor, reclaiming his role as the show's artiste. Kermit is appalled with what just happened, calling Gonzo a mess. However, Lola reminds him to be happy that Gonzo is back. Lola and the Muppets then sing 'United We Stand.' At the end of the episode, the Muppets start clashing, contradicting the song's lyrics.
Also Read: Lori Bakker - Age, Net Worth, Accident, Jim Baker
She Was Diagnosed With Multiple Sclerosis At 45
The famous actress had a long time encounter with a neural disease, multiple sclerosis (MS). It first struck her in 1987, paralyzing the whole left part of her body. It also partially impaired her vision, hearing senses, and voice. At that time, Lola Falana put her faith and converted to Roman Catholicism.
Falana told the Los Angeles Times in October 1989 that she had kept herself physically active before multiple sclerosis struck her. "I had kept a very physical agenda. I'd say one-third of my act was dancing. I was always moving and singing and talking. A star has to be bright, shiny, energetic, spirited. It takes awesome amounts of energy if you're going to be great at it," she said. "I worked out regularly, and I worked constantly, so I was keeping my body honed. There are singers who just stand in front of the mike, but that's not me, not if you come from a world of movement."
Everything changed when she was diagnosed with multiple sclerosis in December 1987. She struggled to move around, but she tried not to let her illness worsen. She said she refused to use crutches, canes, or other accessories even though the entire left side of her body was paralyzed. Instead, she would rather crawl on her belly, slide against walls, and hold on to every piece of furniture. 
Falana said she had a walker at the foot of her bed, but she would not use it because she did not want her remaining active muscles to get lazy. "Most of all, the mind needed to know that my soul was not going to allow any outside force to help me walk," she added.
The arrival of multiple sclerosis shattered her career as she found it impossible to continue performing with her crippled body. Her illness forced the cancellation of almost two million dollars in nightclub and concert dates. 
She described her situation to Jet magazine in August 1989. "What a difference a day makes. One day I'm standing tall and listening to applause of fans and the next day I'm a cripple lying in bed reading mail from fans," she said.
How Was Lola Falana Devoted To God For Her Recovery?
According to Falana, her recovery began with the word 'God' after her first encounter with multiple sclerosis. She said she was not devoted to God before, but she had depended more on her inner spirit for strength and survival, which prepared her to tackle the disease. As a result, she was calm about the illness when she heard the diagnosis. She even told the doctor that she would be in high heels in a month, and she was too.
She began to recover in less than a month with the help of her friends, family, neighbors, and her belief in God. She went through regular exercise despite excruciating pain. Her exercise regime included weights, a stationary bicycle, stair climbing, a treadmill, a trampoline, and physical therapy. A therapist helped her every day, and she kept the therapist for a few months. 
However, Falana's illness eventually started affecting her physical appearance, which led her to turn her back on the entertainment industry. "I woke up one day with a crooked face, a crooked mouth and dragging limbs. … and I said okay, it's not about physical prowess and glamour any more, Falana," she told Ebony magazine in early 1988. "All the gifts that you counted on, that you identified with as yourself are no longer present.… So I took inventory and I looked in my little bag to see what I had left over. I had one jewel left in the bag, the brightest jewel of all—I had the gift of faith."
Falana had four crippling attacks in a year and a half. After the February 1988 attack, she said she went into a different state of mind. "I decided this thing can't come in and out of my life. Somebody has to be in power over this thing, and that works by faith," Falana told the Los Angeles Times in October 1989.
She then started walking every single night for an hour. She also went to the gym in the afternoon almost every day, and she kept moving. She then methodically battled her way back to health. 
In 1989 Falana was presented with the Oscar Micheaux (a pioneer Black filmmaker) Award at the 16th Annual Black Filmmakers Hall of Fame Awards. The March 20 issue of Jet Magazine quoted her as telling the audience, "I don't mind if I don't do it (dance) ever again. God is challenging me (with multiple sclerosis) to see if I have faith." In the program, Sammy Davis, Jr. and Jerry Lewis paid taped tributes to Falana, praising her courage and talent.
How Did She Bounce Back From Her Disease?
Even though Falana had multiple crippling attacks in 18 months, her disease went into remission. She then began her musical career again. She appeared with Wayne Newton on the stage of the Las Vegas Hilton in the spring of 1989, singing 'Proud Mary.' Although clubs hesitated to hire her, fearing she would relapse, she returned to the Las Vegas stage in July 1989 for several sold-out performances. 
She first booked at the Sands Hotel, where she announced to her audience, according to an August 1989 issue of Jet magazine. When one of the audience asked if she was cured, she replied, "I'm not cured, but I'm healed. Cure is what medicine does. Heal is what God does."
In an October 1989 interview from her Las Vegas home, Falana described her comeback to the Los Angeles Times, stating, "I'm perfect now. I started working in July at the Sands, and since then I've been full steam ahead. I'm just beginning to get bookings around the country for 1990. A lot of people hear your name associated with MS and think for all time you're sick, but it's up to me to let them know I'm well. I think most people are excited that I'm back."
She Gave Up Show Business And Converted To Evangelical Roman Catholicism
Even though Falana returned to show business, she had shifted her priorities during her illness. She told the Los Angeles Times in 1989 that she did not want to do just nightclubs ever again, and she did not want to live on the road. 
She further conveyed her interest in doing a talk show for kids. She also revealed that she might go in to record an album and informed about a forthcoming book contract.
Falana eventually abandoned her career as an entertainer to become a nun. She later told People Weekly that her car had just pulled into the parking lot of a Catholic church, she went in, and something inside of her said, "Welcome home." 
In early 1990, she announced from the pulpit of Chicago's Christ Universal Temple that she had been celibate for nearly 13 years and was preparing to become a nun.
Falana later became a Roman Catholic in 1991 and began touring the country as an evangelist. In addition, she started giving lectures in churches, which are described as a part sermon, part personal memoir. She also hosted an episode of PBS' educational children's TV series Reading Rainbow in 1992.
Later, Falana's illness again returned in 1996, forcing her to retire at her parents' house in Philadelphia. For the second time, it took her about a decade to fully recover. 
However, she continued to play the role of evangelist during that time. She had been touring the country at the invitation of school principals, pastors, and church groups, urging people to embrace God when she was 56 years old in 1999.
In 2002, Falana founded her ministry called The Lambs of God Ministry and devoted her life to preaching and aiding the orphans of AIDS-ravaged Sub-Saharan Africa.
Is Lola Falana Still Alive Today?
After she sufficiently grew healthy, Falana moved back to her home in Las Vegas, where she started living quietly and away from the limelight in the late 1990s. According to a 1999 Religion News Service article, her telephone occasionally rang with another speaking invitation from another group. She had no booking agent, nor was she a member of a speaker's bureau. Her availability spread by word of mouth and was confirmed by two New Orleans priests who had hosted her appearances locally. 
In an interview, Falana shared that she has no plans to return to show business unless it fits with a message she believes came to her from God. "He said, 'You are an evangelist and you will sing for the glory of God,"' says Falana. "Whether that means actually singing, or speaking about my love for him as an evangelist here on earth, or later in heaven, I don't know. I know this: if I sing again, it'll be for the glory of God."
However, she told Tampa Bay Times in March 1999 that she did not regret leaving show business. "There is nothing to turn back to. Nothing was to the glory of God. Now it is complete fulfillment," Falana said.
She no longer appears in the limelight and does not feature on social media handles. Thus, there is no information about her whereabouts.