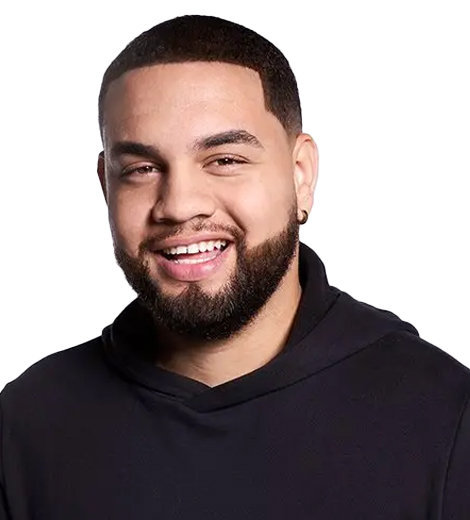 Quick Wiki
Full Name

LeJuan James

Occupation

Social Media Personality, Author

Nationality

American

Birthplace

Puerto Rico, USA

Birth Date

Feb 19, 1990

Age

33 Years, 9 Months
Quotes
"I want to highlight what our parents do for us, and show how it is motivated by love."
Soical Media Personality, Comedian, Author of 'Definitely Hispanic'
LeJuan James | Biography 2021
James got featured in Camila Cabello's 'Havana' music video in 2017
LeJuan James began posting six-second movies on his Hispanic parents and comically exposed the Hispanic households in the US on the Vine app. His videos depict 'what happens?' in a Hispanic family on different occasions. James quickly rose to fame, and now he creates content for other social media too.
---
LeJuan James is a social media personality popularly known as the author of the book 'Definitely Hispanic.'
Who Is LeJuan James?
LeJuan James is a bicultural and bilingual social media influencer, content creator, and comedian who first rose to fame on Vine by creating short comedy videos based on the life of Hispanics in the United States. 
The hilarious videos imitating his Latino parents, which he posted under the pseudonym LeJuan James, went viral and received millions of views. He now creates content for other social media platforms, including YouTube, Instagram, Facebook, and TikTok, where he has a massive fan following.
He is the author of the book 'Definitely Hispanic.' In the book, James has written about the highlights on the subjects, based on the virtues and traditions upheld by Hispanic parents raising children born in the United States.
Early Life & Education 
LeJuan James, real name Juan Atiles, was born on 19 February 1990 in Puerto Rico. He was raised in a Hispanic family with a Puerto Rican father, Rick Atiles, and Dominican mother, Ingrid. His family moved to the USA while he was in primary school. 
In a 2016 interview with NBC along with his mother, he hilariously said, "Hispanic parents want to know who they are, who their parents are, you want to know their social security number, blood type, DNA, etc." 
Born Juan Atiles, he chose his online name after his basketball idol, LeBron James. LeJuan graduated from Celebration High School in Florida, USA.
Rise to Fame
In 2013, Juan Atiles was working in a Nike store when he was introduced to the Vine app by his friend. He began posting viral videos online under the name LeJuan James. He was an early user of the now-unused platform, and he created six-second movies. 
In his quick clips, he impersonated his Hispanic Parents yelling "sin pelos en la lengua." His videos resonated with anyone who grew up in a Latino culture, and LeJuan swiftly rose to prominence as a social media celebrity garnering millions of views and followers.
As of 11 August 2021, James has over 2.4 million followers on Instagram, over 3 million followers on Facebook, over 362 thousand followers on TikTok, and over 288 thousand subscribers on YouTube.
LeJuan plays a variety of characters in his videos, including his parents, his psychotic ex-girlfriend, and sometimes appears as himself. In his videos, James funnily depicts 'what happens?,' situations such as when Hispanic parents don't approve of their children's choice of music, when a single filthy spoon is left in the sink, and many more things that take place in Latin households. 
Some of his most popular videos include 'Surprising my parents with a new home,' 'When Hispanic families visit you at the Hospital,' 'Breakup Hispanic Women,' 'Parent Teacher Conference with Hispanic Parents,' and many more. 
Other Works
Furthermore, LeJuan James had also collaborated with brands like Florida Hospital, T-Mobile, and Disney. He got featured in Camila Cabello's 'Havana' music video as the "abuela" released in August 2017. The music video has over 1.8 billion views on YouTube as of August 2021.
About 'Definitely Hispanic'
LeJuan is the author of the book Definitely Hispanic, a compilation of writings and thoughts on growing up as a Hispanic in the United States. The book was released on 4 June 2019. 
He wrote Definitely Hispanic to portray a different side of himself to his fans. "I've been doing social media for the last five years and have been fortunate and blessed to touch so many people," he stated. "Now I want to help push our culture forward, and showcase our values, our traditions, and the genuine love in Hispanic households," he added.
In his book, he tells stories of finding the contrasts between his household and his friends' households, exposing "La Pela" (Spanking), discussing the significant role of women in Hispanic families, and honors Latin sociocultural values.
It comprises chapters like Hispanic Parenting 101 (Rule 5: Hispanic Parents Are NOT Our Best Friends), a segment on Abuela (grandma), and the importance of 'el bochinche' (gossip). He also states that all Latino parents and grandparents "will at some point resort to their own deaths to guilt-trip you into what they are pleading for you to do," interpreting the expression "Cuando yo me muera," which roughly translates to "Someday, when I'm dead."
Personal Life 
LeJuan got married to his long-time girlfriend, Camilaa Inc., in October 2020. The couple has been together for over seven years and is expecting their first child together. LeJuan took to his Instagram on 7 August 2021 to share the news with his followers. 
His wife, Camilaa, is a beauty guru who also has a beauty, fashion, and vlogs-focused YouTube channel with over 116 thousand subscribers as of 11 August 2021. She also uploaded their wedding video on her self-titled YouTube channel.