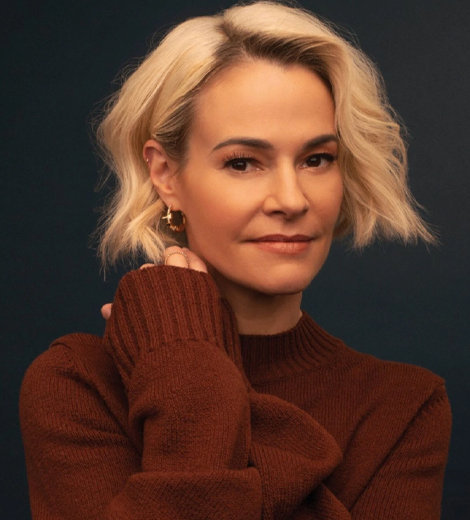 Quick Wiki
Full Name

Leisha Hailey

Occupation

Musician, Actress

Nationality

American

Birthplace

Okinawa, Japan

Birth Date

Jul 11, 1971

Age

52 Years, 4 Months
Cast of the series 'The L Word,' Founder of the Pop Duo The Murmurs, Rock Bankd Uh Huh Her
Leisha Hailey | Biography
Leisha Hailey came out as a lesbian at 17
Hailey and Camila Grey formed a rock band called Uh Huh Her in 2007. The band's debut album 'Common Reaction' was released on 19 August 2008, and it peaked at number 9 on Billboard's Top Heatseekers chart. Subsequently, they released albums, 'Nocturnes' (2011) and 'Future Souls (2014). Uh Huh Her's one of the tracks, 'Explode' was featured on the television series 'The Carmilla Movie.'
---
Leisha Hailey is an actress best known for her role in the Showtime Network's series The L Word: Generation Q and The L Word as Alice Pieszecki.
Who is Leisha Hailey?
Leisha Hailey is an American actress who started her career as a  musician. She found the pop duo, The Murmurs, in 1991 with her classmate Heather Grody. Their albums include Who Are We (1992), Pristine Smut (1997), and Blender (1998). Hailey left the duo in 2005 after she was cast in the series The L Word. 
In January 2007, Hailey and Camila Grey formed a rock band called Uh Huh Her. The band's debut album Common Reaction was released on 19 August 2008, and it peaked at number 9 on Billboard's Top Heatseekers chart. Subsequently, they released albums, Nocturnes (2011) and Future Souls (2014). Uh Huh Her's one of the tracks, 'Explode' was featured on the television series The Carmilla Movie.
Besides her music career, Hailey debuted on television in 1996 as a struggling musician on an episode of Boy Meets World. However, her breakthrough performance came in the 1997 film All Over Me.  
She then portrayed her famous role Alice Pieszecki, a journalist, television, and radio show host, on The L Word from 2004 to 2009. The L Word is a long-running Showtime series that tells the intertwined stories of a group of LGBTQ women in Los Angeles and the scandals that they get themselves into. 
Hailey was also named the sexiest woman in the AfterEllen Hot 100 compiled by AfterEllen.com in 2007.
In December 2009, the movie La Cucina, where she played the role of straight pregnant newlywed, was premiered. Hailey also played Amelia Novak in an episode of The CW's long-running show Supernatural in 2015.
Hailey later appeared on the sequel series of The L Word, The L Word: Generation Q (2019), which started airing on 8 December 2019. Hailey has also appeared on several commercials for BMW and Yoplait yogurt. 
Early Life 
Leisha Hailey was born on 11 July 1971 in Okinawa, Japan, and grew up in Bellevue, Nebraska. As of December 2021, she is 50 years old. 
At 17, she came out as a lesbian before moving to New York City to attend the American Academy of Dramatic Arts.
Podcast
On 22 May 2020, Hailey started a podcast with The L Word co-star Kate Moennig called PANTS. The show is produced by Diamond MPrint Productions and Melisa D. Monts. In the Podcast, they answer questions asked by their fans and discuss their past shows and other topics.
Girlfriend
As of December 2021, Hailey is single and not dating anyone. However, Hailey and singer-songwriter K.D. Lang dated for nearly five years before breaking up in 2001. From 2004 to 2010, she was in a relationship with Nina Garduno. 
Hailey also dated her bandmate, Camila Grey, from 2011 to 2016. The couple got into a fight with Southwest Airlines in 2011 after being ejected from a flight for disagreeing with a flight attendant who asked them to stop kissing.